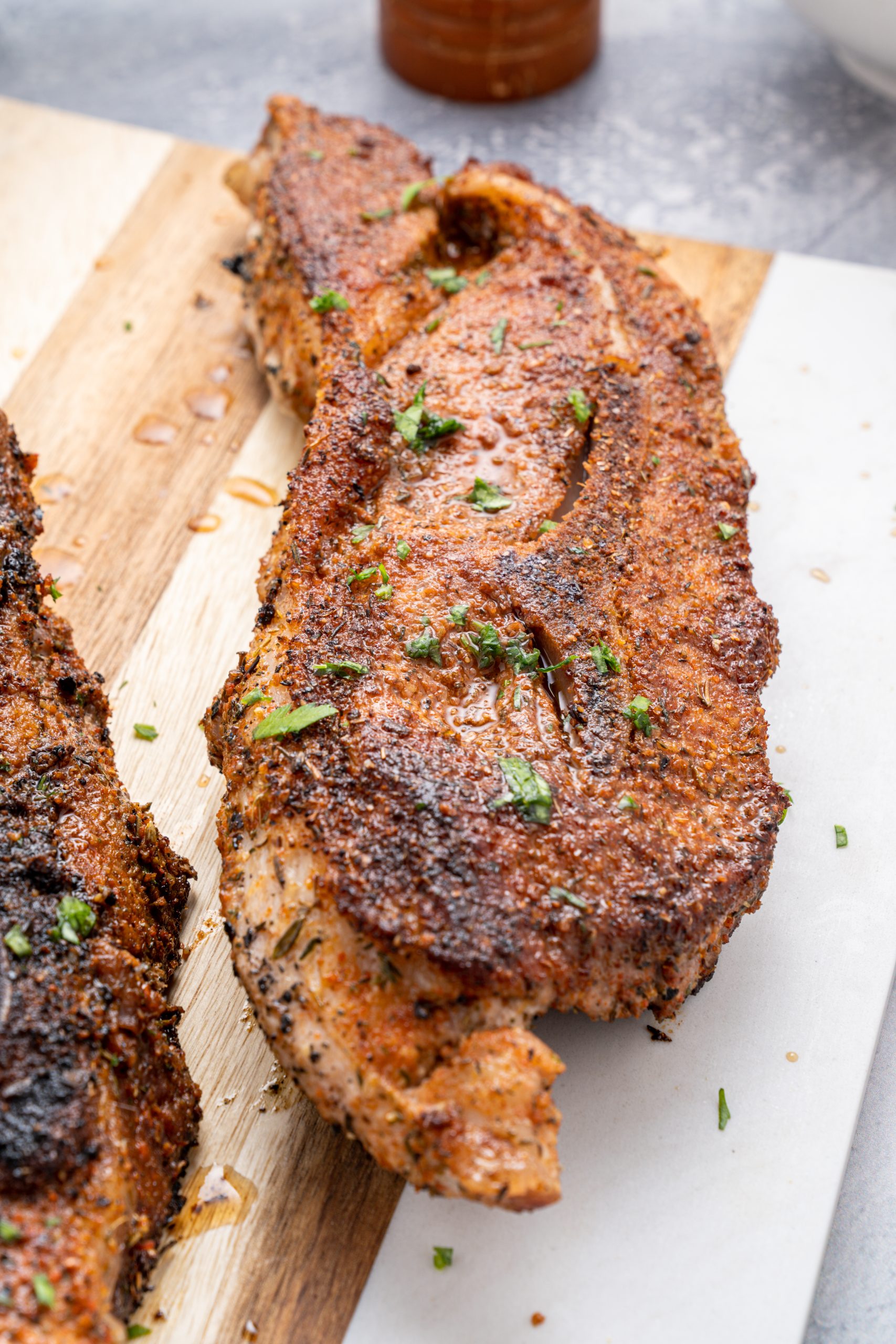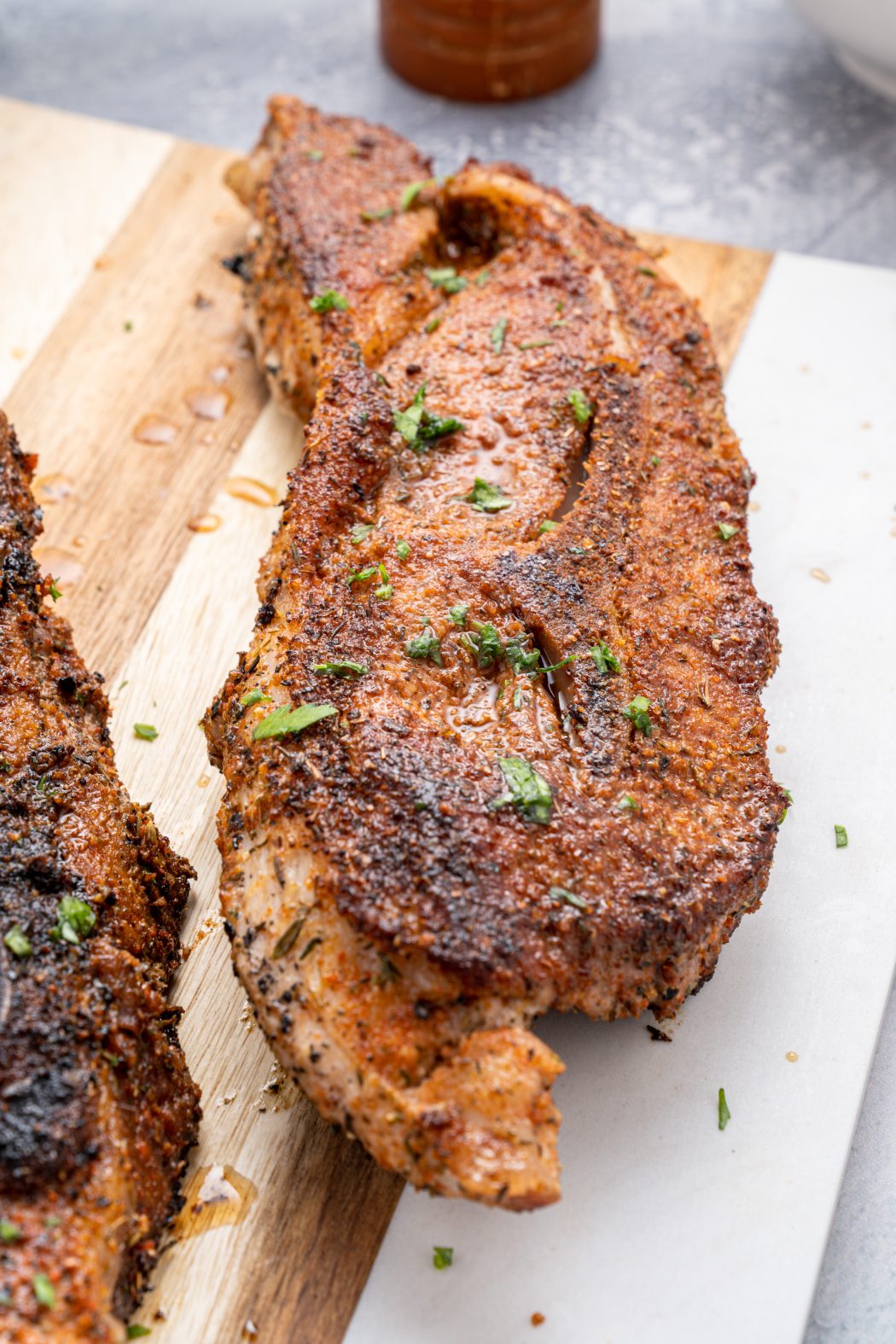 These mouthwatering Pork Steaks are expertly seasoned with a handmade spice rub before being pan-fried to perfection. They are tender and juicy on the inside with a flavorful, crispy exterior.
Pork Steaks
Dinnertime just got deliciously simple with this versatile pork recipe. These succulent, pan-fried pork chop steaks have a tantalizingly crispy exterior and a deep, smoky BBQ flavor.
This recipe is a top notch choice when you are looking for a quick and effortless, yet insanely scrumptious, dinner idea. Simple but powerful spices like zingy garlic, savory onion, smoky paprika, and spicy cayenne come together to transform your pork steaks into an out of this world weeknight dinner. Even better, you can make this dish in under 30 minutes!
For more phenomenal pork recipes from My Nourished Home, check out my Smoked Pork Tenderloin with Mustard Glaze, Apple Stuffed Pork Chops, and Pork Tenderloin with Chipotle Apricot Glaze.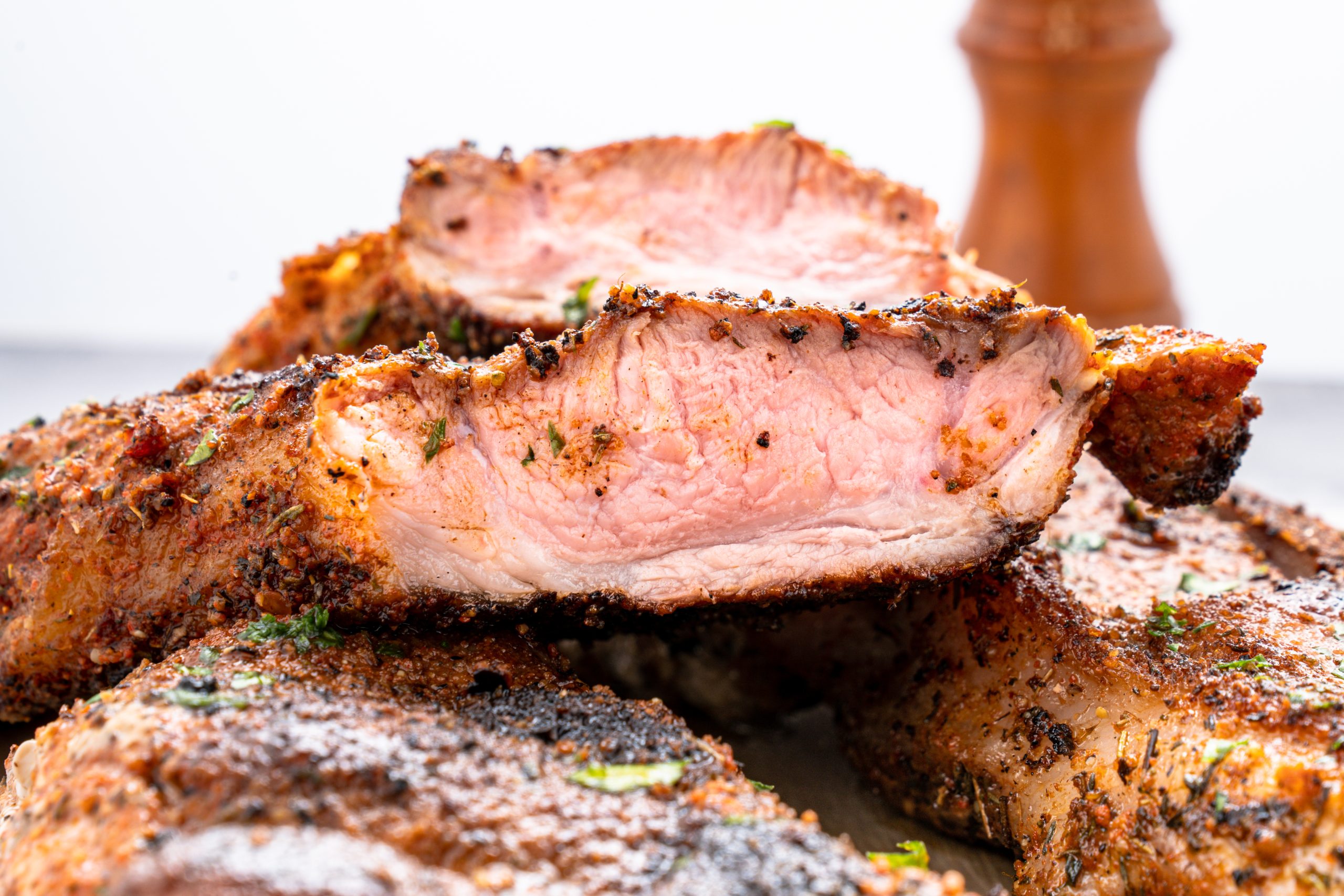 Why you will love this recipe
This simple, satisfying recipe can be made in practically no time.
This versatile pan fried pork steak recipe pairs beautifully with all your favorite side dishes.
You can easily customize these pork steaks with any spice rub you prefer.
Pork chop steaks fit nicely into low carb, keto, and gluten free diets.
How to make perfect Pork Steaks
Prepare the chops. Begin by using a paper towel to pat each steak dry.
Make the rub. In a small bowl, combine the garlic, onion, mustard, thyme, paprika, cayenne, pepper, and salt. Mix well.
Season the steaks. Put each pork steak into the spice mixture, tossing to thoroughly coat.
Heat the skillet. Place a cast iron skillet over medium heat for two minutes before adding a tablespoon of olive oil.
Cook the pork. Add two pork chops to the skillet and cook for about 5 minutes on each side, or until thoroughly cooked. Add another tablespoon of olive oil and repeat for the remaining chops.
Plate and serve. Transfer each pork chop steak to a serving plate and enjoy immediately with any of your favorite side dishes.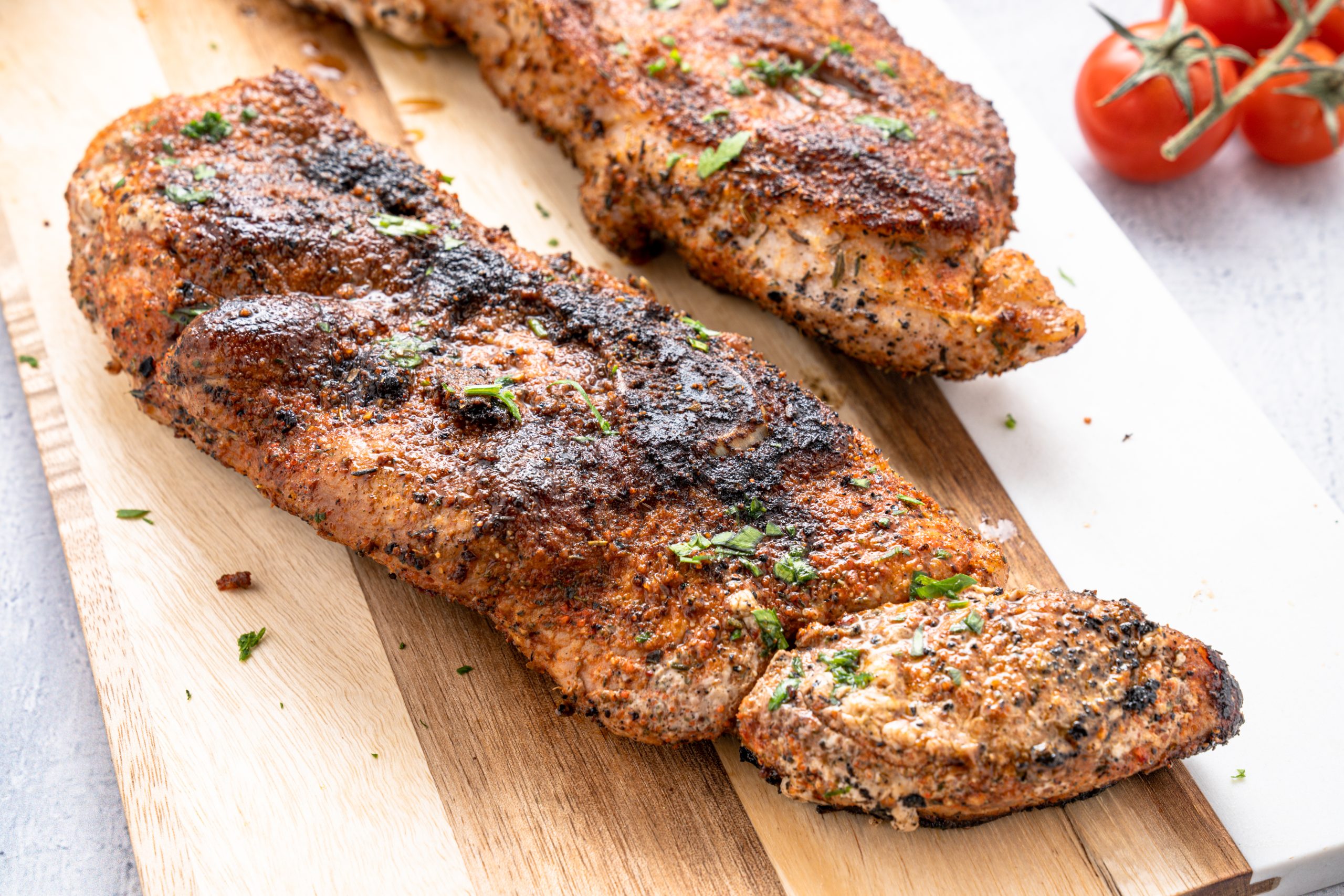 Pro Tips for Pork Steaks
Adjust for thickness. For pork chop steaks on the thinner side, reduce your cooking time slightly. You can always cook them a bit longer if needed. When in doubt, use a meat thermometer to ensure the meat has reached an internal temperature of 145 degrees F.
Spice it up. As is, this spice rub has a BBQ essence with a slight hint of heat. Feel free to adjust the ratios to make it milder, hotter, or zestier. You can even switch up the spice rub all together and go with a flavor profile like garlic and herb or lemon pepper.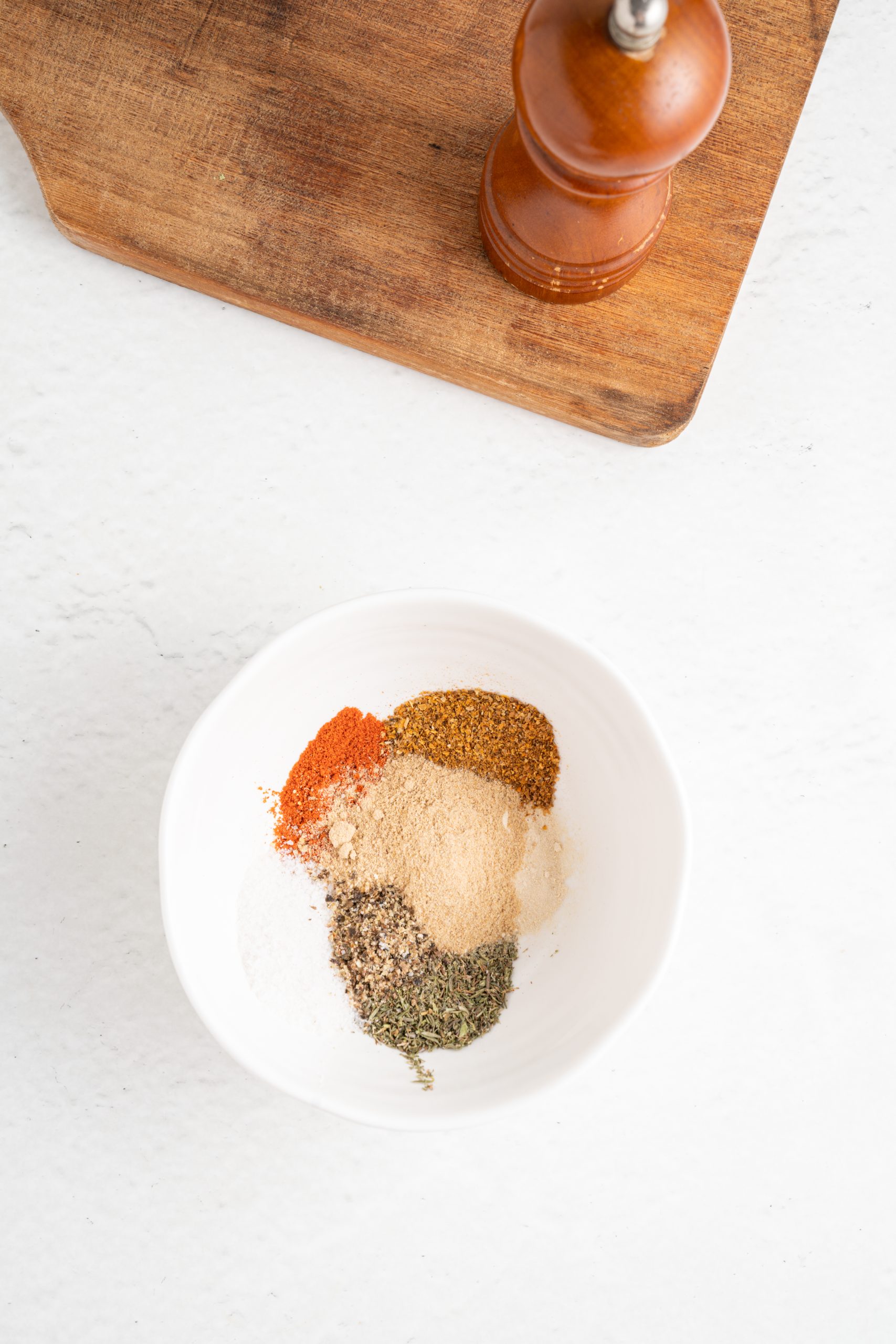 Key Ingredients and Substitutions for Pork Steaks
Pork: Pork lacks the marbling of beef, making it naturally leaner and less tender. Don't worry, though — this doesn't have to mean you are doomed to dry meat!
For the juiciest, most tender pan fried pork steaks, you'll want to stick with thick-cut, bone-in meat. Choose pork steaks whenever possible for the best results, but don't panic if all you can find is pork chops. Simply choose the thickest cut that still has the bone intact.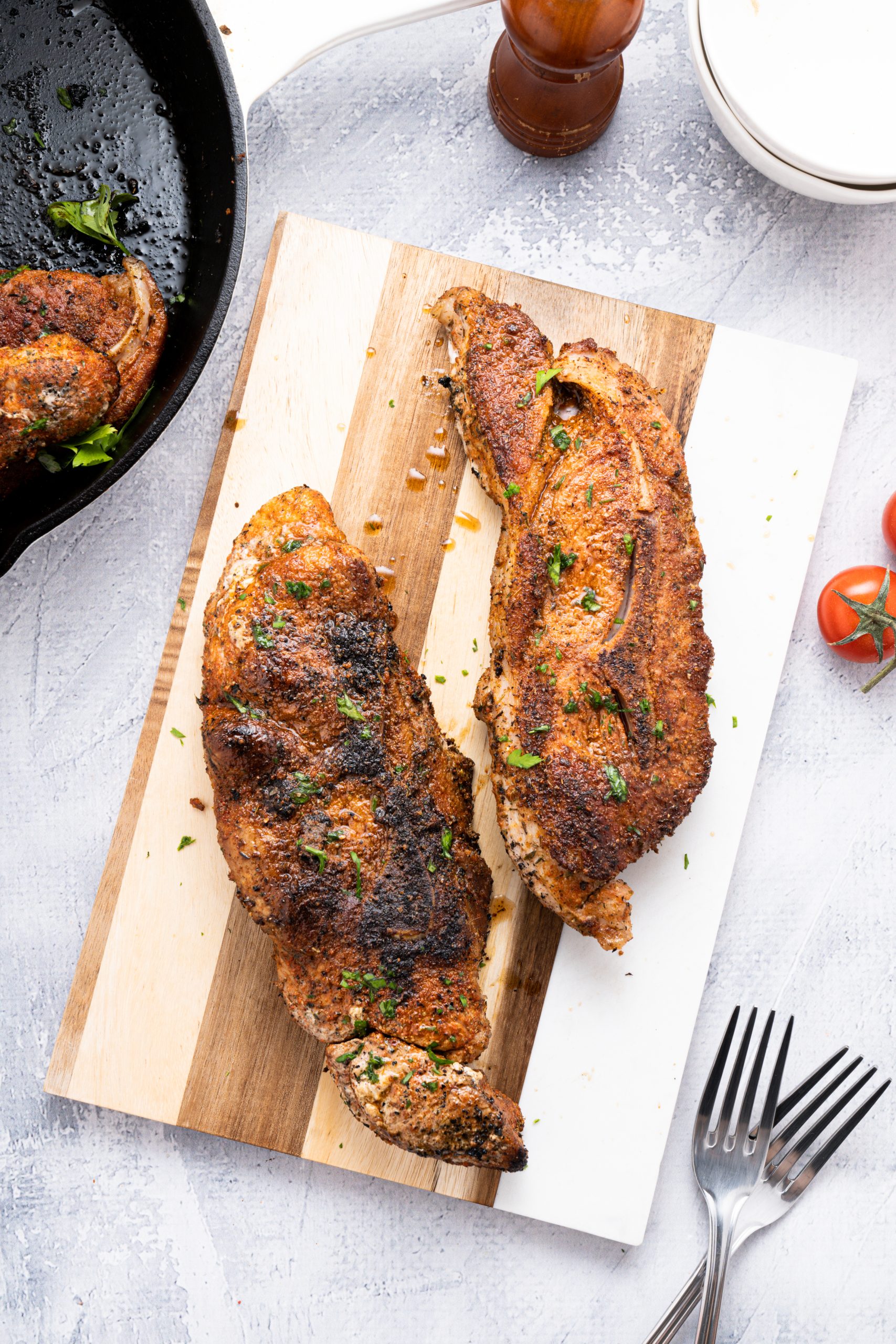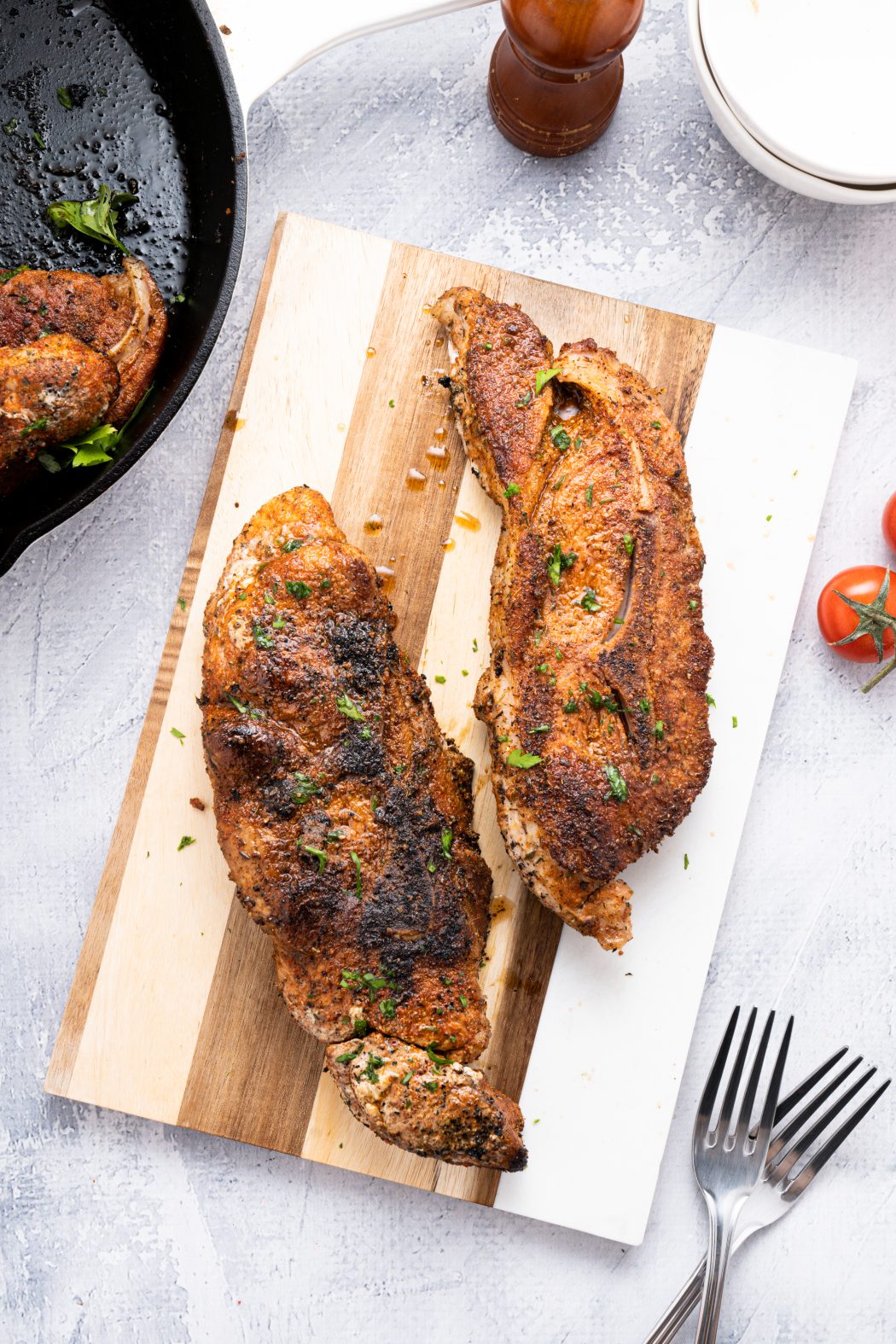 Frequently asked Questions about Pork Chop Steak
What is the Difference Between Pork Chops and Pork Steaks?
Pork chops are taken from the loin area, so they tend to be leaner and more tender. Pork steaks are cut from the shoulder region of the pig and are typically thicker cut.
There's no need to worry about this difference, though! These pan fried pork steaks are seared to trap in every bit of moisture!
What Do I Serve With Pork Chop Steak?
One of the best things about this recipe, and pork in general, is its unending versatility. You can enjoy this tender, juicy pork entree with any of your favorite side dishes.
To help you narrow it down a bit, here are some of my top recommendations. Go ahead and try pork chop steak with:
How Do I Store Leftover Pork Steaks?
Leftovers can be stored in an airtight container, in the refrigerator for 5-7 days.
For best results, reheat in a skillet over medium heat, about 2 minutes per side.
Try chopping up your leftover meat and tossing it in a wrap, on top of a salad, or even in a bowl of your favorite pasta!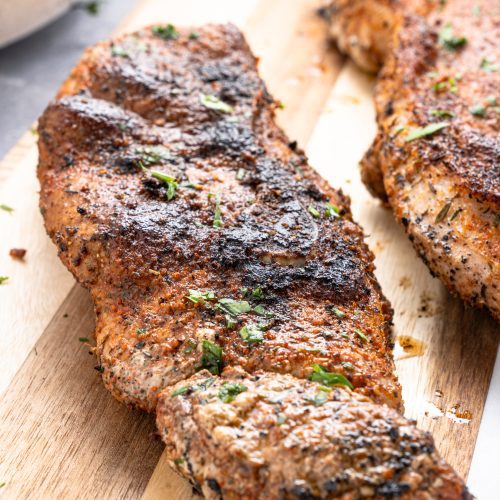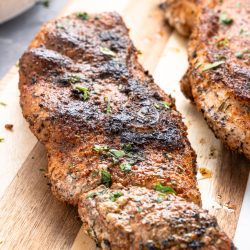 Pork Steaks
These mouthwatering Pork Steaks are expertly seasoned with a handmade spice rub before being pan-fried to perfection. They are tender and juicy on the inside with a flavorful, crispy exterior. 
Course:
Main Course, Main Dishes
Ingredients
4

steak

pork steaks

12oz each, bone in

2

tbsp

olive oil
Pork Rub
2

tsp

smoked paprika

2

tsp

garlic powder

2

tsp

onion powder

2

tsp

ground mustard

2

tsp

dry thyme

2

tsp

salt

1

tsp

cayenne pepper

1

tsp

ground black pepper
Instructions
Pat dry each steak with paper towels.

Mix pork rub into a small bowl, then coat to toss pork steaks from both sides.

Heat an iron cast skillet over medium heat for two minutes. Then add a tbsp of olive oil and cook two pork steaks, 5 minutes per side or until well done.

Serve immediately with your favorite side dish.
Recipe Notes
These steaks came out juicy, tender, and so flavorful due to the pork rub and cooking method that provides crispiness and a BBQ taste.
Tips
Recommended side dishes: mashed potatoes or mashed cauliflower for those on a low-carb diet.

These skillet pork steaks are best when freshly made as they are juicy and tender. 

Store leftovers in the fridge for 5 to seven days. To reheat them, use a skillet over medium heat, two minutes per steak, so it doesn't dry out.
Nutrition Facts
Pork Steaks
Amount Per Serving
Calories 195
Calories from Fat 117
% Daily Value*
Fat 13g20%
Cholesterol 51mg17%
Sodium 1221mg51%
Potassium 367mg10%
Carbohydrates 4g1%
Protein 17g34%
Vitamin A 723IU14%
Vitamin C 1mg1%
Calcium 35mg4%
Iron 2mg11%
* Percent Daily Values are based on a 2000 calorie diet.