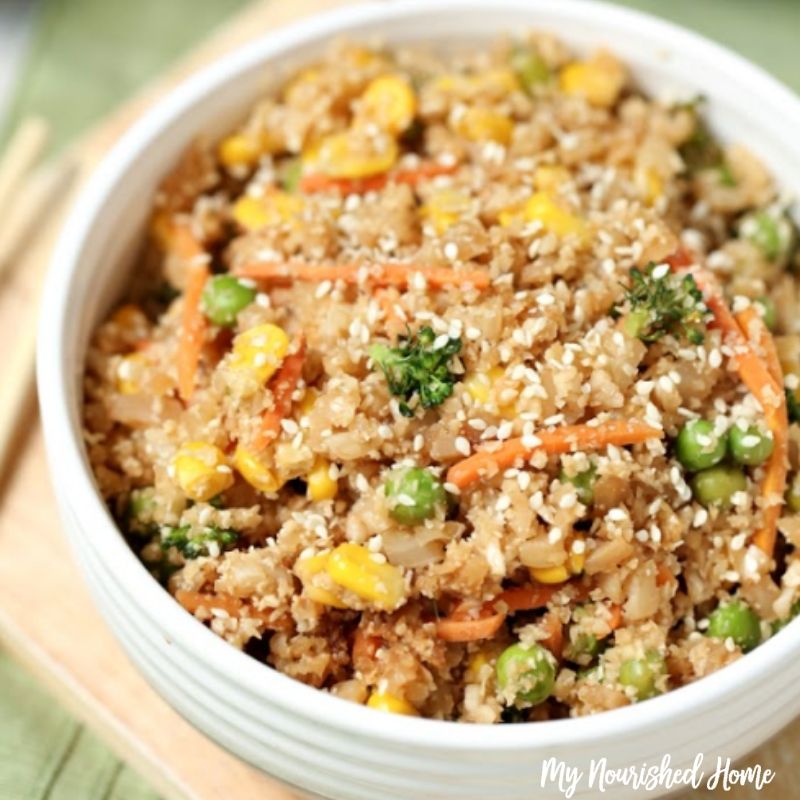 Cauliflower fried rice is more than a substitute for the real thing. It is a delicious side dish or dinner recipe.
Trying to get your kids to eat more vegetables? It tastes really similar to traditional vegetable fried rice.
Looking for a Keto friendly meal? This is the dish for you. Serve it beside this smoked chicken breast recipe or add chicken to the stir fry to make cauliflower chicken fried rice.
Cauliflower Fried Rice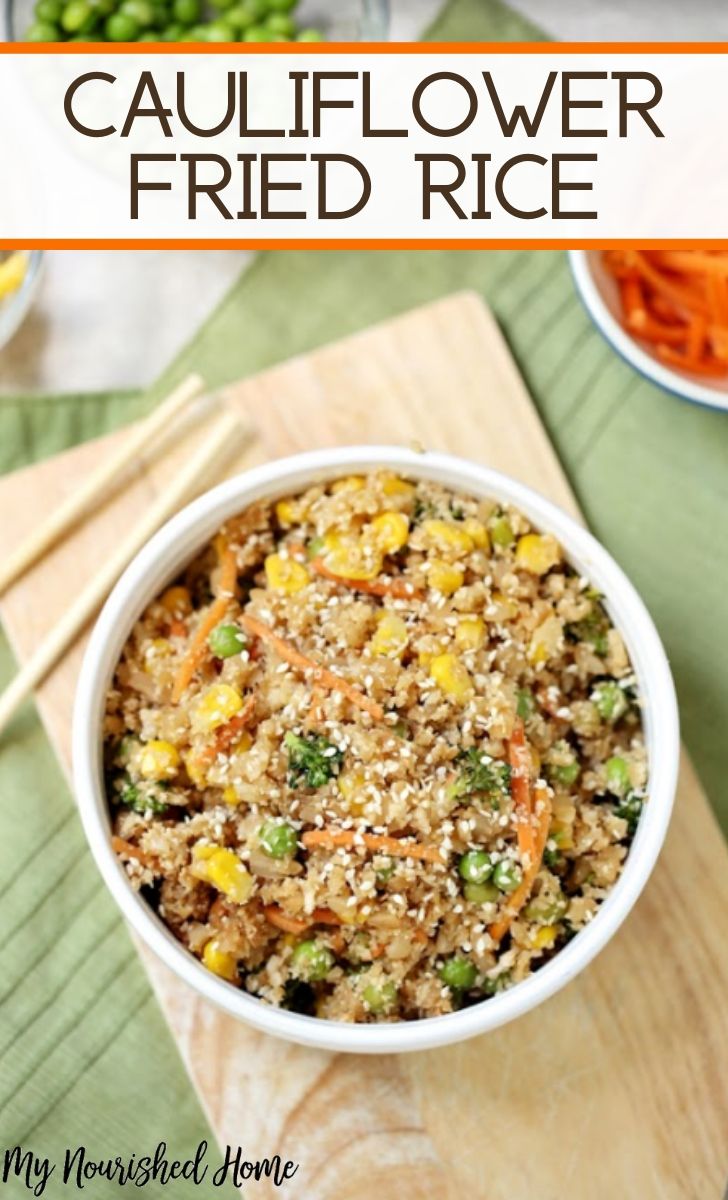 If you are skeptical about cauliflower rice, don't panic. It is really tasty, fast and easy to cook, and stores great to reheat later for leftovers.
You can buy "riced" cauliflower in the fresh vegetable section of your grocery store. Most places sell containers in the packaged section next to the other fresh veggies.
But you can also buy it in the freezer section from well known frozen vegetable brands. Both fresh and frozen work great in recipes. So I usually just buy what is cheaper.
Often, whole cauliflower is cheaper! And making cauliflower rice yourself is just a matter of tossing it into a food processor. That's it… no big deal. Here are more detailed instructions of how to make homemade cauliflower rice.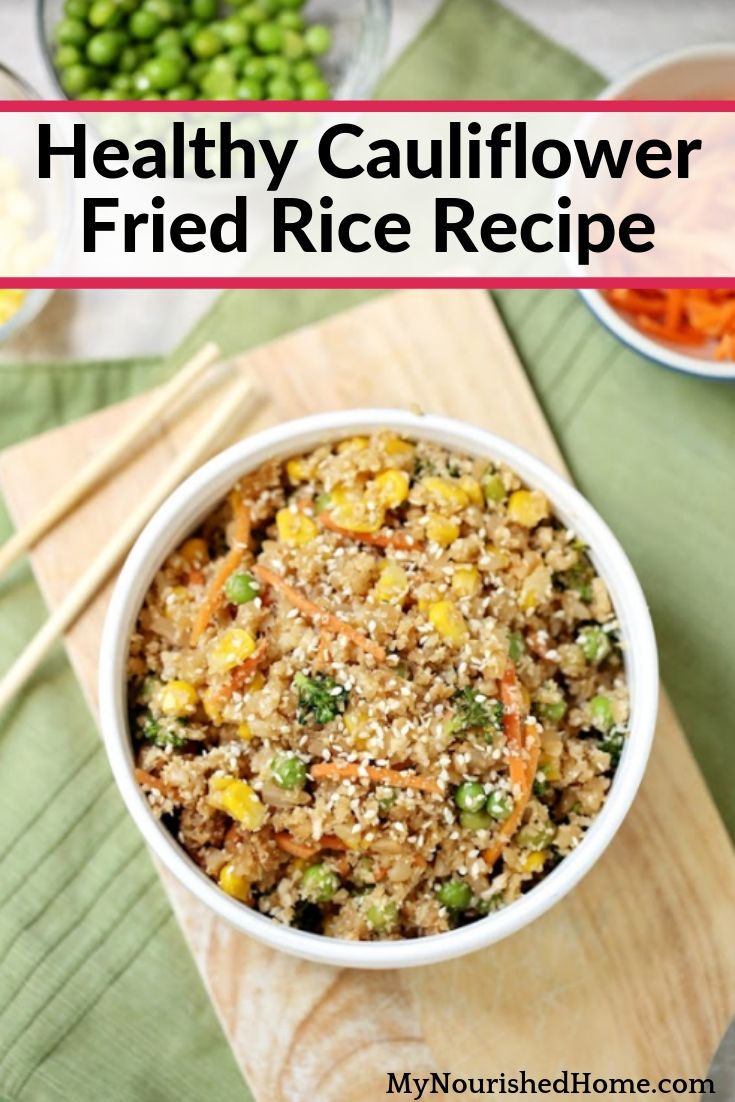 How to Make Cauliflower Fried Rice
You'll want to cook your mixed vegetables before adding your cauliflower to this fried rice dish. Generally they take a bit longer to cook than the cauliflower once it is riced. I use coconut oil because it is really healthy, but seaseme oil is more traditional for fried rice.
If you REALLY want to save some time here, feel free to use frozen mixed vegetables. Often I used a bag of frozen mixed vegetables and then add in any veggies that may need to be used up from my refrigerator!
Once they are partially cooked, you'll add your riced cauliflowers and soy sauce and cook for an additional 10 minutes, stirring regularly.
Top with seasame seeds (I also like chopped green onions!)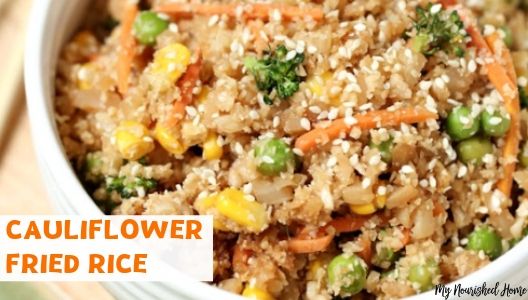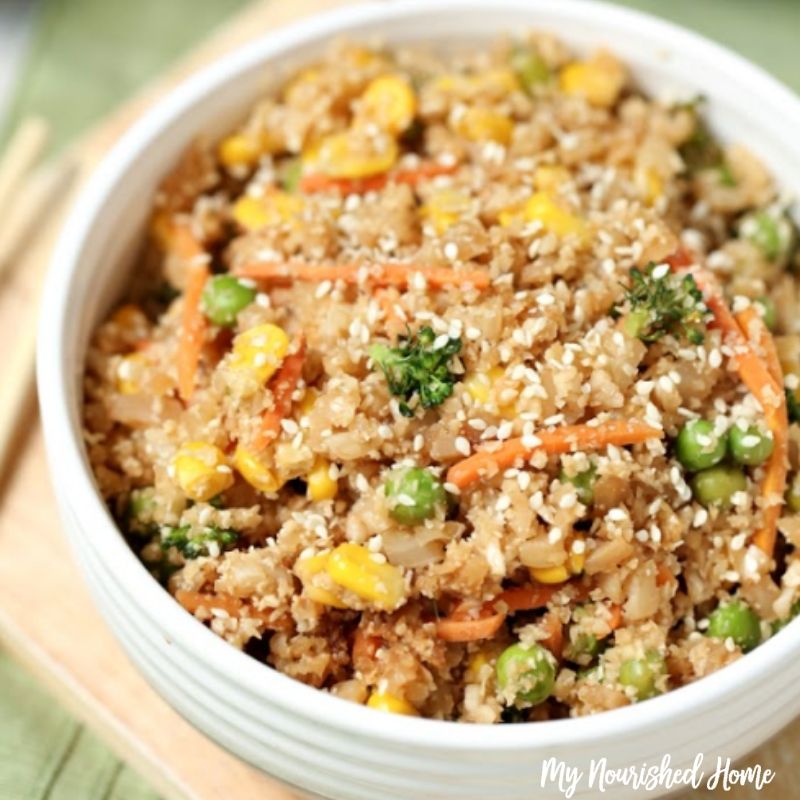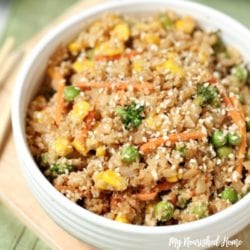 Cauliflower Fried Rice
This healthier version of vegetable fried rice is made with cauliflower and a whole lot of flavor!
Course:
Appetizers & Sides
Ingredients
1

head

cauliflower

1/2

cup

frozen peas

1/2

cup

carrots, chopped

1/2

cup

whole kernel corn

1/2

cup

broccoli cut into small florets

1/4

cup

low sodium soy sauce

1/2

tsp

garlic powder

1/2

tsp

black pepper

1

tbsp

coconut oil (or sesame oil)
Instructions
Roughly chop cauliflower, and pulse in a food processor until you have a rice-like

texture.

Melt coconut oil over medium-high heat in a large skillet, and cook peas, carrots,

broccoli, and corn until soft (about 6 minutes). Stir frequently.

Add in cauliflower and soy sauce. Cook for another 8-10 minutes, stirring frequently.

Sprinkle with sesame seeds and serve while hot.
Nutrition Facts
Cauliflower Fried Rice
Amount Per Serving
Calories 115
Calories from Fat 36
% Daily Value*
Fat 4g6%
Sodium 621mg26%
Potassium 612mg17%
Carbohydrates 16g5%
Protein 6g12%
Vitamin A 2882IU58%
Vitamin C 88mg107%
Calcium 49mg5%
Iron 1mg6%
* Percent Daily Values are based on a 2000 calorie diet.