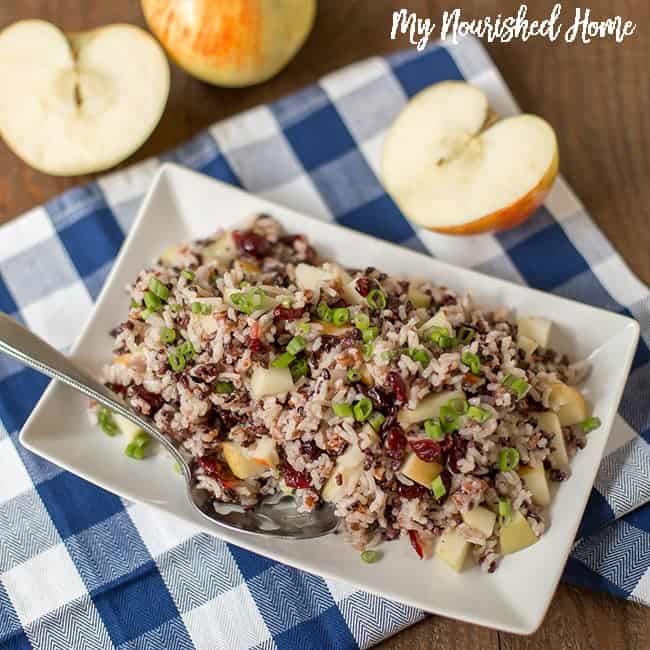 This Apple Cranberry Rice Pilaf is a perfect seasonal side dish – both sweet and savory.
It is delicious with baked chicken, fish or pork. You can even dice up the chicken and toss it with the rice pilaf for a healthy lunchbox idea.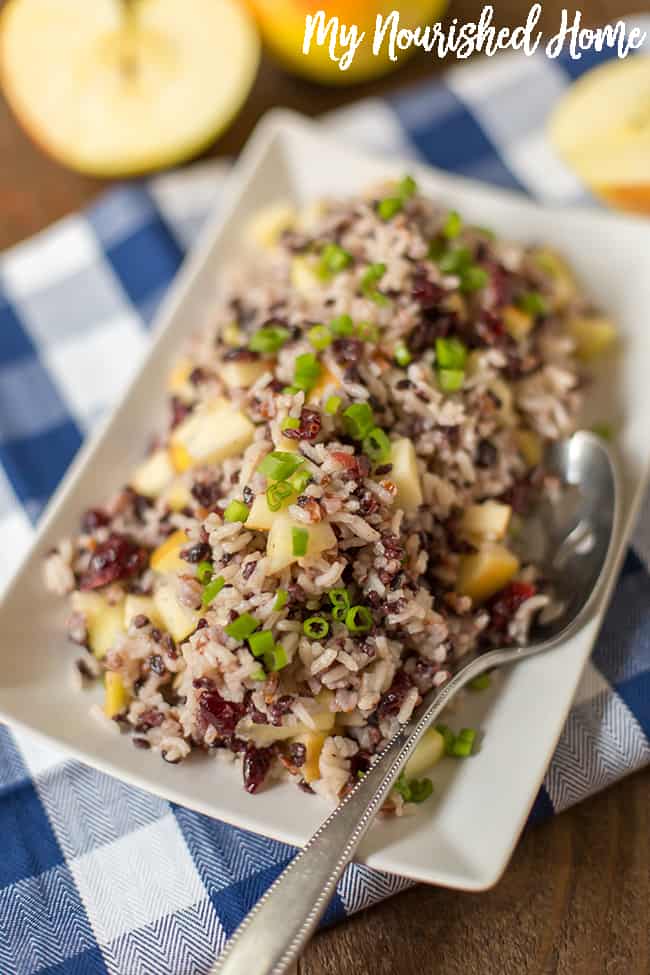 Apple Cranberry Rice Pilaf
If you have never made rice pilaf on your own, you are missing out on a simple side that is beyond delicious. This Apple Cranberry Rice Pilaf makes the most of the apple season by blending sweet Honeycrisp Apples with tart cranberries and various textures and flavors of rice for an intriguing and delicious side to any meal.
I actually love to serve it with a simple baked chicken – mostly because all of my kids get excited about it. At the end of the meal, I dice up the leftover chicken and toss it with the leftover Apple Cranberry Rice Pilaf to pack in their lunches the next day.
While my oldest has no problem finding utensils at school, my younger kids have not quite mastered the art of cutting into bite size pieces and the extra step lets them take a hearty and healthy lunch to school the next day.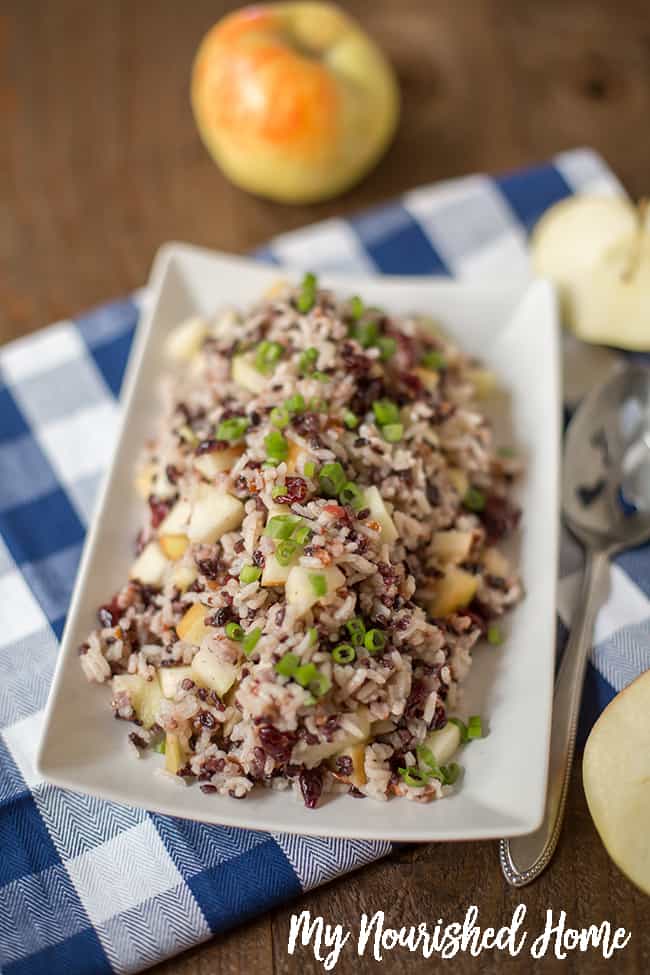 Honeycrisp Apples are perfect in Rice Pilaf
Honeycrisp and Fuji Apples are our family favorites and this recipe works great with both varieties.
We have a running joke at our house that we can put off going to the grocery store until we run out of any of these three things: milk, bananas, or apples.
In addition to cooking with apples a lot, it is also a go-to snack for literally everyone in my house. As long as the fruit bowl is full, we will all grab an apple on the way through the kitchen instead of a less healthy snack – and apples are the fruit that everyone can agree on.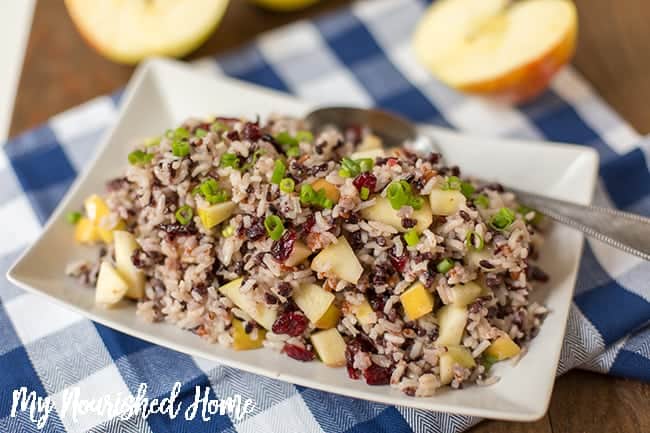 Healthy Rice Recipes
Both of my young children take apples with them in their lunchbox, my husband packs one for lunch every day and I have one in the afternoon at my desk.
My oldest child is a cross country runner and is always FAMISHED after practice. I always grab and apple on the way to pick her up from running so she has something easy to eat on the way home until we can sit down for dinner. (If I am feeling really nice, I grab something to cut up the apples and the container of almond butter for her to dip her apple slices in on the way home. She gets her own container because she is totally a double dipper.)
But several nights a week, we have rice on our table in one manner or another. The energy it provides and the base of sweet fruit or savory vegetables just makes dinner easy. If you are looking for something more savory than sweet, try this Healthy Vegetable Fried Rice.

Need More Apple Recipes?
Check out my favorite Whole Grain Apple Crumble here. Or these Spiced Apples and Dates. We love serving them for breakfast or with dinner!
Or follow Chelan Fresh on Pinterest! They have beautiful boards full of recipes that you will love!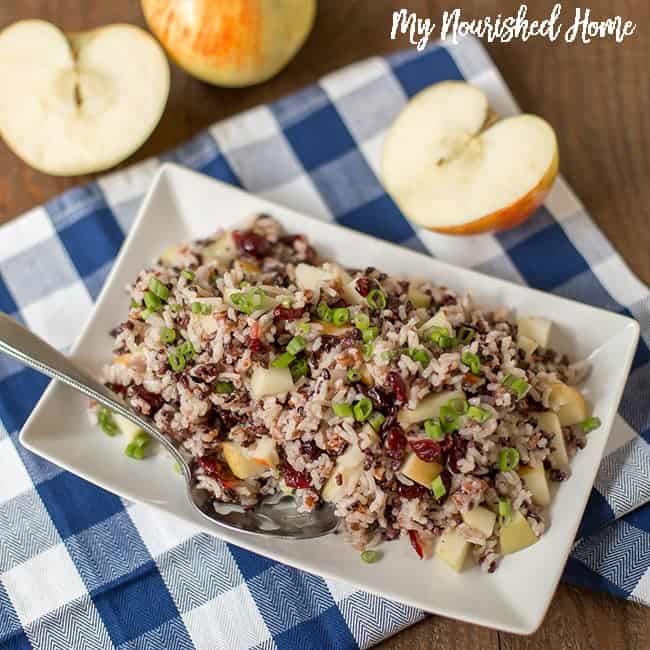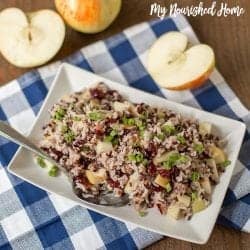 Apple Cranberry Rice Pilaf
Ingredients
1/2

cup

cooked black rice

1/2

cup

cooked red rice

1

cup

cooked white rice

1

tbsp

butter

1

Honeycrisp apple

diced

1/2

cup

cranberries

1/2

cup

onion

diced

1/4

cup

scallions

kosher salt

to taste
Instructions
First, cook the rice (separately) according to package directions, using chicken stock instead of water.

Meanwhile, melt butter and sautee the apple and onion until soft, for 3 or 4 minutes. Let them cool.

Once the rice is cooked, combine all 3 different kinds of rice in a bowl and mix gently. Add the apple and onion mixture, and the cranberries. Toss until combined.

Check for seasoning, you may need to add salt - depending on how you seasoned your rice originally.

Sprinkle the scallions on top of the rice before serving.

Eat warm.
Recipe Notes
You may substitute your favorite wild rice for the seperate rices if you prefer.