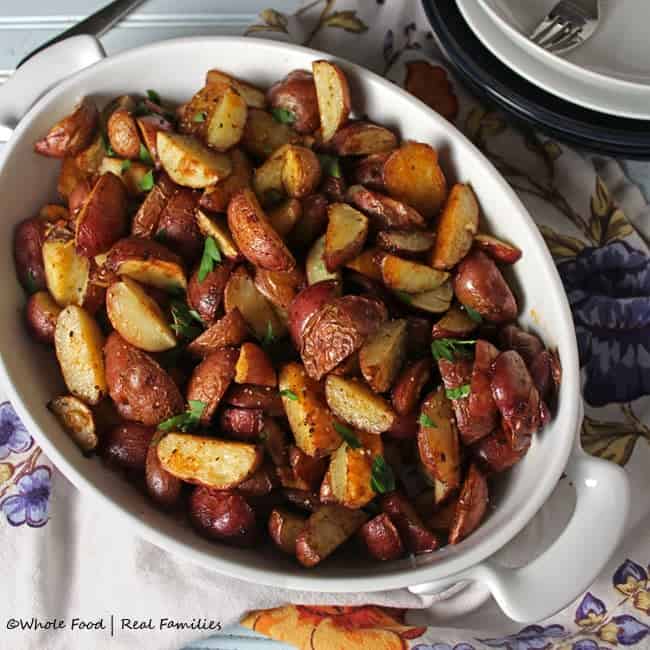 These Chipotle Red Potatoes are an easy and delicious side dish that everyone in my family loves. The outsides get nice and crispy and while flavorful, they are not too spicy for kids.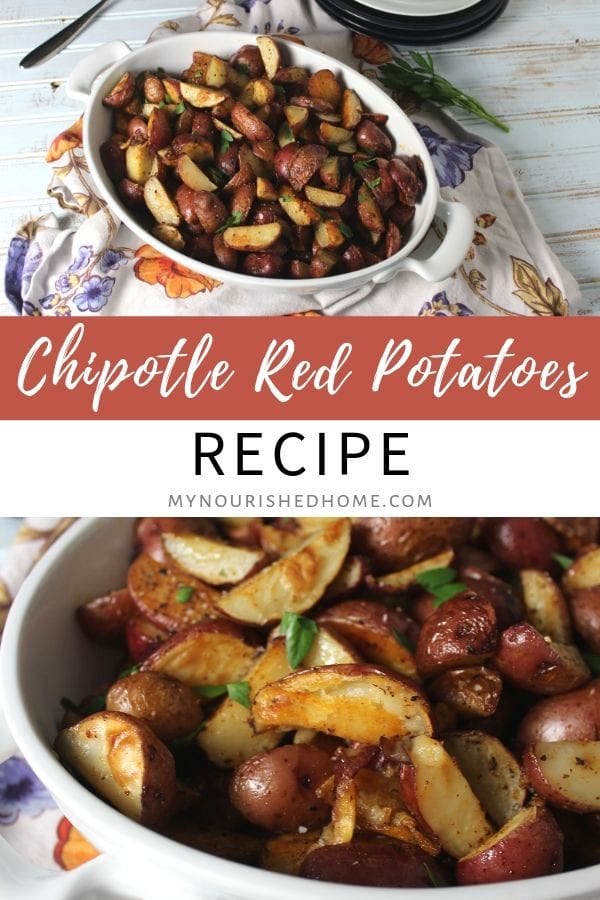 I am sure you guys know by now that I am a big fan of potatoes. The white potato gets a bad rap in my humble opinion. Yes, it has carbs but there is a big difference in eating refined sugar or flour and a baked potato. Potatoes are a great source of potassium, have lots of vitamin C and fiber, and are only 110 calories per medium baked potato.
As a mom, I love baked potatoes because they actually fill everyone up and everybody likes them. With 3 kids of various ages at the table, someone is always getting the evil eye for commenting about veggies they don't prefer at the table. While we all have our preferences, being polite and grateful at the table when someone else has cared enough to cook for you is a social grace we work on every day.

My husband and oldest daughter are also very athletic. Filling them both up with nutritious food is a priority. I would much rather see them both reach for an extra serving (or 3!) of potatoes than see them resort to empty calories to fill up.
Besides all that, I recieved my most favorite comment ever because of these Chipotle Red Potatoes! After this, I sort of feel like I have officially made it.

These Chipotle Red Potatoes are flavorful and crispy. While they are flavorful, they are not really spicy but feel free to play around with the spices. We make red potatoes as a side dish at least once a week, so to make these easy to get on the table, I keep the spices mixed up and stored in small canning jar. That way, all I have to do is cut up the potatoes, drizzle with olive oil, sprinkle with seasoning and toss them in the oven. If you are ever in a dinner pinch, this spice mix also works great sprinkled on chicken and baked.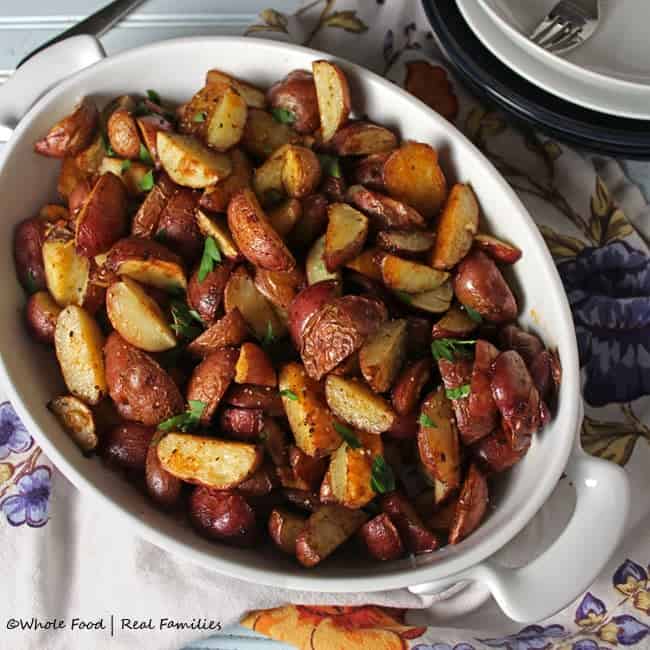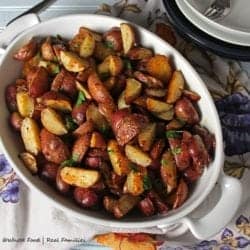 Chipotle Red Potatoes
Ingredients
2-3

lbs

red potatoes cut into quarters or eighths based on their size

1/4

cup

olive oil

Chipotle Spice Mix

1

tbsp

kosher salt

1 1/2

tsp

freshly ground black pepper

2-3

tbsp

chipotle powder

based on preference

2

tbsp

paprika

2

tsp

onion powder

2

tsp

garlic powder

1

tbsp

dried thyme
Instructions
Heat oven to 425 degrees. Cut red potatoes into quarters or eighths based on how big they are. I like them cut thinner so that they get more crispy. Place potatoes on a sheet pan.

Drizzle potatoes with olive oil. Sprinkle 2-4 tbsp on spice mix over potatoes based on how strongly you want the flavor to come through. (We like a lot!) Toss the potatoes, olive oil and spices well on the sheet pan and pat them down until they are in a single layer on the pan.

Place sheet pan in the oven and cook for 25-30 minutes or until the potatoes are golden and crispy.

Place extra spice mix in a sealable jar and store for next time!

Enjoy!