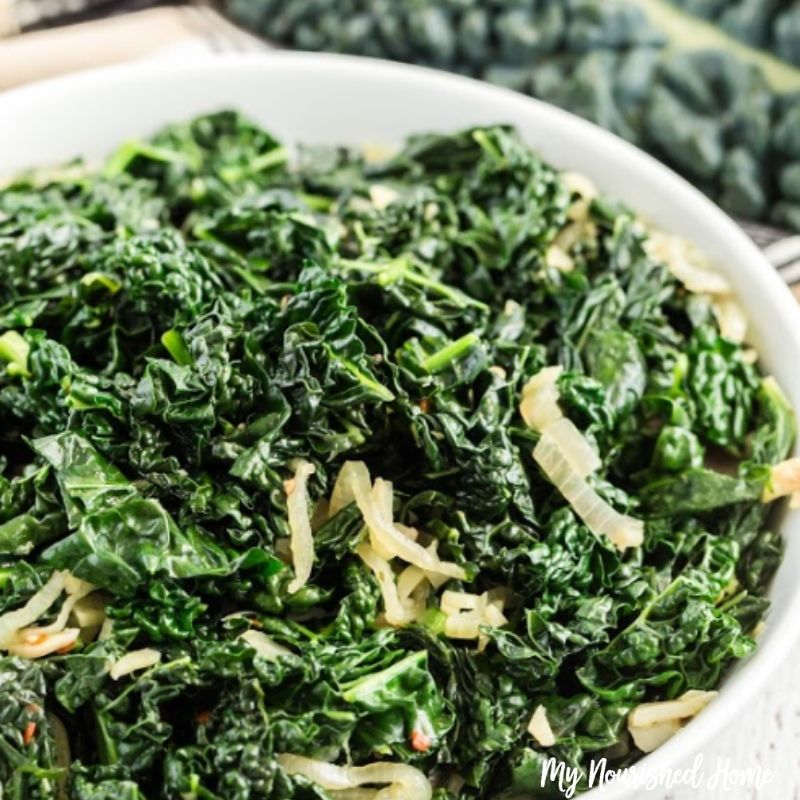 This is the most awesome Sauteed Kale Recipe ever and apparently, you agree! It has one of the top recipes on My Nourished Home pretty much forever. It will convert anyone from a kale-hater to a kale-lover, even my teenager… Learn to choose and prepare kale to remove the bite and keep the hearty flavor and all the nutrition!
How to Cook Sauteed Kale
For me, to cook good sauteed kale, you have to do two things. The first is to get rid of the "bite" traditionally associated with kale. I prefer to cook with lacinato kale because it has less of this taste. You can recognize it by the pretty, flat, dark greenish-blue leaves. It is not curly like most kale you see at the grocery store.
The second is to play up the earthy, rich flavor of kale. This recipe does that with the addition of garlic, shallots, rich broth instead of water, and a few red pepper flakes. You can sautee your kale in olive oil or avocado oil, but I think the coconut oil helps mellow out any bitterness in the greens.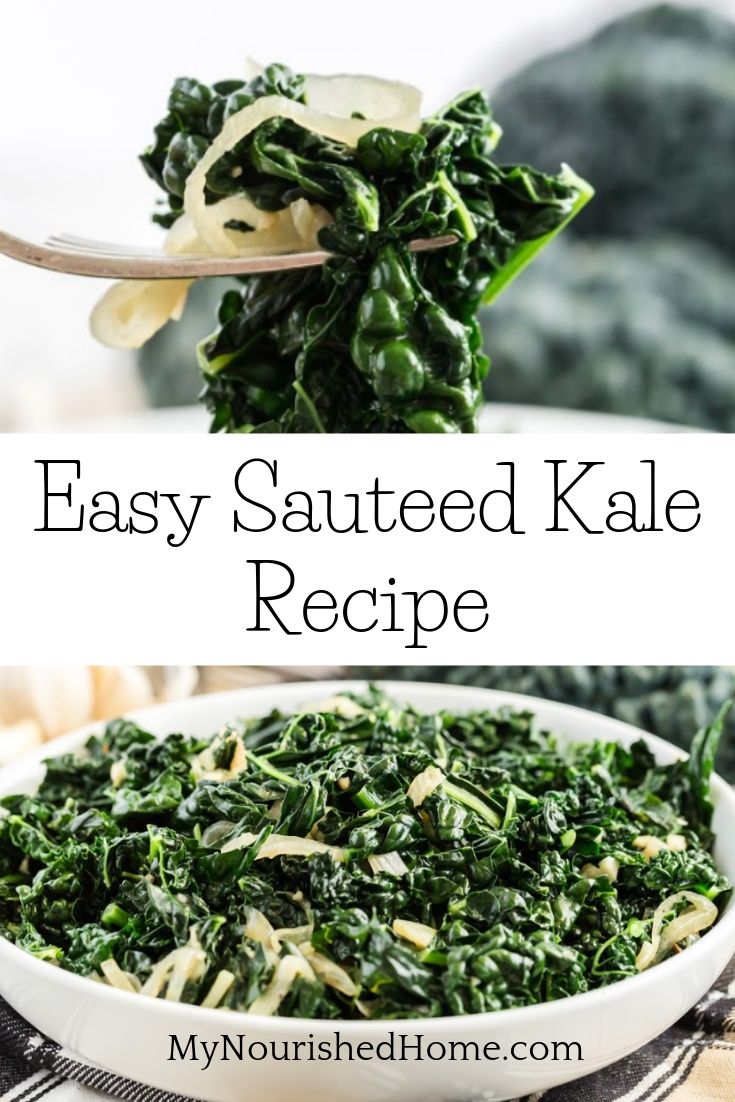 A Sauteed Kale Recipe for the Kale curious…
I have an admission. I am a recovering kale hater. I have always known it was good for me but could never get my taste buds and my brain to agree on a plan for incorporating more leafy greens into my diet. Two important things happened that changed that.
The first – I was born hard-headed and I was determined to find a way to like the green leafy things that are so good for me. (Thanks, Mom and Dad.)
The second, I stumbled on Lacinato Kale. I find it to be much less bitter than other varieties. If you decide to look for it at your market, you will also find it called Tuscan or Italian Kale or Dinasour Kale.
Not convinced of the nutritional value of kale? Check out all the details regarding kale nutrition here.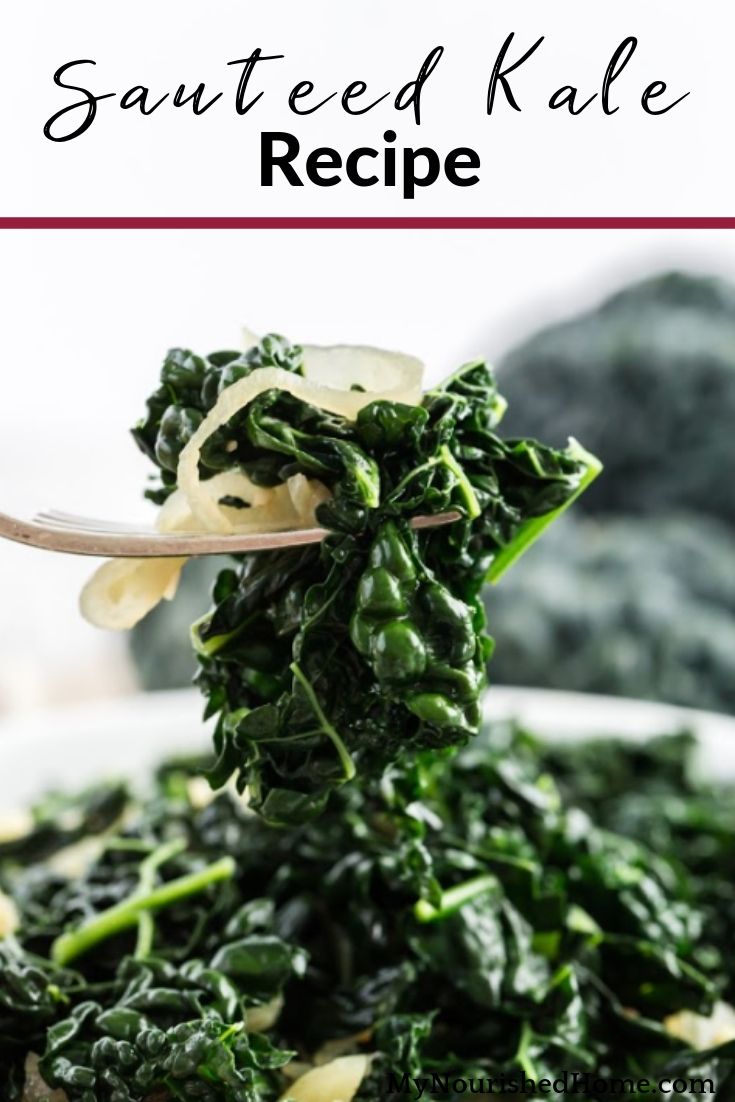 How to Prepare Sauteed Kale
Also, most people just wash their kale well, chop it up and cook with it. I don't love the stalks – so if you are new kale eater but looking for a way to make it work, be a wimp like me and remove the thickest pieces of the stalk before you chop and saute! Also, shallots make everything better. Seriously. My kitchen is never without shallots.
I always add just a bit of stock (or water if you are in a pinch) and cover the pan to make sure the stems are tender. My kids actually love this kale recipe, but one stem that doesn't chew like it is supposed to and all bets are off.
One more tip: we actually like to hit the farmers market when kale is in the season. Often there is SO MUCH OF IT that towards the end of the market, sellers will sell it by the box rather than by the bunch. We take it home, wash it and trim it, then blanch it in boiling water, then pile it into freezer bags. A huge box of kale turns into maybe two-gallon bags once it is blanched. Then when I want fresh greens for dinner, we just pull as much as we need out of the bag and it tastes fresh as the day we bought it.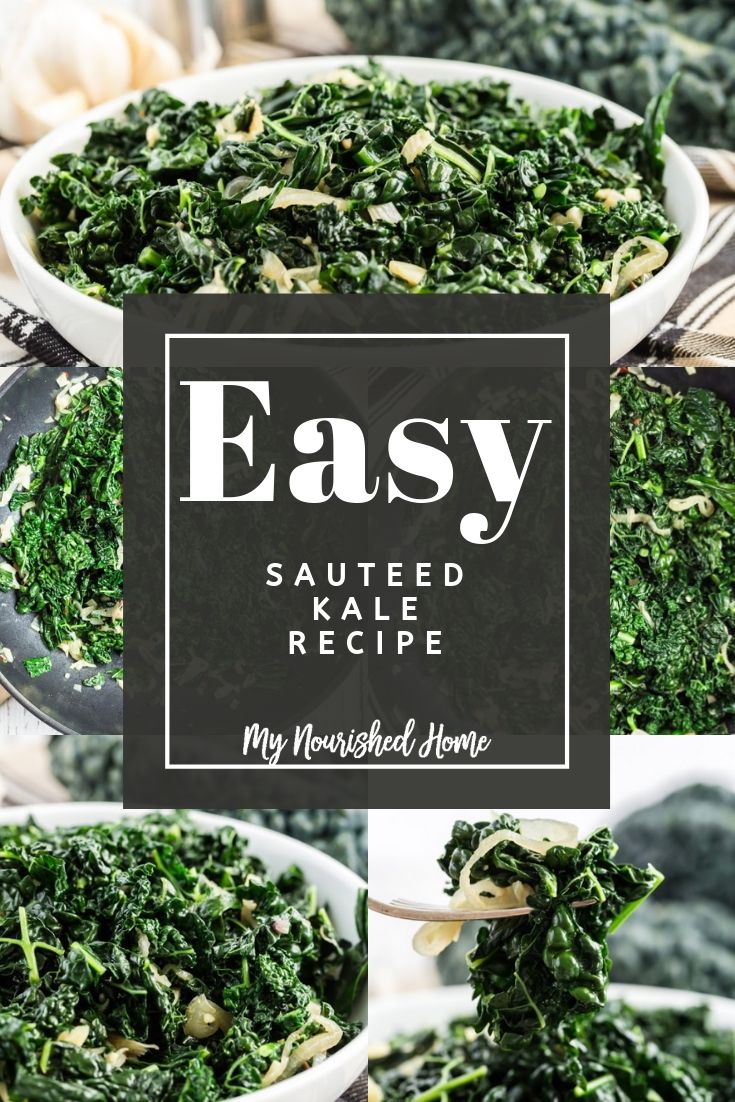 Kale Main Dish Recipes
I have heard over and over again that this recipe changed people's mind about eating sauteed kale as part of their regular dinner rotation. Once your mind is opened to kale, you will be looking for more main dish recipes!
If you are looking for another recipe that will change your family's mind about kale, this Creamy Chicken and Kale Gnocchi is the BEST. The little bit of cream in the sauce takes all the bite right out of the kale.
Kale can be substituted for most leafy greens in recipes. But I trade it out with spinach pretty often. If I am going for a heartier, earthier dish, I use kale. If I am thinking light and fresh, I use spinach.
We also love these Chicken and Kale Empanadas! They are awesome to make ahead and freeze, then pop into the oven for a quick dinner or lunch.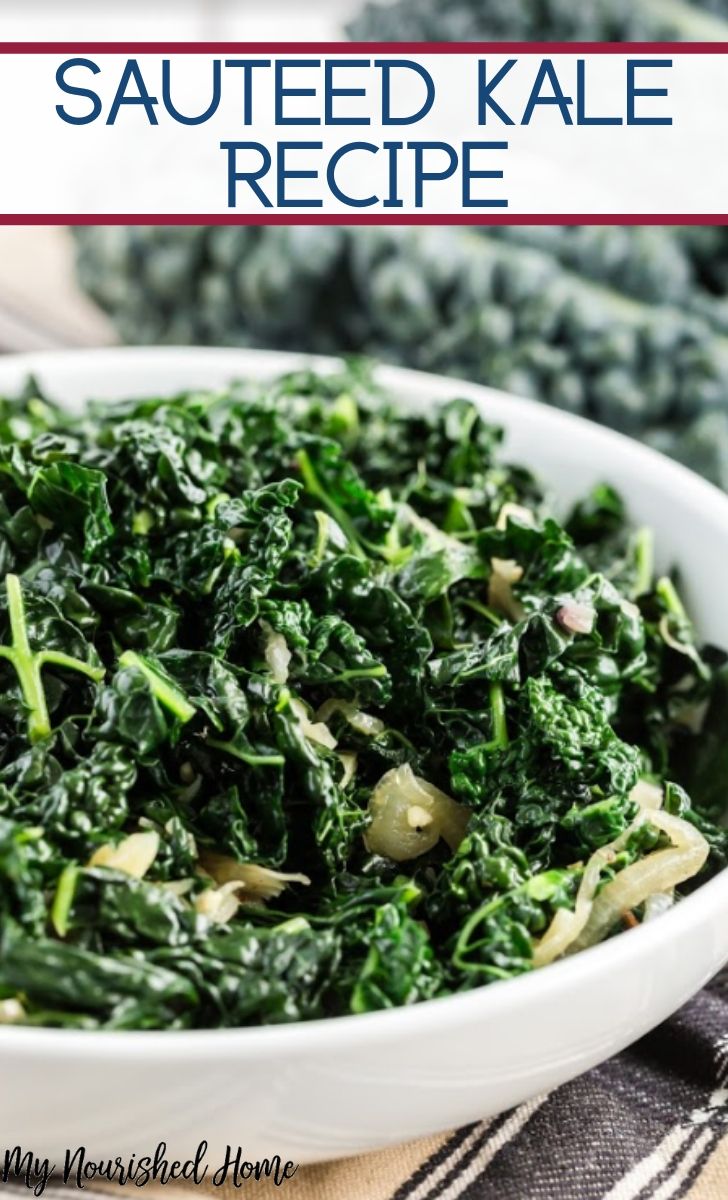 Can Sauteed Kale be Frozen
The short answer is YES! Pile it in an airtight bag or container and pop it in the freezer. You'll just need to thaw it in the refrigerator then reheat it in a saute pan when you are ready to eat it.
The long answer is – I actually prefer to blanch my kale and freeze it without the seasoning or oils that you use to saute. That way, I have the flexibility to use it in a specific recipe once thawed.
I have been known to whack a bunch of frozen kale on the counter and throw the block into the slow cooker to add greens to soups. Kale is very forgiving… thank goodness.
If you come into a mass of kale that you fear will go bad before you can use it, by all means, blanch and freeze it. It is so easy! Rinse your kale so it is clean, and chop into pieces. Bring a big pot to a rolling boil, add the kale and let it boil for 3 minutes (yes, just 3 minutes!). Use a slotted spoon to remove it and transfer it directly to a big bowl of ice water to stop the cooking. From there you can drain it and stick it into bags fit for the freezer.
If you try it, tag me on Instagram at @mynourishedhome and let me know what you think!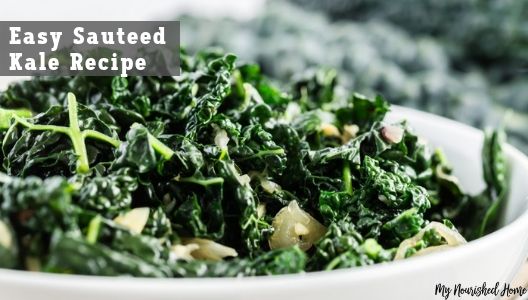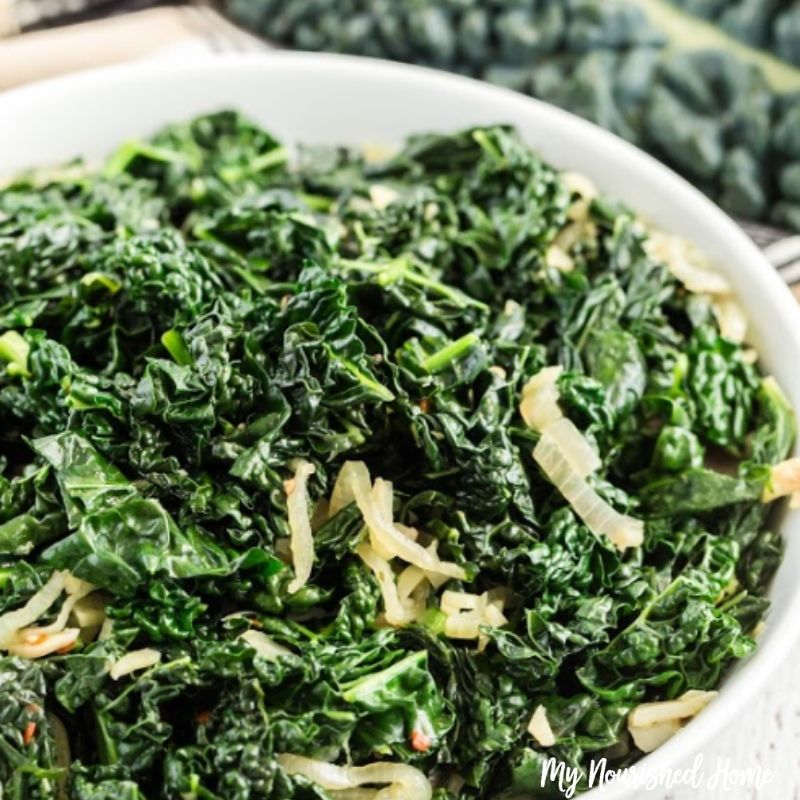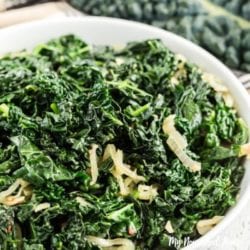 The Most Awesome Sauteed Kale
A kale recipe that is actually delicious! With tips on which type of kale to use and how to make sure it is not bitter!
Course:
Appetizers & Sides
Ingredients
1

large bunch

kale, washed and coarsely chopped

Dinosaur kale is my favorite

2-3

tablespoons

coconut oil

or olive oil

1/2

tsp

crushed red pepper flakes

more or less to taste

2

cloves

garlic, minced

2-3

shallots, sliced into rings

1/2

cup

chicken or vegetable stock

kosher salt and black pepper to taste
Instructions
Heat coconut oil in a large saute pan. Add shallots and allow them to cook 2-3 minutes or until translucent. Add garlic and red pepper flakes and cook for one minute, stirring often to prevent burning.

Add kale, broth, and salt and pepper, mix well. Cover and cook for 5 minutes, tossing occasionally. Remove the cover and continue cooking until most of the broth has cooked away. Serve hot and Enjoy!
Nutrition Facts
The Most Awesome Sauteed Kale
Amount Per Serving
Calories 87
Calories from Fat 72
% Daily Value*
Fat 8g12%
Cholesterol 1mg0%
Sodium 55mg2%
Potassium 191mg5%
Carbohydrates 4g1%
Protein 2g4%
Vitamin A 3245IU65%
Vitamin C 39mg47%
Calcium 49mg5%
Iron 0.5mg3%
* Percent Daily Values are based on a 2000 calorie diet.