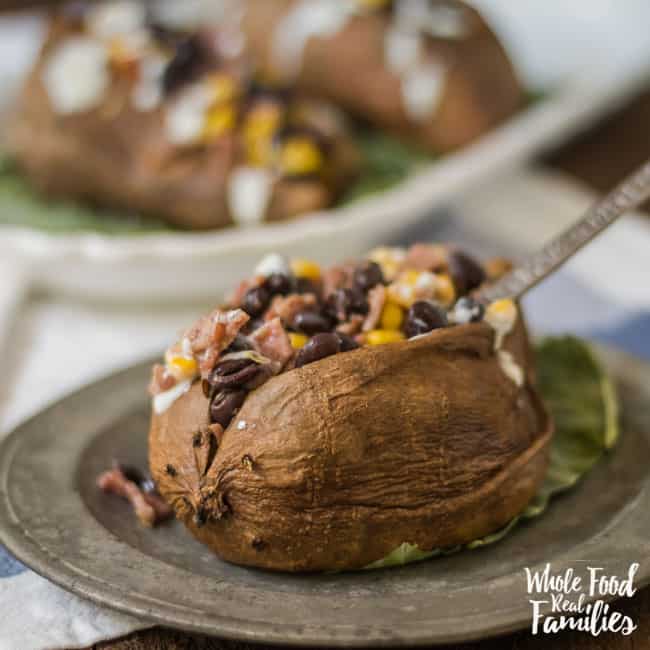 These Stuffed Sweet Potatoes are the love child of two things my kids love for dinner – maple sausage and roasted sweet potatoes. One is a perfect complement to the other, so we stuffed them together to make a little magic.


Favorite Dinner EVER! Stuffed Sweet Potatoes!
We all love it. And Jeff and I don't have to do the "will you please eat your dinner" dance for any of our kids. They elbow each other in the ribs trying to get to the table first. Earlier this week, a friend and I were at the pool with our collective herd of kids talking about food and recipes ('cause that never happens). The subject started at stuffed potatoes, you know the ones with cheddar cheese, bacon and chives – and meandered its way to roasted sweet potatoes and yummy maple sausage. My friend said: " I wonder if you could stuff sweet potatoes with that sausage."
Well, yes you can! I made this recipe that very night. SO GOOD!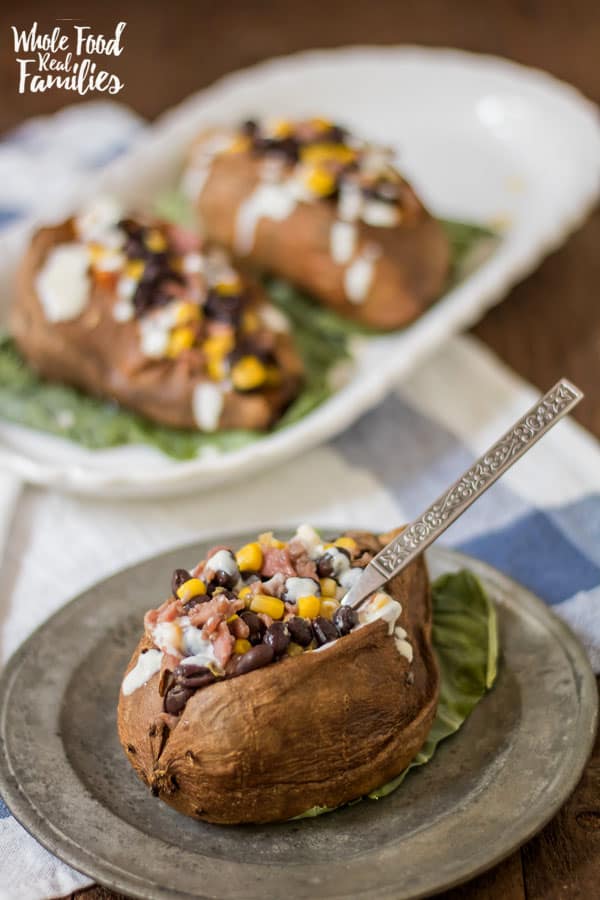 Sausage Stuffed Sweet Potatoes!
Confession: I made this recipe with 6 sweet potatoes but had enough stuffing to stuff two more sweet potatoes. So I wrote the recipe for 8 sweet potatoes. Did we make more stuffed sweet potatoes with our leftovers? No, we did not. My oldest child got to the leftovers first. She piled salad greens in a bowl, dumped the sausage mixture over the greens, spooned the sauce over the whole concoction, popped the lid on her container. And looked at me with satisfaction claiming the bowl as her school lunch for the next day. Well alrighty then.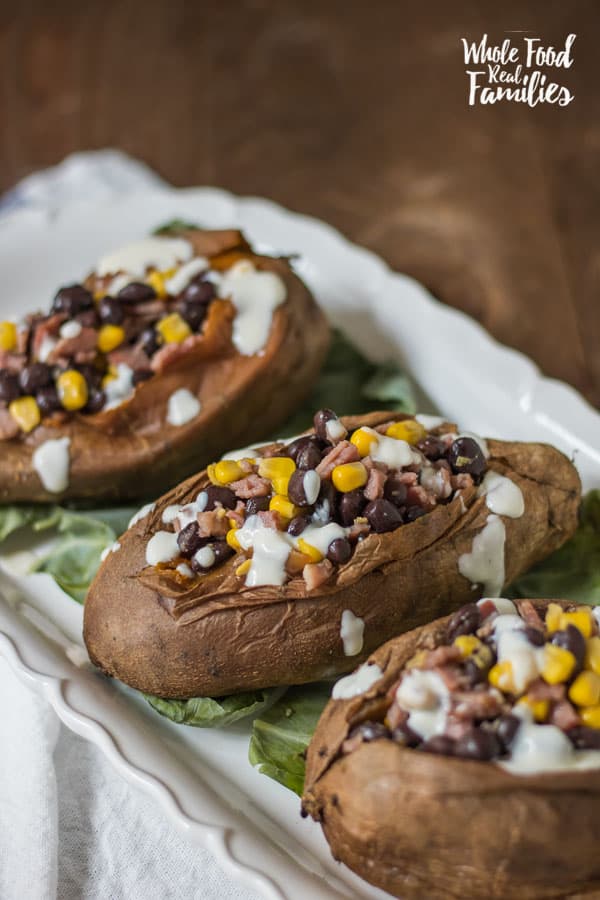 Simplify Stuffed Sweet Potatoes!
So you decide if you need 6 stuffed sweet potatoes or 8. And adjust accordingly.
There are nights that I just need to shave some time off of getting dinner to the table. On those nights, I cook my sweet potatoes in the pressure cooker. Always follow the instructions in your pressure cooker manual but my machine cooks decently sized sweet potatoes in about 25 minutes on high pressure. It definitely saves time when having these for dinner.
You are going to have about a cup or so of leftover sweet potato that you scoop out to create space for the filling. Save it! And make Sweet Potato Muffins with an Oatmeal Crumble Top!
More Sweet Potato Recipes?
Still can't get enough sweet potatoes? We can't either, we really eat them all the time These Roasted Root Vegetables are on our table at least once a week in the fall.
UPDATE: A couple of people have asked me how I got the sauce to be all zig-zaggy. I put the sauce in a sandwich bag and snipped the tiniest hole at one of the corners. Then just used it like you would if you were decorating a cupcake. Voila! Zig-zaggy magic!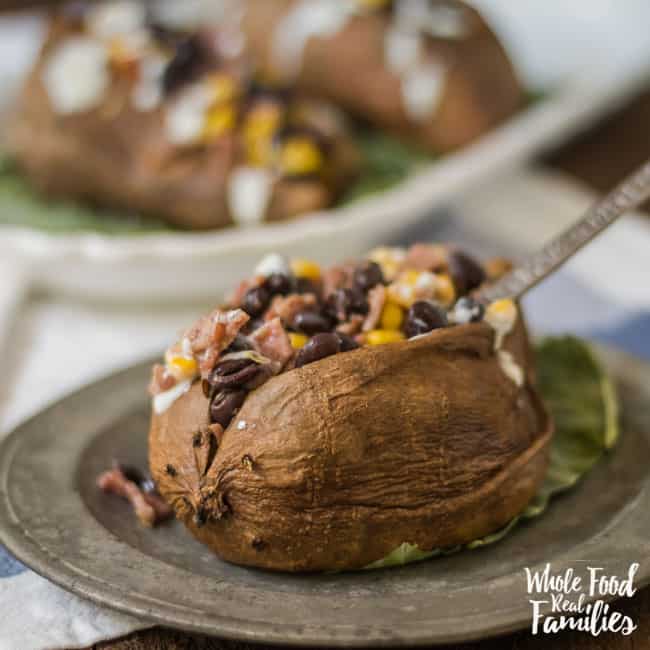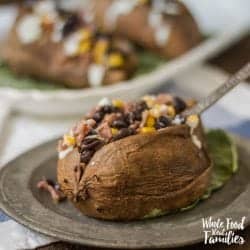 Stuffed Sweet Potatoes
Ingredients
8

medium

sweet potaotes

1

lb

high quality loose sausage

3

tbsp

maple syrup

1

15 oz can

black beans

I use Eden Organic all of their cans are BPA free

1

ear

fresh corn on the cobb

or about 3/4 cup frozen organic corn

1/2

tsp

cumin

1/2

tsp

salt

fresh cracked black pepper to taste

1/4

cup

green onions
Maple & Lime Drizzle
1/2

cup

Greek Yogurt, Plain

1/2

tsp

cumin

2

tbsp

maple syrup

to taste

juice from 1/2 lime
Instructions
Cook sweet potatoes in the oven at 400 degrees for 40-45 minutes, or until fork tender. Or cook them in your pressure cooker for 22-26 minutes on high pressure, depening on the size of your sweet potatoes. If you are using the oven method, add your fresh corn on the cob to the baking sheet with the sweet potatoes about 15 minutes into the cooking time. Just make sure to drizzle it with a little olive oil first. Remove from oven and let the sweet potatoes and corn rest until they are cool enough to handle.

Brown the sausage on medium high heat until it is no longer pink. Drain the grease leaving approximately 2 tbsp in the pan with the meat. Add beans, corn (either freshly cut off the cob or 3/4 cup frozen), maple syrup, cumin, salt and pepper. Allow the mixture to heat through. The moisture from the vegetables will thicken slightly. Add chopped green onions to filling.

When sweet potatoes are cool enough to handle, cut off the top 1/4 of the potato and scoop a shallow well into the remaining sweet potato for the sausage mixture to fill. Reserve the sweet potato you removed for a different use (like sweet potato pancakes!)

Divide sausage mixture between potatoes.

Combine plain greek yogurt, cumin, maple syrup and the juice from 1/2 a lime, whisking until the sauce is uniform. Drizzle over the stuffed sweet potatoes. Top with a few extra green onions. Serve warm over a bed of salad greens! Enjoy!