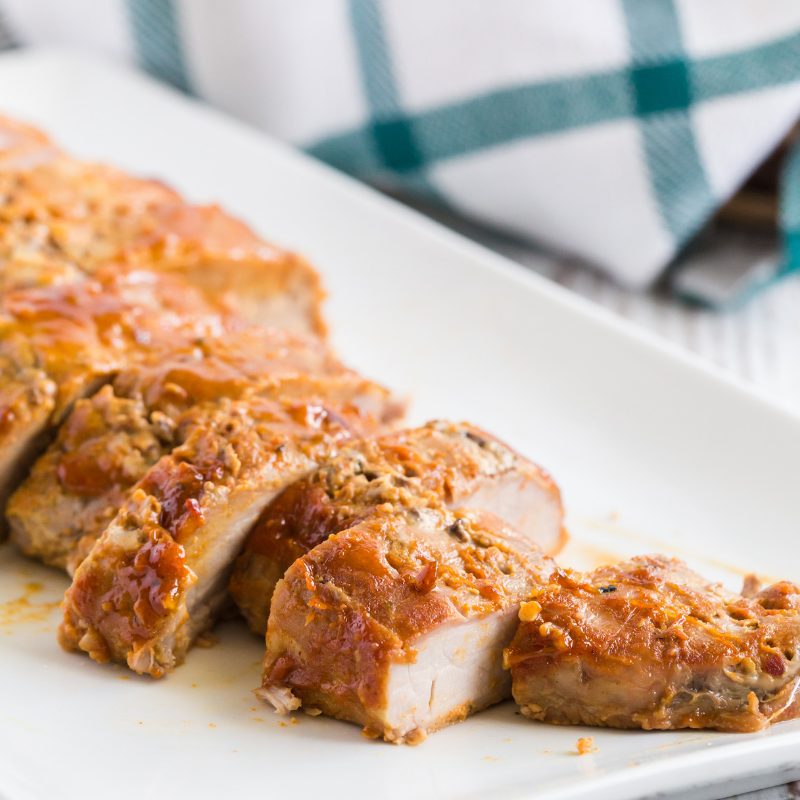 Smoked Pork Tenderloin is tender and flavorful – it is also easy! It uses a quick brown sugar and mustard glaze that you can whip up from ingredients already in your pantry for a fabulous dinner.
When the weather is nice, we spend a lot of time outside near the Big Green Egg, savoring the smells of future dinner while we work in the yard, play with our kids, and finally find time to chat sitting in the driveway.
And pork is a winner for all 3 of our kids. In addition to this tenderloin recipe, they love these smoked pork chops!
How to Make Smoked Pork Tenderloin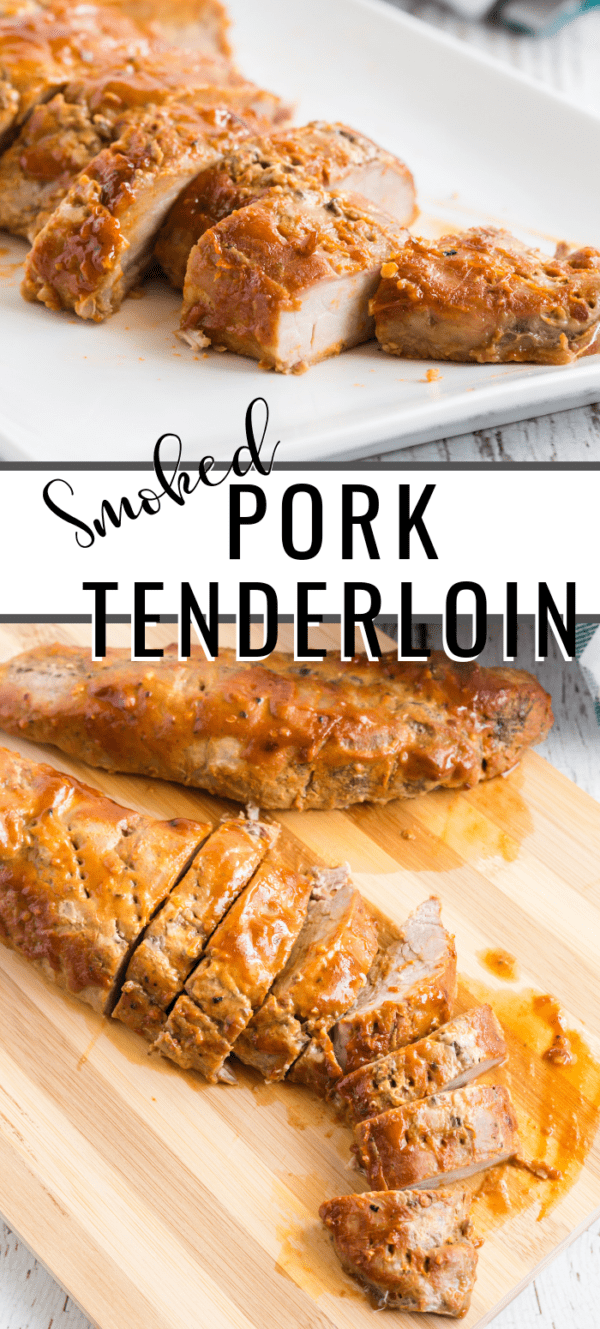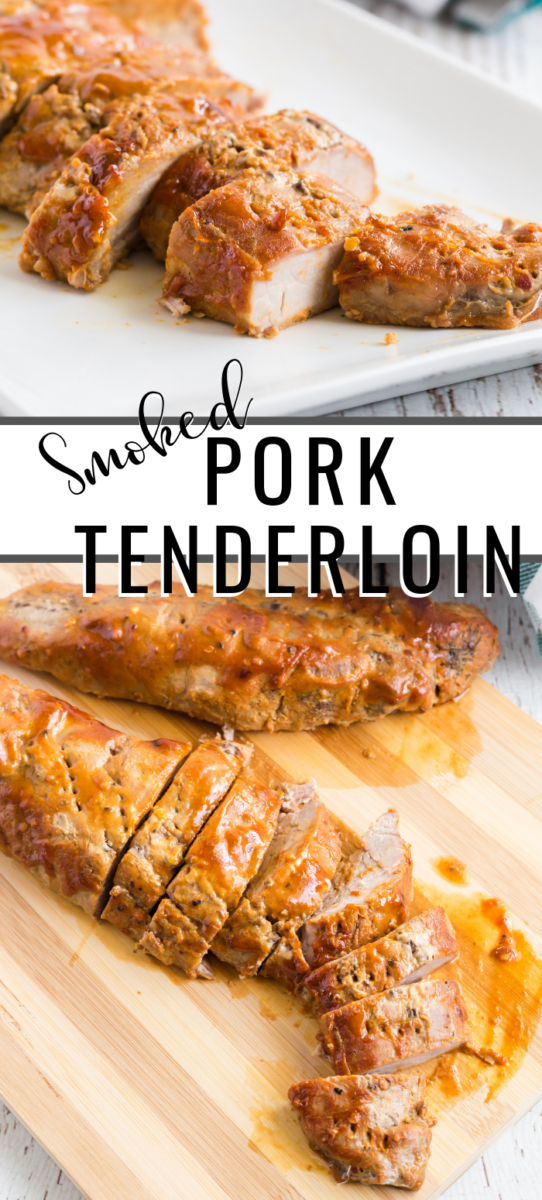 If you and your smoker are not best friends yet, don't worry, this recipe is super easy. While there are lots of smoker recipes that will have you spending most of the day by the grill, this one is quick and will have you done by lunch.
Preheat your smoker to 225 degrees. And prep your meat! We usually cook two tenderloins for our family of five (2 of those are small kids). That usually weighs in at about 2.5 pounds.
You will want to trim the excess fat and silver skin from the pork if you butcher did not do that for you. (I always ask my butcher because it saves me time!) If you are not sure what part of the pork tenderloin I am talking about, you can check out this link for a quick tutorial on what is silver skin on pork tenderloin and how to remove it.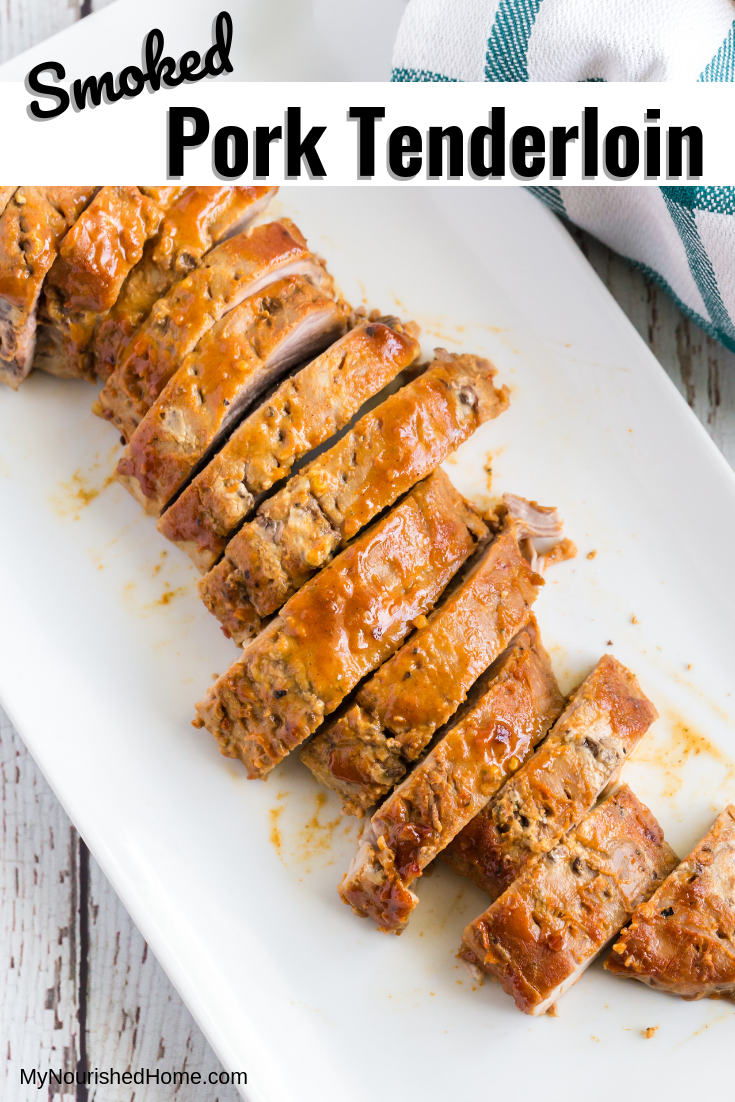 Mix all the ingredients in the recipe together to create a glaze. (If you prefer a dry rub, substitute dry mustard for the yellow mustard in the recipe!) Brush the glaze liberally on all sides of the pork tenderloin.
If you want to save yourself from the cleanup of your smoker, you can place your prepared pork tenderloin on a small baking tray that fits inside your smoker. Or you can add your meat directly to the grates. Both methods cook great. The tray will keep the glaze from dripping while it is cooking so you have an easy cleanup. Directly on the grates will give you beautiful grill marks. So pick your preference.
How Long to Smoke Pork Tenderloin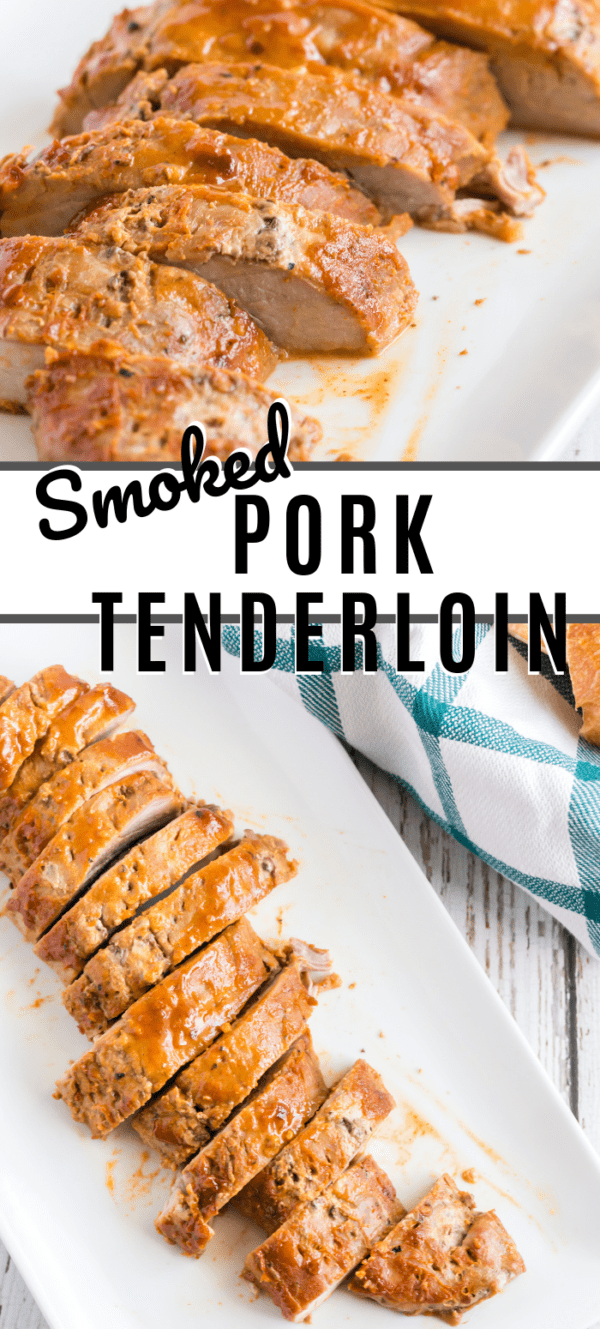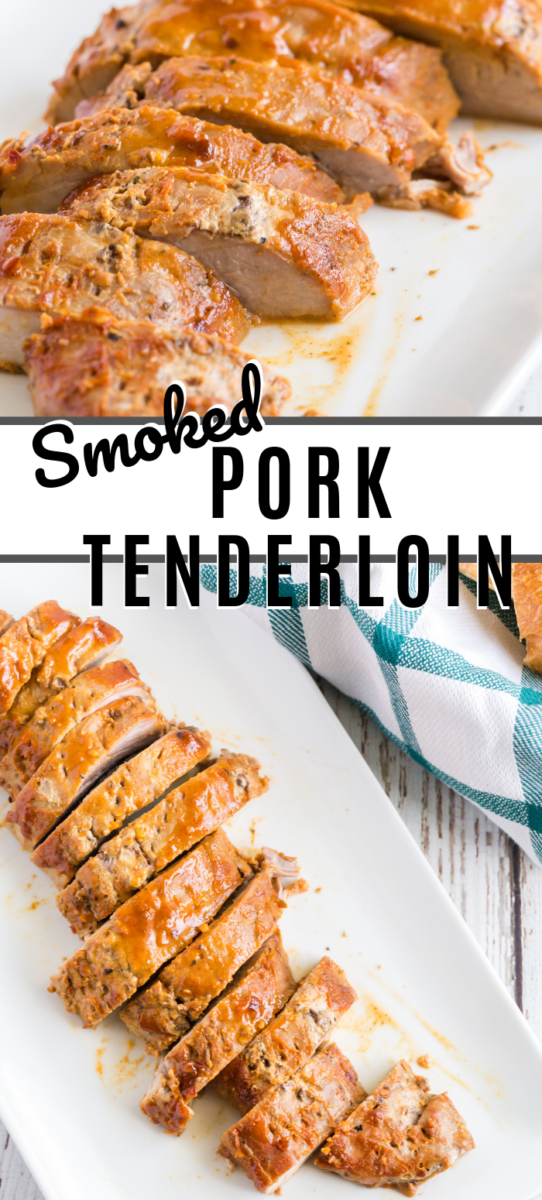 If you are using roughly the same amount of pork as we did in our recipe (2 tenderloins that combined weigh about 2.5 pounds), then you will smoke your pork tenderloin for 2.5-3 hours.
There is a tendency to overcook pork – and it makes me sad. You don't want your pork to dry out! It is totally okay if it is a tiny bit pink in the middle (don't treat it like chicken!) as long as the internal temperature reaches 145 degrees.
Once you remove the smoked tenderloin from the grill, tent it with foil and let it rest for 10 minutes. This lets the juices redistribute in the meat.
Can I wrap this Smoked Tenderloin in Bacon
Well, of course, you can! Everything is better with bacon, right?!
Everyone loves this brown sugar & mustard glazed smoked pork tenderloin recipe — both with and without the bacon.
If you want to wrap your tenderloin in bacon, mix up the glaze and brush it on your prepared tenderloin normally. Then carefully wrap it in bacon (we love the thickly sliced stuff!) We like to sprinkle the dry rub portion of the glaze onto the outside of the bacon for extra flavor! If you want to try that, make sure you mix up a little extra of the dry spices.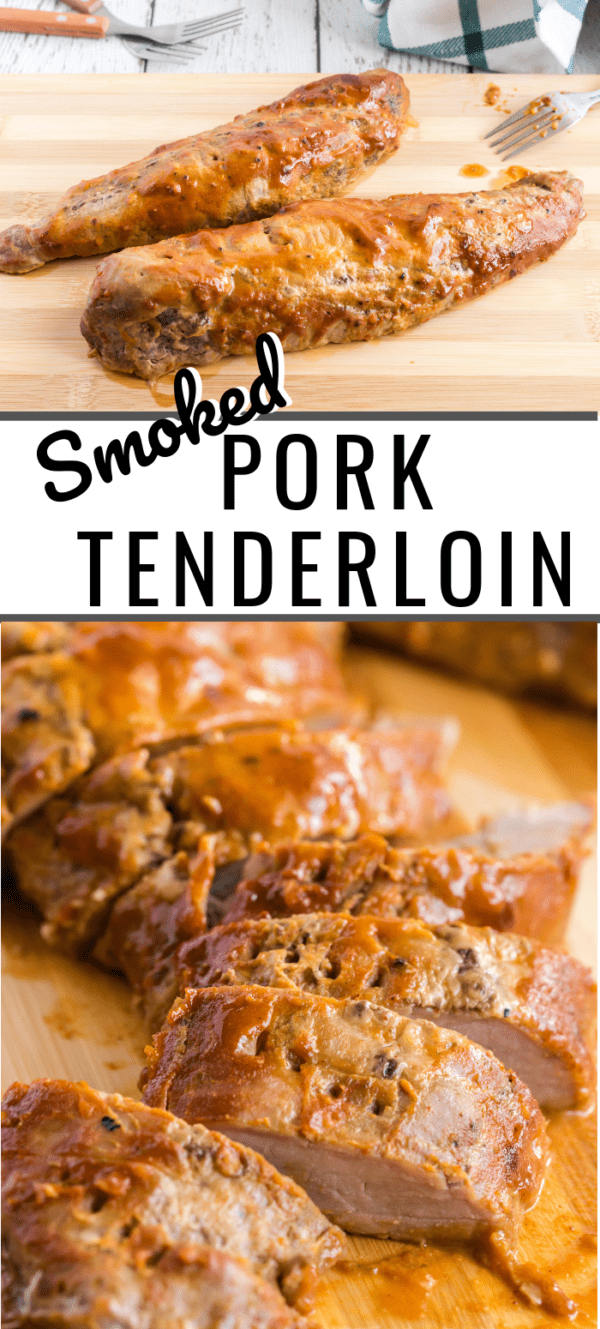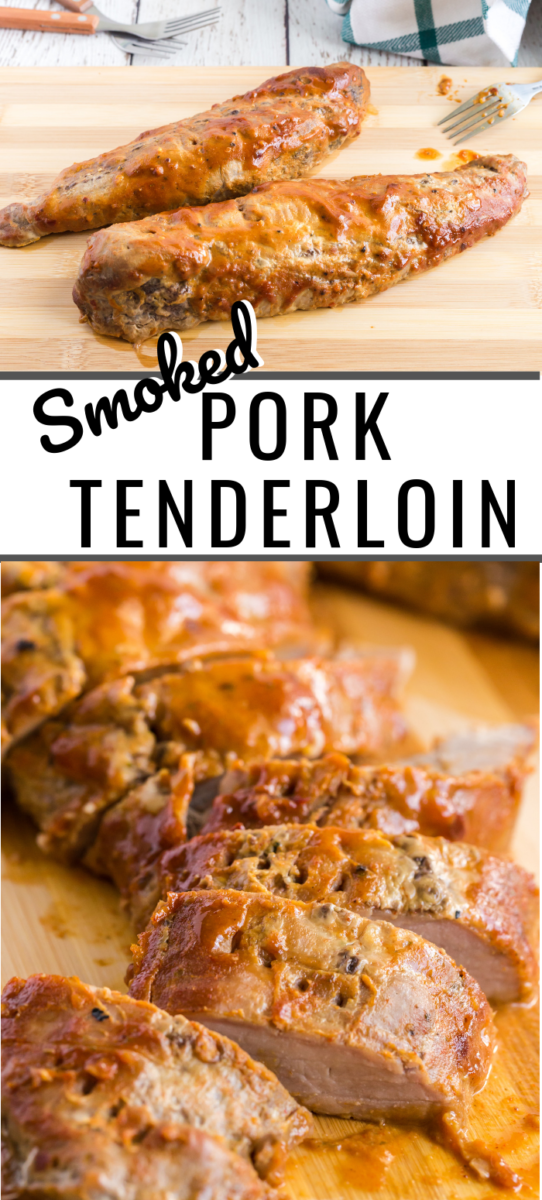 What do I serve with Smoked Pork Tenderloin
Grill food has a special quality to it… So you need a side that will stand up to the big flavors! We love these Chipotle Red Potatoes and Roasted Corn on the Cob. They are great with your barbeque spread! This Easy Tomato Salad is a great fresh side to add too!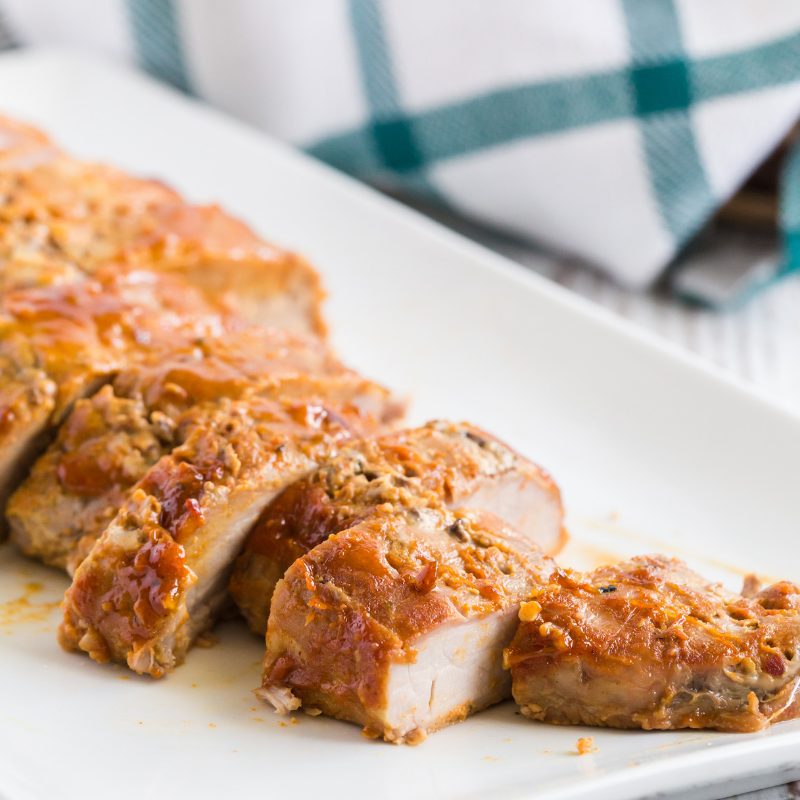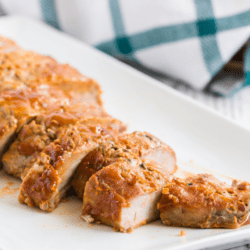 Smoked Pork Tenderloin with Mustard Glaze
This easy Smoked Pork Tenderloin makes a fabulous dinner!
Keyword:
grill, pork, smoker, tenderloin
Ingredients
2

Pork tenderloins

approximately 2.5 pounds total

¼

Cup

yellow mustard

¼

Cup

dark brown sugar

1

tsp

smoked paprika

1

tsp

granulated garlic

½

tsp

chili flakes

½

tsp

kosher salt

¼

tsp

fresh ground pepper
Instructions
Preheat your smoker to 225 degrees.

Trim excess fat and silver skin from the pork, if your butcher did not do that for you.

Mix all ingredients for the glaze and coat all sides of the pork. Place the pork on a small baking try to fit inside the smoker. Place in the smoker and cook for approximately 2.5 – 3 hours until internal temperature reaches 145 degrees.

Remove from smoker and tent with foil for 10 minutes then slice and serve.

You can place this directly on the smoker grill, however the glaze will drip as it cooks so you may want to place something underneath to catch the drippings.
Nutrition Facts
Smoked Pork Tenderloin with Mustard Glaze
Amount Per Serving
Calories 1156
Calories from Fat 297
% Daily Value*
Fat 33g51%
Cholesterol 590mg197%
Sodium 948mg40%
Potassium 3625mg104%
Carbohydrates 15g5%
Protein 188g376%
Vitamin A 340IU7%
Vitamin C 0.2mg0%
Calcium 75mg8%
Iron 9.2mg51%
* Percent Daily Values are based on a 2000 calorie diet.