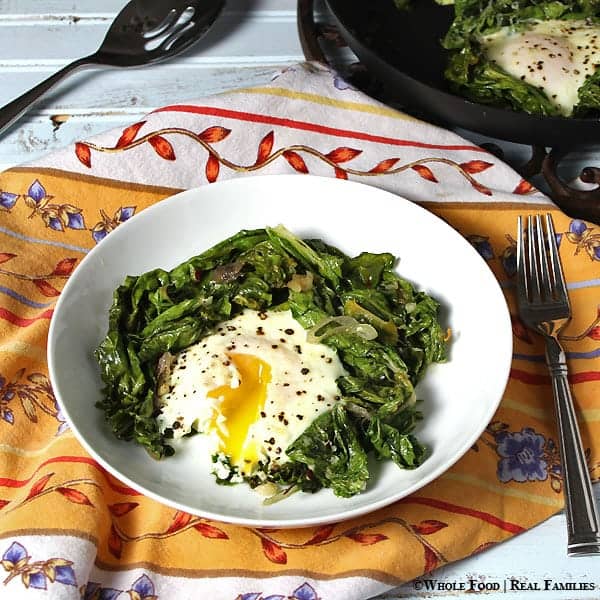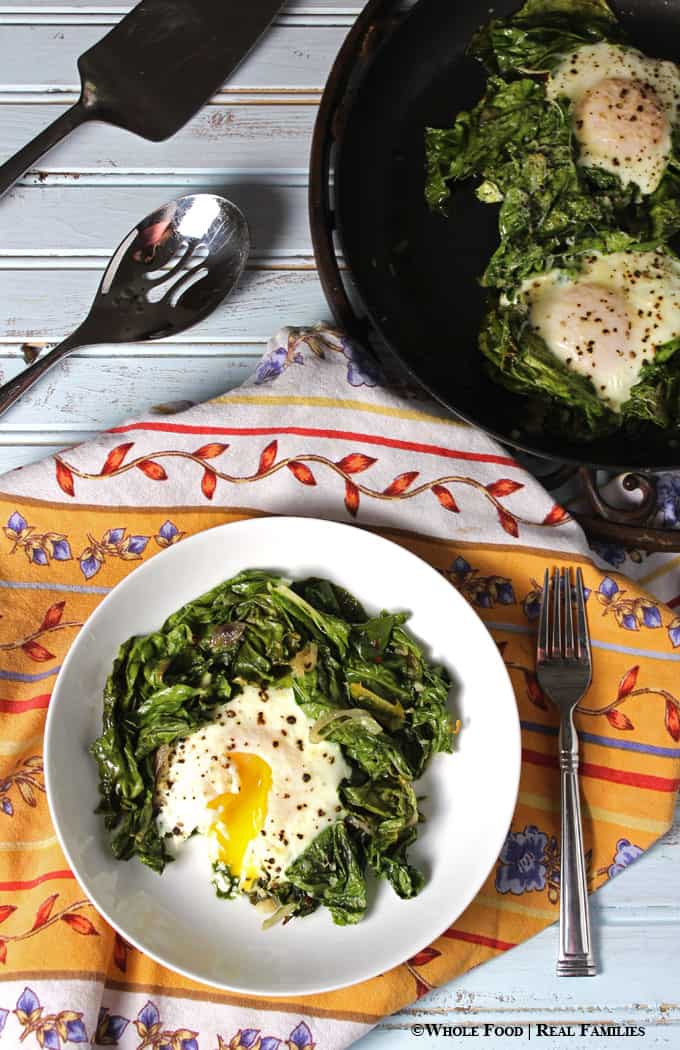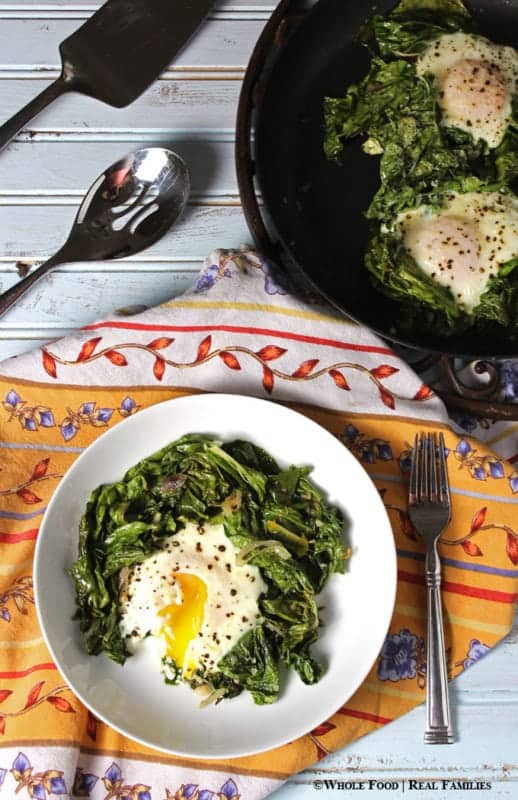 Not sure about you but breakfast is the hardest meal for me to squeeze in my vegetables. I gravitate towards (CRAVE!) carbs in the morning but find they rarely keep me satisfied until lunch. This Sauteed Chard and Baked Eggs is delicious and extremely fast and easy. The recipe is a loose one – so feel free to stretch the quantities to fit your palate and family size.
If you don't have a saute pan that you can transfer under the broiler in your oven, use the saute pan for the chard, then move the chard to a casserole dish and make the wells for the eggs. Then transfer the casserole dish to the oven.
Garlic and shallots make greens unbelievable good! Cooking leafy greens this way really transformed me from being a kale-hater to a kale-lover – here is my favorite recipe for kale.  Thankfully the method transferred well to Swiss Chard, which is slightly milder than kale. If you are looking for another one skillet meal that uses leafy greens cooked this way, give this Creole Chicken and Sauteed Kale a try.
If baked goods are your thing for breakfast, whole wheat goodies that you bake yourself are a great alternative to purchasing pastries, breads and muffins from a restaurant or store. Making them yourself gives you complete control of what ingredients are included. So no dough conditioners, preservatives, or GMOs if that is as important to you as it is to me. There also tends to be much less sugar! Perhaps still not ideal for every single breakfast. (Darn.) When you just gotta have something baked in the morning – try Apple Pecan Baked Oatmeal or my favorite Blueberry Muffins with Lemon Zest.
If you are looking for another way to sneak some veggies and protein into your morning. Try a Chocolate Nut Butter Smoothie or this Blueberry Banana Smoothie. Both sneak in the greens and use unsweetened Greek yogurt for a protein boost.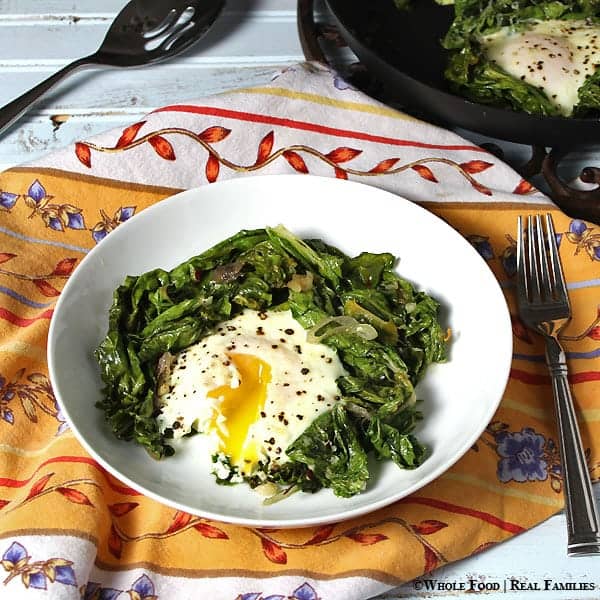 Sauteed Chard with Baked Eggs
Ingredients
2

bunches

swiss chard, washed and coarsely chopped

I prefer to strip the leaves off the stalk but you can use the stalks if you chop them up

3

tablespoons

olive oil

or coconut oil

1/2

tsp

crushed red pepper flakes

more or less to taste

1-2

cloves

garlic, minced

1-2

shallots, sliced into rings

1/2

cup

chicken or vegetable stock

kosher salt and black pepper to taste

4

eggs

1/4

cup

Parmesan cheese, freshly grated
Instructions
Turn on the broiler of your oven. Heat olive oil over medium heat in a large saute pan that can be transferred to the oven. Add shallots and allow them to cook 2-3 minutes or until translucent. Add garlic and red pepper flakes and cook for one minute, stirring often to prevent burning.

Add chard, broth, and salt and pepper, mix well. Cover and cook for 5 minutes, tossing occasionally. Remove the cover and continue cooking until most of the broth has cooked away. Make small "wells" in the chard to hold the eggs. Crack each egg over a well. Top with a little salt and fresh cracked pepper. Transfer the pan carefully to the oven.

Allow the eggs to cook just until set - about 4-6 minutes. But watch them because it will depend on how close your eggs are to the heating element. Remove from oven, top with Parmesan cheese. Serve hot and Enjoy!