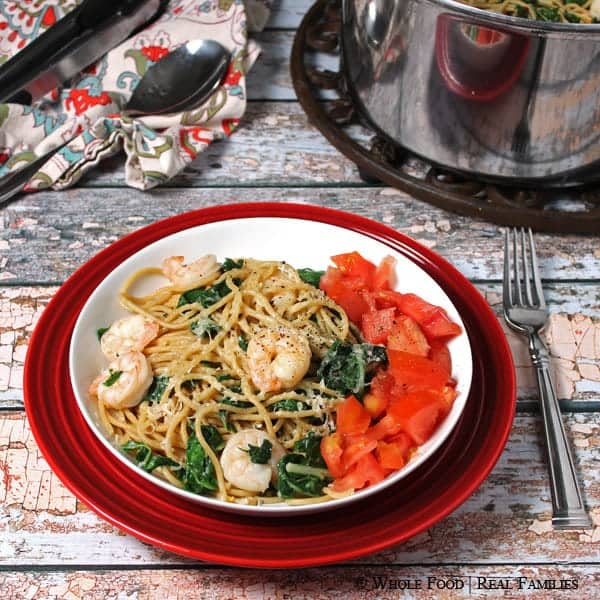 Garlicky Pasta with Sauteed Shrimp and Chard is a family favorite weekday meal. Delicious and on the table less than 20 minutes with no refined ingredients. I don't even have to argue with my kids over the vegetables. 
Garlicky Pasta with Sauteed Shrimp and Chard
I love the simpleness of Garlicky Pasta with a pile of Parmesan cheese all by itself. But add in some fresh Sauteed Shrimp, which is abundant in my lovely, coastal Savannah, Georgia  – and some local, organic Chard and fresh tomatoes from one of the many sustainable farms in the area and it is just heaven. Heaven in 20 minutes, I'll take it. Garlicky Pasta with Sauteed Shrimp and Chard was made for those weeknights when you need something wonderful to eat but just don't have the time.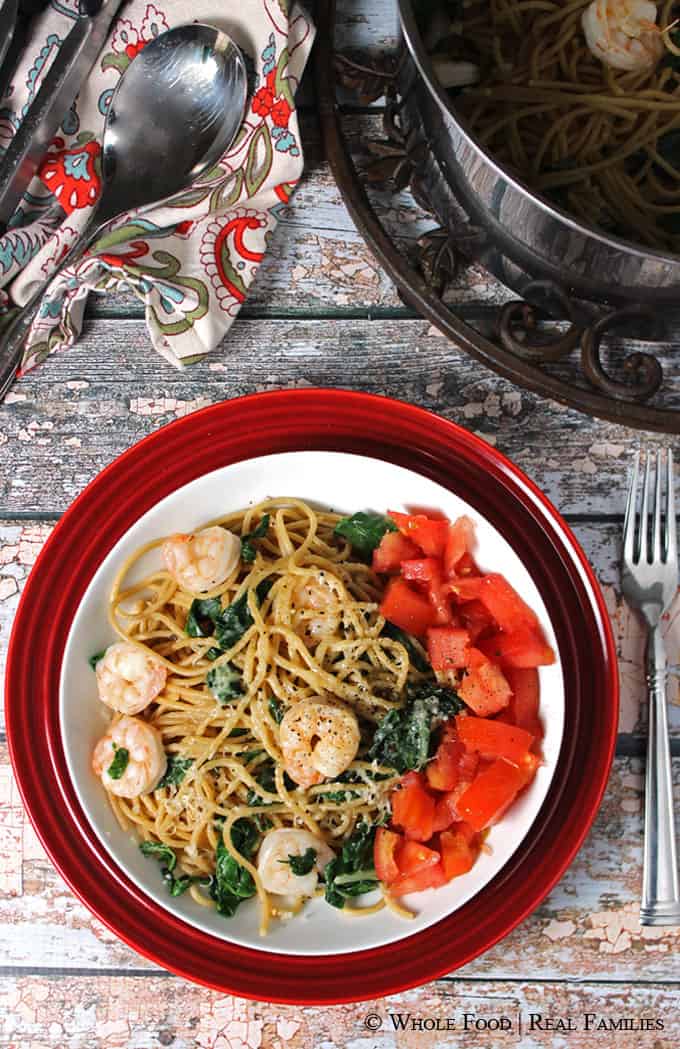 This Pasta Dinner is an Upgrade to an Old Standby
This recipe for Garlicky Pasta with Sauteed Shrimp and Chard has been in the weeknight rotation for at least 10 years. However, it has evolved with our eating style. What started as pasta with cheese and a little garlic to coerce my oldest child to eat something other than chicken nuggets when she was in Kindergarten (she is now in high school), got a little shrimp love so I didn't go insane from eating the same pasta all the time. Slowly it has turned into a veggie dish my family actually loves. Conveniently, a huge bunch of chard wilts significantly – so even if you use lots of leafy greens, it is not overwhelming for the uninitiated. If chard is not your thing, feel free to substitute spinach.
Pasta and Sauteed Shrimp is always Quick and Easy
I recently upgraded some of my cookware to all stainless steel and I am in love. (Check out the photo!) I had some old (by old, I mean ooooooollllllldddddd) non-stick stuff hanging around that was past its prime. Now, I am happy to say that I can actually cook far more meals in a single pot or skillet than ever before. No need to pull out different pots and pans for cooking pasta or sauteing shrimp. This is a plus for me since about every third post, I remind you guys just how much I hate washing dishes.
I am a die hard cooking show fanatic (those of you who know me personally are rolling your eyes now). But every time I watch chefs go through all the pots and utensils in the kitchen, I think: They have people. However, I do not have people who wash my dishes. It is all me. Well, except when I make my kids do it – but that is a parenting opportunity. Trust me, with a teenager and two toddlers, it is faster to do dishes myself.
Need More Sauteed Shrimp in your Dinner Rotation?
Try this family favorite! Lowcountry Shrimp and Grits! Or try my kids' favorite pasta dish (today), this Easy Shrimp Pasta Caprese.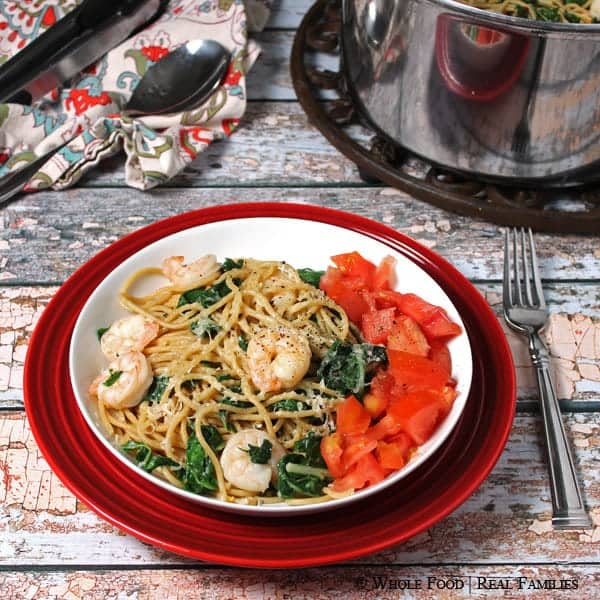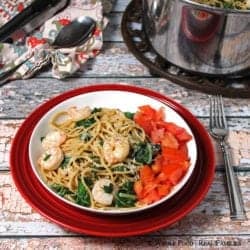 Garlicy Pasta with Sauteed Shrimp and Chard
Ingredients
16

ounce

whole wheat spaghetti

a whole package

3

tablespoons

olive oil

3-4

cloves

garlic, minced

1

pound

peeled and deveined medium shrimp

3/4

cup

white wine

or chicken broth

1/2

teaspoon

crushed red pepper

kosher salt to taste

3

tablespoons

butter

1

bunch

chard, stems removed and cut into bite-sized pieces

2-3

tomatoes, diced

1/2

cup

Parmesan cheese, freshly grated

fresh cracked black pepper to taste
Instructions
Cook the pasta in a large pot according to the package directions, in well-salted water and drain in a colander.

While pasta is in the colander, drizzle olive oil in the bottom of the same pot and heat over medium heat. Add minced garlic and cook, stirring often to prevent burning, for about 1 minute or until fragrant.

Add the shrimp, wine, red pepper flakes and kosher salt. Simmer until the shrimp begin to turn opaque, about 2 minutes. Stir in the butter and add the chard to the top of the shrimp mixture. Cover the pot without stirring and let the entire pot cook for 1 additional minute.

Uncover the pot and stir to combine. The chard should have wilted and the shrimp should be done. Add the pasta back to the pot and combine.

Serve hot with shredded Parmesan, fresh diced tomatoes and cracked black pepper.