Apple Pecan Baked Oatmeal is a wonderful go-to breakfast for a guests or a large family. It assembles quickly and cooks with little fuss. Did I mention it is sooooooo tasty?!
This is a recipe I often pull out on vacations and holidays when I don't have a lot of time to spend in the kitchen but everyone is home and still needs to eat! It also works great for the beginning of the week. Then everyone can pull out and heat up what they want for a quick before school or work breakfast.
I love the simple combination of apples, cinnamon and pecans. They smell amazing when cooking. And since running out of apples qualifies as an emergency grocery store trip at our house, I ALWAYS have those ingredients in the house.  If you usually keep walnuts instead of pecans, they work just as well. I grew up in Georgia – and remember driving through the pecan groves on the way to visit my grandparents – so pecans taste like home to me.
Have you ever seen the pecan groves in Georgia? Have a look at the pictures – so beautiful!
Looking for a sweeter Baked Oatmeal breakfast? Check out this Coconut Chocolate Chip Baked Oatmeal!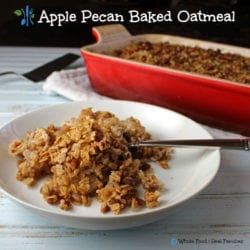 Apple Pecan Baked Oatmeal
This makes a batch large enough to feed my family of 5 with leftovers to spare when served as a stand alone dish. It will go even further if served as part of a larger breakfast spread. If you are feeding a smaller group, you can easily cut the recipe in half just make sure you reduce the cooking time by around 10 minutes. (I use 2 eggs when making half.)
Ingredients
4

cups

old-fashioned rolled oats

1 1/2

cups

pecans, chopped

split 1 cup and 1/2 cup

2

tsp

baking powder

1

tbsp

cinnamon

1

teaspoon

salt

3

eggs

4

cups

milk

1

cup

maple syrup

1

tbsp

vanilla extract

1

stick

butter, melted

3

large

apples, peeled, cored and diced

We like fujis and honeycrisps!
Instructions
Preheat oven to 350 degrees. Prepare a 9x13 pan with butter or coconut oil.

Peel, core and dice apples. Spread them in an even layer on the bottom of the pan.

Combine dry ingredients in a large bowl - oats, 1 cup pecans, baking powder, cinnamon, and salt. Stir to combine.

Combine all wet ingredients in a second, smaller bowl - eggs, milk, maple syrup, vanilla extract, and melted butter. Whisk until the ingredients are uniform. Add wet ingredients to the dry ingredients and stir to combine.

Pour oatmeal batter over the apples to evenly cover the layer of apples. Sprinkle the remaining 1/2 cup pecans over the top and place in the oven to bake.

Bake for 45 minutes or until the top is nice and golden and the oatmeal mixture has set. Remove from oven and serve warm! Baked oatmeal is wonderful straight from the oven but is also delicious with a splash of cream or milk poured over the top - or a drizzle of maple syrup!

Leftovers should be stored covered in the refrigerator. They heat very well the next day in the microwave.