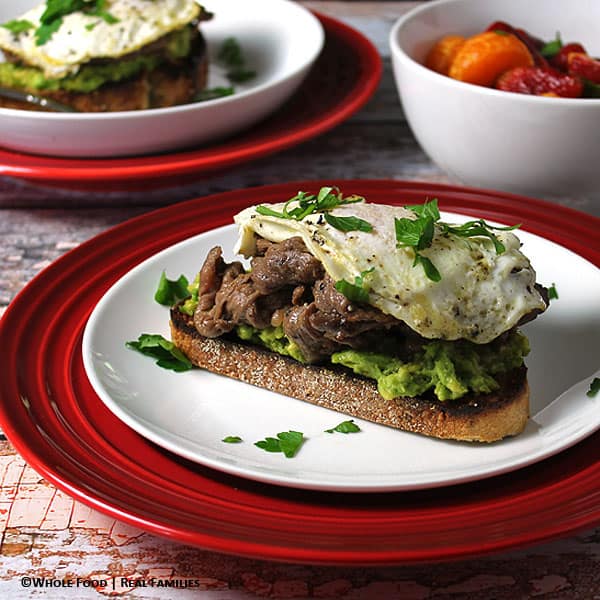 Avocado Crostini with Beef and Eggs is a protein-packed breakfast fit for guests. The best part is that it cooks in less than 10 minutes.
This souped-up version of avocado toast is famous at my house. If you are planning on coming to our house so you can visit and tour our beautiful Savannah, Georgia, count on it for breakfast.
Living in a destination city means there is never a shortage of friends and family who want to visit. But the best part is actually living here in Savannah, Georgia. I often joke with my husband that I learn more about American history from the carriage tour drivers than I remember from my entire high school education. (Not a reflection on my teachers, rather my attentiveness as a student!)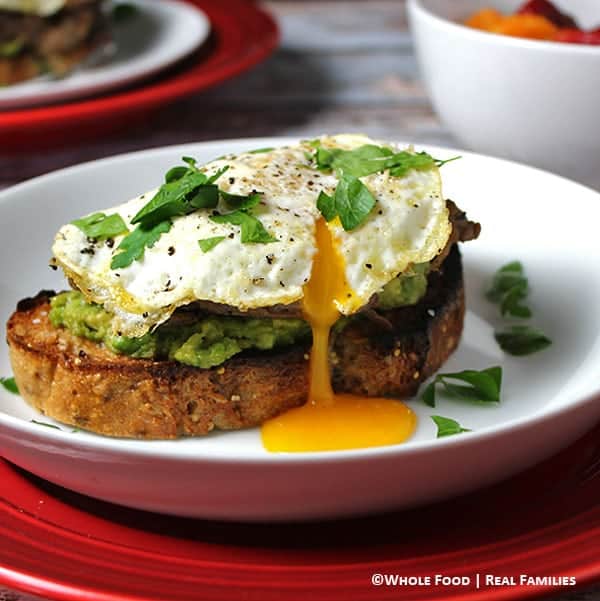 Avocado Toast with Beef and Eggs
So when people come to visit, there is never any shortage of activities. Folks usually arrive with a list in hand of all the things they want to see. We love living here so much that we're always happy to oblige. But it does mean long days of walking in the hot Georgia sun with 3 kids in tow – and often grabbing lunch on the go.
So when it comes to breakfast, we don't fool around. Handing the kids (or the adults!) a bowl of cereal or a muffin is a recipe for disaster when the carbs are gone and there is no stopping any time soon. We've tried that grab-and-go plan. It always turns into a competition for who can fall apart first. These are the days that I jack up the protein and make sure that the meal we're eating is going to last until we get a chance to slow down again.
Avocado Toast with Beef and Eggs is perfect for these days. Without that sleepy stuffed feeling you get from eating traditional breakfast foods that are full of sugar and carbs, this one is a nice balance of protein, complex carbs and healthy fats that help you feel satisfied well past lunch. Last time we had this for breakfast, nobody even mentioned food until after 2pm. (Have I mentioned I have a teenager that eats every 2 hours?)
Hearty Breakfast for Busy Mornings
Just because this breakfast is significant doesn't mean I am going to get up an hour before everyone else. I am not even aware of my surroundings until 2 cups of coffee are in my bloodstream. This recipe comes together so fast that I suggest you have all of your ingredients ready before you even put the bread in the oven or the beef in the pan – like under 10 minutes fast. Seriously, prep everything before you start cooking. Generally, I slice up the bread and drop the shaved beef in the marinade the night before. Make sure to store the beef in the refrigerator overnight.
Note this recipe uses a bottom round roast that has been thinly shaved. (Think cold cuts for an example of how thinly to slice the beef.) You can shave the beef at home but you need a sharp knife and some patience. I recommend having the butcher do it when you buy the roast. They have the equipment to do this quickly and far more proficiently that a home cook – and it is a free service. I buy a 3-4 lbs bottom round roast and have them shave the whole roast (leaving behind the fat cap, you don't want that in the recipe.) Then I split the beef in half for two meals, freezing one. If you have a smaller family than I do, you may want to divide further than just two meals.
The good news about using a bottom round roast is that it is a less expensive cut of beef, which is helpful when feeding a crowd on a budget. Generally, when you buy this roast, you would expect to cook it low and slow to make it tender. But because we are shaving it thin enough that you can see the grain pull apart when you pick up a single piece, you can cook this fast and it will be tender enough to cut with a fork.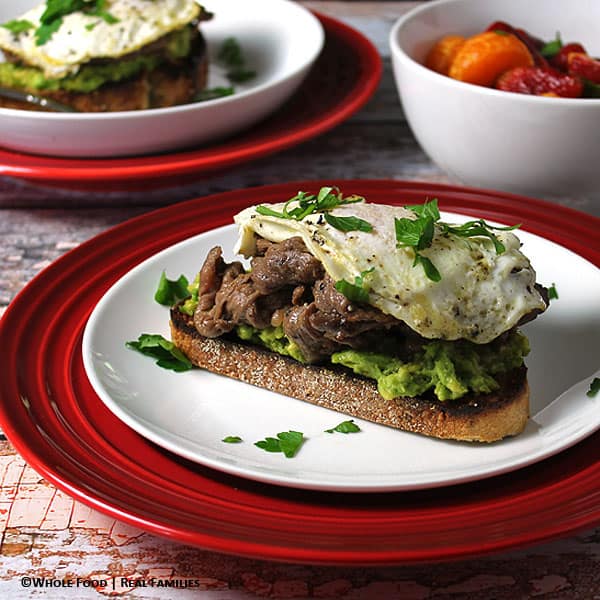 Avocado Crostini with Beef and Eggs
Ingredients
Avocado Crostini with Beef and Eggs
1 1/2

lbs

beef round roast, thinly shaved

Ask your butcher to shave this thinly for you!

3

ripe

avocados

1

loaf

whole wheat bread, sliced into pieces

1/4

cup

olive oil for brushing the toast

kosher salt

3

tbs

butter

6

eggs

6

tbsp

parsley for serving
Beef Marinade
1/2

cup

olive oil

1/3

cup

soy sauce

1/4

cup

red wine vinegar

2

cloves

garlic, minced

2

tbsp

honey

1

tsp

black pepper
Instructions
The night before: in a large bowl, whisk all marinade ingredients until honey is dissolved and the mixture is uniform. Add shaved beef and combine until beef is well coated. Cover with plastic wrap and store in the refrigerator overnight. You can also slice your bread the night before as well. Since it will be toasted into crostini, it doesn't matter if it is a little stale.

The next morning: Turn on the broiler in your oven. Lay sliced bread flat in a baking sheet. Brush with olive oil and sprinkle with kosher salt. Slide bread under the broiler for 2-3 minutes or until the top of the bread is toasted and golden. While bread is toasting, split avocados and spoon the meat of the fruit into a bowl, smashing until creamy.

Remove toast from oven, spread avocado on each piece.

Heat a large skillet or dutch oven over medium heat. Add 2 tablespoons of olive oil to the pan. When it is shimmering but not smoking, add the shaved beef, discarding the remaining marinade in the bowl. Cook for 2-3 minutes in the hot pan, stirring often until the beef is cooked through. Using tongs, pile the hot beef on top on the avocado and toast.

In a second skillet, cook your eggs in the style you like best. We prefer over easy eggs. To do that, heat 1 tbsp of butter for each 2 eggs. (I cook eggs over easy 2 at a time to keep it manageable.) Crack eggs into the melted butter and cook until the whites are set, sprinkling salt and pepper on top. Flip the eggs and cook an additional 1 minutes. Sprinkling the backs with salt and pepper too. Using a spatula, lift the eggs and place on top of the shredded beef. (Poached eggs would be great here too!)

Top with chopped parsley for serving. Serve with hot sauce or Sriracha. A simple fruit salad side makes this a perfect breakfast!
Nutrition Facts
Avocado Crostini with Beef and Eggs
Amount Per Serving
Calories 825
Calories from Fat 414
% Daily Value*
Fat 46g71%
Cholesterol 249mg83%
Sodium 1351mg56%
Potassium 756mg22%
Carbohydrates 54g18%
Protein 47g94%
Vitamin A 413IU8%
Vitamin C 1mg1%
Calcium 174mg17%
Iron 6mg33%
* Percent Daily Values are based on a 2000 calorie diet.