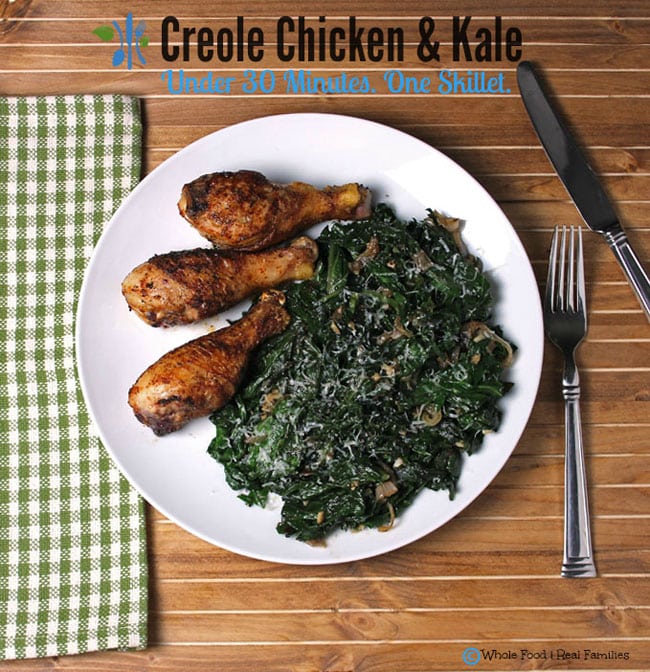 My mother's heritage is Cajun – not to be confused with Creole. But she instilled in me the love of well spiced food and more than a little cayenne pepper. Cajuns are known for making the most of every morsel of food at their disposal. Nothing went in the trash that could be put in the stew. I admire that. I've tried to embrace that part of my heritage on this blog.
If you don't know the difference between Cajun and Creole, it is a story of country versus the city. Both cultures are famous for their unique food, which developed like many port cities – the food is a reflection of the many, many cultures that passed through the ports. Some passed by, some conquered, some got shipped home. But they all made an impact on the food.
The Cajuns were generally country folks and their food was made more simply. Creoles were more aristocratic and had more money to spend on spices and exotic ingredients. I'm not sure that pan-fried creole chicken qualifies as exotic. And I doubt either group of people were cooking with coconut oil (I love it at high heat!) But I love the blend of spices. I make it in bulk and keep it in a labeled jar in my cupboard. You can easily buy Cajun or Creole spice blends from any grocer but it is easy to make and you likely have the ingredients in your pantry already. I've included the spice blend we prefer at the bottom of the recipe. (We do generally add more cayenne – but I recognize that everybody's Momma is not Cajun.)
The best part of this recipe – other than being delicious, of course – is that it goes on the table in 30 minutes. And if you line your sheet pan with foil, you will have one pan to wash after dinner. Love that! Needless to say, I pull this out when I know we are going to be pressed for time at night.
If you have any interest in learning more about the difference between Cajun and Creole food, this is a good article. Or you can just ask someone from Louisiana. Just be prepared to sit and listen a while.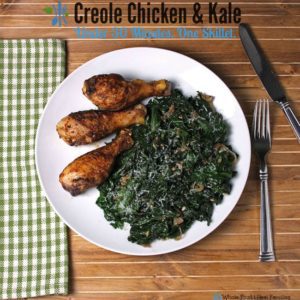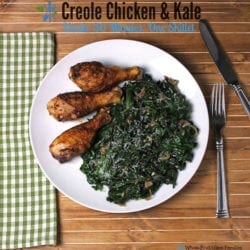 Creole Chicken with Sauteed Kale
Ingredients
Creole Chicken and Kale
3-4

tbsp

Creole Seasoning

10

chicken legs

1/4

cup

coconut oil

2

bunches

kale

3-4

shallots

2-3

cloves

garlic

1

tsp

red pepper flakes

Kosher salt and pepper to taste
Creole Seasoning - make a batch and store in an airtight container
2

tbsp

onion powder

2

tbsp

garlic powder

2

tbsp

dried oregano

2

tbsp

dried basil

1

tbsp

dried thyme

1

tbsp

black pepper

1

tbsp

white pepper

1

tbsp

cayenne pepper

more or less based on your desired heat

1/4

cup

paprika

3

tbsp

kosher salt
Instructions
Preheat the oven to 400 degrees. Line a sheet pan with tin foil and put it to the side.

Pat chicken dry with a paper towel. Season chicken legs liberally with creole seasoning. Heat coconut oil in a seasoned cast iron skillet over medium heat.

When the oil is hot but not smoking, carefully lay chicken legs into the hot oil with tongs - you should hear them sear. (You will likely need to cook them in batches. Do not crowd the pan.) Do not move the chicken legs around. Allow them to cook for 2 minutes on each side, 8 minutes total.

Remove them from the skillet and place them on the waiting sheet pan. Cook the next batch of chicken legs and add them to the sheet pan. Move sheet pan to the oven to finish baking the chicken, about 20 minutes. Legs need to reach a temperature of 165 degrees with a meat thermometer.

While chicken is finishing in the oven, chop kale into bite size pieces, slice shallots into rings and mice the garlic.

In the same skillet that held the chicken, making sure there is still a little oil in the heated pan. Add shallots and saute until they begin to crisp.

Add garlic and red pepper flakes and cook until fragrant, about a minute. Stirring often to prevent burning.

Add kale and salt and pepper to taste. Turn kale with tongs until it begins to wilt and garlic and shallots are mixed through. Cover for 3-5 minutes allowing the kale to soften further.

Remove cover and turn kale with tongs until it is cooked to the desired tenderness. Taste and adjust seasonings to your preference.

Serve cooked chicken and kale hot!

Toss your sheet pan liner and wash your skillet. Clean up is done!