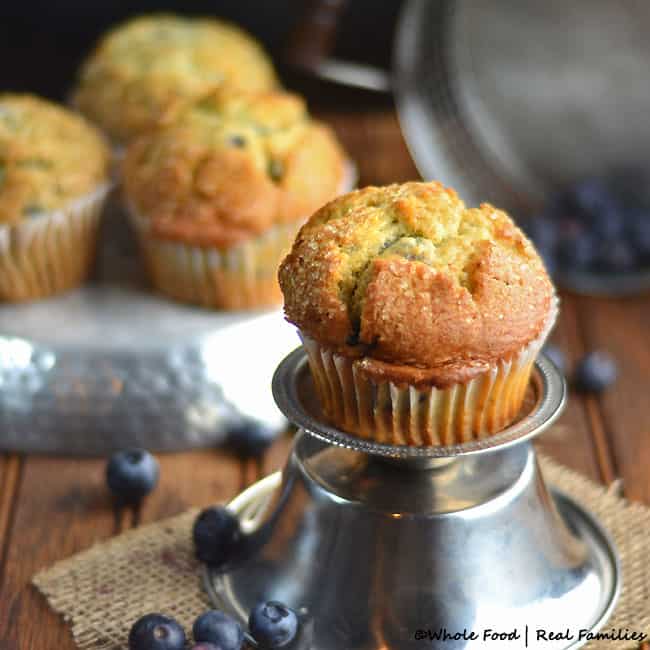 These Healthy Blueberry Lemon Muffins are going to be your new favorite muffin. They taste so fresh and delicious you're going to have a hard time eating just one (or two, or three). They also freeze great for an easy weekday breakfast.
Healthy Blueberry Lemon Muffins
My kids love these Lemon Blueberry Muffins. Especially my teenager, who has a weird affinity for little food. I think it comes from having little sisters who sometimes require things to be cut up into little bits. I often double or triple this recipe so that I can cook once but freeze several sets of muffins at one time.
Once the muffins cool, I store 6 muffins at a time in gallon-sized freezer bags. When we're ready for more muffins, I just move a bag from the freezer to the refrigerator to thaw. I prefer mine after a few seconds in the microwave with a little butter. My teenager pulls them straight from the refrigerator and into her bag for school. By the time she gets to lunch they are nice and room temperature. My two babies prefer them in both hands with fresh blueberries smeared across their faces.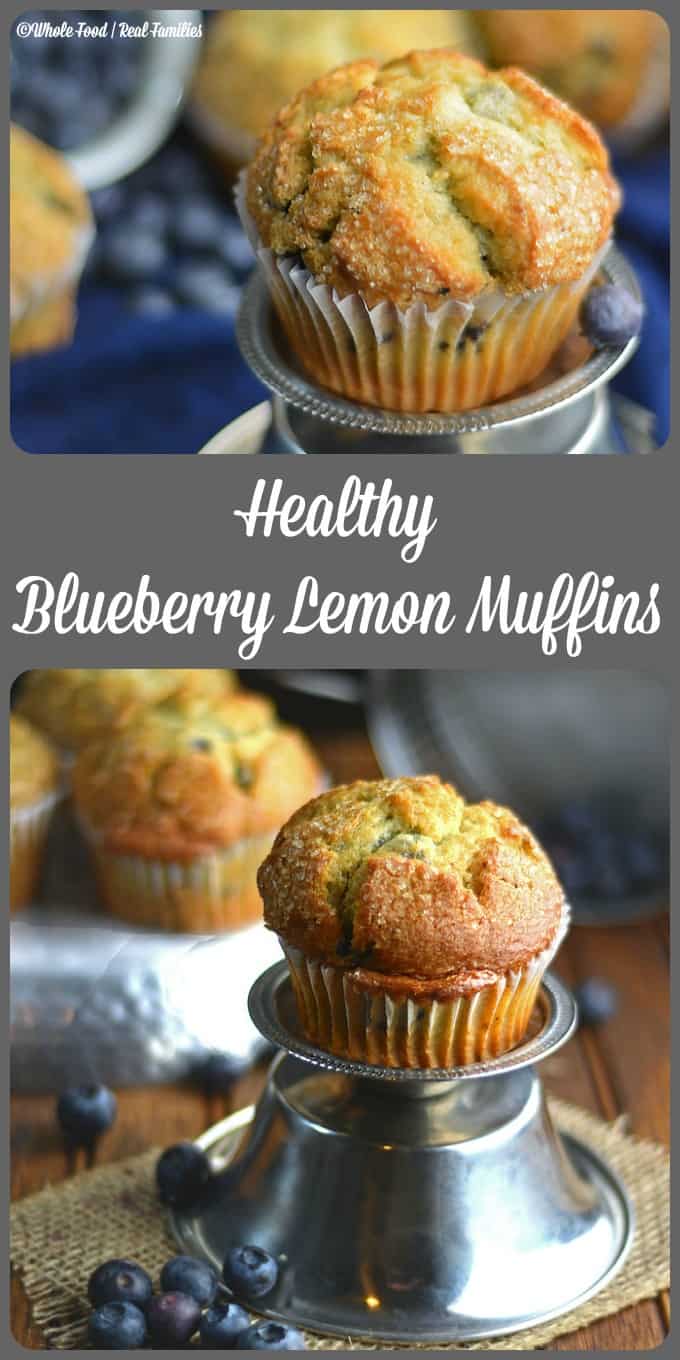 Healthy Muffins with Fresh Fruit and Soft Texture
The crumb on these muffins is fantastic. The center is light is moist and the tops are just a little flaky – so good! Moving to whole wheat can be a big step – until we found white whole wheat flour.
Goods baked with traditional whole wheat are denser than their counterparts for certain. White Whole Wheat Flour has all the nutritional advantages of traditional whole wheat , but with lighter color and milder taste. It used to be harder to find but thankfully has become more mainstream. Even if you have to search, it is totally worth the search to make whole wheat baked good that are still light and fluffy.
I tend to make these more during blueberry season but frozen berries work just fine. I have a close friend who has blueberry bushes on their property so she brings me gallon bags of fresh berries, which I love! We have a ton of blueberry recipes we use each season, but these lemon blueberry muffins are definitely my favorite.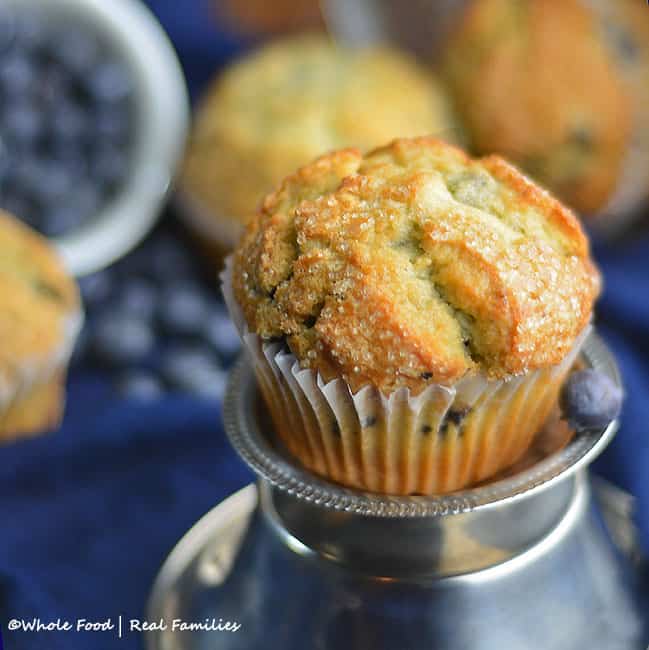 Lemon makes these Blueberry Muffins taste so bright!
We had close friends who found this recipe and wanted to try it but were not quite sold on the lemon in these muffins. After promising them that it was going to change their life, they finally baked them with the lemon.
The best part of the lemon with blueberries is that the lemon makes the fruit taste so fresh and bright. I love this combination!
Can't get enough blueberries? Try our favorite Blueberry Ricotta Pancakes! They have the fresh lemon zest too. So good!
How to make healthy muffins
When cooking with coconut oil, remember that it is solid when at room temperature but turns liquid just a few degrees above. The easiest way to do that is to stick it in the microwave for a few seconds. If you are opposed to the microwave, put your mixing bowl over a pot of warm water. Keep in mind that if you add cold ingredients to your warmed coconut oil, it will turn solid again – same advice, microwave or warm water.
Or just let your ingredients come to room temperature before you bake. If you are new to coconut oil, it will soon be second nature and will be totally worth it! Coconut oil is wonderful in baked goods.
Looking for more healthy muffin ideas for breakfast (or snacks!)? These Healthy Chocolate Muffins are so delicious!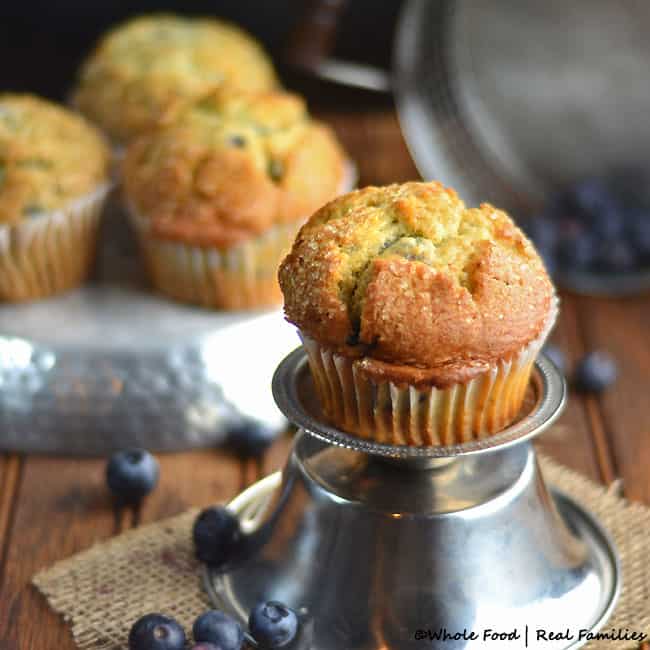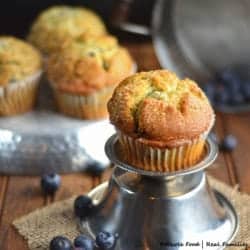 Healthy Blueberry Lemon Muffins
Adjust cooking times for the size of the muffin pan you are using.
Course:
Breads & Muffins, Breakfast
Ingredients
3

cups

white whole wheat flour

1

tbsp

baking powder

1

tsp

salt

1

cup

maple syrup

3/4

cup

coconut oil

2

egg

2/3

cup

milk

1

lemon, for zesting

2

pints

blueberries

fresh or frozen
Instructions
Preheat oven to 400 degrees. Oil muffin pan, or line with paper liners. Whisk together the flour, salt, and baking powder in a large bowl.

Whisk liquefied coconut oil, egg, milk, maple syrup, and the zest from one lemon together in a separate bowl until smooth. Remember that if you add coconut oil to cold ingredients it will turn solid. If you have trouble, just warm the bowl and batter in the microwave or over a pot of warm water. (I always make sure to use a microwave safe bowl for just for this reason. You would think I would eventually learn this lesson.)

Stir the liquid ingredients into the flour mixture until moistened. Lightly fold in the blueberries. Spoon the batter into the prepared muffin cups, filling them 2/3 full.

Bake muffins in the preheated oven until they rise and the tops are golden brown, about 16 minutes for a standard sized muffin pan. A toothpick inserted into the center of a muffin should come out clean.