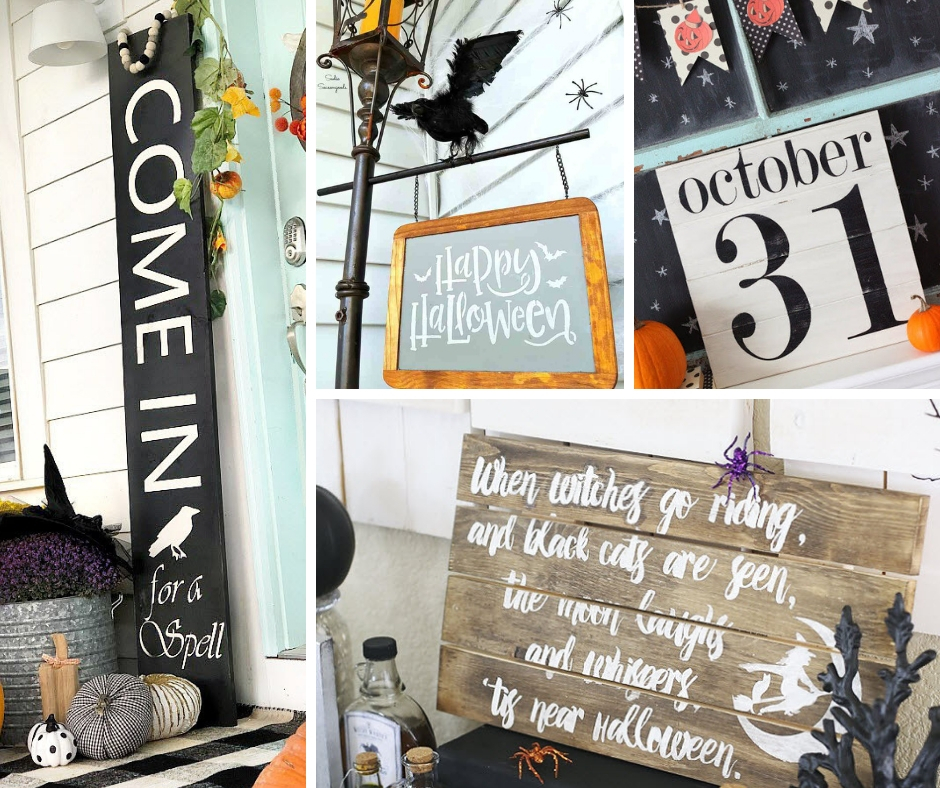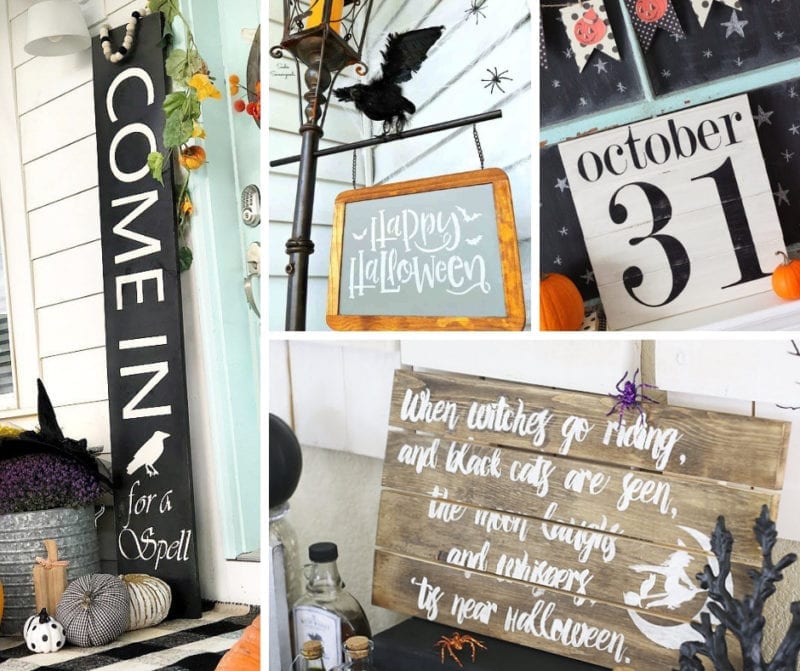 These Halloween Signs are ADORABLE! I have been seriously behind in my Halloween decorating game until this year.
I go all out for Christmas but for some reason, Halloween has always snuck up on me. And since I have little kids in the house, a little Boo is fun – but truly scary doesn't work for us. These Halloween Signs have me all excited this year! They are a little farmhouse fun with a spooky twist!
There are a couple of links below to help you find supplies. If you order through those links, I get a small commission that helps keep me in craft supplies! So I thank you!
DIY Halloween Signs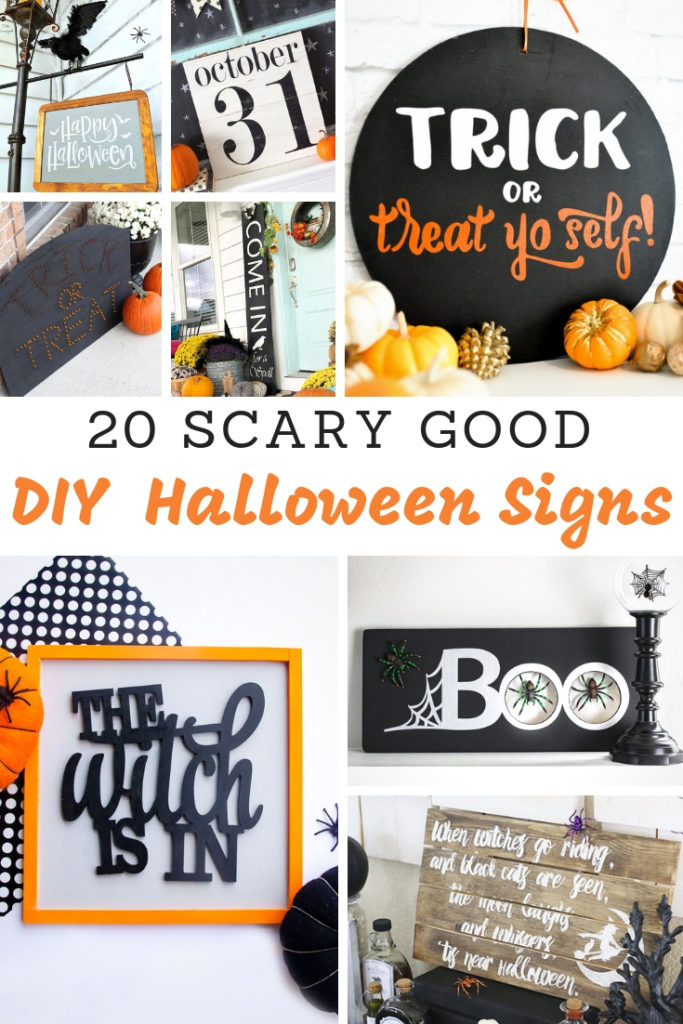 Halloween Wood Signs
Most of our indoor Halloween decor are wood signs. They are so easy to make and they don't take up lots of space to store between seasons. It is especially cool when you can make wood signs with a different season on each side! Then you can just flip the wood sign in the next season!
My husband is pretty handy so he often assembles the wood for signs in our garage. But it is easy to just pick up wood blanks at the craft store or on Amazon. They come in tons of different sizes and finishes now.
I love using my Cricut to make stencils for signs or Chalk Couture has a ton of SO CUTE stencils you and use as transfers to make fun Halloween Wood Signs. And the good think about their stencils is that you can use them over and over again… because everyone you know will want a sign too. 🙂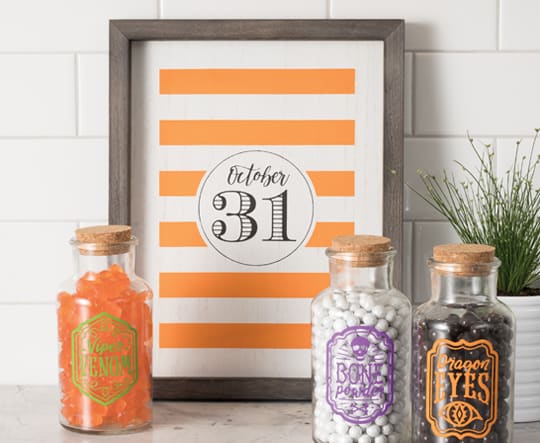 I love the October 31 sign in the picture above so much! It is really cute and classy. (The bottles designs are also stenciled.)
If Halloween is not your thing, these farmhouse style chalkboard signs are gorgeous home decor and can be made in a similar way.
Halloween Signs for Home Decor
These Halloween signs are some of my favorite! Take a peak and let me know which one is your favorite!
Rustic DIY Halloween Sign from ohmy-creative.com
DIY Lighted Halloween Sign from confessionsofaserialdiyer.com
Make A Giant Witch Halloween Sign from tatertotsandjello.com
Mini DIY "Boo" Halloween Sign from hazelandgolddesigns.com
DIY Halloween Sign from bloominghomestead.com
Rustic Halloween Sign from cleanandscentsible.com
How To Make A Halloween Sign from love-the-day.com
DIY Halloween Outdoor Wooden Road Sign from bydawnnicole.com
Spooky Spider Halloween Sign from prettyhandygirl.com
PB Knock-off Halloween Wooden Signs from simplydesigning.porch.com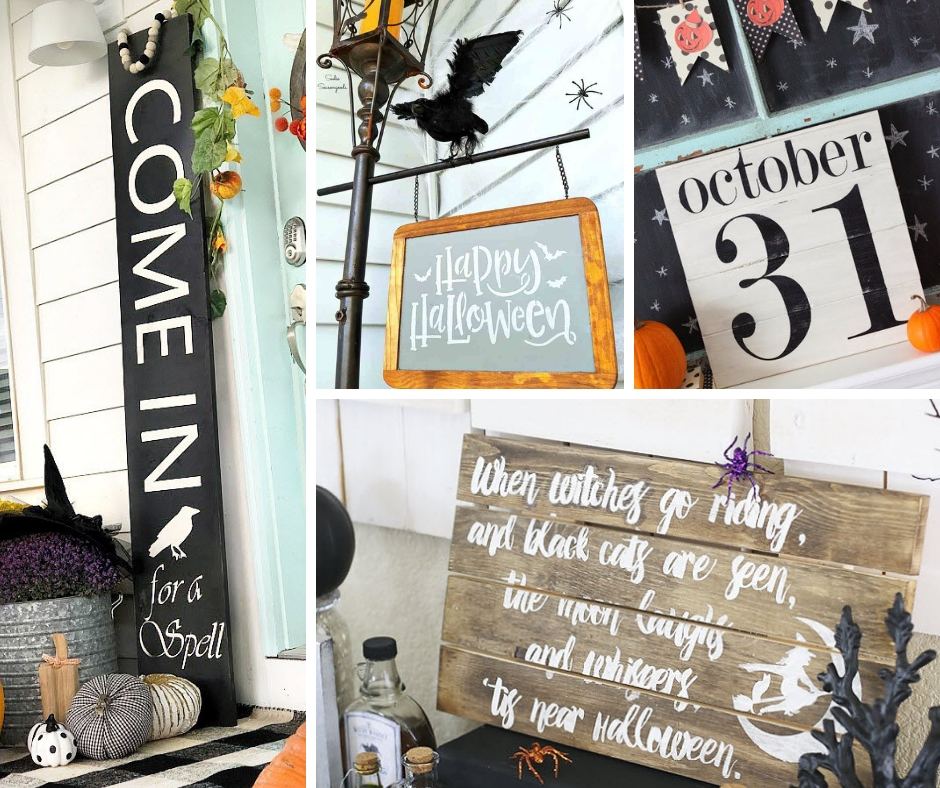 Need more Halloween Decor Ideas?
Wood Blanks for Signs!
Rustic Wood Sign Blank | Dark Walnut | Wedding Sign | 100% Handmade by My Rustic Signs with FSC-Certified Wood
Reclaimed Wood Pallet Sign Blank -DIY Art – Made in the USA (12×18)
More Halloween Posts for You!
Need help fitting in all this Halloween fun? Schedule it all with this free printable October Calendar.