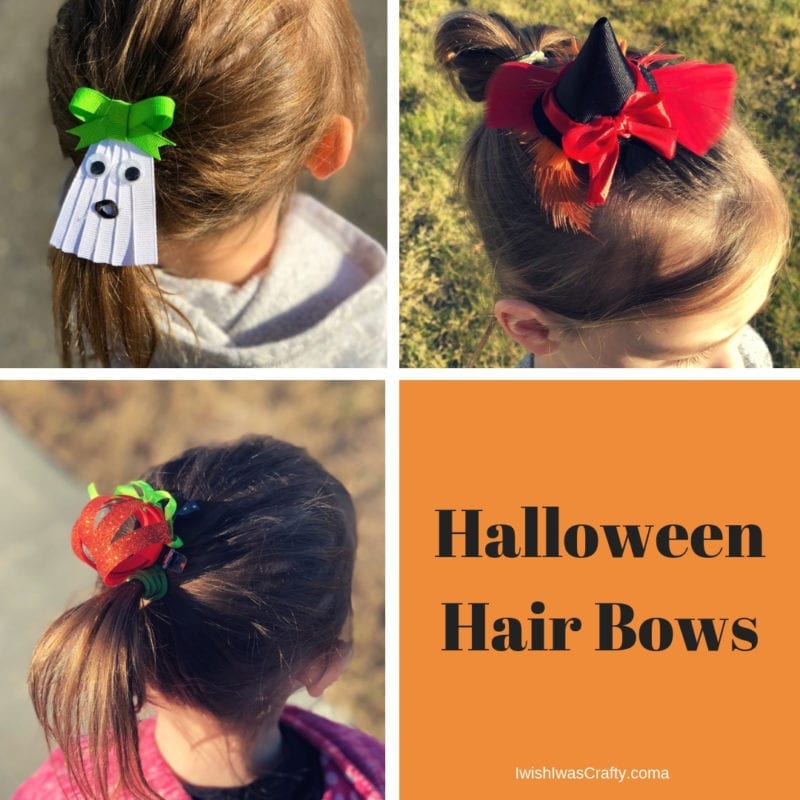 Make these Halloween Hair Bows for the girls in your life. They get so much love every time my daughters wear them. We've been asked how to make them so many times, it was finally time to create a tutorial.
Halloween Hair Bows
If you are just learning to make your own hair bows, we have a great starter tutorial for the 3 most popular styles of hair bows here.
Not only are these SO MUCH FUN! But they are also really easy to make. So grab your ribbon and your glue gun and let's make some fun Halloween Hair Bows!
How to Make a Witch Hat Bow
These witch hats are the perfect hair accessory for the little spell caster in your life. They can easily be customized to coordinate with a special Halloween outfit or inspired by your favorite Halloween movie. My muse for the witch hats seen in this tutorial came from the lovely Sanderson Sisters from the Halloween classic Hocus Pocus. Since my daughters and I are going as the three witches for Halloween this year, the theme could not have been more appropriate.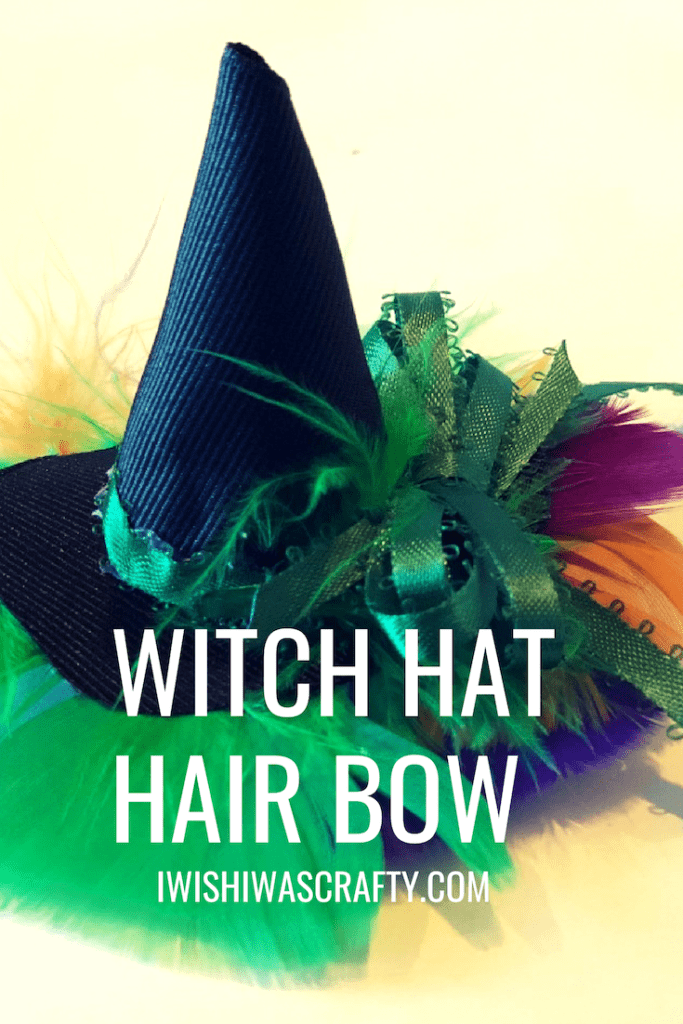 Supplies:
Wide, black ribbon – at least 2 ¼" wide

⅜" Wide ribbon/trim/ric-rac for embellishment

Assorted colors of feathers (optional)

Extra embellishments (optional)

Glue gun/glue sticks

Hair clip of choice to attach the bow to

Felt circle for securing the bow to the clip (This is optional. Extra ribbon for securing will work just fine as well.)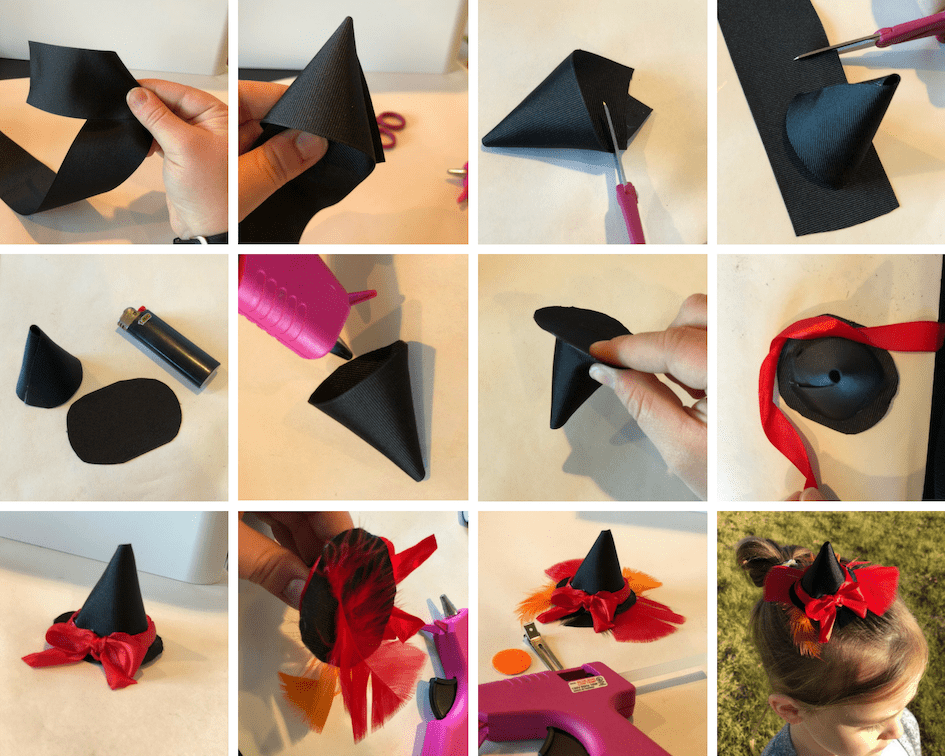 Directions:
First, we will prepare the cone part of the hat. Holding the end of the ribbon, start to roll it inward until a point starts to emerge on the side. Keep the point tight as you roll it into a triangle shape and glue the edges to secure it. Cut the piece off from your spool of ribbon and cut anything below your triangle shape leaving you with a clean cone.

Cut a rectangle from your spool of wide, black ribbon. Your rectangle needs to be wider than your cone. Once you have your rectangle, round the edges to create the brim of your hat. Use a lighter to singe the edges you have cut to keep them from fraying.

Time to warm up the glue gun to attach your cone and brim. This can be a bit tricky to get right the first time so please don't let yourself get discouraged if it's not perfect. A little asymmetry can sometimes make these bows look even better! You will want to apply a heavy layer of hot glue to the inside, base of the cone and quickly place on top of your rounded brim. Press and hold the base to the brim all the way around the cone for a secure hold. The seam between the two doesn't need to be perfect, especially if you plan to cover it with a piece of ribbon and/or an embellishment.

Using your ribbon (or trim/ric-rac/etc) of choice, wrap and glue it to the seam where you glued your cone to your brim. There is no right or wrong way to do this. I encourage you to make it your own. I decided to simply glue the ribbon to the base on the first couple and on the third one, I twisted the ribbon as I glued it down. I love the dimensional effect it created.

Time to add the feathers (This step is completely optional). Hot glue as many as you'd like to the bottom of the brim. How far out you would like your feathers exposed is also a personal choice. You can cover the glued feathers with an extra piece of ribbon for a more polished look.

To attach the hair clip to the bottom of my witch hats, I decided to use felt circles but if you do not have these, then a piece of ribbon will do just as well. Once you hot glue your hair clip to your hat you can add any finishing touches or embellishments. I love using small bows or crafted buttons.
How to Make A Pumpkin Sculpture Bow
Bippity Boppity, how cute are these pumpkin bows? Sculpture bows make a great addition to an upstyle hair-do, such as a ponytail or bun. While some sculpture bows can prove to be challenging, this one is quite simple to construct. Before we get started on the pumpkin, we will need to do some preparations for our "vines" to get them curly.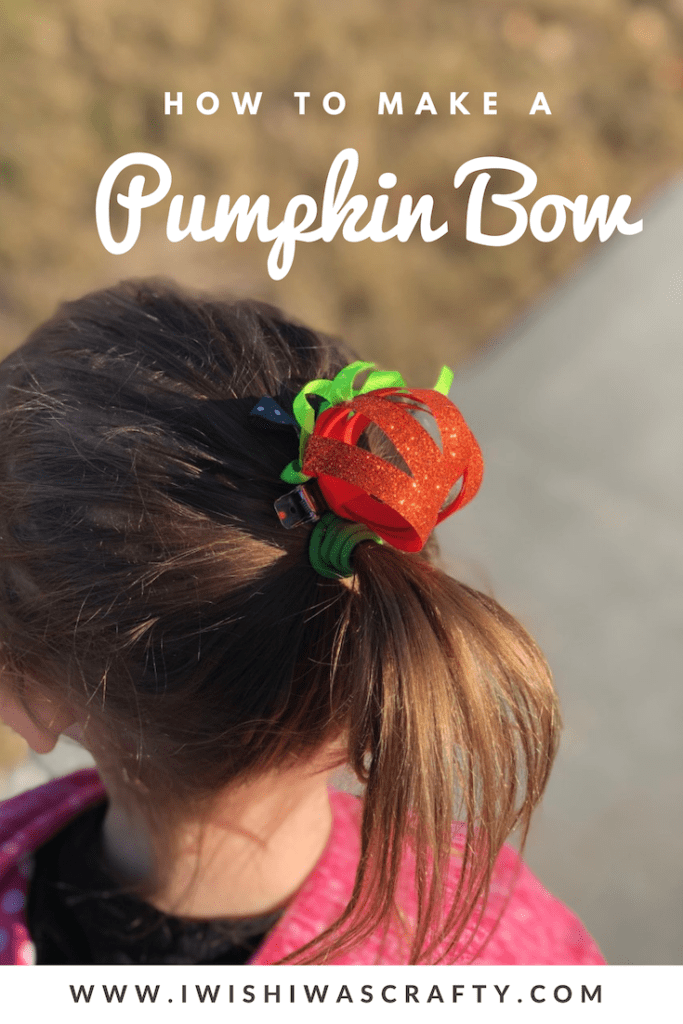 You will need:
Wooden dowels (you can get them at the craft store or home improvement store)
Green and/or brown grosgrain ribbon
Metal clips or wood clothespin
An oven
Wrap your grosgrain ribbon tightly around the wooden dowels. Secure the ends with your clips. Line them up on a foil covered baking sheet and bake at a low temperature (200-250 degrees) for at least 30 minutes. Allow the ribbon to cool completely before sliding it off of the dowels. Now we are ready to construct our pumpkin.
Supplies for the Pumpkin Bow:
Orange ribbon- ⅜" wide grosgrain works perfectly

Glue gun/glue

Embellishments (optional)

Hair clip

Spiraled ribbon for vines and stem

Directions:
Cut 6 strips of your orange ribbon. Glue the first strip into a loop. Glue the end of a second strip to the spot where you joined your ends for your loop. Be sure to glue it at a slight angle so that your loops are side by side. Repeat the process for all of your strips so that they are all secured at the same spot, but they sit side-by-side at the front of your pumpkin.

Cut 2 extra pieces of orange ribbon and run one through the emerging pumpkin sculpture, covering where your loops are secured. Place the other strip on the outside of the pumpkin, also at the backside, creating a cross shape between the two strips. The strip going through the pumpkin will be wrapped around the other and glued in place, cutting off any excess as you secure it. The other strip of ribbon will be used to attach the hair clip to the bow.

Arrange the spiraled ribbon how you'd like on the top of the pumpkin. You may want to add a couple dabs of glue to the loops to secure the vines down the front or sides of the pumpkin (this step is completely optional and up to your preference). You also have the option to add a brown stem on top of your pumpkin or perhaps a spider embellishment to the side.
Sweet-or-Spooky Ghost Bow
You can spook these ghosts up or sweeten them with a smile, but either way they are going to be a precious addition to your Halloween bow stash.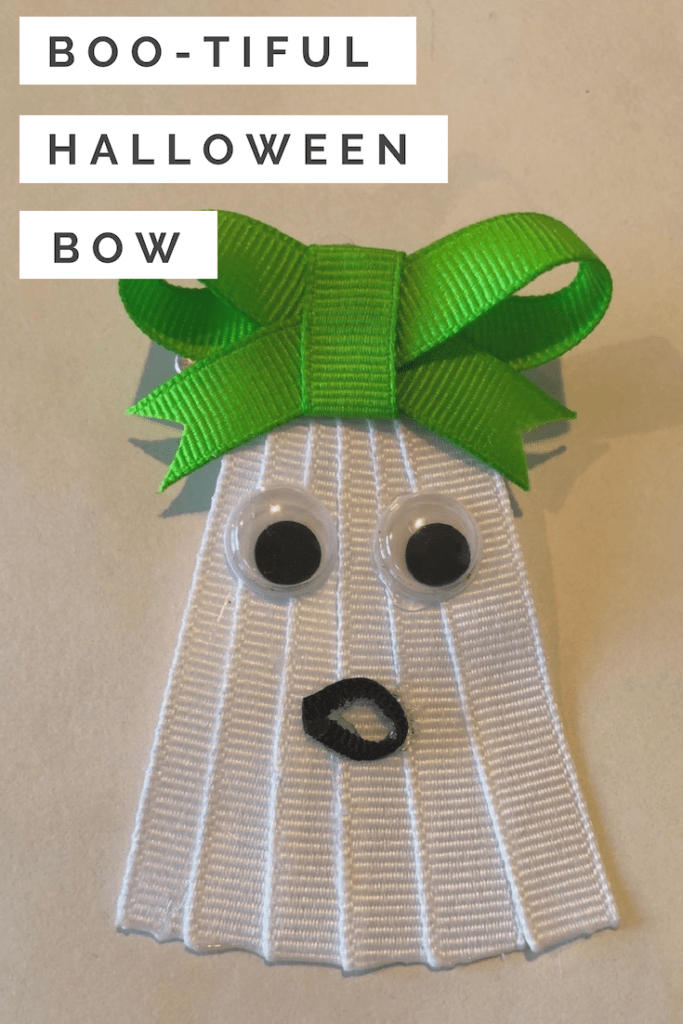 Supplies Needed:
White ribbon- ⅜" wide grosgrain recommended but other widths will work

Embellishment ribbon for small top bow (optional)

Googly eyes

Scrap of ribbon (or ric-rac) for mouth (also optional)

Hair clip of choice

Felt circle for attaching your hair clip (optional)

Glue gun/glue sticks
Directions:
Cut 6- 2" to 4" strips of your white ribbon. I like to start with 4" ribbons and that way I can take a little off the bottom if I feel it's too long. Glue your strips side-by-side by applying a dab of glue to the top edges and fanning them out. Use small dabs of glue on the bottom edges to secure as well.

Make a simple, small bow for the top of your ghost. There are several ways you can do this. I opted for a small traditional bow. Cross your ribbon sides until you're happy with the size of your loops and sinch the middle. You can cut your tails to your desired length and cover the center of the bow with the same or a coordinating ribbon. Glue your bow to the top of your ghost.



Now it's time to give your ghost some googly eyes. You can also choose to add a little mouth with red ric-rac or use a sliver of black ribbon to make an "o" mouth.

Now you can attach your ghost to your hair clip. You can hot glue the clip and use a felt circle or piece of ribbon to secure it.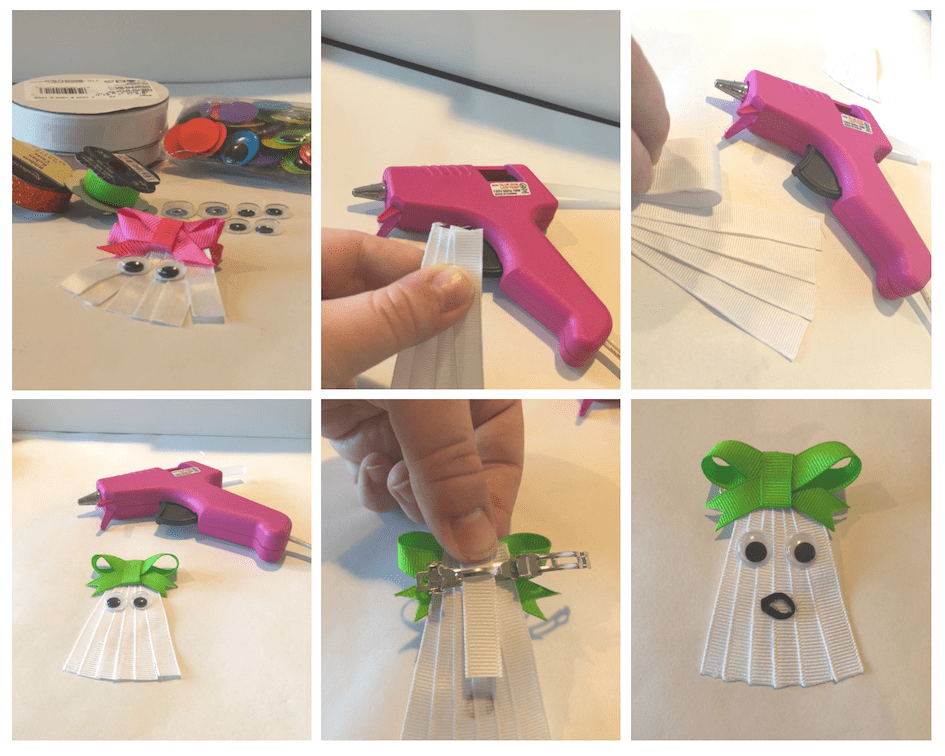 Don't forget Thanksgiving is coming too! Check out this adorable Turkey Hair Bow Tutorial!
Looking for more Halloween Recipes and Crafts?