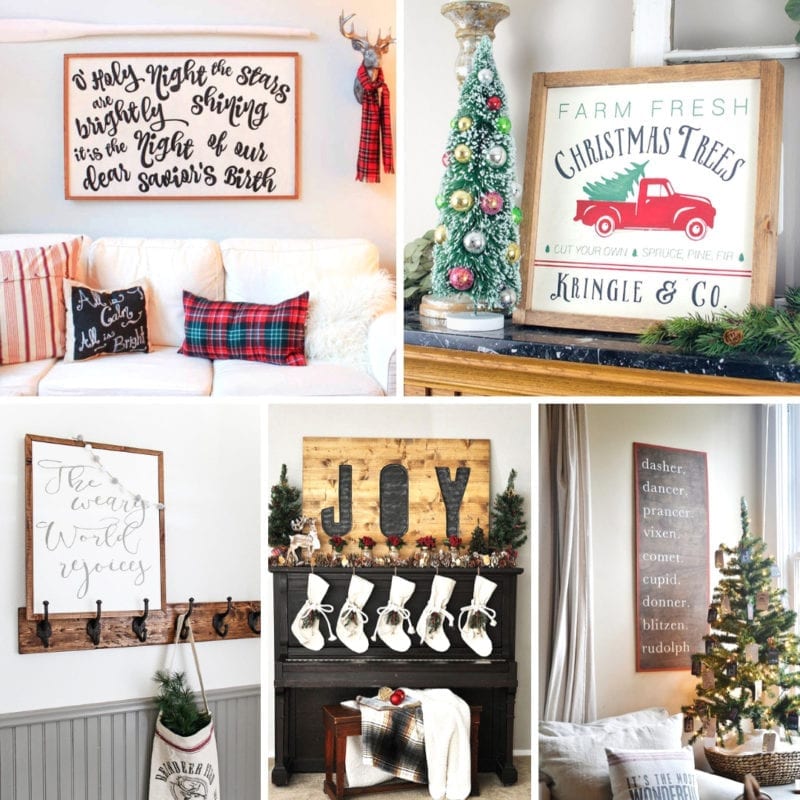 Rustic DIY Christmas Wood Signs are the perfect way to dress up your home. When you make one of these DIY Christmas signs, you are creating a personal touch for your home decor.
Plus you can customize these signs to fit the color scheme or look you want. I share the best rustic Christmas Signs you can make yourself in an afternoon.
DIY Christmas Wood Signs
What I love about these DIY Christmas signs is they all look like something you could purchase in a store. We love rustic farmhouse-style Christmas decor that uses wood as the base. It has the look and feel that most families desire for Christmas. Homey and warm, with sweet or funny quotes about the season give your decor personality.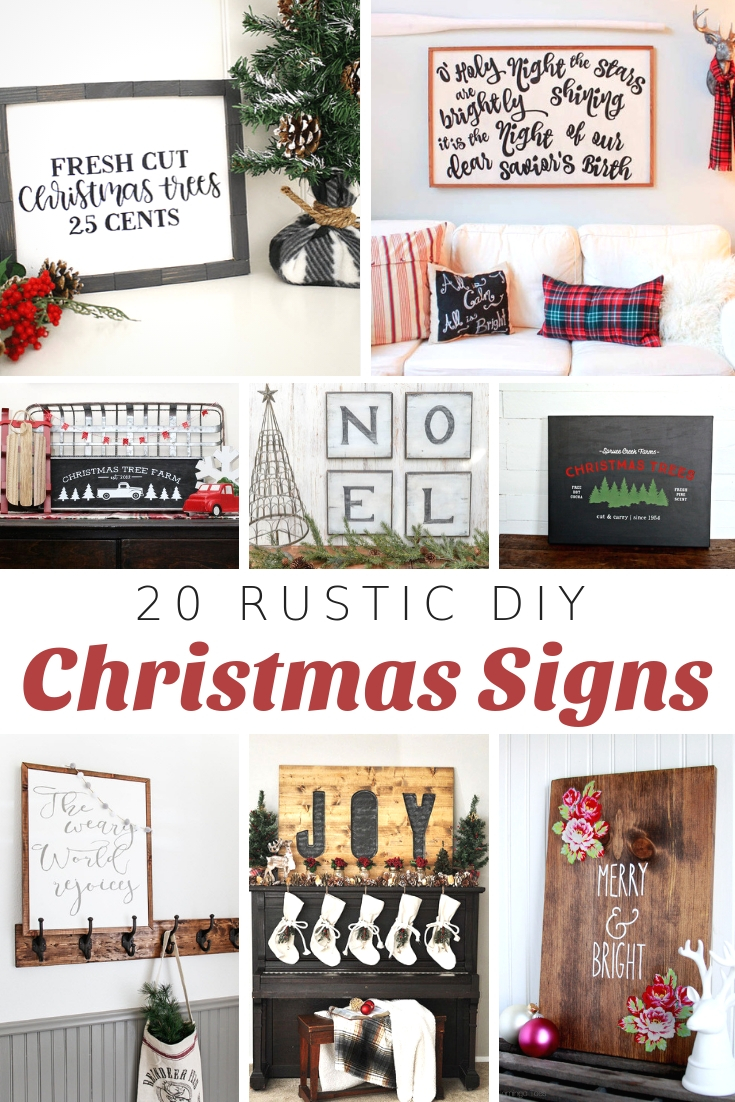 The Best Types of Wood for a Woodworking Project
If you are planning to do a woodcraft with one of these wood signs, I have some of the top woods to consider. Or if you have some scrap wood on hand, go ahead and use that!
I am all about utilizing what I have on hand for DIY projects, so if you have supplies already and they will work, go ahead and use that instead of buying new.
Pine is a softwood that is very easy to work with.
Cedar offers a nice reddish tone to your project and is another softwood that many reach for.
Cherry offers stunning colors and is a bit harder in texture. You will find cherry can be harder to work with, but the end result is gorgeous.
Maple is one that has multiple varieties up for grabs. Reach for a softer one if you are new to wood projects, and if more used to cut and working with wood reach for the harder wood.
Redwood is great to use if you are going to leave it outdoors as a front door sign. It is moisture-resistant and holds up well.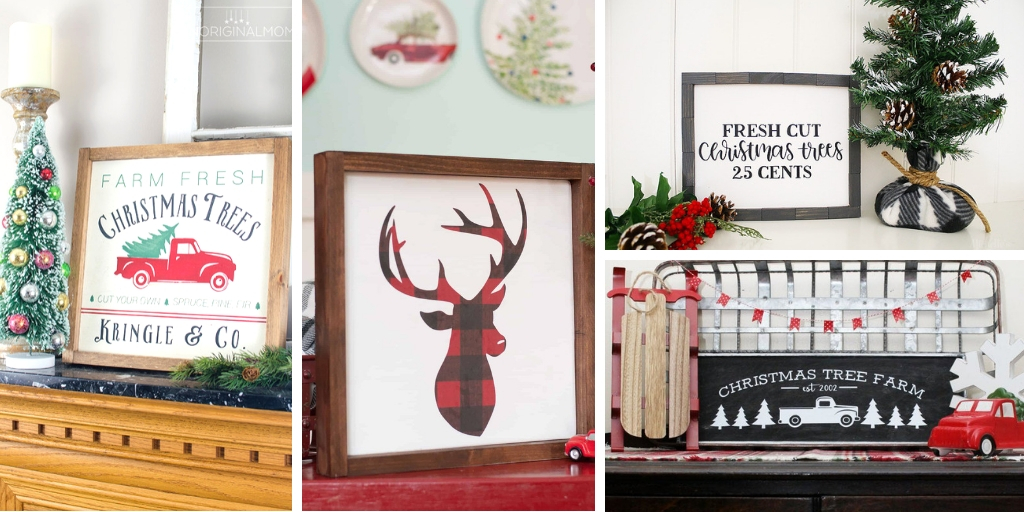 How Do You Make A Rustic Wood Sign
You will find tons of ways you can create a rustic wood sign for your home, office or gift. I share how people use wood that they paint, add in metal for a pop of dimension to the sign and more. There are so many incredible ways to make your wooden Christmas sign.
How Do You Hang Wood Signs
You can attach hardware to the back of your sign to hang easily on the wall. Or you can skip hanging and sit it on your mantle, a table and showcase it that way.
Make sure if you are using a heavy sign that you use sheetrock anchors or you do your best to find the studs to try to ensure it has the strength to stay attached to your wall safely.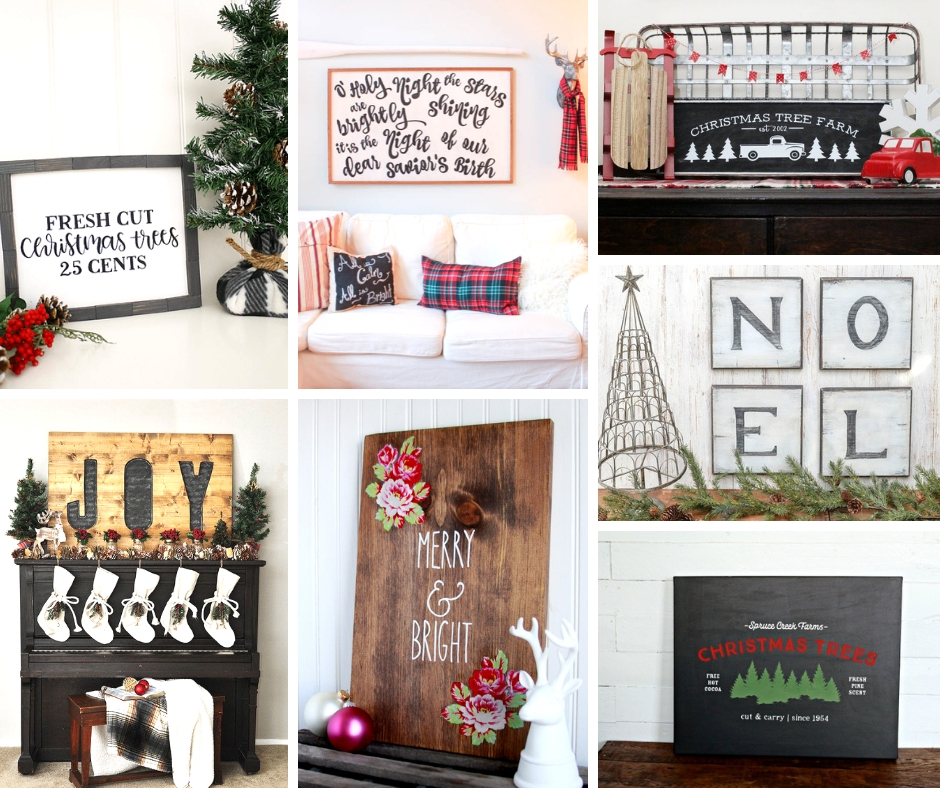 Rustic DIY Christmas Signs
DIY Metal Christmas Sign from refreshrestyle.com
DIY 'Believe In The Magic Of Christmas' Sign from artsychicksrule.com
Farmhouse Christmas Sign from michellespartyplanit.com
DIY Christmas Sign from maisondepax.com
Free Sleigh Ride Printable And DIY Canvas Sign from cleanandscentsible.com
Reclaimed Wood DIY Christmas Sign from kristimurphy.com
DIY Chalk Couture Christmas Tree Farm Canvas Sign from knickoftime.net
Reversible Thanksgiving And Christmas Farmhouse Sign from unoriginalmom.com
DIY Song Lyrics Sign / Christmas Carol Sign from thehappyhousie.porch.com
Distressed Christmas Signs from practicallyfunctional.com
DIY Christmas Joy Sign Tutorial from cherishedbliss.com
DIY Christmas Reindeer Sign from lizmarieblog.com
Christmas Tree Farm Sign from thegirlcreative.com
Farmhouse Style Christmas Sign from modpodgerocksblog.com
Handmade Wood Christmas Sign from hertoolbelt.com
DIY Pallet Christmas Sign from sixcleversisters.com
DIY Merry And Bright Christmas Sign from flamingotoes.com
Hand-Painted Christmas Signs from lovelyetc.com
DIY Vintage Look Noel Sign from oursouthernhomesc.com
As you can see you have tons of Christmas DIY farmhouse style signs to consider making for your home. Or a gift to a loved one to showcase in their home.
What is your favorite Christmas Wood sign? 
Want More Christmas Ideas?
Easy Christmas Placemats for Your Table
Christmas in Savannah – A must-see for Families