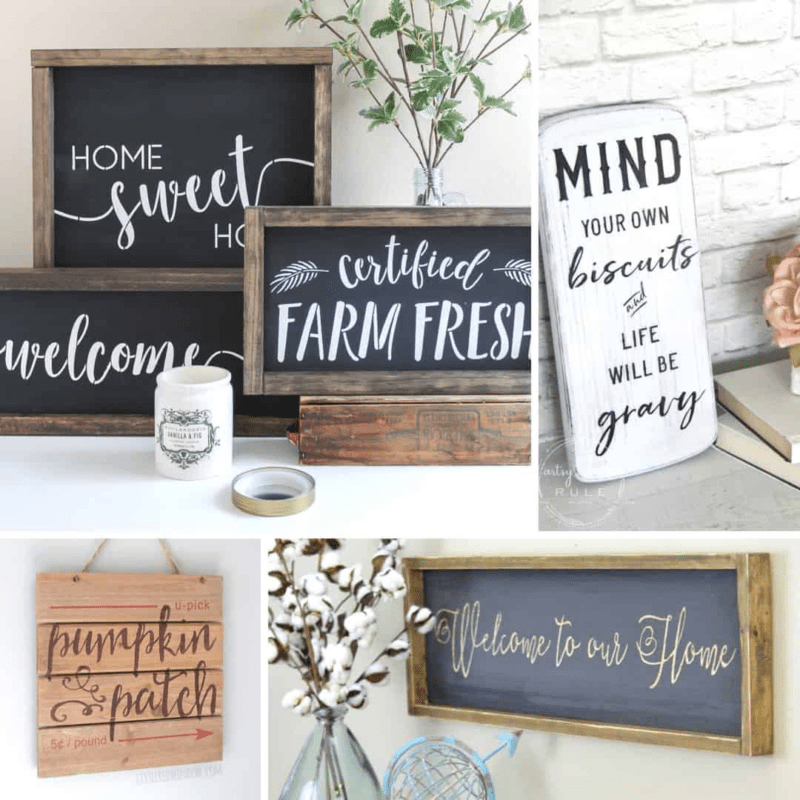 Have you tried to DIY your own Farmhouse Sign? They are such a simple way to brighten the decor for sure… But Farmhouse signs are also a unique way to make a statement about your home and what is important to your family.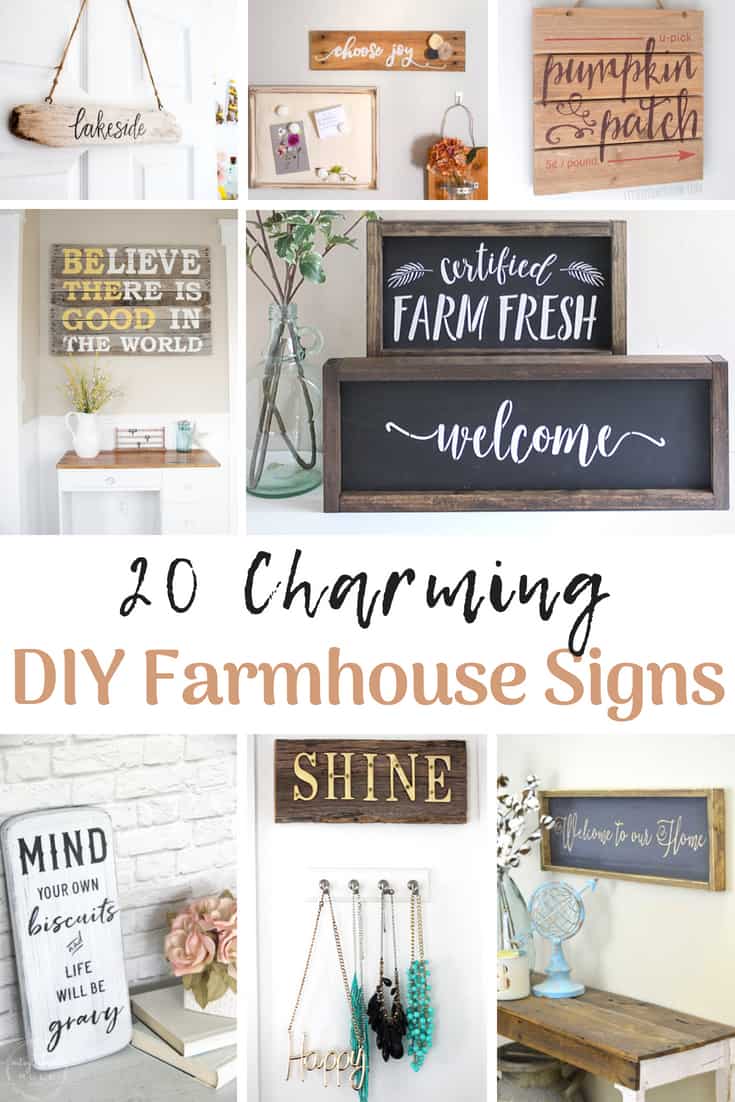 How to Make a Farmhouse Sign
There are lots of fun ways to crate farmhouse signs for your home. Some are simpler than others – and dependent on your willingness to use power tools.
Simple methods to try:
Hit up your local craft store's wood section. Most big stores sell pre-assembled shapes for signs. Paint the form your choice of color and use a stencil to paint on your message. Add picture hanger hooks to the back.
Want to free hand a message but unsure of how to keep it tidy with a paint brush? Create your message on paper first, then lay the paper over the wood and trace your original handwriting. When you remove the paper, you should have an outline pressed into the wood that you can follow with a fine paintbrush or paint pen.
Find a rustic frame you love? Cut a piece of plywood to fit. Sand it down to remove any splinters or rough surfaces. Paint it with chalkboard paint and let it dry. Use either nails or wood glue to secure the plywood to the frame. Add picture hangers and voila! You can use it as a chalkboard and change messages regularly — or stencil your favorite message with chalk paint.
Farmhouse Style Signs Come in All Kinds
Do you need a loving reminder hanging near where your kids sleep? An invitation to gather around your dinner table for family and friends? A quirky statement that makes your visiting neighbors laugh and feel at home in your home? Farmhouse signs can do it all.
And the best part…
They are easy to make yourself. So change it up then change your mind. It is okay…
One of the things I love about Farmhouse decor is that it really embraces the home as a place you live and thrive with your family. It is not a museum… it is the place you feel most comfortable and most peaceful. Where you feel comfortable enough to curl up in a blanket, play a game with your kids, make dinner for a friend, take a nap…
So find the messages you most want to share about your home… about your family… what you love and make it a farmhouse sign.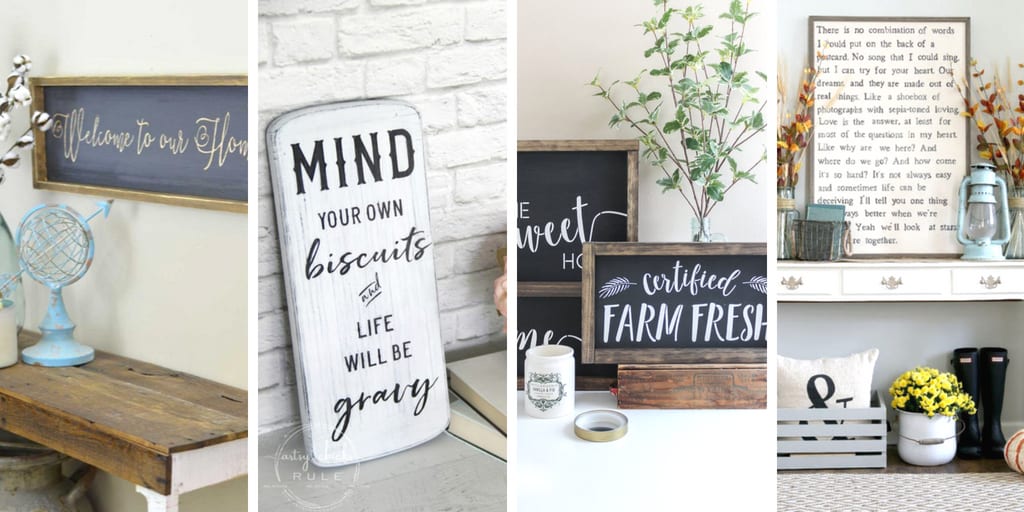 Find a Farmhouse Sign that feels like Your Family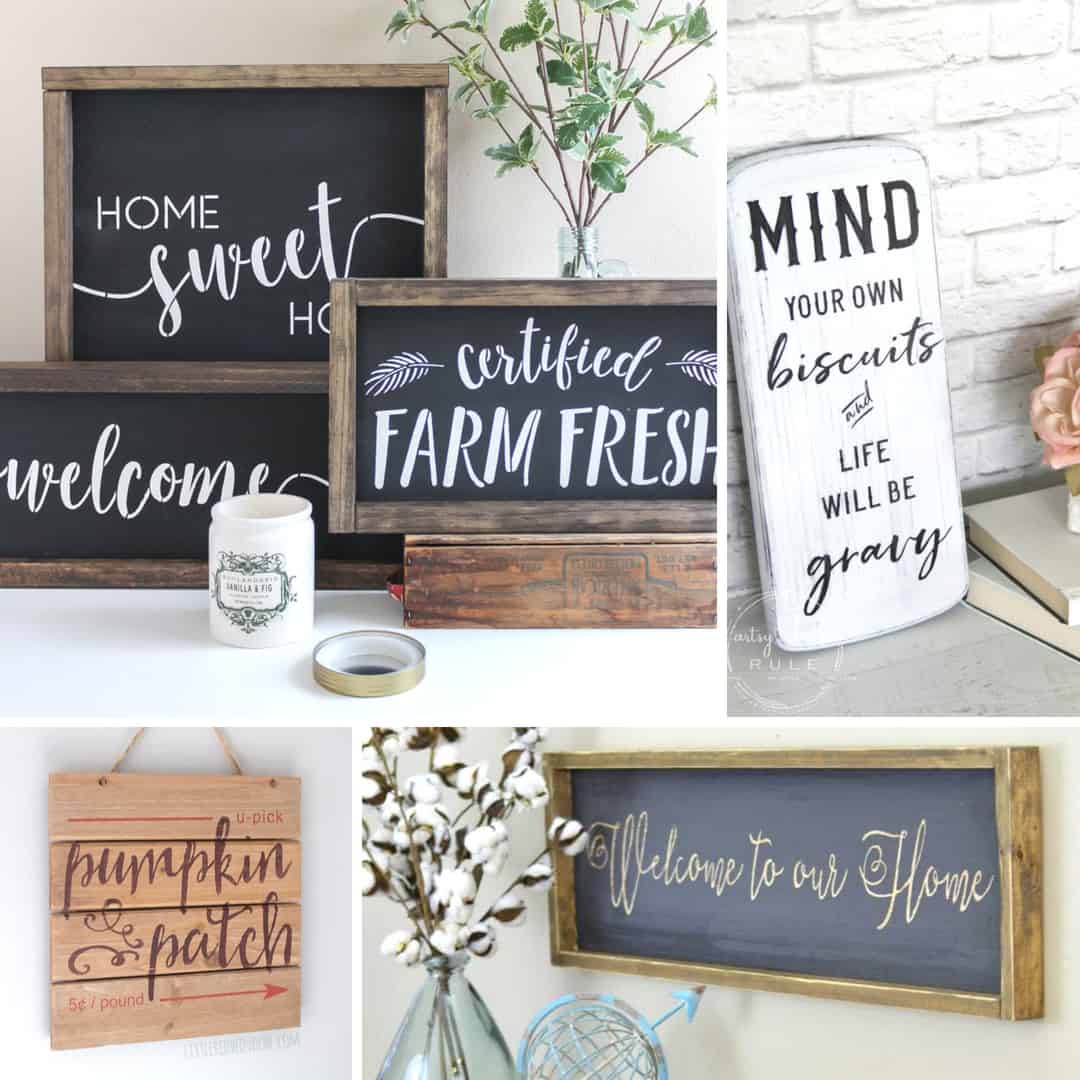 More Farmhouses Decor to Inspire You
DIY Large Wooden Sign from cherishedbliss.com
DIY Farmhouse Wood Signs from musthavemom.com
Make A Hand Lettered DIY Driftwood Sign from sustainmycrafthabit.com
DIY Rustic Pallet Wood Sign from kenarry.com
Reclaimed Wood Farmhouse Sign from theinspiredhive.com
DIY Pallet Wood Sign from bloominghomestead.com
DIY Antique Orchard Fall Sign from lizmarieblog.com
Bible Verse Wood Sign from canarystreetcrafts.com
DIY Fall Pumpkin Patch Sign from littleredwindow.com
Welcome Farmhouse Sign from hertoolbelt.com
Looking for more Farmhouse Inspiration? Check out Farmhouse Kitchen Ideas and Farmhouse Living Room ideas.