This Warm-Spiced Roast Chicken over Sweet Potatoes is the ultimate savory but simple dish. Warmly spiced, flavorful and everything cooks on one baking sheet! A perfect weeknight meal that is elegant enough to serve to any guest. 
A few months ago, someone shared a recipe from Glamorous Bite with me for Roast Chicken with Curry and Paprika. I had never visited the blog before and found myself perusing lots of their beautiful recipes and food photography. I kept coming back to this chicken (it had me when they described it as a "culinary hug" – I love culinary hugs!) I also happen to have chicken thawing and had not decided what to do with it.
Double win. If curry is new for you, know that the curry in this dish is very mild. It gives the chicken a wonderful warm taste. It is not overwhelming but provides just enough spice to be interesting and flavorful.
The recipe you see here is not the same as the one at Glamorous Bite. I encourage you to pop over there and visit because their recipe and photography look amazing. This is my own version based on the ingredients I keep stocked in my kitchen. There are a few different spices – but the biggest difference is that I generally take advantage of my butcher's free service to prepare the chickens before I freeze them. So though I usually cook the entire bird, I rarely cook it while whole in order to shorten cooking time, particularly on weeknights.


Chicken is something I order in bulk and freeze to save a little money. I usually ask the butcher to cut the chickens into quarters or into 8 pieces for me – or some combination of both depending on how many I order at a time. It is actually quite simple to do this yourself. But it requires a sharp knife, which is scarce in my kitchen. And frankly, on weeknights, I am happy to have as much done ahead as possible.
The Glamorous Bite's recipe uses a very cool method called spatchcocking, which removed just the backbone and flattens the whole bird. It works really great if you'd like to grill or smoke a whole chicken! If you would like to figure out how to spatchcock a chicken, my friend Martha Stewart has a tutorial here. (I mean friend with the little "f" not the big "F." I don't actually know Martha Stewart. But a girl can dream.) Regardless, watch the tutorial and tell all of your friends you are serving spatchcocked chicken at your next dinner party and see who shows up and who you scare away.
Use this recipe as a guide. Because we have a larger family – and because we take a lot of leftovers for lunch – I often use 1 1/2 chickens (sometimes even 2!). As long as it fits on the baking sheet, it works. Just adjust the quantity of spices and oil accordingly.
If you would like to try another mild curry dish, try these Curried Lentils with Roasted Tomatoes. If you love sweet potatoes and are looking for a new and interesting main dish, try these Stuffed Sweet Potatoes (they are a favorite of my kids!) Or if you are just trying to figure out something new to do with the same old chicken, try Chicken Salad with Labneh in Melon, Creole Chicken with Sauteed Kale, Chicken Quarters with Sweet Spicy Honey Glaze, and perhaps the most classic of all chicken dishes Chicken Pot Pie (except this one has a whole wheat crust!).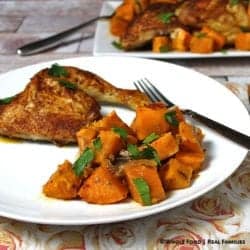 Warm-Spiced Roast Chicken over Sweet Potatoes
A rich, flavorful chicken dish made all in one pan for easy cleanup!
Keyword:
chicken, sheet pan
Ingredients
1

whole

chicken, cut into 8 pieces by your butcher

1/4

cup

olive oil

plus more for coating sweet potatoes

1/4

cup

butter, melted

half of a stick of butter

1

tsp

garlic powder

1

tsp

kosher salt

2

tsp

paprika

1

tsp

curry powder, mild

1

tsp

cumin

4-6

whole

sweet potatoes, washed, peeled and cut into cubes

1

small

red onion, thinly sliced into strips

3

cloves

garlic, minced

3

tsp

fresh thyme

2

tbsp

fresh parsley for garnishing
Instructions
Preheat oven to 450 degrees.

Add diced sweet potatoes, sliced onions, garlic, and thyme to a lightly oiled baking sheet. Drizzle with just enough olive oil to coat all of the potatoes, tossing with your hands to combine. Spread the potato mixture evenly on the pan, making sure that it is in a single layer for even baking.

Lay each piece of chicken directly on top of the sweet potato mixture.

In a small bowl, combine 1/4 cup olive oil, melted butter, garlic powder, salt, paprika, curry powder and cumin. Whisk until uniform. Brush the sauce liberally onto the chicken pieces. It will run down into the potatoes. No worries - this is a good thing!

Move the pan into the preheated oven. Bake for about 30-35 minutes or until the thermometer reads 165 degrees at the thickest part of the meat.

Remove from the oven and let it rest for 5 minutes. Garnish with fresh parsley and serve.
Nutrition Facts
Warm-Spiced Roast Chicken over Sweet Potatoes
Amount Per Serving
Calories 163.67
Calories from Fat 152
% Daily Value*
Fat 16.9g26%
Cholesterol 20.46mg7%
Sodium 458.17mg19%
Potassium 66mg2%
Carbohydrates 3.46g1%
Protein 0.71g1%
Vitamin A 706.81IU14%
Vitamin C 3.43mg4%
Calcium 16.36mg2%
Iron 0.63mg4%
* Percent Daily Values are based on a 2000 calorie diet.