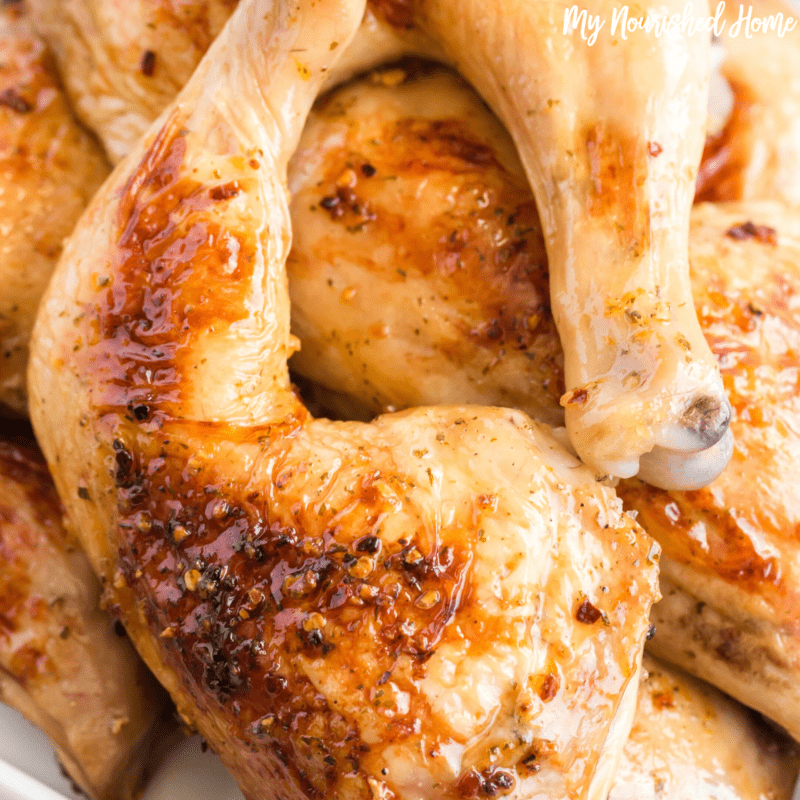 Spiced Honey Glazed Chicken makes an awesome date night at home. This remake of a local restaurant's favorite is sweet, spicy and will make you lick your fingers!
This recipe has a kick but is not a spicy as the restaurant – because we actually want the rest of our family to eat it too. If you want to turn up the heat, add some cayenne pepper. That helps. 🙂
This recipe is one of our most favorite family recipes —> next to this smoked chicken breast and these chicken legs!
Honey Glazed Chicken Recipe

With three kids, if we didn't have a fantastic babysitter, Jeff and I would never have a conversation from beginning to end without interruption, so once every week or two, we get a babysitter and head off into our lovely Savannah.
Our favorite restaurant is always crowded so we squeeze into seats at the bar and order our food so we don't have to wait in line for a table – because who wants to wait in line on date night?!
Every time we get into town, we ogle this fantastic duck appetizer that is coated in this sweet, sticky, honey sauce. It is so spicy it will make you breathe funny and gulp ice water. But it is so tasty, we just can't stop ourselves.
I love duck but rarely keep it onhand, so we took the inspiration and turned it into Spiced Honey Glazed Chicken.
How to Make Honey Glazed Chicken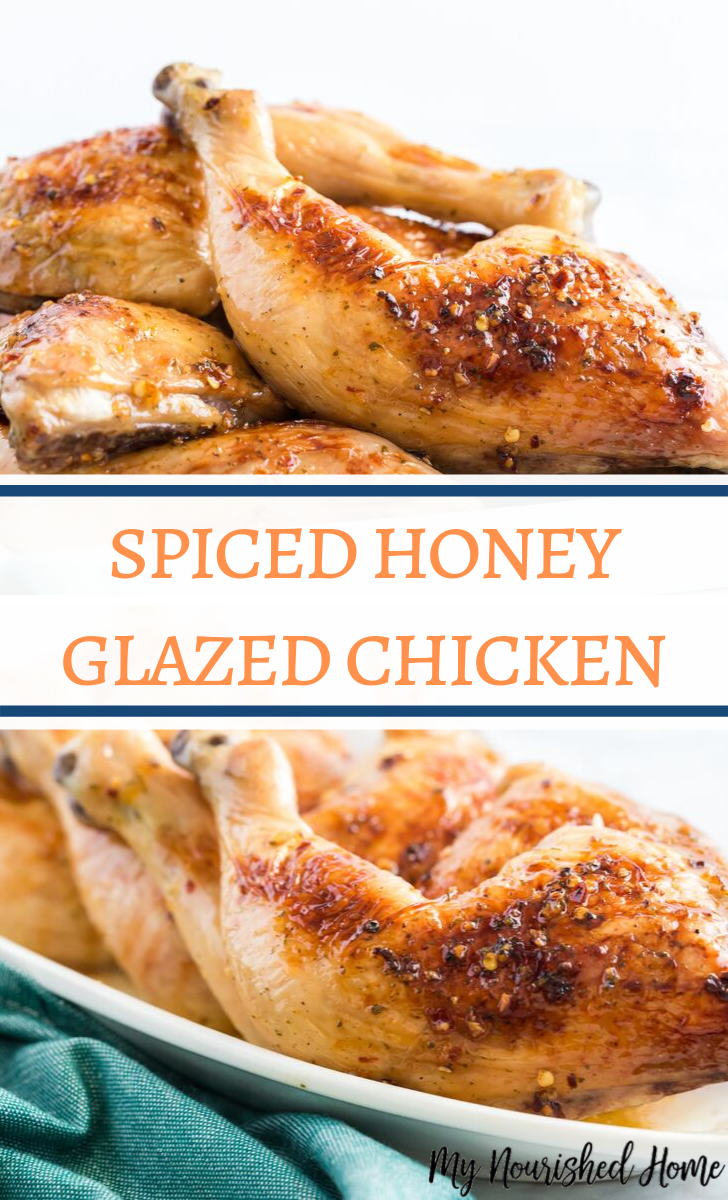 Tips for Baked Honey Glazed Chicken
We like using chicken quarters – legs and thighs together. They are cheap and everyone at our house loves them. But this would work just as well with a whole chicken broken down into pieces.
If you've never broken down a whole chicken on your own, all you need is a sharp knife and a YouTube video. But you can also just ask your butcher, they will do it for you.
Also, if you really want to get crispy skin on your honey glazed chicken, add a rack to your baking sheet. I always like the baking sheet with foil to make the cleanup easy, place the rack into the baking sheet and spray it with non-stick spray. Having the chicken elevated slightly rather than sitting flat in the pan allows the hot air to circulate and the skin turns out nice and crispy.
Make sure the rack in your oven is set to the top 1/3 of your oven as well.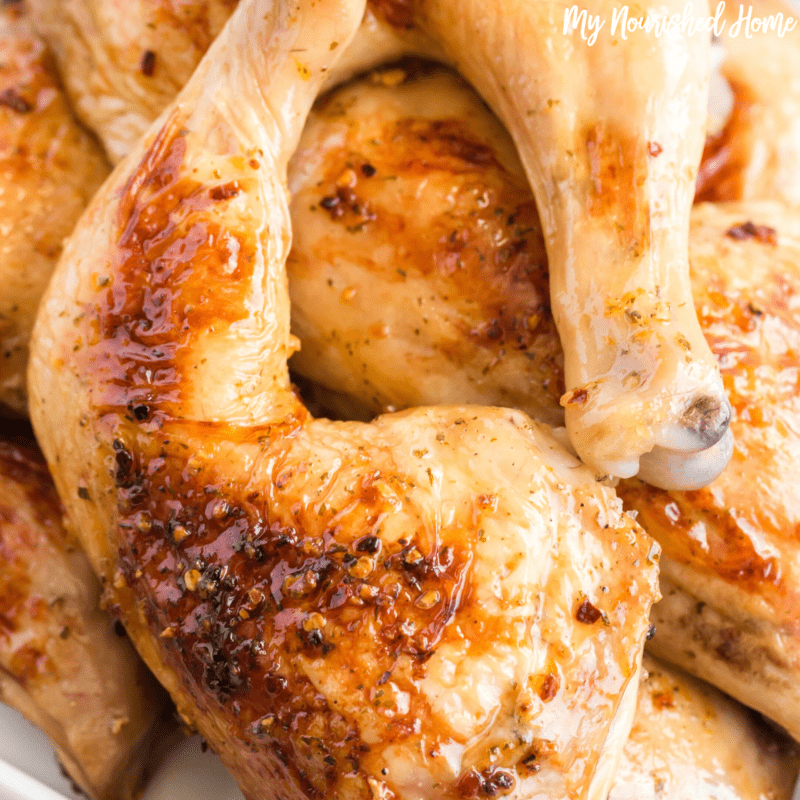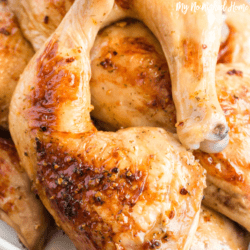 Spiced Honey Glazed Chicken
This sticky, sweet, spicy chicken recipe will leave you licking your fingers!
Ingredients
8

chicken quarters

(Legs and thighs together)

1

cup

honey

2

whole oranges for zest and juice

2-4

tbsp

red pepper flakes, or to taste

kosher salt and black pepper to taste

cayenne pepper to taste (optional)

only if you want to turn up the heat!!
Instructions
Preheat your oven to 400 degrees and move your rack to the top 1/3 of your oven. (This helps to crisp the skin.)

In a small sauce pan, add honey, the juice from both oranges, the zest from both oranges, red pepper flakes, and cayenne if you are using it. Bring to a low boil over medium heat then reduce the heat letting the sauce simmer slowly and reduce until syrupy.

Salt and pepper the chicken quarters well.

Place chicken pieces on a baking sheet with a rack. Keep in mind that there will be some water that bakes out of the chicken so your baking sheet should have a rim to prevent it from spilling into your oven. Don't overcrowd your chicken.

Roast the chicken for 30 minutes. Remove the chicken from the oven and brush liberally with the honey sauce. Put the chicken back into the oven for 10 minutes.

Remove chicken the second time and apply the sauce a second time. If I have any left in the saucepan, I pour it over the top of the chicken.

Return chicken to the oven again, cooking for 5-15 minutes or until the juices run clear and the internal temperature of the chicken reads 165 degrees. Enjoy!
Nutrition Facts
Spiced Honey Glazed Chicken
Amount Per Serving
Calories 3685
Calories from Fat 1728
% Daily Value*
Fat 192g295%
Cholesterol 1133mg378%
Sodium 904mg38%
Potassium 3020mg86%
Carbohydrates 313g104%
Protein 191g382%
Vitamin A 1491IU30%
Vitamin C 141mg171%
Calcium 218mg22%
Iron 9mg50%
* Percent Daily Values are based on a 2000 calorie diet.