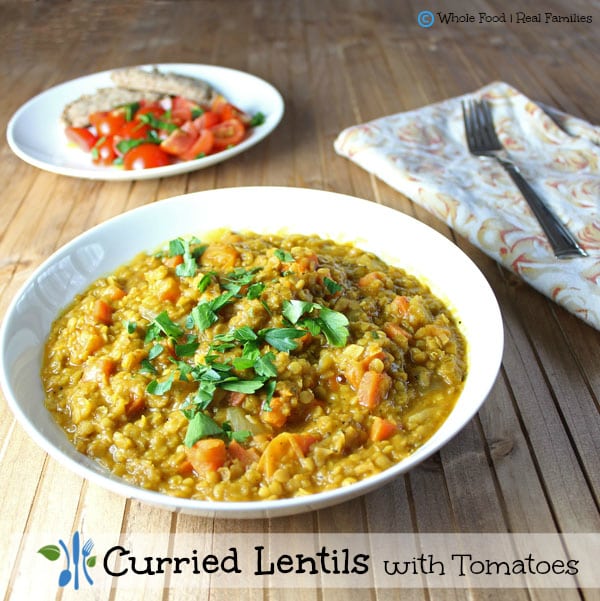 Indian food has always fascinated me but I have been a little intimidated about making it myself. About a year ago, some friends of ours brought curried lentils to dinner one night. I have wanted to make them myself ever since.  After one edible but not noteworthy attempt, I relegated myself to eating other people's lentils. A few days ago, our Facebook group, Whole Food Living, started a 30-day challenge to eliminate all processed sugar and flour from out diets. A member of that group, Michelle – a fellow healthy blogger at  Earth's Friends – posted Ina Garten's recipe for Stewed Lentils and Tomatoes and said it was her favorite recipe. The next day we had this dish for dinner. There are a few alterations to this recipe from the original – because I always prefer my own roasted tomatoes to the canned variety  and because I was too lazy to make a special trip to the store.  So by all means pick the recipe you prefer, but try these lentils. They are just too delicious to pass up.
If curry is new for you, don't be scared!! This is a nice choice for experimenting with a new flavor. This is a very mild curry – and an inexpensive meal if you want to try something new but aren't quite sure about your palette. These lentils are warm  and comforting – a little sweet and a little savory. Perfect for a curry newbie like me.
This recipe is vegetarian as long as you choose vegetable broth over chicken. And is an excellent option for a meatless main if you are attempting to eat less meat for health or financial reasons! We like to serve it with this simple Tomato Salad on the side. Something about the warm lentils and the sweet tomatoes go really well together. And of course a little whole wheat bread to wipe up all that yummy sauce!!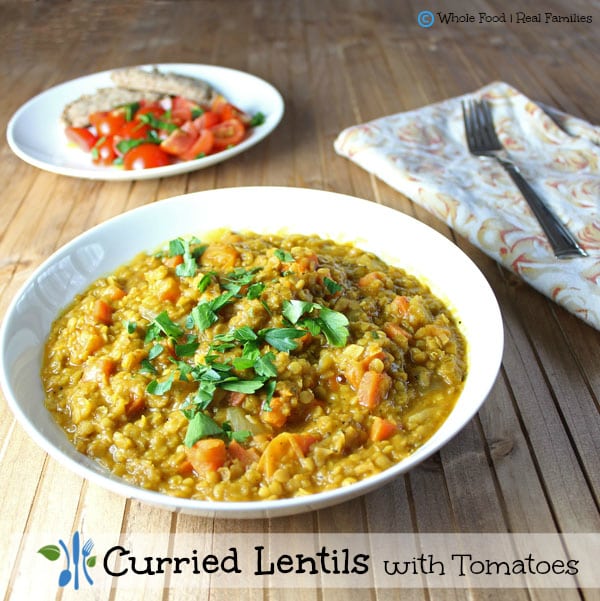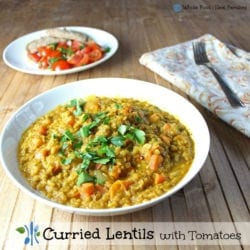 Curried Lentils with Tomatoes
Course:
Appetizers & Sides, Main Dishes
Ingredients
2

tbsps

coconut oil

or olive oil

1 1/2

cup

red onion, diced

3

cups

carrots, diced

4

garlic cloves, minced

4

cups

roasted tomatoes

or equivalent canned tomatoes

1 1/2

cup

red lentils

3

cups

vegetable or chicken stock

1

tbsp

mild curry powder

2

teaspoons

dried thyme

1

tbsp

kosher salt

1/2

teaspoon

fresh ground black pepper
Instructions
Heat coconut oil in a large pan or Dutch Oven over medium heat. Add the onions and carrots and cook for 8-10 minutes, until the onions are translucent and the carrots begin to soften. Stir occasionally to prevent burning. Add the garlic and cook 1 more minute. Be careful not to burn the garlic.

Add the tomatoes, lentils, broth, curry powder, thyme, salt, and pepper to the pan. Raise the heat to bring to a boil, then lower heat and simmer covered for about 40 minutes, until the lentils are tender.

Remove from the heat and allow the lentils to sit covered for 10 minutes. Serve hot and enjoy!

Double it and have it for lunch the next day! Leftovers are just as good as the original!