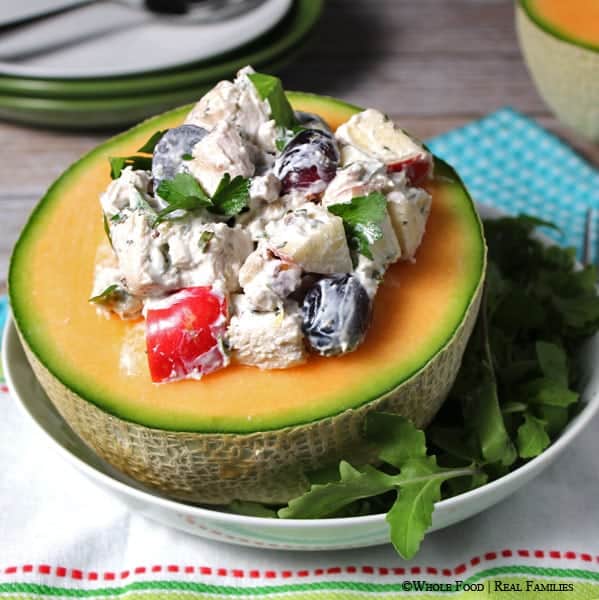 Labneh Chicken Salad in Melon is my solution for Chicken Salad without mayonnaise. Simple to create, delicious, and full of apples, nuts, and grapes. 
Labneh was first introduced to me by a food writer, photographer friend named Hein Van Tonder. Because Hein lives and works in Cape Town, South Africa, he is a friend I only have the pleasure of knowing through blogging and for that I am grateful. Not only is he gifted in the kitchen but he is truly an extraordinary photographer. I particularly love following his blog Heinstirred because his influences in the kitchen are so different from mine. And because our seasons are opposite, it is really fun to see him working with summer ingredients when I am in the midst of winter. I first learned about Labneh here.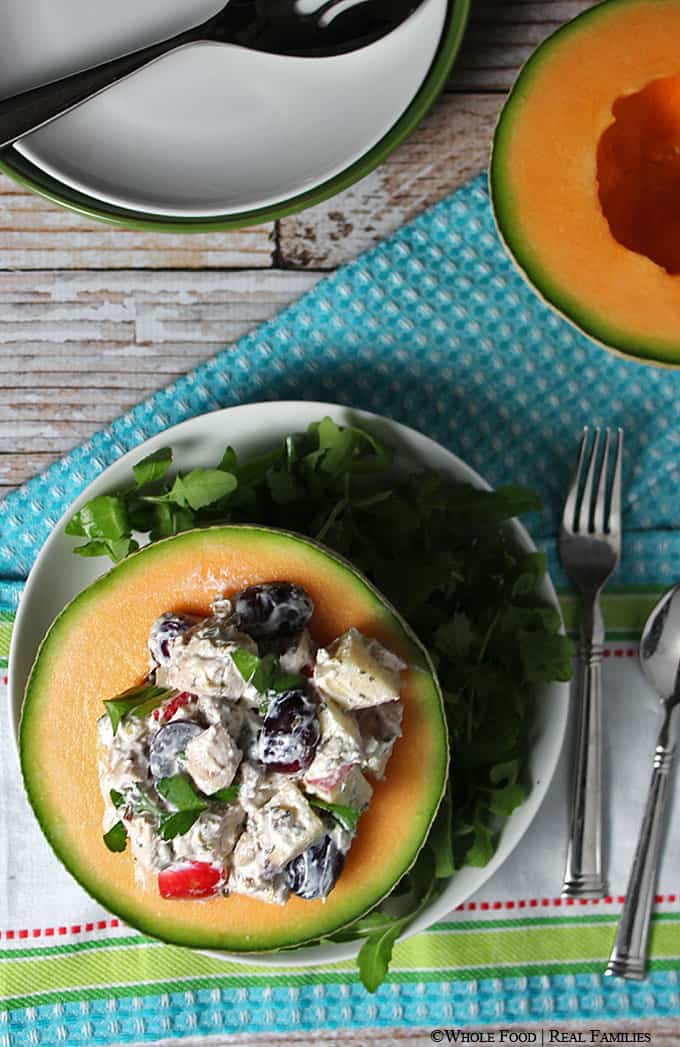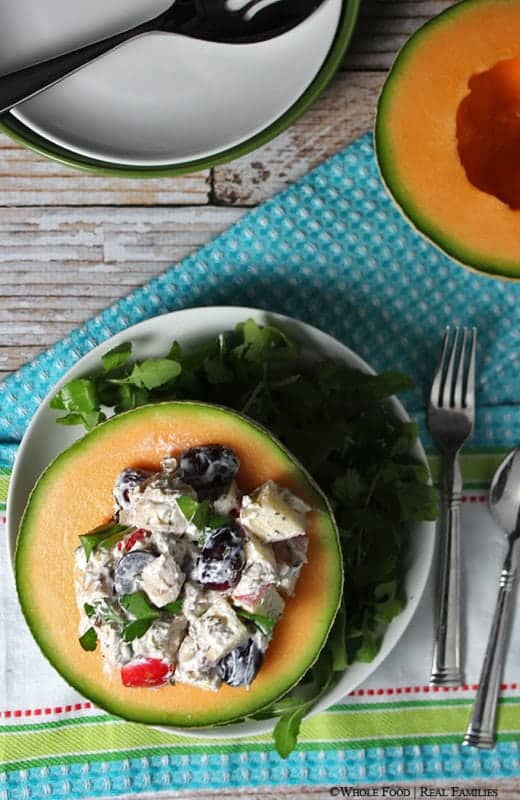 If you are not familiar with Labneh, don't panic. It is yogurt that is strained until it reaches a consistency similar to that of cream cheese. If you are interested in the difference between yogurt, Greek yogurt, and Labneh, Food52 has a wonderful article here.
Add a big pinch of salt to Greek yogurt, spoon it into a cheesecloth, set the cheesecloth over a strainer and the strainer over a bowl to catch the liquid that separates. Because the yogurt I started with is very thick, it only took an hour or two for enough liquid to strain from the yogurt for it to become the consistency I needed. If your yogurt is thinner, it will need to strain longer. The longer you let it sit, the thicker it becomes. If you are not at home during the day, it would be simple to do this step in the morning before work and you will have Labneh by the time you get home. If for some reason, it is thicker than you prefer, just stir a tablespoon or two of unstrained Greek yogurt back into the mix.
The thick, tangy spread is delicious on its own or for use as a spread on sandwiches, as a base for dips, or on the most amazing bruschetta. And of course, makes the most amazing chicken salad you have ever put in your mouth. I have a long history of falling in love with the look of Waldorf-style chicken salad, only to buy it or make it only to be reminded that I am not fond of mayonnaise. I have tried recipes using Greek yogurt and sour cream in the past – and though they were good, they were never quite thick enough to bind the chicken salad the way I wanted. Not only did the addition of Labneh solve that problem, but it also gave my chicken salad a wonderful zing with a citrus kick that was new and delicious.
Looking for another interesting salad that will make you want it again and again? Check out this Warm Lentil and Vegetable Salad. Or are you not feeling salad today? You can always eat your veggies on these Grilled Vegetable Pizzas. I won't tell if you don't.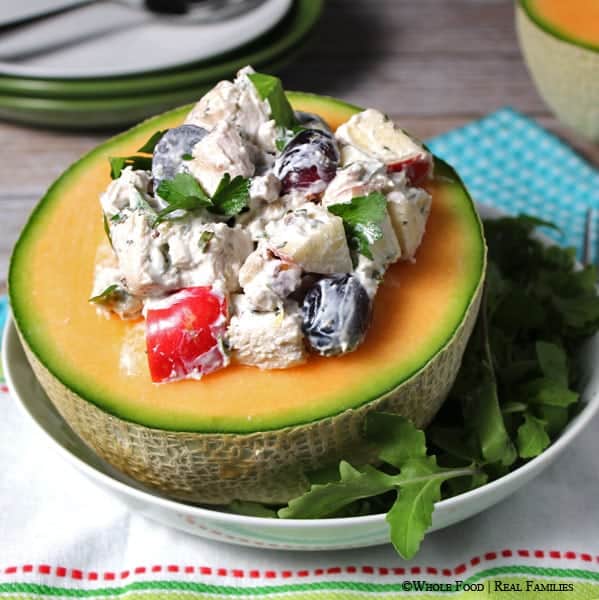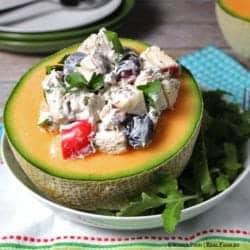 Chicken Salad with Labneh in Melon
Course:
Main Dishes, Soup, Salad & Sandwich
Ingredients
1.5

lbs

chicken breasts

2

apples, cored and diced into bite sized pieces

1.5

cups

seedless grapes, halved

1

cup

walnuts, chopped

1

cup

Labneh (strained Greek yogurt)

begins with 1 1/4 cup of Greek yogurt

1

lemon, for zesting

1.5

tbsp

tarragon, dried

kosher salt and black pepper to taste

2

tbsp

fresh parsley, chopped

2

melons, halved with seeds removed

cantaloupe or honeydew work well
Instructions
Add a pinch of salt to 1 1/4 cup of Greek yogurt and stir. Spoon the mixture into a cheese cloth. Set the cheese cloth into a strainer and the strainer over a bowl. Sit it in the fridge and leave it. I start with a relatively thick yogurt to begin with, so it only takes a few hours for the liquid to drain from the yogurt and achieve the thickness I prefer for chicken salad. Thinner yogurt will need to strain longer.

Liberally salt and pepper chicken breasts and bake in the oven at 350 degrees for 25-30 minutes, or until juices run clear. While chicken is cooking, prepare the fruit and nuts. When chicken cool enough to handle, dice into bite sized pieces.

Combine diced chicken, apples, grapes, and walnuts in a large bowl and stir to combine.

Mix the Labneh, zest from the lemon, tarragon in a medium bowl until uniform. Spoon the mixture over the chicken, stir to combine. Adjust salt and pepper to taste. Top with fresh parsley.

Spoon into melon halves. Enjoy!