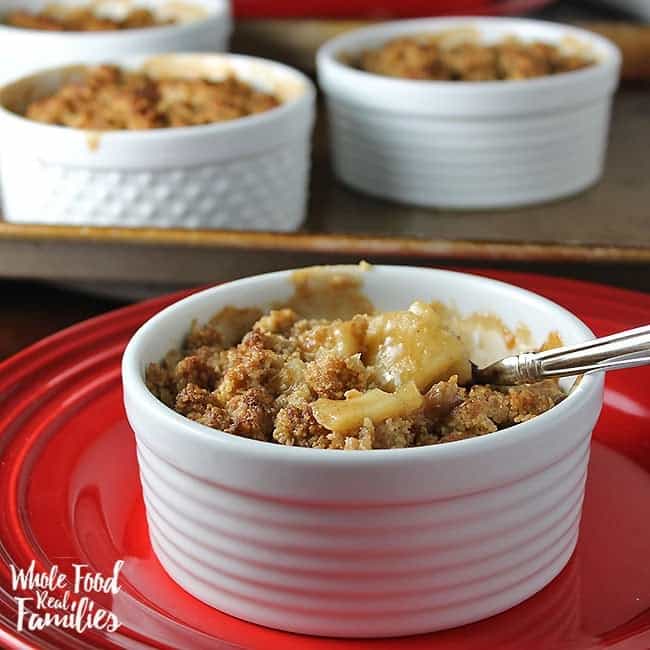 Whole Grain Apple Crumble is ALWAYS a good idea. Delicious and sweet, with yummy whole grain crumble top, this is as close to healthy that dessert is ever going to get.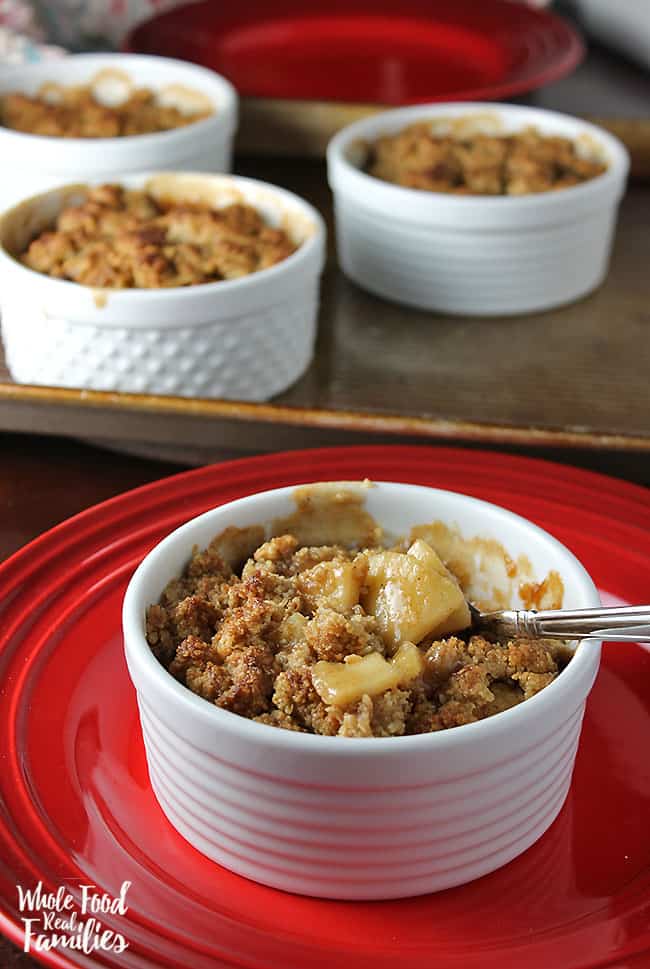 Whole Grain Apple Crumble
Dessert is awesome. It can make the end of any meal whether it is a special occasion with lots of guests or just regular Tuesday when everyone actually got to sit around the table together despite busy schedules.
I love any dessert that includes apples, especially this Whole Grain Apple Crumble. Thankfully, you can get apples in every single grocery in every single season. So even if you are in a pinch for a quick dessert in the middle of winter, you can make an apple crumble. You can also make the filling ahead and the topping just takes a quick whir in the food processor before popping the whole business in the oven.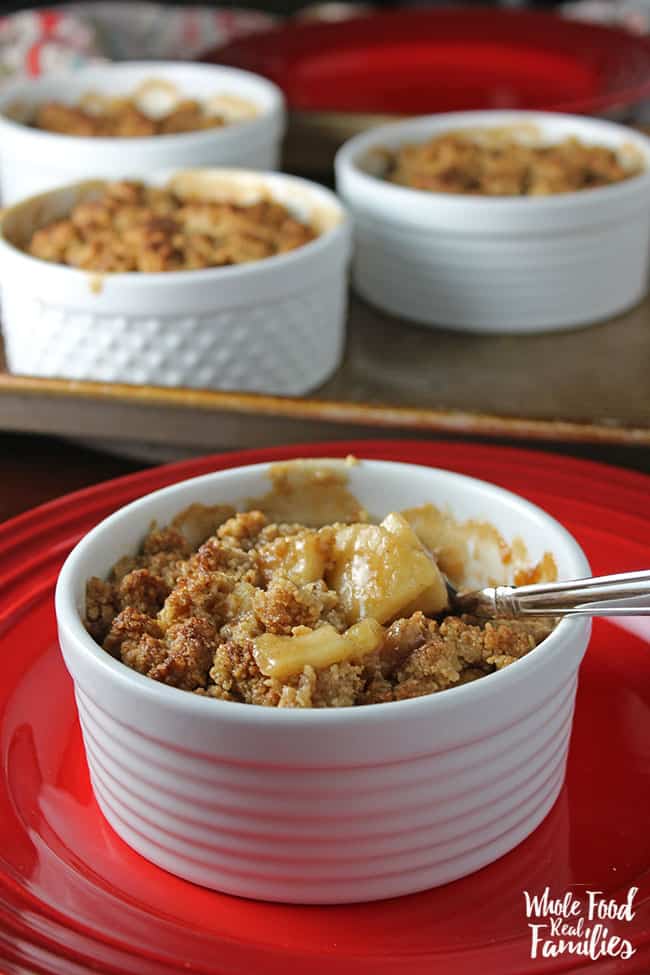 Apple Crumble is a Healthy Dessert Choice!
Serving in ramekins is a handy little hack for a few reasons. I always plan for everyone to have 1 dessert. Seems reasonable, right? I use the large ramekins and it takes about an apple and a half to fill each ramekin with apple filling. So the recipe for Apple Crumble is easy to scale. Even the topping can be eyeballed for increasing or decreasing the number of portions. The recipe is very forgiving.
Ramekins also eliminate any abundance of leftover dessert. I'm not going to lie – if there is leftover dessert in the fridge, I am probably going to eat it if I can beat my kids to it. Lastly, the ramekins fit in my dishwasher. No handwashing of large baking dishes that don't fit. That means we can actually have dessert on a weeknight without creating a lot of extra work. (It also prevents my kids from arguing about who got the bigger serving!)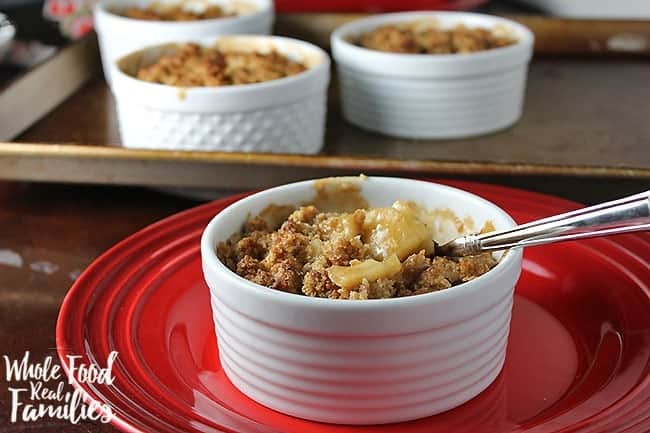 Looking for More Healthier Dessert Recipes?
Looking for more fruity desserts, check out this Fresh Fruit Pizza. It is crazy good! Or this Maple Berry Cornmeal Cake. It is lightly sweet – a perfect end to any meal! I won't tell if you feel like you should have a slice for breakfast.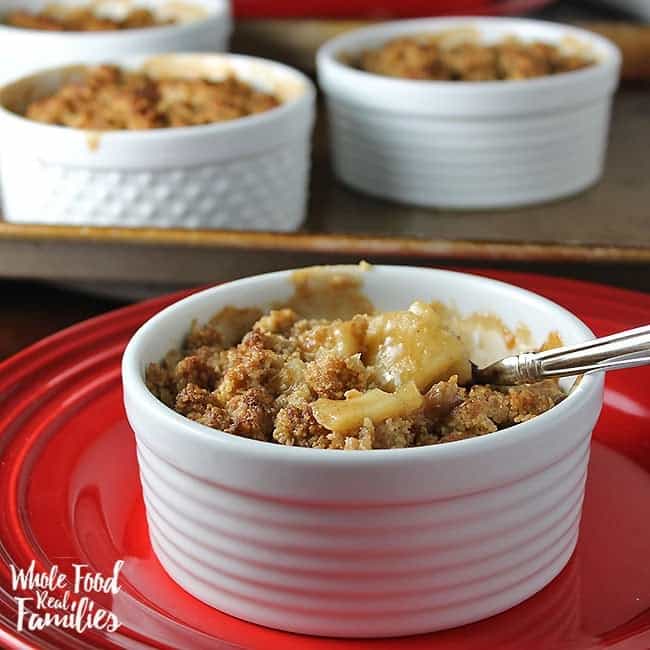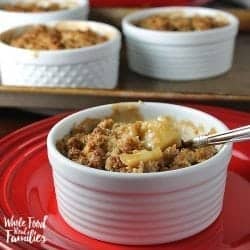 Whole Grain Apple Crumble
Ingredients
Crumble Topping
1/2

cup

rolled oats

1/4

cup

brown sugar or coconut sugar

1/4

cup

walnuts

2

tbsp

white wheat flour

4

tbsp

cold butter
Apple Filling
6

apples

peeled and diced (I have the large ramekins and it takes 6 apples peeled and diced small to fill 4 of them.)

1/2

lemon

zested and juiced

1/4

cup

white whole wheat flour

1/2

cup

maple syrup or brown sugar

2

tsp

cinnamon

1/2

tsp

nutmeg

3

tbsp

butter
Instructions
Preheat oven to 350 degrees fahrenheit.

In a large bowl, add the apples, zest and juice from the lemon, flour, maple syrup or brown sugar, cinnamon, and nutmeg. Toss well to coat the apples.

Toss butter in the bottom of a Dutch oven or heavy bottomed pan, over medium heat. Let it melt then add the apple mixture and let them cook until they're soft. Depending on the apple type, you might need to add ¼ cup of water to the pot to get them cooking.

Once the apples are soft and there's lots of yummy apple syrup all over the place, spoon them into your ramekins.

In a food processor, add rolled oats, brown sugar, walnuts, flour, and 4 tbsp of cold butter. Pulse until it resembles pebbles.

Top the ramekins with the oatmeal crumble topping. Sit the ramekins on a sheet pan to catch anything that bubbles over.

Pop in the oven for 15-20 minutes or until golden.