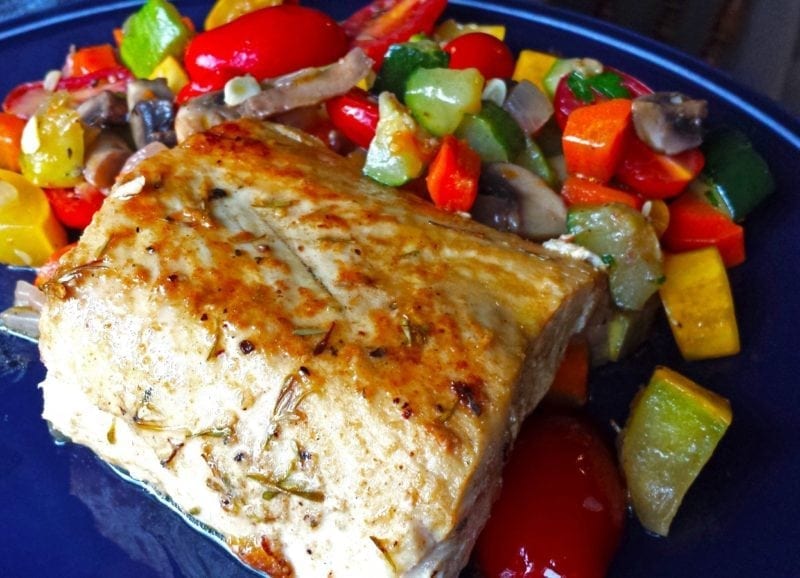 Wild caught Mahi Mahi is delicious with just a little salt and pepper and a sear in the pan. This marinade is not overpowering but lends some extra flavor to a fish that is already delicious. In addition to being healthy, it is a perfect weeknight meal because it can be marinated ahead of time and goes from the pan to the table in less than 10 minutes. We like to serve it with Ratatouille! They go really well together!
What is the difference between wild caught and farm raised fish? Farm raised fish are generally raised in enclosures or pens. Their close living quarters increase the occurrence of diseases. To prevent disease, farm raised fish are fed antibiotics in their food and their food may contain things they wouldn't normally eat in the wild – like GMO corn, soy or canola. Wild caught fish don't live in such close quarters and also swim freely to hunt their food. Because of their increased activity and the increased diversity in their diets, wild caught fish tend to be lower in fat and higher in nutrients.
The downside to wild caught fish is that it tends to be more expensive than farmed fish. (I know you are surprised by that, right?) Get to know your butcher and  fish monger to find out if they can help you buy for less. Be honest, tell them you are on a budget and ask if they can offer some advice on working within it (for fish and everything else!) For me, that means I often buy in bulk, prepare it for the freezer – and save a lot of money in the long run. Sometimes I ask for recommendations for a different cut of meat or type of fish that is similar but less expensive. If that is just not an option, I would still suggest you find a knowledgeable butcher or fish monger and start asking questions about where they get their fish and how they are raised. Some fisheries are much better than others.
Don't be discouraged if you find that you just can't afford to buy all organic, grass-fed, wild caught… It is a long list. Do what you can. Do the best you can. At our house we choose to prioritize the food we eat the same way we prioritize our healthcare because we believe they are closely related. If you share that point of view, anything – everything – you do to move away from mass produced food matters. Just don't put something on the "can't afford" list until you have looked around at your options. (Wild caught fish you can afford will rarely ever be at the traditional grocery store.)
Regardless of what you decide about fish – keep in mind that it is healthier to eat a piece of non-organic fruit than organic cookies, and healthier to eat farm-raised fish than organic potato chips.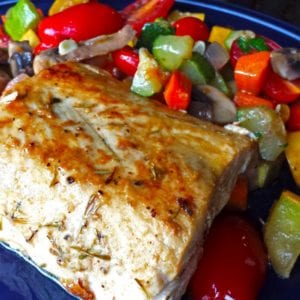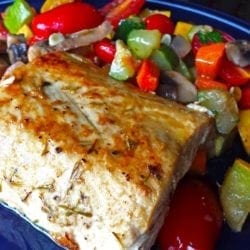 Pan Seared Mahi Mahi
Ingredients
4

Mahi Mahi fillets

1/3

cup

olive oil

3

tbsp

champagne or white wine vinegar

2

tbsp

ground cumin

1 1/2

tsp

fresh chopped thyme

1/2

lemon, for juicing

2

cloves

garlic, minced

1/2

tsp

salt

1/2

tsp

black pepper
Instructions
Combine all ingredients, except Mahi Mahi fillets in a jar and shake until they are emulsified. (Or whisk together in a bowl.) Pour over Mahi Mahi fillets and allow to marinade for at least an hour in the refrigerator.

Heat a large saute pan over medium-high heat. There is oil in the marinade that should prevent it from sticking - but use your discretion based on your history with your saute pan! Place all 4 fillets in the pan with space between them (do not crowd - if your pan is not big enough, cook in batches). Allow fish to cook without turning until nicely browned, about 4 minutes. Flip fish and allow them to brown on the other side, also about 4 minutes. Fish will flake when done.

Remove fish from pan and serve hot! Enjoy!