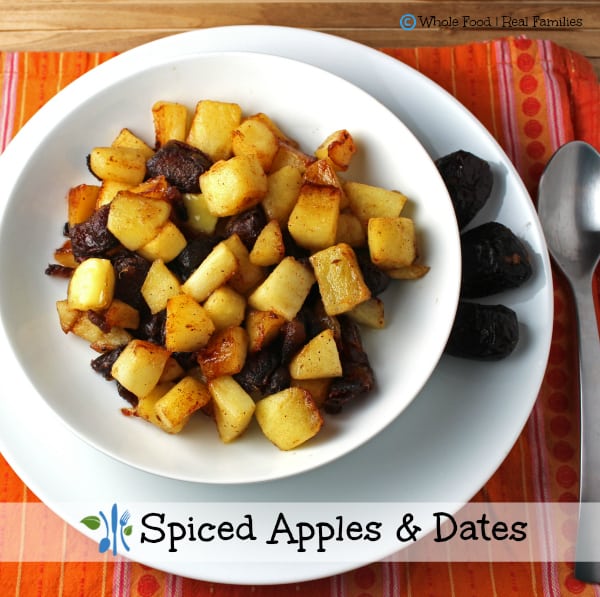 Spiced Apples and Dates are beyond delicious and include no refined ingredients. Naturally sweet, they are a perfect side to pork or a perfect topping for pancakes!
My husband is a pretty calm, pretty centered, pretty grounded guy. He is not overly excitable at home – which works for us because I am totally excitable. It's a nice balancing act. So if I am preparing a recipe for the website and I ask him to taste something, it is because I appreciate the computations that occur in his engineer brain. I know he will really think about what he is tasting – the ingredients, how it is cooked, how it tastes, how it is served. He will also be kind – even if it tastes awful – but he will give me honest feedback because he knows I want to get it right at home before I send it off into the world. (If I am not preparing a recipe for the website, he will always tell me the food is wonderful because in addition to being really good looking, he is also very smart.)
This little side dish is so easy – but was such a huge hit at my house. I was cooking dinner and one of our kids needed me in the other room. I asked Jeff to watch the stove so nothing burned. When I came back to the kitchen I found my husband and my teenage daughter leaned over the hot stove with forks. Chewing… and blowing the way you do when you put hot food in your mouth because – you know, hot stove. After watching them for awhile, I finally interrupted and asked if they were planning to leave me any to photograph. Busted.
Cardinal rule in the home of a food blogger. Do Not Eat All The Food Before The Photograph!!
This recipe was inspired by the lovely, inspiring blogger, cook, recipe developer extraordinaire Ally's D'Antoni of Ally's Kitchen. I was in search of Ally's recipe for Spiced Maple Syrup Fried Apples & Dates on a night that her site was down briefly for a redesign and relaunch. What to do?! The Apple Pork Loin was already cooking! After an initial panic, I decided to wing it but with Ally's adventurous personality whispering in the kitchen – the end result was delicious! Please pop over and say hello at Ally's Kitchen. Her recipes are so mouth watering and her photographs are so fantastic, I could read her site like a book – cover to cover.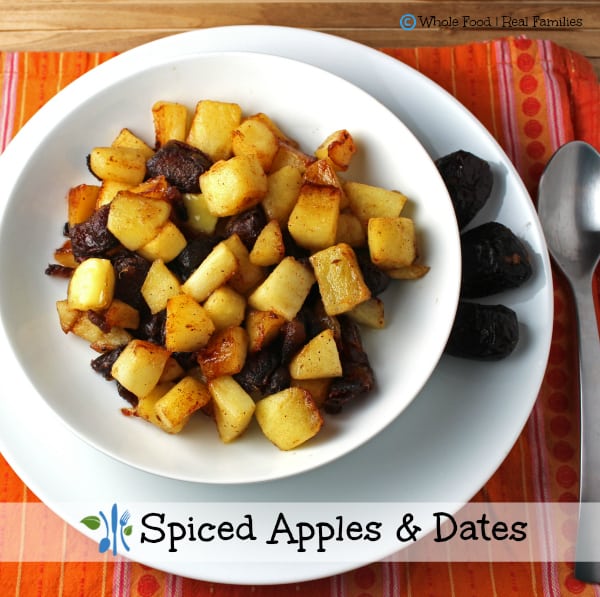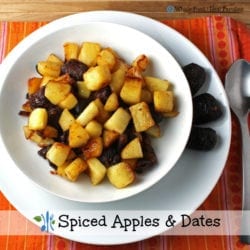 Spiced Apples and Dates
Course:
Appetizers & Sides
Ingredients
2

tbsp

coconut oil

4

large

apples, peeled and diced

I love Honeycrisps!

1/2

cup

dates, pitted and diced

1/4

cup

100% pure maple syrup

1/2

tsp

nutmeg

1/4

tsp

kosher salt
Instructions
Heat coconut oil in a large saute pan or dutch oven over medium heat.

Add diced apples to the hot oil and cook them for approximately 5 minutes, turning occasionally. Add dates, maple syrup, salt and nutmeg to the apples and cook for another 10 minutes, or until apples are tender and browned on the edges.

SO DELICIOUS!! Enjoy!