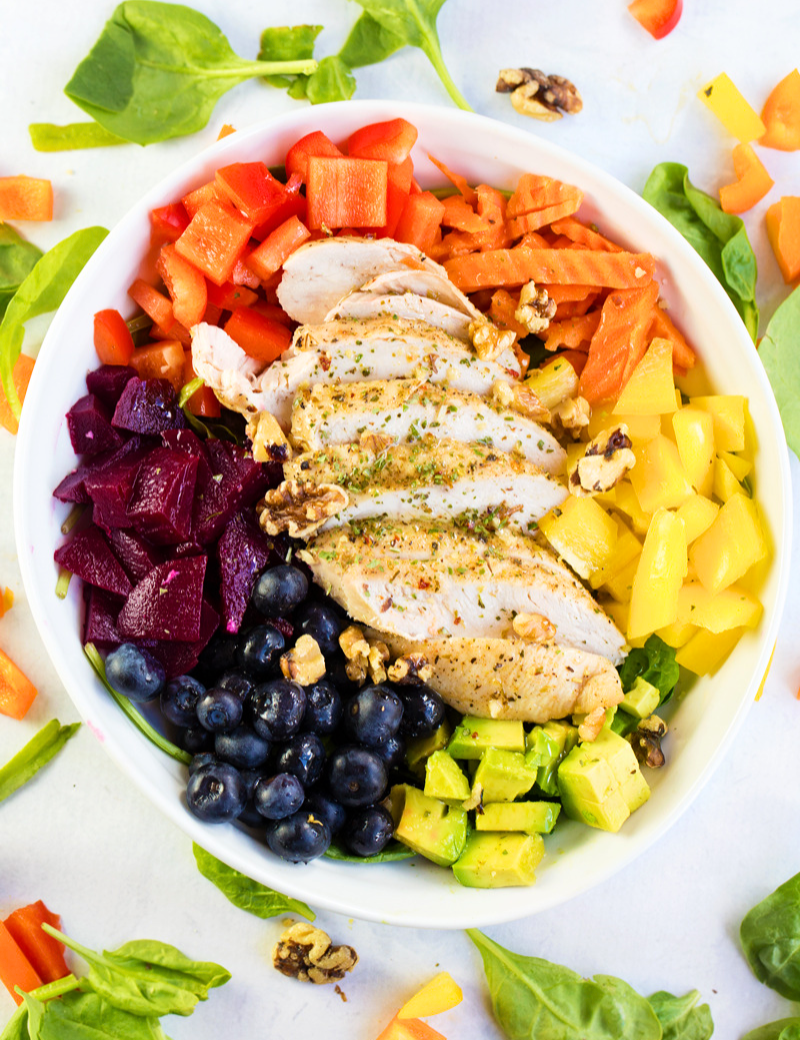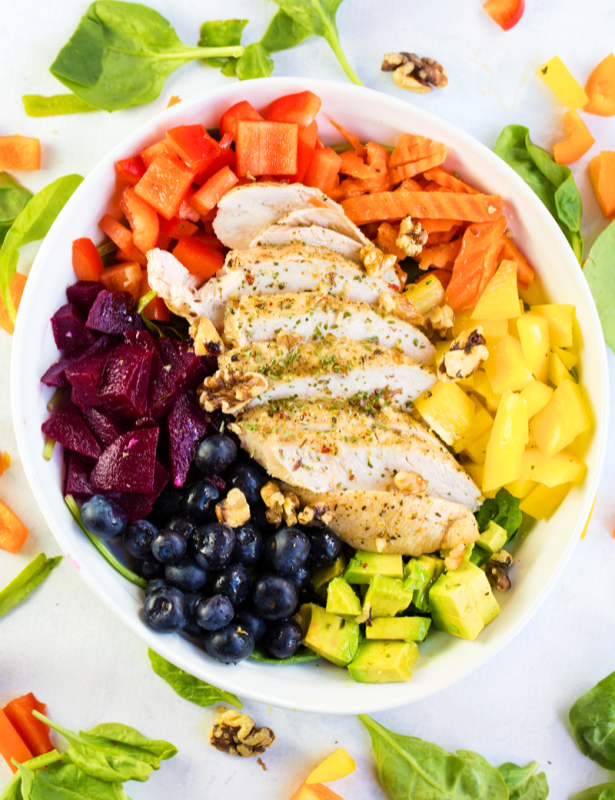 Coated in a key lime vinaigrette, Rainbow Chicken is a delicious, healthy lunch or dinner recipe that is packed with protein and a variety of colorful vegetables.
Rainbow Chicken
Sweet, crunchy veggies meet juicy chicken in this beautiful and tasty rainbow chicken recipe.
Dense with both nutrients and a variety of colors, this rainbow salad contains a little something from every color of the rainbow:
Red and yellow: sweet bell peppers
Orange: crunchy carrots
Green: leafy spinach and buttery avocado
Blue: juicy blueberries
Purple: earthy beets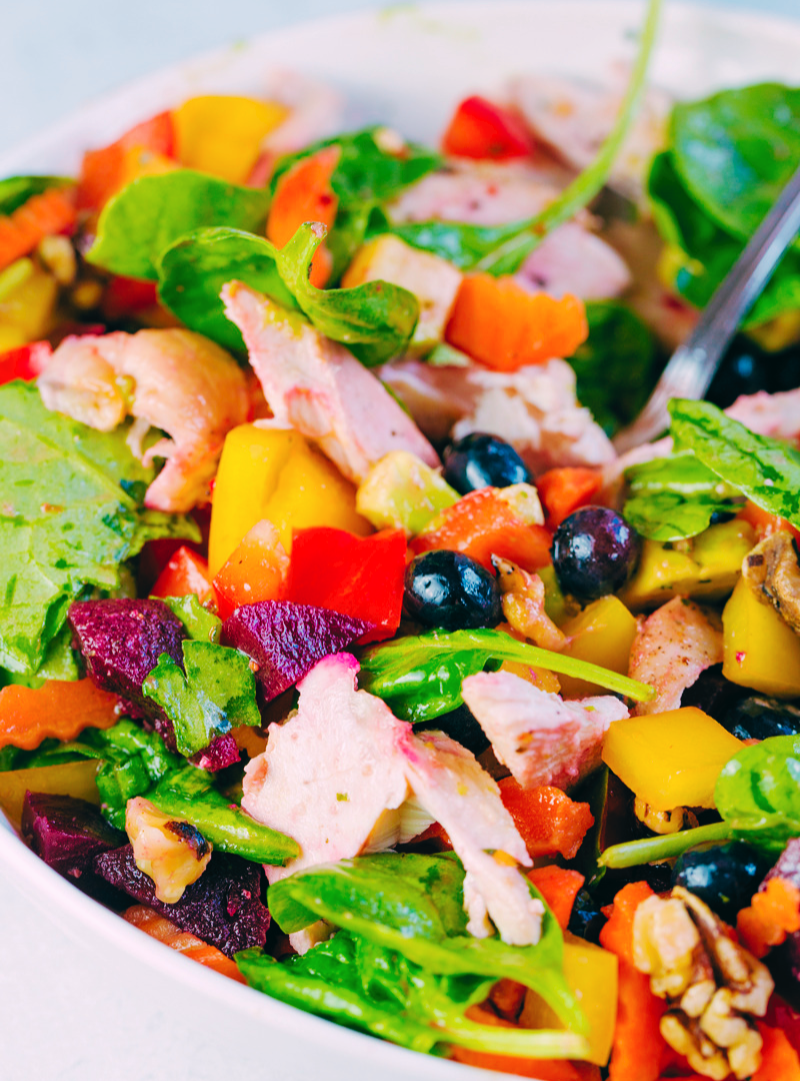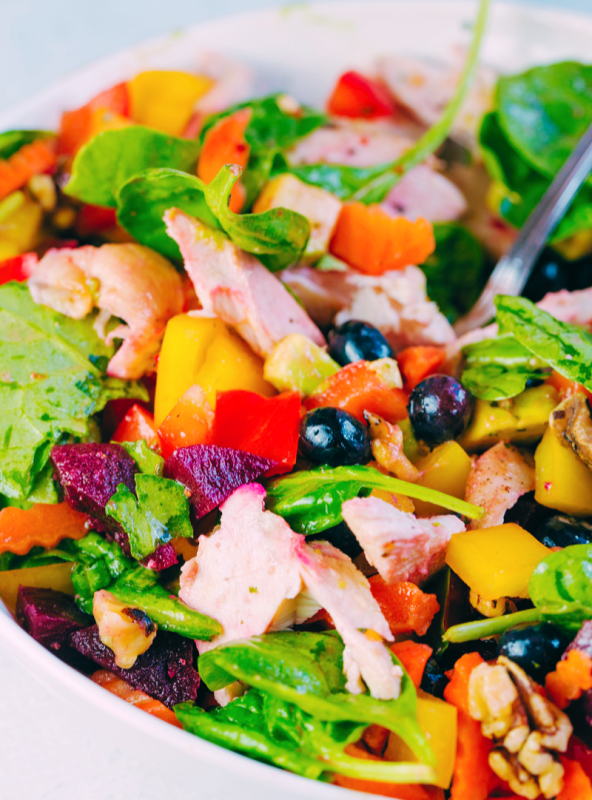 Together, these ingredients create a dish that is simultaneously sweet, savory, crunchy, and soft. The colors and flavors of the rainbow explode in your mouth with every bite.
Rainbow veggies and chicken make the perfect combination. If you love this combination just as much as I do, you've got to try these Chicken Spring Rolls next. For another colorful veggie dish, check out my recipe for Ratatouille.
Why you will love this rainbow salad recipe
Healthy! The beautiful vegetables that make up this rainbow salad are packed with nutrients. Spinach is an excellent source of iron, bell peppers are rich in antioxidants, and beets are high in fiber and work to support healthy blood pressure. On top of what these veggies have to offer, rainbow chicken also contains protein, fruit, and avocado – a healthy fat.
Easy to prepare. You'll only need to chop and mix all of your ingredients together. To make things even easier, you can buy pre-cut veggies or pre-cooked chicken breasts that you can just slice and toss on top. This recipe is so simple, it's great for getting the kids and family involved in your meal prep.
Low-calorie and gluten-free. Rainbow chicken is perfect for folks who have dietary restrictions. This recipe can also easily be turned into a meatless meal by removing the chicken.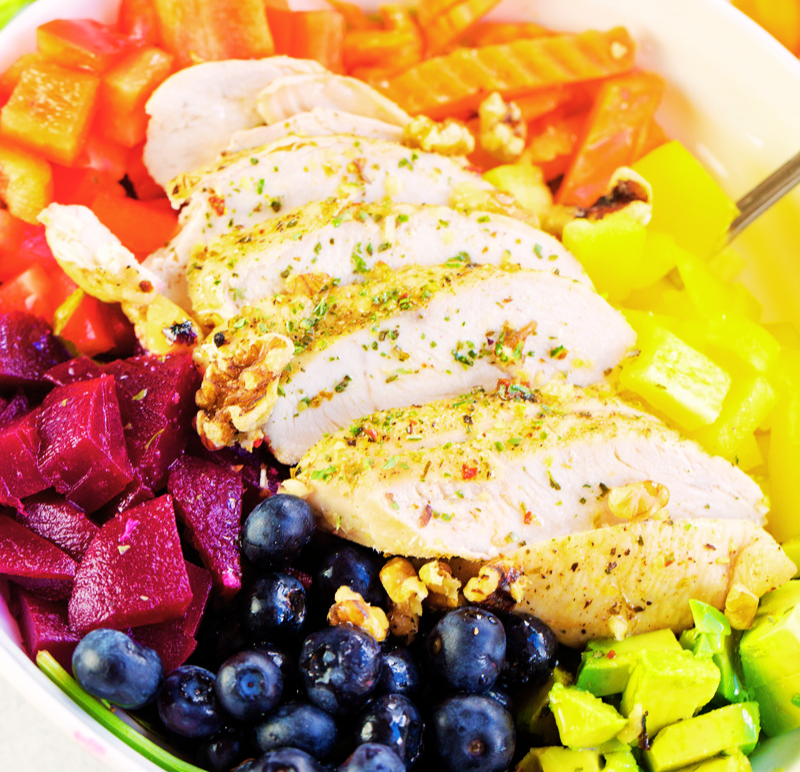 How to make perfect rainbow chicken
Bake and chop your chicken, then set aside. Using pre-cooked chicken breasts allows you to bypass this step. If cooking the chicken yourself, use a meat thermometer to ensure that the internal temperature of the meat reaches at least 165ᐤF.
Wash and chop your vegetables. Similar to the chicken, using pre-cut vegetables allows you to skip this step. Some grocery stores sell packages of pre-cut bell peppers, which you can simply dice smaller. A note on vegetables: I happened to have pickled beets on hand instead of regular beets – they added an amazing tangy flavor to this mix of vegetables! But regular beets are perfect for your recipe and will add both color and sweetness to your dish.
Toss ingredients into a large bowl, starting with spinach at the bottom. If you don't have spinach or want to try something else, you can use any mixed greens as the base for the rainbow salad. Add your chicken and walnuts to the top after adding your other rainbow groupings one at a time.
Dress with two tablespoons of tangy key lime vinaigrette. Enjoy rainbow chicken on its own, or as a side dish. Try it with this delicious smoked pork tenderloin or with unstuffed baked potato.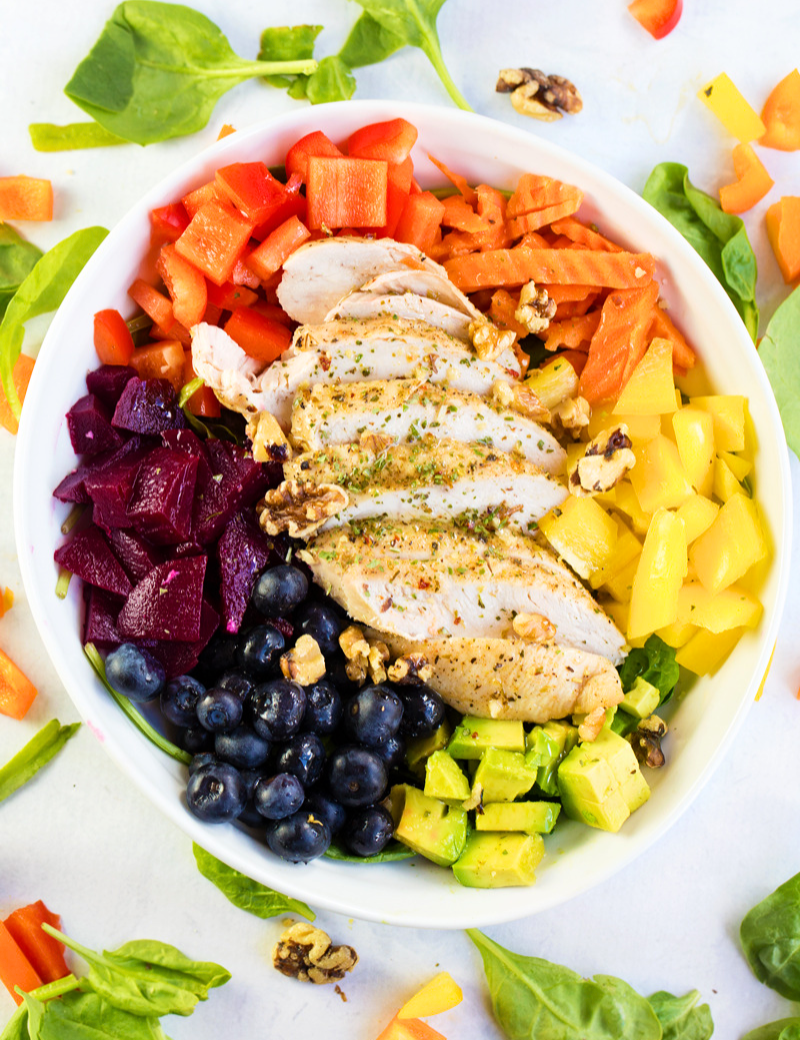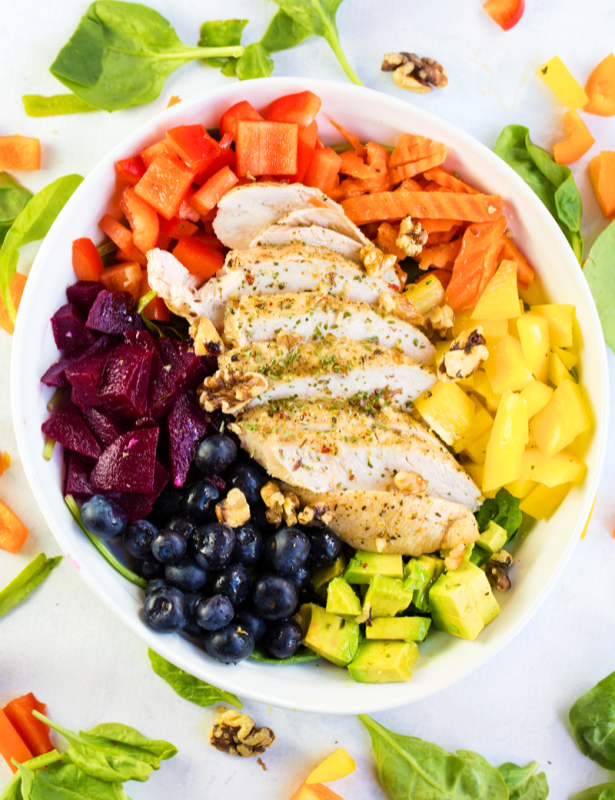 Frequently asked Questions about Rainbow Salad
Can I make rainbow salad without chicken?
It is super easy to change up this rainbow salad recipe to fill it with ingredients that you love. For plant-based folks, removing the chicken or replacing the chicken with tofu or chickpeas is a quick way to turn this recipe into a meatless meal. Don't like walnuts? No worries — you can substitute them with another type of nut, such as almonds or pecans, to give the recipe a different flavor but preserve its crunch.
What other fruits and vegetables can I add to this recipe?
Adding more vegetables to the dish will make your colorful salad not only more beautiful, but also more nutritious! If you'd like, try adding green bell pepper, or a few sliced strawberries or diced apples. These fruits will add more sweetness and will also pair well with the key lime vinaigrette.
Can I prepare and store rainbow chicken salad in advance?
The ingredients for this recipe are so easy to prepare and store. Remove any excess moisture from your fruits and veggies, and move your ingredients into an airtight container or bag. If preparing in advance, be sure to keep the key lime vinaigrette on the side to prevent the salad from getting soggy. You'll also want to hold off on slicing the avocado until you're ready to serve, that way it doesn't turn brown.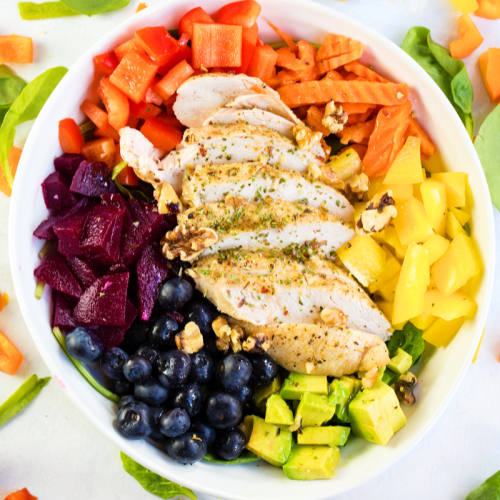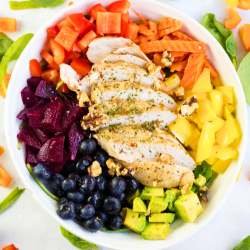 Rainbow Chicken
Coated in a key lime vinaigrette, Rainbow Chicken is a delicious, healthy lunch or dinner recipe that is packed with protein and a variety of colorful vegetables.
Course:
Soup, Salad & Sandwich
Keyword:
chicken salad, rainbow chicken
Ingredients
1

Cup

Spinach

1/4

Cup

Red Bell Pepper

Diced

1/4

Cup

Yellow Bell Pepper

Diced

1/4

Cup

Matchstick Carrots

1/2

Avocado

1/4

Cup

Blueberries

1

Beet

Cubed

1

Chicken Breast

(4 oz)

1

Tbsp

Walnuts

2

Tbsp

Key Lime Vinaigrette Dressing
Key Lime Vinaigrette Dressing
1/2

Cup

Avocado Oil

Or Light Olive Oil

1/4

Cup

Key Lime Juice

Nellie & Joes

1

Tbsp

Honey

1

Tbsp

Apple Cider Vinegar

1

Clove

Garlic

Minced

1

Tsp

Lime Zest

1

Dash

Salt and Pepper
Instructions
Place the spinach at the bottom of the bowl.

Add the rest of the salad ingredients in groupings one at a time.

Add the chicken last in the middle so it is slightly on top of the other ingredients.

Dress with 2 tablespoons of the key lime vinaigrette and toss to coat just before serving.
For Dressing
Combine all Dressing ingredients and mix well
Nutrition Facts
Rainbow Chicken
Amount Per Serving
Calories 815
Calories from Fat 612
% Daily Value*
Fat 68g105%
Cholesterol 72mg24%
Sodium 212mg9%
Potassium 1098mg31%
Carbohydrates 28g9%
Protein 28g56%
Vitamin A 4847IU97%
Vitamin C 83mg101%
Calcium 56mg6%
Iron 2mg11%
* Percent Daily Values are based on a 2000 calorie diet.