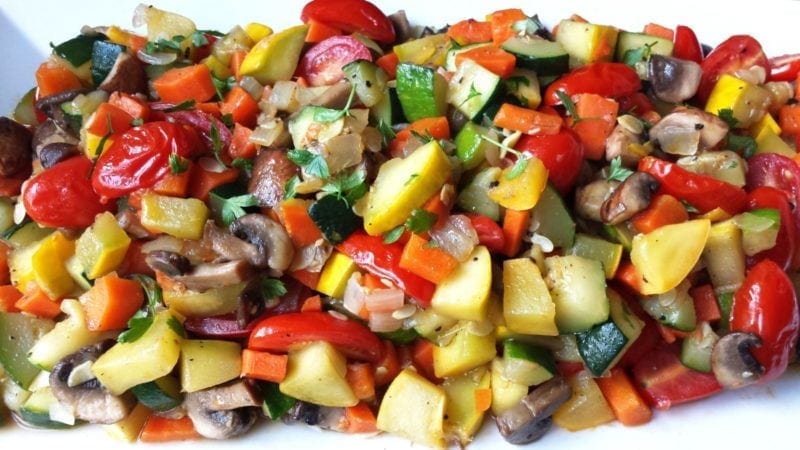 If there are any traditional French Chefs on the blog, please don't be offended that I called this dish Ratatouille – or maybe just avert your eyes for a minute. This is not traditional Ratatouille because traditional Ratatouille has eggplant. I've tried and tried and just can not find a way that I like eggplant. Mostly I think it tastes like a wet sponge. However, I love this dish and it is Ratatouille-ish. (Don't judge me.)
I thought about naming this dish Flex-atouille but that didn't seem very appealing.  But that is the concept (again, French Chefs avert your eyes). It is especially beneficial when there is one squash left, and one zucchini and some of this and some of that. It is delicious cooked in just a little olive oil and add a little kosher salt and fresh cracked pepper to each stage of vegetables. But if I am cooking it as a side to something with thyme, I throw in some fresh chopped thyme. If I am cooking with basil, I throw in a little fresh chopped basil. I haven't found an  herb it doesn't work with yet. I always top it with parsley and sometimes there is an addition of a bay leaf or two. So play around with it and find the combination you like the best. Or just wait until you need to clean out your veggie drawer for Ratatouille night.
I do think that the tomatoes make the dish. I never, never leave them out. Also the onions and garlic are the base flavor of the whole business. I think you will find this dish to be more than the sum of its parts – something magical happens when all these veggies get to know each other in the heat and the olive oil. The mingle and merge and live together quite nicely. Yummy.
This can be served as a side or a vegetarian main dish. If you are choosing it as a main dish, consider adding some brown rice or our favorite – Quinoa with Onions and Pinenuts!
Note: Make sure you use a large, wide bottomed pan when cooking. I always use my Dutch Oven. This is the one I own.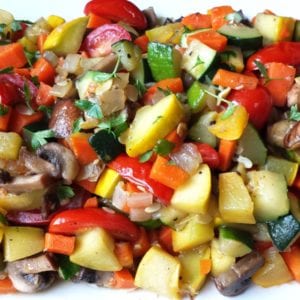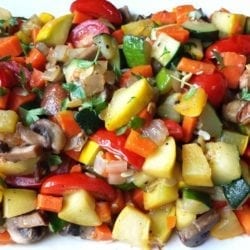 Ratatouille
Course:
Appetizers & Sides, Main Dishes
Ingredients
3-4

tbsp

olive oil, or enough to coat the bottom of your pan

add additional if your veggies are too dry and stick to the bottom of your pan

2

cloves

garlic, minced

1

medium

onion, chopped

3-4

medium

carrots, chopped

2-3

medium

zucchini, chopped

2-3

medium

squash, chopped

1

pint

baby bella mushrooms, chopped

or the variety you prefer

1

pint

cherry or grape tomatoes, halved

kosher salt and black pepper to taste

2

tbsp

your favorite fresh chopped herbs (parsley, thyme, basil)

optional

2

bay leaves

optional

1

tbsp

parsley, chopped

for garnish
Instructions
Heat olive oil in a large Dutch Oven, or large heavy-bottomed pan, over medium heat. When oil is shimmering but not smoking, add garlic and allow it to cook until fragrant, about one minute.

Add onions and carrots and allow them to cook, stirring occasionally until they begin to soften, about 5-6 minutes. If you are including bay leaf, add it now. Salt and pepper lightly.

Add zucchini and squash, salt and pepper this layer lightly, and allow to cook with carrots and onions, stirring to combine then occasionally and gently to prevent burning on the bottom, until they also begin to soften, about 3-4 minutes.

Add mushroom, tomatoes, and any herbs you plan to include, salt and pepper this layer lightly, and allow to cook for an additional 10 minutes, stirring occasionally and gently to combine and prevent burning on the bottom.

Remove bay leaves. Transfer into a serving dish and top with fresh parsley. Enjoy!