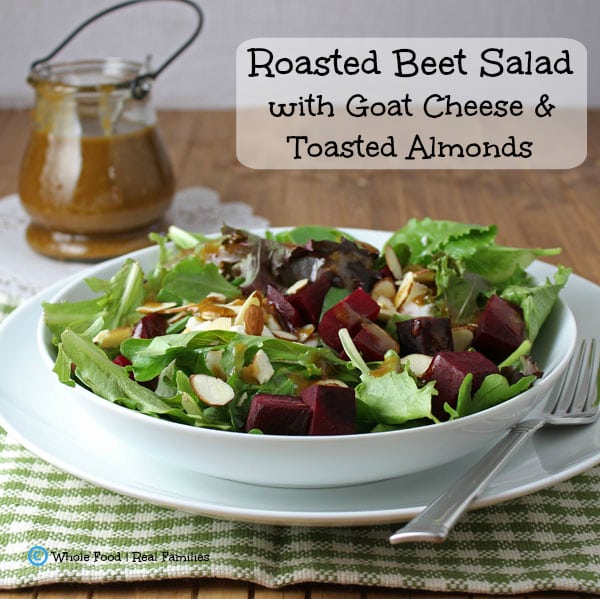 This Roasted Beet Salad is both savory and sweet in the way that only veg caramelized in the oven can be. And it is topped with the easiest and most delicious homemade salad dressing in the world. 
This is my favorite salad in the world. Seriously. The Whole World. Don't like salad – this will change your mind. Don't like beets – this will change your mind.
I will admit that it took me until my adult years to appreciate the veggies that came into season when the weather cooled. Summer is all about tomatoes and cucumbers. Peaches and strawberries. But when fall rolls around, the Farmers' Markets are full of turnips, beets, and lots of winter greens. Over time – and with a LOT of experiementing – I have found that with a little love, the root veggies become something both unique and delicious.
When slow roasted, their natural sugars caramelize, making them both savory and sweet. Over the years, I have come to anticipate those unique flavors and think of it as quintessentially fall. Want to do more with the root vegetables in the fall? Check out these Roasted Root Vegetables or these Turnip Fries with Tomato Jam. Both are amazing!
Want to know more about the 10 year love affair I have had with this salad, check out the post on Shallot Vinaigrette.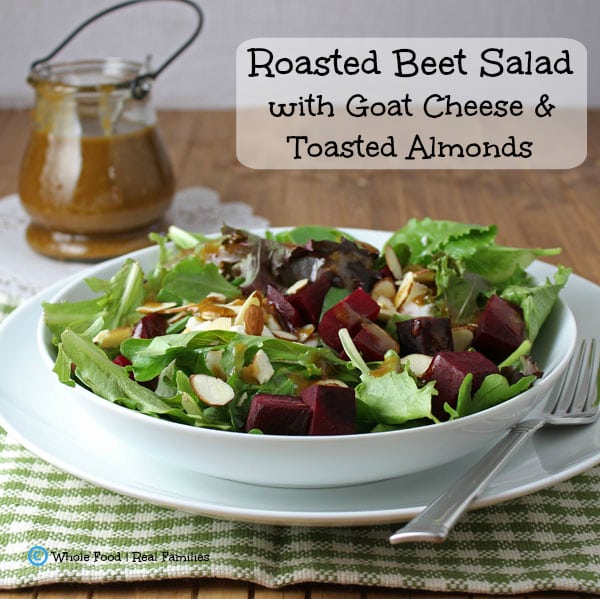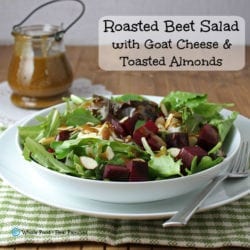 Roasted Beets with Goat Cheese
The size of the beets will impact roasting time. Beets should be tender enough to insert a fork easily.
Course:
Soup, Salad & Sandwich
Ingredients
8

cups

mixed salad greens

6-8

medium

red beets

4

tbsp

olive oil

4-6

oz

goat cheese

feta is nice as a substitute

1/2

cup

sliced almonds, toasted

1

cup

Roasted Shallot Vinaigrette

parsley, chives or green onions to garnish
Instructions
Preheat oven to 375 degrees. Rub beets with a little olive oil and wrap them in foil. Cook for 45-60 minutes, or until beets are tender enough to insert a fork easily. Remove from oven and let them cool. You can also boil the beets for 25-30 minutes or until they are tender.

While beets are cooking, toast almonds in a dry pan for 5-7 minutes. Be careful to toss them occasionally so they don't burn. Remove from heat.

When beets are cool enough to handle, use a knife to peel the outer skin. Dice the beets into bite size pieces.

Place salad greens into 4 dishes. Top with diced beets, goat cheese and toasted almonds. (If you toss the salad after this step, everything will turn purple!)

Drizzle with Roasted Shallot Vinaigrette. Garnish with parsley, chives, or green onions. Enjoy!