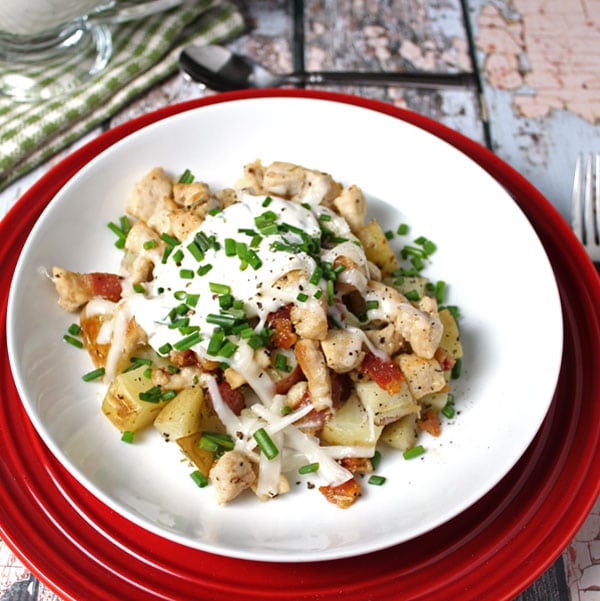 This Unstuffed Baked Potato is such a delicious, fun diner. Born from a cooking screw up by yours truly, but now it is a dinner we eat as often as possible!
Meet the Unstuffed Baked Potato
Like many of you, Pinterest is my frien-emy. It is the most fascinating place of ideas and inspiration. It is sort of like your best friend from high school – it convinces you that you can do anything regardless of what people say. I often get sucked into the time warp that is Pinterest only to look up and discover that my planned day of productivity has been sucked dry by pinning lovely pictures of other peoples creations, dream vacations, and crafts. Every once in a while, I also buy craft supplies that end up in the closet to taunt me and try recipes that totally bomb. Stupid Pinterest.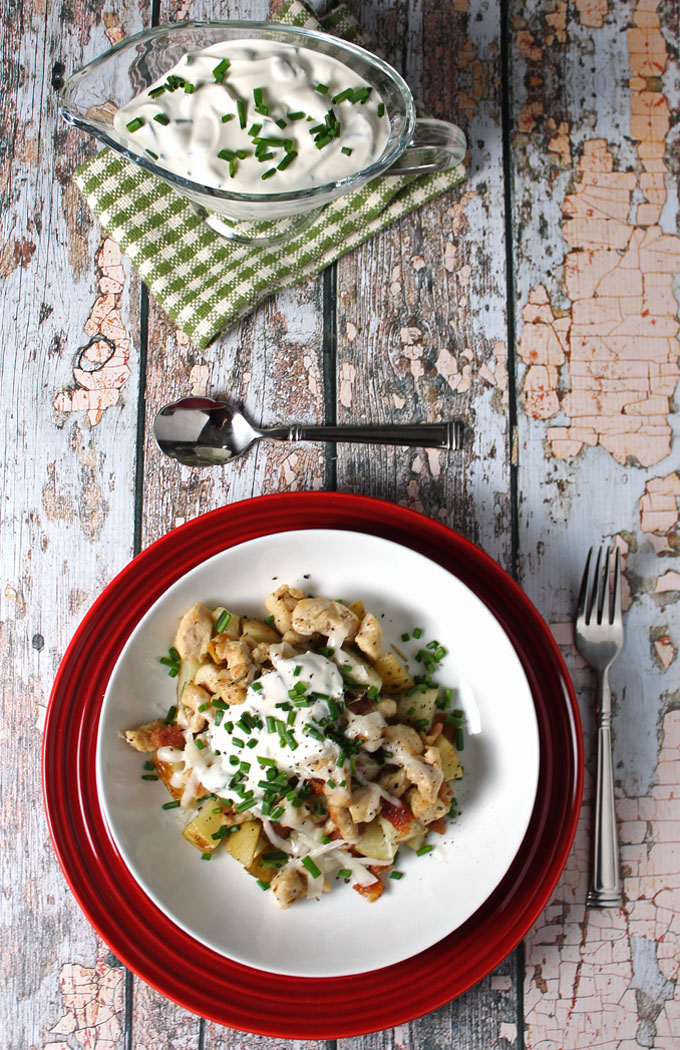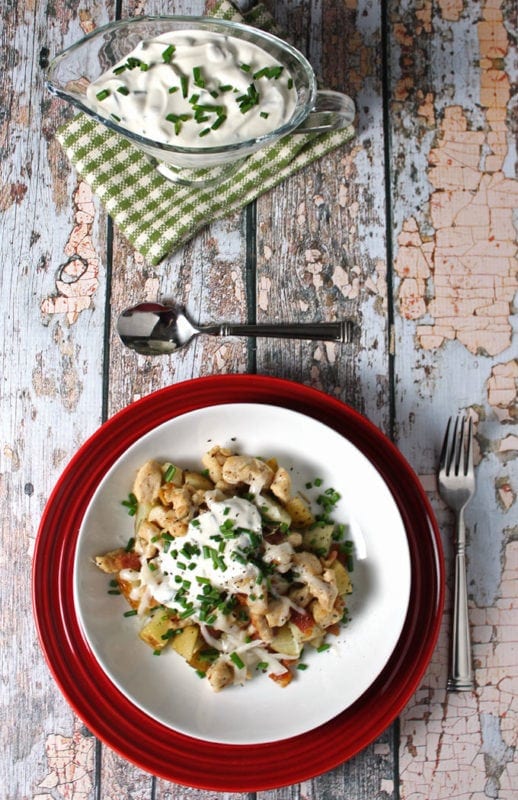 Such is the humble beginnings of the Unstuffed Baked Potato. A casserole showed up in my Pinterest feed that took the best of a stuffed baked potato and baked it all together with love and goodness. Yep, I can do that. Except…
Bucking the Food Trend, we're Unstuffing our Baked Potato!
The problem with cooking potatoes and chicken together in one dish is that roasted potatoes cook at a higher temperature than baked chicken. And potatoes take a lot longer to cook than diced chicken. And depending on your chicken, it can release a lot of water during cooking. Don't ask me why this didn't occur to me before I put all these ingredients in one dish and into the oven. I totally blame Pinterest for making me think it would work. So by the time the potatoes were done, the chicken was overcooked and the creamy sauce that was supposed to occur was just a big watery mess. (Yes, my family ate this anyway. They are good like that. And by now, they are accustomed to experiments in the kitchen.)
Not one to be conquered, and feeling a little like I needed to redeem myself since I cook a bit and should have known better, The Unstuffed Baked Potato born. Less like a casserole and more like a hash – because I love those (they are an awesome way to use up leftovers or stretch a meal) – I must say, it is pretty fantastic. My poor teenage daughter had so much homework that she ate dinner at her desk on the night I made this. By the time she came back for seconds, we had scrapped the bowls clean and were fishing around trying to pull any stuck bits off the cooking pans in the kitchen. She was not happy with us. But ever the trooper, made a salad and used the sour cream and chive sauce as a dressing. (Yep, it is that good.)
Check out the other hash-styled recipes like Pulled Pork Hash, Ham and Egg Hash, and from the gluten-free experiment Shrimp and Potato Hash. All of which, you can find on Pinterest. 🙂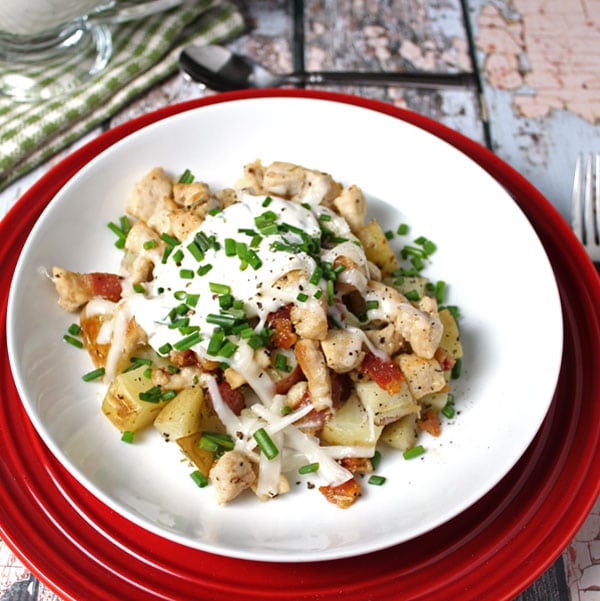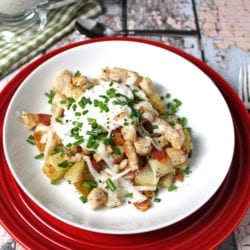 Unstuffed Baked Potato
Ingredients
6

cups

potatoes, diced with the skin

2

lbs

chicken breasts, diced

4

slices bacon, diced

1 1/2

cups

cheddar cheese, shredded

1

onion, diced

kosher salt and black pepper to taste

2-3

tbsp

olive oil

2

tsp

rosemary, dried

double amount for fresh rosemary

1/3

cup

buttermilk

1/2

cup

sour cream

1/3

fresh chives, finely chopped
Instructions
Preheat oven to 425 degrees. Toss diced potatoes on a sheet pan with olive oil, salt and pepper, and 1 tsp of rosemary. Cook them for about 30 minutes, or until fork tender and golden brown on the edges.

While the potatoes are cooking, add the diced bacon to a large skillet (cast iron works great!) over medium heat. Cook the bacon until it is crispy then remove with a slotted spoon to a plate to be added back later. You will need 2-3 tbsp of oil in the pan after you remove the bacon. Either remove or add oil based on what is left in your pan after removing the bacon.

Add the onion to the skillet and cook until translucent. Add the diced chicken, salt and pepper, and the rest of the rosemary. Stir to combine and cook until the diced chicken is no longer pink in the middle. Around 8-10 minutes (based on the size of your chicken pieces).

Add bacon back to the chicken mixture and toss to combine.

In a separate bowl, whisk buttermilk, sour cream, 3 tbsp of chives and a pinch of salt until well combined.

To serve, in either a large bowl or in individual bowls, pile roasted potatoes, then the chicken and bacon mixture, then shredded cheese, then the sour cream and chive sauce, and top with remaining chives.

Serve the remaining sour cream and chives sauce in a dish on the table!

Enjoy!