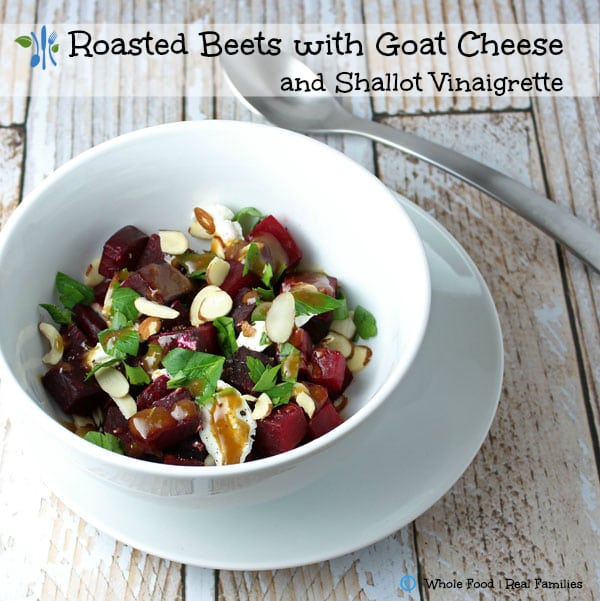 Ava, who has been on a vegetable hiatus, decided she wanted to eat Roasted Beets with Goat Cheese because they are purple. Can you think of a better reason to eat beets? (Yes, I can too but please don't tell her!) So I have been roasting beets left and right.
I have been trying to persuade Ava, who is 4 years old, that it is not appropriate for the child of a food blogger to refuse vegetables. My kids are very close to our food (Duh, food blogger!). We garden. We plant the vegetables seeds she picks out at the nursery, even if the veggies are out of season. We shop together. We pick vegetables at the market together. We go to the Farmers' Market. She washes all the produce. She sits on the kitchen counter while I cook. She loves every step of the vegetable food chain, from dirt right up until I put them on her plate. Then she says politely (hahahaha!!) "No, thank you!" Seriously? I try explaining that she grew these/picked these/cooked these veggies. Um, no go.
Which leaves us at roasted beets. Purple? Done. Get cookin' Momma.
By the way, I drizzle my very favorite Roasted Shallot Vinaigrette on this dish. You can always substitute a drizzle of olive oil and white wine or champagne vinegar. But if you ever make the Roasted Shallot Vinaigrette, your fridge will never be without it again.
A note about beets – they turn everything they touch purple. So when I am going to be cooking beets, I tend to cook A LOT at one time. Peel them, dice them, then freeze them in batches for later recipes. When I pull them from the freezer, I let them thaw then pop them in a 350 degree oven for 8-10 minutes. It shaves a lot of cooking time off subsequent meals and I only have to wash one set of purple dishes. 🙂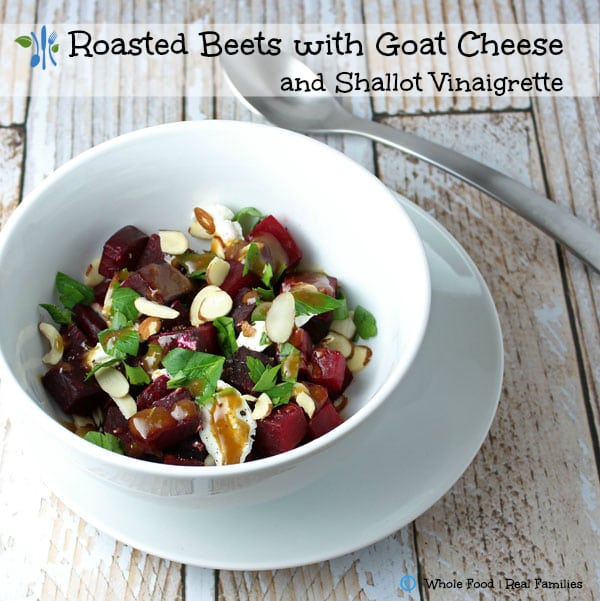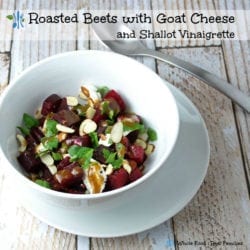 Roasted Beets with Goat Cheese
The size of the beets will impact roasting time. Beets should be tender enough to insert a fork easily.
Course:
Appetizers & Sides, Soup, Salad & Sandwich
Ingredients
4-6

red beets

2

tbsp

olive oil

2

oz

goat cheese or feta, crumbled

1/2

cup

sliced almonds, toasted

2

tbsp

fresh thyme or parsley, chopped

kosher salt and black pepper to taste

1/4

cup

Roasted Shallot Vinaigrette
Instructions
Preheat oven to 375 degrees. Rub beets with a little olive oil and wrap them in foil. Cook for 45-60 minutes, or until beets are tender enough to insert a fork easily. Remove from oven and let them cool. You can also boil the beets for 25-30 minutes or until they are tender.

While beets are cooking, toast almonds in a dry pan for 5-7 minutes. Be careful to toss them occasionally so they don't burn. Remove from heat.

When beets are cool enough to handle, use a knife to peel the outer skin. Slice the beets into bite size pieces.

Place sliced beets in a serving dish. Drizzle with Roasted Shallot Vinaigrette - or if you are feeling really lazy, drizzle with olive oil and white wine vinegar. Add parsley or thyme and salt and pepper to taste. Gently toss beets. (If you toss after this step, everything will turn purple!)

Top beets with toasted sliced almonds and crumbled goat cheese or feta. Top with additional herbs. Enjoy!