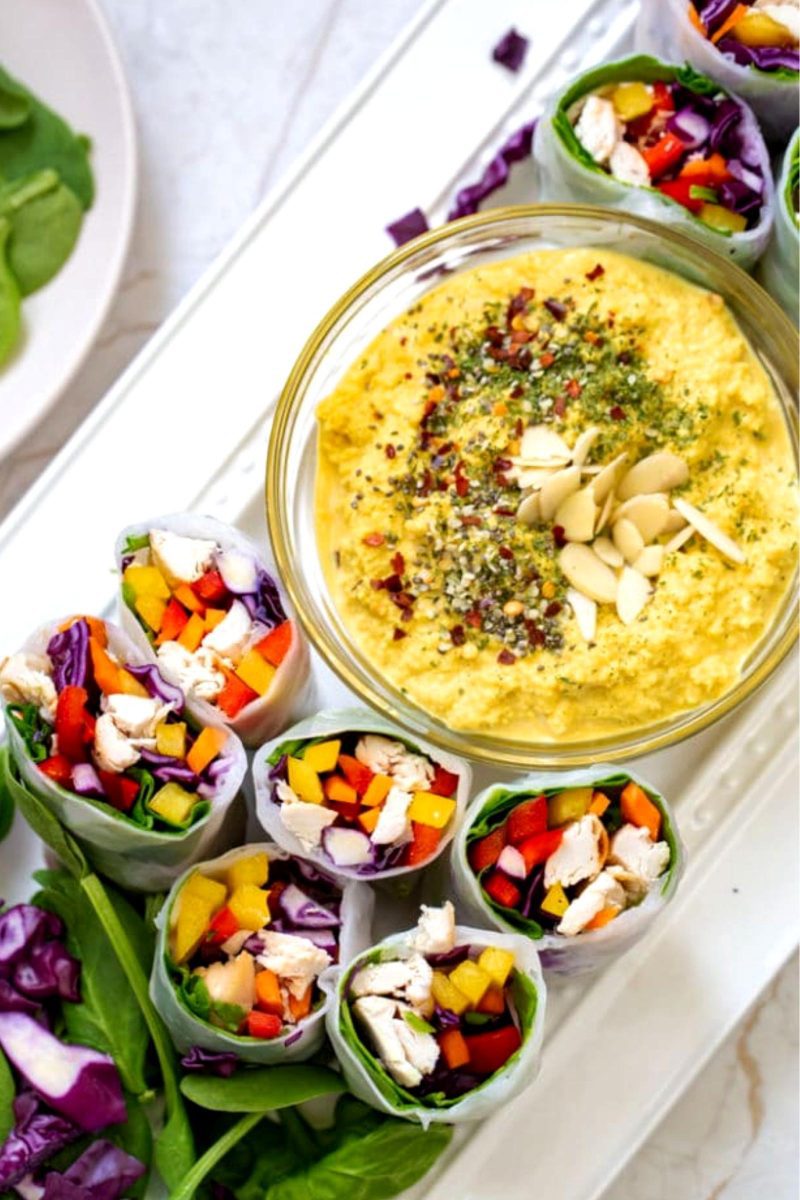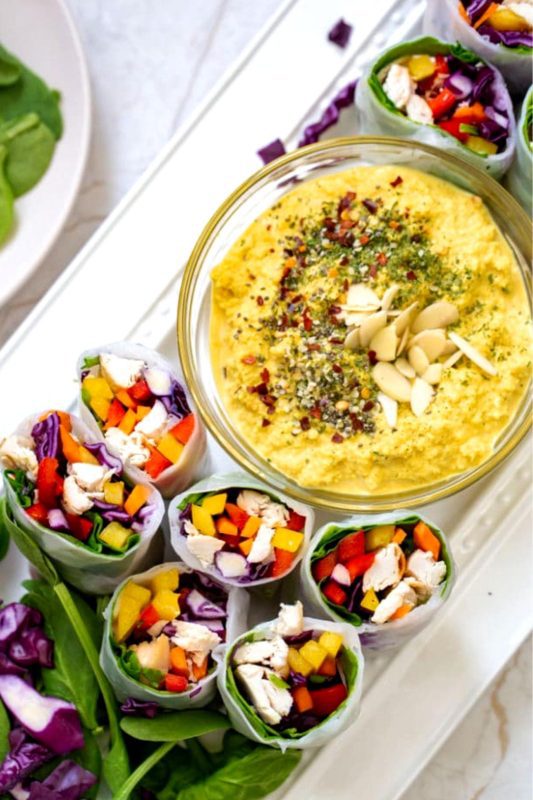 Filled with crunchy rainbow vegetables and wrapped in soft rice paper, chicken spring rolls are a simple and refreshing snack or appetizer, good for both your taste buds and health.
Chicken Spring Rolls: An Easy Healthy Meal
Colorful, crunchy, sweet, and savory, chicken spring rolls are proof that recipes don't necessarily need to be complex to be wonderful.
The bright colors of five different vegetables––red, orange, yellow, green, and purple––shine through the translucent rice paper wrappers, making these spring rolls look just as scrumptious as they taste. Each individual spring roll is practically its own rainbow, exploding with both beauty and flavor.
In this recipe, the sweetness of the bell peppers, carrots, and spinach mingles with the peppery taste of the purple cabbage. Together, the fresh veggies create a delightful crunch. This texture is ultimately balanced out by the soft chicken breast and the delicate rice paper wrapped around it.
It's fun to cook with more color. Not only does it brighten up your kitchen table, but it also boosts your health. For more colorful vegetable recipes check out: Healthy Vegetable Fried Rice and Shrimp and Vegetable Coconut Curry. If you enjoy these chicken spring rolls, try these Asian Chicken Lettuce Wraps next!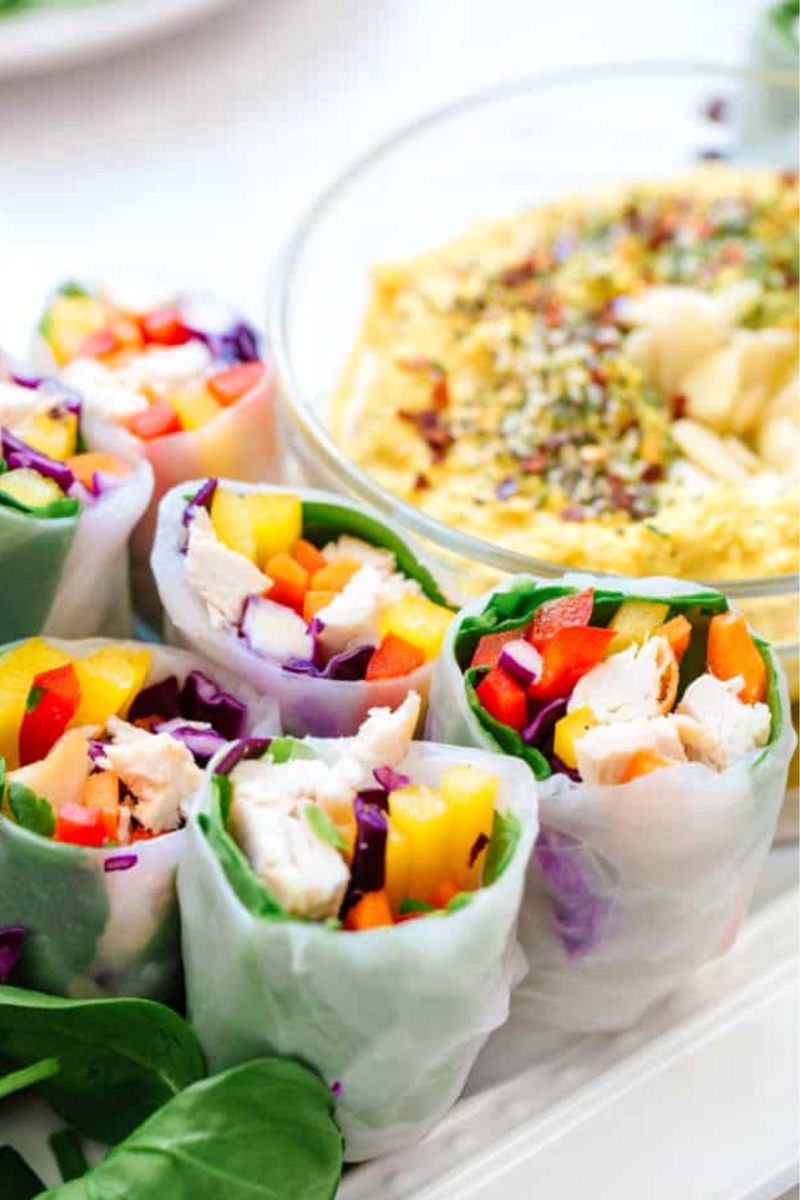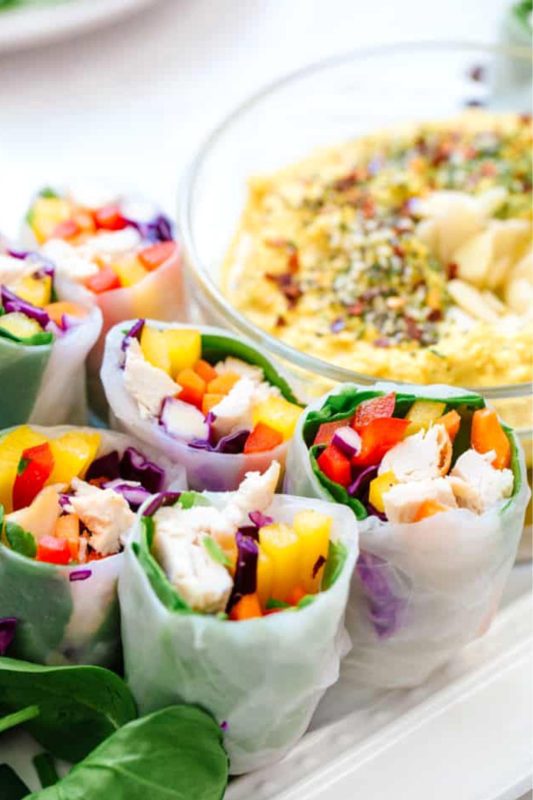 Why you will love Chicken Spring Rolls
Healthy! These spring rolls are low-calorie, high-protein, and packed with lots of nutrients. Bell peppers are rich in vitamin C and are an anti-inflammatory superfood. Cabbage is known for its fiber and vitamin K content. Carrots are an excellent source of vitamin A and contain antioxidants that boost against conditions such as heart disease.
Easy assembly and quick preparation time. The spring rolls themselves involve minimal ingredients and require only a few steps to put together. All you need to do is bake and slice the chicken, chop the vegetables, soak the rice paper wrappers, and fold the ingredients together. The turmeric almond sauce is also simple to make: just toss your ingredients into a food processor and finish off with optional garnishes.
Perfect as a snack or appetizer. Whether you're snacking on them between meals, or having them as a starter before your main course, chicken spring rolls are a refreshing treat and are light enough to appease your appetite without making you feel too full.
Gluten-free and dairy-free. This is a friendly meal for folks with these two dietary restrictions. With the omission of chicken, this recipe can also easily be transformed into a meatless meal.
How to make perfect Chicken Spring Rolls
Prepare filling ingredients first. By the time you are soaking the rice paper wrappers, you will want to have your chicken and vegetables ready to go. Although this recipe is already quick, you can save even more time by buying pre-cut vegetables. Many grocery stores sell pre-sliced bell peppers, as well as thinly sliced carrots.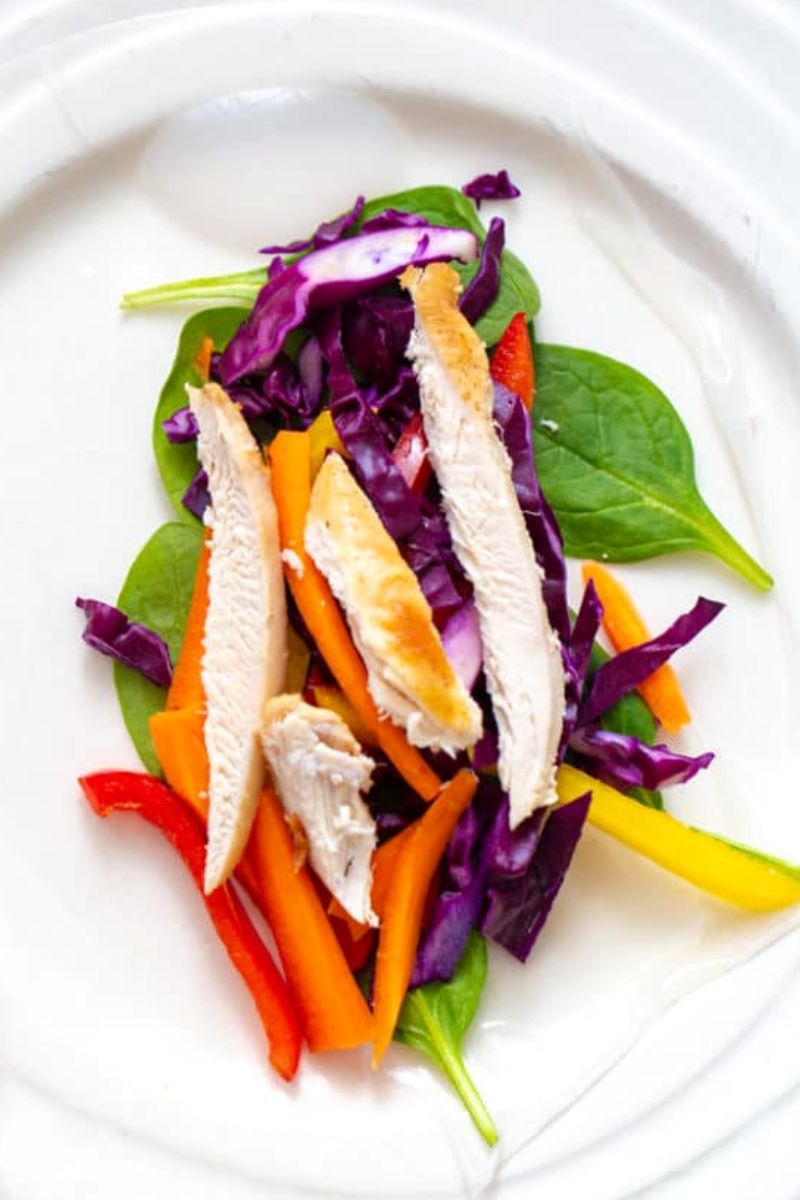 Soak rice paper wrappers in warm water. You only need to soak them for approximately 10 seconds, as they will continue to soften as you fill them. Soaking the rice paper for too long can cause the wrappers to become overly soft and fall apart. To expedite the preparation process, I recommend using two bowls of water.
Double wrap if necessary. If your rice paper begins to tear, you can use a second wrapper for additional support.
Dip your chicken spring rolls in the turmeric almond sauce and enjoy! If you're not a fan of turmeric's earthy taste, consider trying this spicy peanut sauce instead.
Frequently asked Questions about this Chicken Spring Roll Recipe
What ingredients would you recommend if I want to make substitutions?
One thing that is especially great about these spring rolls is that you can easily change their contents based on your own preferences and dietary needs. For example, you can substitute chicken with pork, beef, shrimp, or even tofu if you prefer a plant-based alternative. There are also a number of vegetables that would make excellent additions or substitutions. Cucumbers and lettuce are common ingredients in spring roll variations.
Can I prepare and store chicken spring rolls ahead of time?
Spring rolls are best served fresh and on the same day they are prepared. However, you can save your filling and keep dry rice paper wrappers on hand. When you're ready for more spring rolls, allow your filling to get to room temperature, soak your rice paper wrappers, and assemble on the spot. If you'd prefer to assemble them fully in advance, wrap each roll individually in plastic wrap to avoid having the rolls stick together, and store them in an airtight container for up to 2 days. Do not leave spring rolls out at room temperature for more than 2 hours.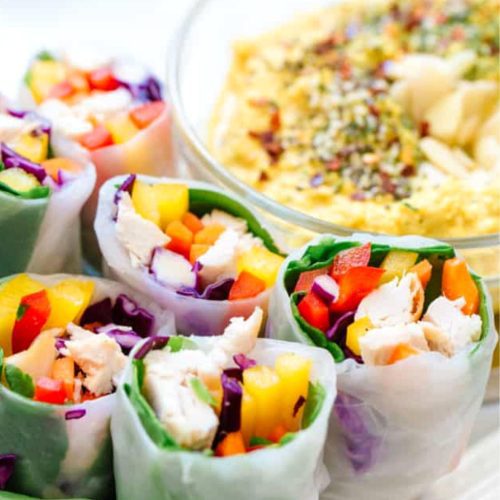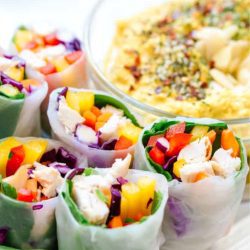 Chicken Spring Rolls
Filled with healthy vegetables and sliced chicken, Chicken Spring Rolls is a flavorful and healthy lunch or dinner.
Cuisine:
asian, vietnamese
Keyword:
chicken spring rolls, gluten free, healthy breakfast, spring rolls
Ingredients
Spring Rolls
6

rice paper wrappers

or 12 if doubling

2

chicken breasts

baked and sliced

1

red bell pepper

sliced

1

yellow bell pepper

sliced

2

cups

baby spinach

1/4

cup

purple cabbage

shredded
Dipping Sauce
1

cup

almonds

3

cloves

garlic

1

tbsp

lime juice

2

tsp

ginger paste

1

tsp

siracha

1/2

tsp

tumeric

1/2

cup

water
Garnishes
1

tsp

red pepper flakes

1/4

cup

almonds

sliced

1

sprig

parsley

1

tbsp

hemp hearts
Instructions
Spring rolls
You can either grill or bake chicken breasts or use rotisserie chicken. Slice the chicken in one inch strips. Chop up all filling ingredients and set them aside in a bowl.

Using two wide shallow bowls, soak the rice paper in warm water for a few seconds. Don't oversoak. Then place them on a work surface. Flatten the edges.

Add the mixture of chicken and vegetables in a line down the center of the rice paper. Don't overfill.

Roll the edges by folding the top and bottom around the filling, and then roll the side, keeping it together as tightly as possible. If the roll is too flimsy, you can add another rice paper to help tighten it.

Serve with spring roll dip.
Dipping Sauce
Add all ingredients to a food processor or blender

Process on medium speed until smooth

Add water until you reach the desired consistency

Add dipping sauce to a bowl and garnish as desired
Nutrition Facts
Chicken Spring Rolls
Amount Per Serving
Calories 359
Calories from Fat 171
% Daily Value*
Fat 19g29%
Cholesterol 50mg17%
Sodium 187mg8%
Potassium 575mg16%
Carbohydrates 22g7%
Protein 28g56%
Vitamin A 1805IU36%
Vitamin C 89mg108%
Calcium 123mg12%
Iron 3mg17%
* Percent Daily Values are based on a 2000 calorie diet.