These Healthy Chocolate Muffins help you eat well and have your chocolate too! They are richly chocolate, so my kids love them. And healthy enough that I can actually serve them for breakfast with no guilt!
Healthy Chocolate Muffins for the Family WIN!
I feel totally comfortable calling these muffins because they do not have processed flour and sugar. But if you add a couple of chocolate chips on top before baking for an extra special treat, or frost them with this buttercream frosting, I will insist they be called cupcakes. Whatever you call them, they are super chocolaty and the crumb is very tender – sometimes a challenge to overcome when baking with whole wheat.
Luckily these freeze great so I make a big batch and pull them out of the freezer to pack in lunches or as a special treat anytime. Some advice: If you actually want them to make it to the freezer, you should put them there before you tell your kids you made them. When thawing, move them from the freezer to the refrigerator to thaw overnight.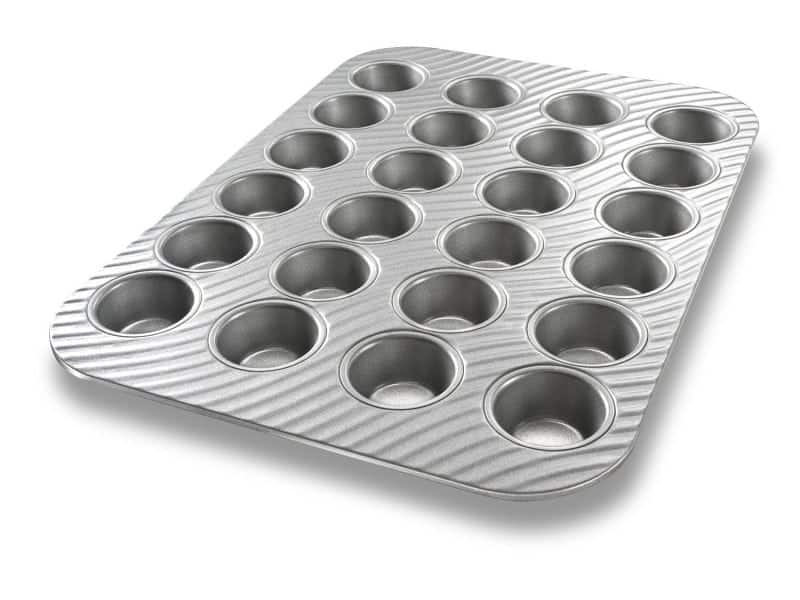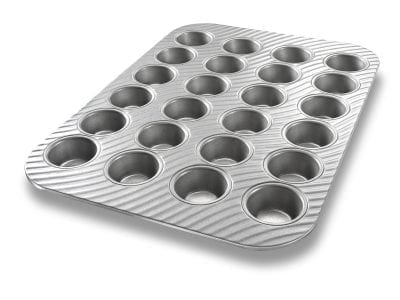 Chocolate Muffins Can Be Healthy and Delicious!
This muffin recipe has been around our house awhile and it is always the one I come back to. My little kids especially love them as mini muffins. I think because they can fit a muffin in each hand. 🙂 I absolutely love USA Pans. They are heavy enough that they don't warp and pop in the oven. But are still really affordable. This is the mini muffin pan that I have. You can get it on Amazon here, if you are interested!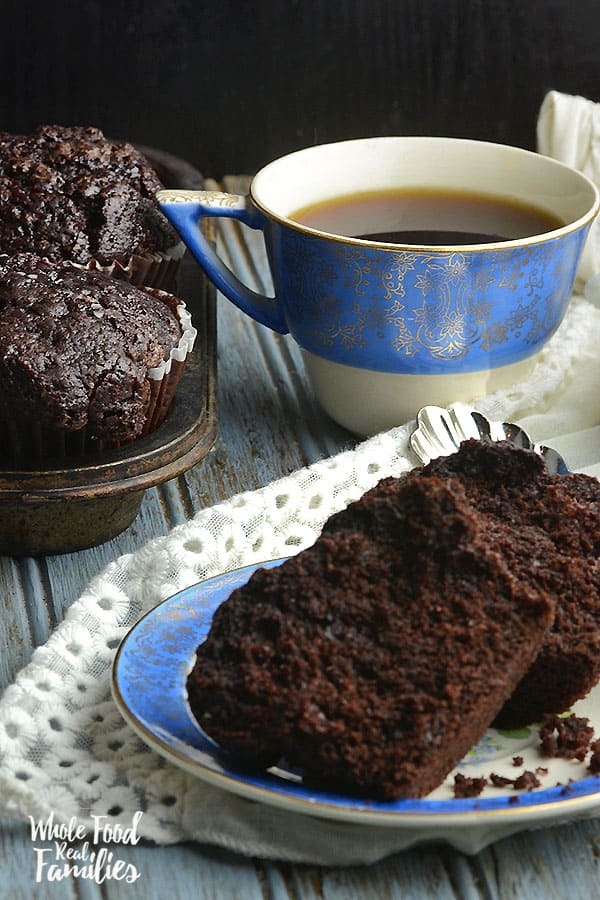 Chocolate Muffins that my Family LOVES!
I kinda feel like my kids love me a little more when I bake these because they get so excited. If you don't believe me, you should check out the picture below. The tiny baby hands would be from when these Healthy Chocolate Muffins were first developed. That has been a couple of years now. But below you see my youngest child, who was almost 2 at the time. Before she could even see over the table, she would feel around up there hoping to snag something good while I was taking pictures.
She got especially excited to steal muffins – but was pretty darn happy to make off with silverware, napkins, and the occasional reflector card. I have about a dozen other pictures just like this one. It was a challenging day as an at home photographer but a pretty awesome day as a mom.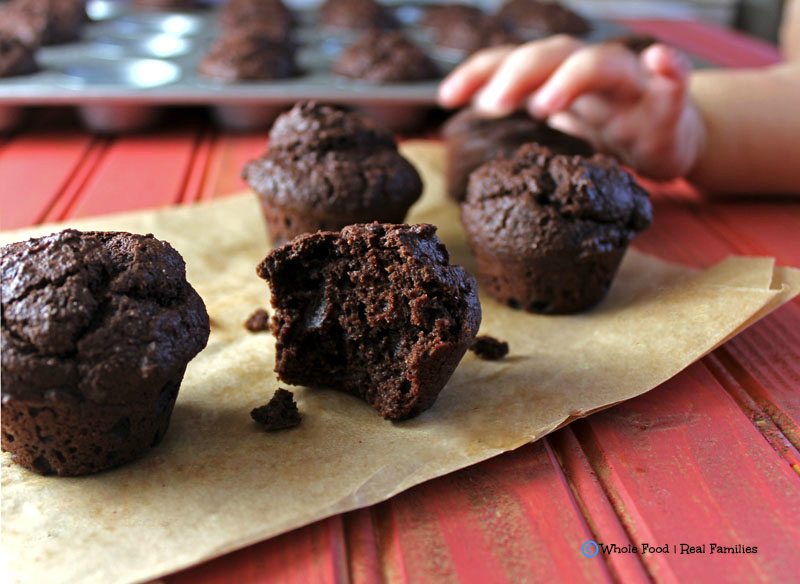 Looking for more yummy chocolate for breakfast, give these Chocolate Overnight Oats a try. They are fantastic, fast, and you can make a bunch of them at one time to feed everyone!
If you just must have a muffin for breakfast, I totally feel you. I love them too. I have so many that I love it is hard to pick a favorite! I think these Sweet Potato Muffins with an Oatmeal Crumb Top and these Ginger Peach Muffins are tied in my heart right now… at least for today.
But my kids love these Healthy Banana Muffins the best. In addition to being a crowd pleaser, banana muffins freeze great!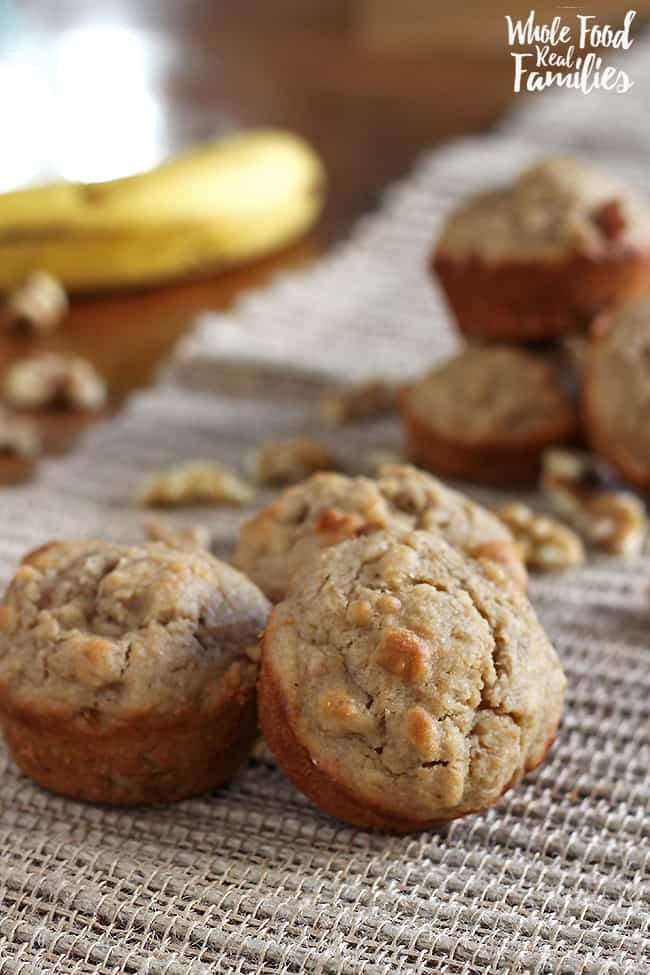 Healthy Chocolate Muffins
This recipe uses a standard sized muffin tin. If you use one that is larger or smaller, adjust your cooking time accordingly.You do not taste the coffee in this recipe. It just makes the chocolate taste more chocolaty... That is always good, right?!If you want these to taste more like a traditional chocolate muffin, do not sub traditional whole wheat flour for white whole wheat flour! Traditional whole wheat has a much stronger taste. Also, these are not overly sweet. If you are looking for a chocolate cupcake, this is not it. 🙂
Course:
Breakfast, Dessert, Snacks & Treats
Ingredients
3

cups

white whole wheat flour

1

tbsp

baking powder

1

tsp

salt

1

cup

unsweetened cocoa powder

1

cup

maple syrup

3/4

cup

coconut oil, warmed to liquid

1/2

cup

Greek Yogurt, Plain

I have used sour cream in a pinch and it works well too!

1

tbsp

vanilla extract

2

eggs

3/4

cup

milk

3

tbsp

strongly brewed coffee
Instructions
Preheat oven to 375 degrees. Lightly oil muffin pans or line with paper liners.

Use a whisk to combine all dry ingredients in a large mixing bowl.

Use whisk to combine all wet ingredients in a separate mixing bowl and whisk until ingredients emulsify and become uniform. Add wet ingredients to dry ingredients and mix well.

Spoon batter into muffin pan until cups are 2/3 of the way full. If using chocolate chips, drop a couple on top of the muffin batter.

Cook muffins for 18 minutes or until a toothpick comes out of the center cleanly. Enjoy being mom of the year!