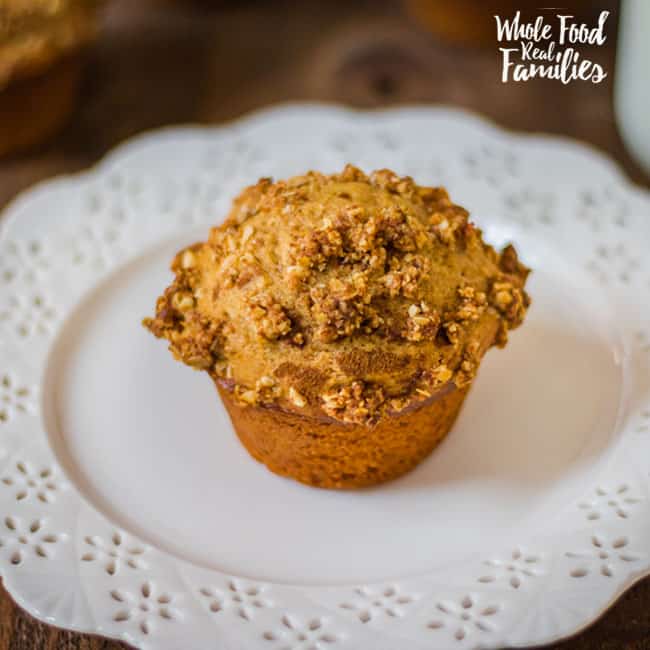 We bake these Sweet Potato Muffins with an Oatmeal Crumble Top anytime there is an extra sweet potato after dinner. They taste AMAZING! My kids love them for breakfast and in their lunchboxes!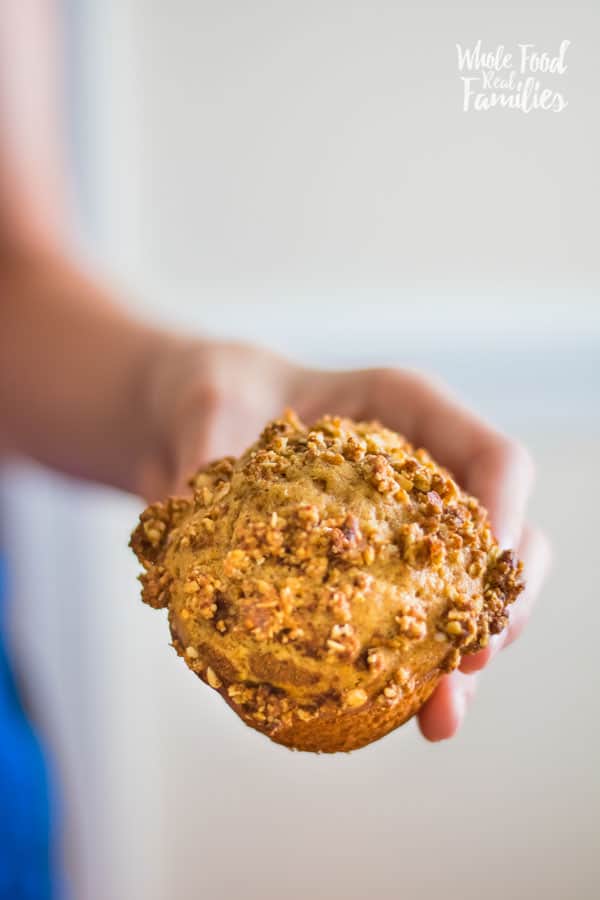 SWEET POTATO MUFFINS WITH A YUMMY TOPPING!
If you have read my blog more than… well, ever. You know that I really hate to throw anything away. I attempt to channel my grandmother. She never threw anything away that she could make something useful from. It wasn't until I was an adult that I appreciated that about her.
So there I was standing in my kitchen looking at my leftover sweet potato from these Stuffed Sweet Potatoes – wondering, what do I do with these? It was about the same amount of stuff that I would have put in banana muffins – if only these sweet potatoes were bananas. If it were fall, I could make pumpkin muffins – if only these sweet potatoes were pumpkins. Hmmm… Muffins. Sweet potatoes are sweet like bananas and orange like pumpkins. Good enough for me!


THIS OATMEAL CRUMB TOP IS THE BOMB!
To top these muffins off (literally), they received my favorite oatmeal crumble topping. Usually, I reserve it for rustic apple pie or these individual Whole Grain Apple Crumbles but these muffins are special! So pull out your leftover sweet potato (or bake some fresh – these muffins are worth it). And turn something ordinary into something mouth-watering and so fabulous!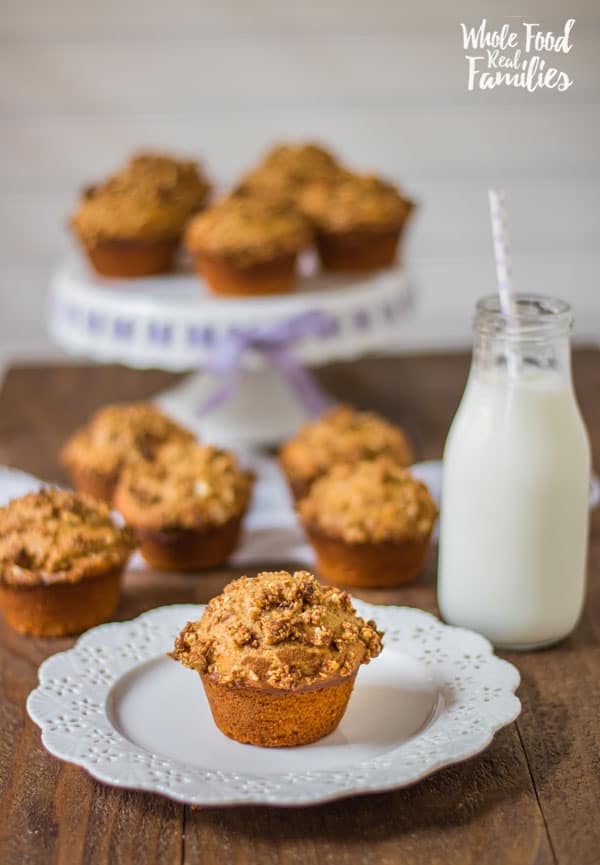 Just a note, I used a LOT of cinnamon and nutmeg in these. I almost panicked thinking I had overdone it but they turned out really good. Also, the batter is thicker and denser than banana bread batter but it cooked up light and soft. YUM! GO MAKE THESE RIGHT NOW!!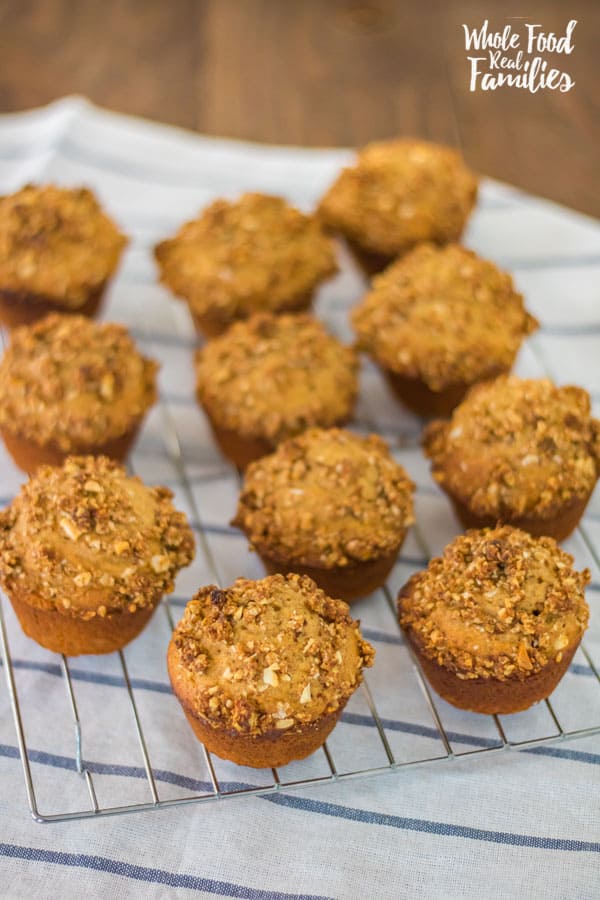 Looking for the Stuffed Sweet Potato recipe? This is one of our favorite family meals. Just a quick tip, try cooking the sweet potatoes in the slow cooker while you are out or in the pressure cooker to save time!
If you love this Oatmeal Crumble Top as much as I do, try this Whole Grain Apple Crumble for dessert. It is so simple to put together – you might even want to surprise your family on a weeknight!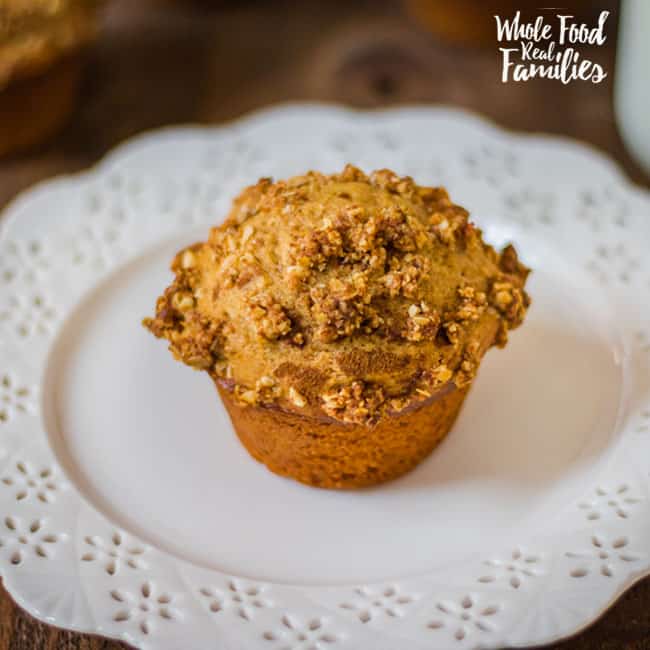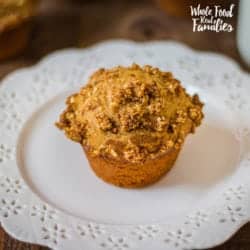 Sweet Potato Muffins with an Oatmeal Crumble Top
Makes 24 muffins in regular sized muffin pans. If you make mini-muffins or jumbo muffins, adjust the time accordingly. Jumbo muffins will take around 20 minutes. Minis will take around 10 minutes. But only use those times as estimates. Test if the muffins are done with the clean toothpick test!
Course:
Breads & Muffins, Breakfast
Ingredients
Muffins
3

cups

white whole wheat flour

1

tsp

salt

1

tbsp

baking powder

3/4

cup

coconut sugar

1

tbsp

cinnamon

1

tsp

nutmeg

1/4

cup

maple syrup

2

eggs

2/3

cup

milk

3/4

cup

coconut oil, warmed to liquid

1 1/4

cup

sweet potatoes, well mashed

1/2

cup

walnuts, chopped
Oatmeal Crumble Topping
1/2

cup

rolled oats

1/4

cup

cold butter

1/4

cup

coconut sugar

1/4

cup

walnuts, chopped

2

tbsp

white whole wheat flour
Instructions
Preheat oven to 400 degrees. Use coconut oil or butter to oil muffin pans.

Whisk together flour, salt, baking powder, coconut sugar, cinnamon and nutmeg in a large bowl. In a second bowl, whisk maple syrup, eggs, milk, warmed coconut oil, and sweet potatoes until uniform. Add wet ingredients to dry ingredients and mix until combined. Fold in walnuts.

Add all of the ingredients for the Oatmeal Crumble Topping to the food processor and pulse until the mixture becomes blended and crumbly.

Spoon muffin mix into muffin pan until cups are 2/3 full. Top with the Oatmeal Crumble. Bake for 15-16 minutes, or until a toothpick inserted into the center comes out clean. Enjoy!!