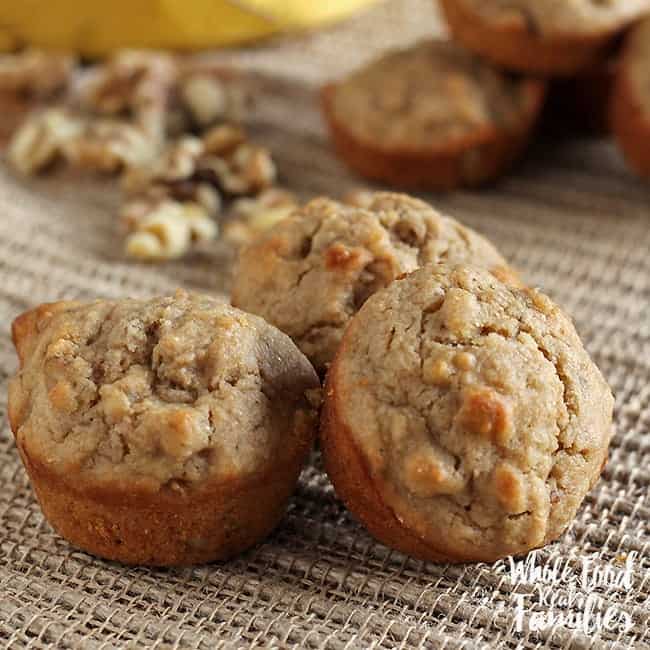 These Healthy Banana Muffins are naturally sweet with whole grains and chunky walnuts. My kids love them for breakfast, snacks, and as a lunchbox treat. 
Mostly I love them because banana muffins are fast and easy. They also freeze great. And let's be honest, who doesn't have some bananas turn south occasionally?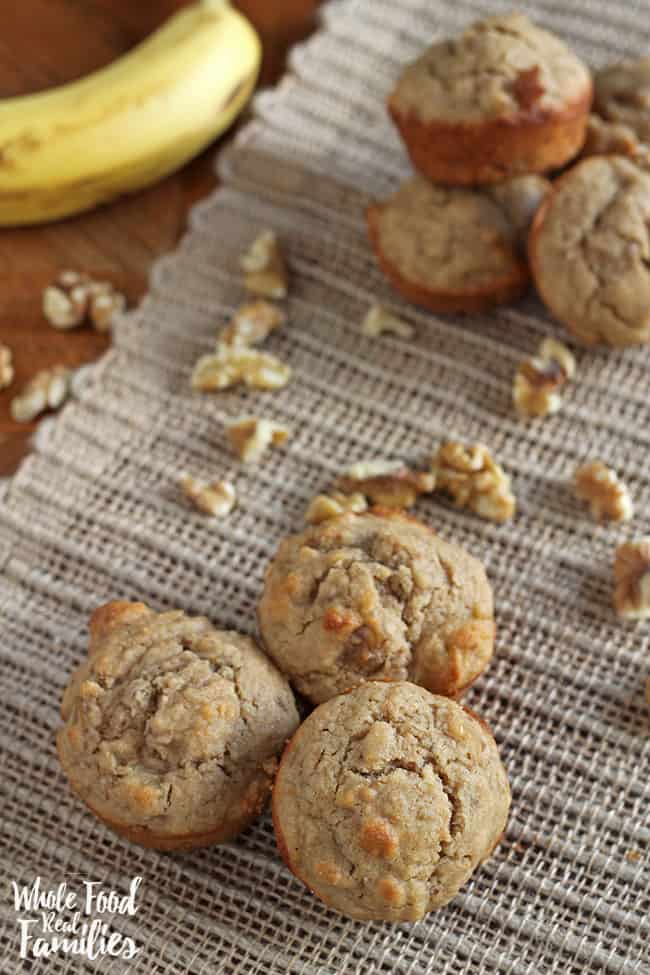 Healthy Banana Muffins
These Healthy Banana Muffins are a story of love and strep throat. Seriously.
Thanksgiving just passed and I had a wonderful time with my whole family. However… and this is a big HOWEVER… there was a germ hiding among us. The day after the holiday, my mom and oldest daughter got sick. The next day was my turn. Two days later my smallest child. We seem to be playing a game of last-man-standing with the rest of the family.
In case you haven't had strep throat lately. It sucks. And is highly contagious.
And sucks… Did I say that already?
As the person who is home and with the most flexible job, I tend to handle kid sick days and doctor appointments. But what happens when mom gets sick? I am pretty sure a siren went off somewhere alerting my family MOM DOWN! MOM DOWN!
These are the days I know I have the greatest husband in the world. Not only do my kids never miss a beat even though they are down one parent, my house is cleaner than when I went to bed sick 3 days ago, the laundry is caught up… and he made muffins. Healthy Banana Muffins with Walnuts. Without a recipe.
Well, now there is a recipe. You can thank my husband for that.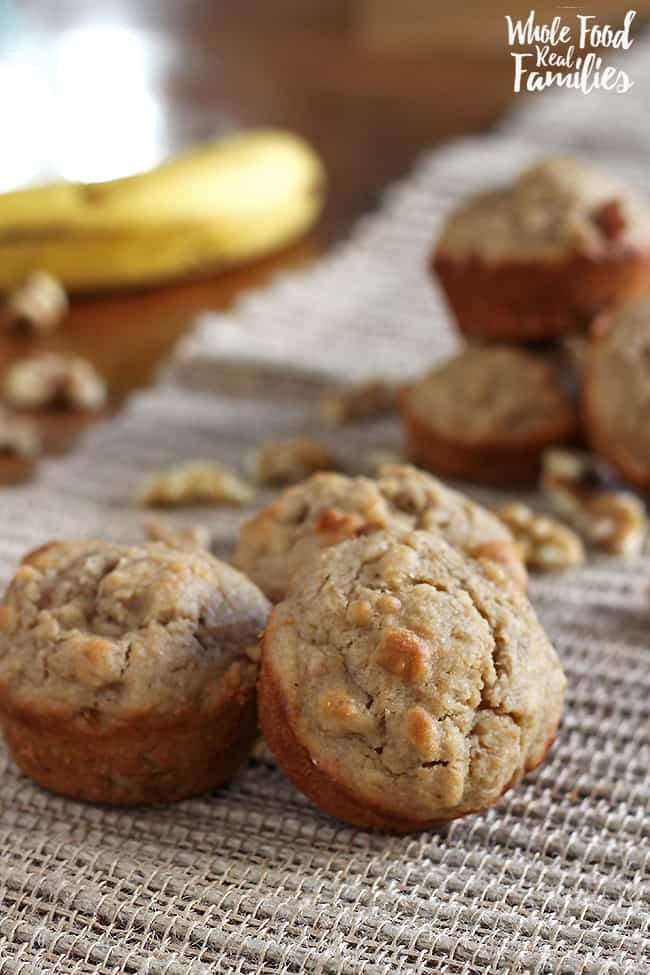 A Healthy Banana Muffin Recipe with Walnuts!
I have never thought of my husband as a baker. Not that he isn't capable… he is certainly the smartest person I know. He's a griller, sauteer, roaster, chopper extraordinaire…
He's an awesome cook. But a baker? I had never even considered it. Apparently, he is an all-around kitchen Renessaince man. Who knew?!
We eat pretty healthy at home and often Jeff leads the way (holds the line!) So I expected the Banana Muffin Recipe to be healthy. And it is, there is no refined sugar here. And whole grain flour over refined white flour. (This is my house flour. White Wheat tastes much milder than traditional red wheat flour. Same nutrition just a different type of wheat. )
It also uses coconut oil, which does not taste like coconut when baked. Instead, it gives baked goods a mildly sweet flavor that lets us use less sugar. If you have never used coconut oil, it turns liquid when a little warm. So just heat it in the microwave for a few seconds if yours is solid. It doesn't need to be hot just slightly above room temperature… think bathwater, not boiling water.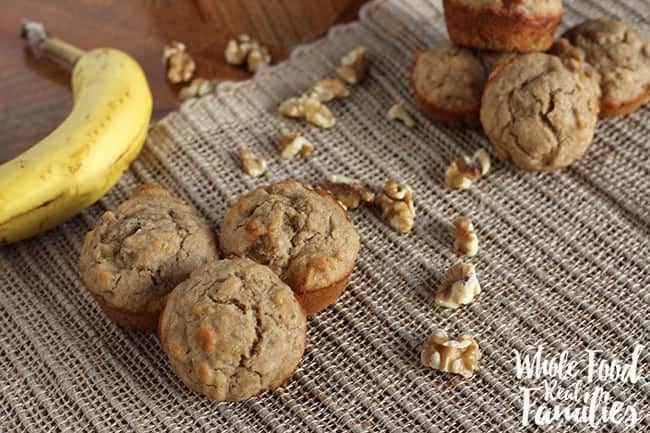 Banana Walnut Muffins Make Great Kid Food
Since I am singing my husband's praises in this whole post, I might as well tell you that one of the reasons he is so good a baking muffins is because our girls love to be in the kitchen. Occupational hazard of a food blogger, I suppose. But they love to cook and are learning to be quite good at it.
So Jeff has a gift for meeting them where they are. In all honesty, he is better at it than I am. Sometimes I get caught up in the to-do list that accompanies having 3 kids. He is much better about stopping, recognizing their interests, and plugging into that in a way that both helps our kids grow their skills and helps them spend really great time together.
So the girls like to bake… So Jeff learned to bake Healthy Banana Muffins. How cool is that?
He has always been an athlete. Years ago, when our oldest was much younger and playing soccer, he coached her teams every year. When we ended up with 3 daughters, someone asked him what he was going to do it one of his daughters wanted to take ballet instead of play sports. He said: I don't know anything about ballet. But I'll learn. I just want them to be healthy and active.
What a great dad.
Need more muffin recipes?
These Healthy Blueberry Lemon Muffins are going to change your blueberry muffin habit forever. They are better than you can dare to dream.
And these Healthy Chocolate Muffins have been one of the top recipes on this blog for YEARS! With good reason, who cares if they are healthy… they are delicious!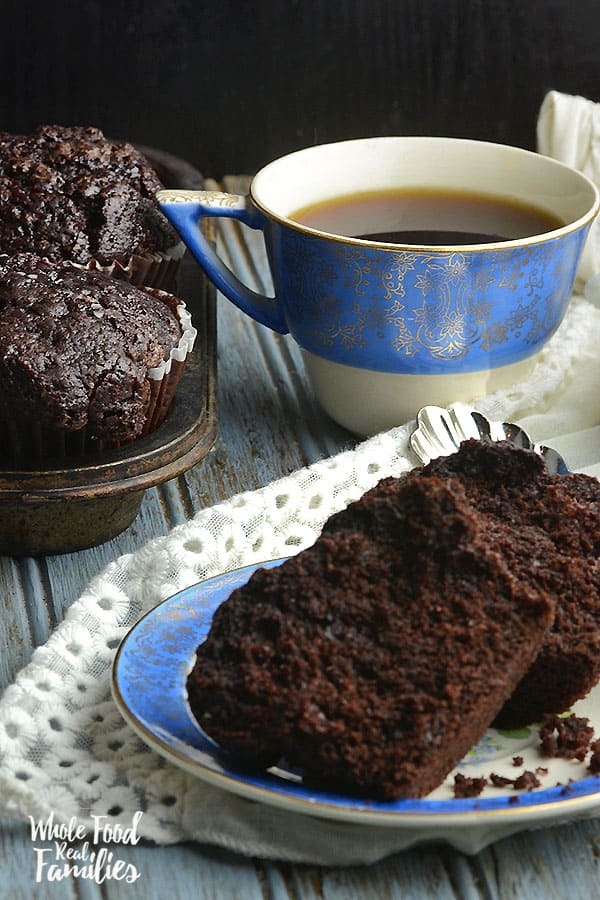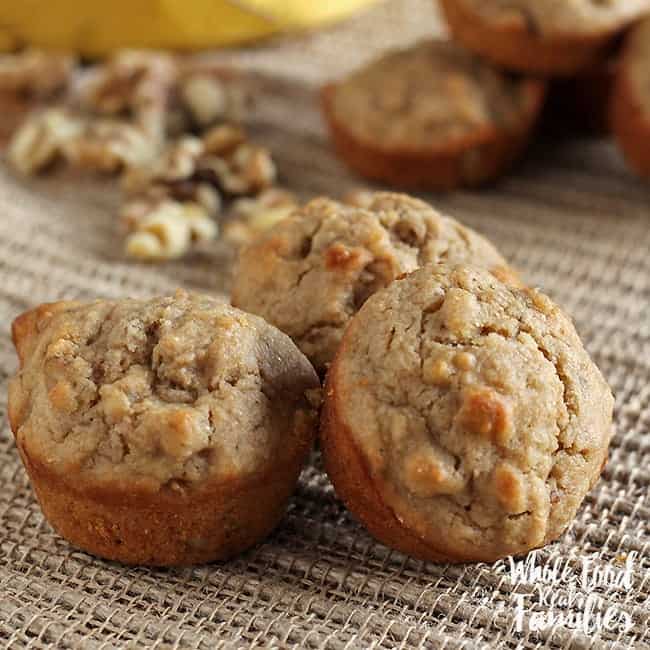 Healthy Banana Muffins
Adjust cooking time for jumbo or mini muffins tins!
Course:
Breads & Muffins, Breakfast, Snacks & Treats
Ingredients
3

cups

white whole wheat flour

1

tbsp

baking powder

1

tsp

salt

1

cup

maple syrup

3/4

cup

coconut oil

2

egg

2/3

cup

milk

2

whole

bananas

mashed, very ripe

1

cup

walnuts

chopped
Instructions
Preheat oven to 400 degrees. Oil muffin pan, or line with paper liners. Whisk together the flour, salt, and baking powder in a large bowl.

Whisk liquefied coconut oil, egg, milk, and maple syrup in a separate bowl until smooth. Remember that if you add coconut oil to cold ingredients it will turn solid. If you have trouble, just warm the bowl and batter in the microwave or over a pot of warm water. (I always make sure to use a microwave-safe bowl for just for this reason. You would think I would eventually learn this lesson.)

Stir the liquid ingredients into the flour mixture until moistened. Lightly fold in the mashed bananas and walnuts. Spoon the batter into the prepared muffin cups, filling them 2/3 full.

Bake muffins in the preheated oven until they rise and the tops are golden brown, about 16 minutes for a standard-sized muffin pan. A toothpick inserted into the center of a muffin should come out clean.