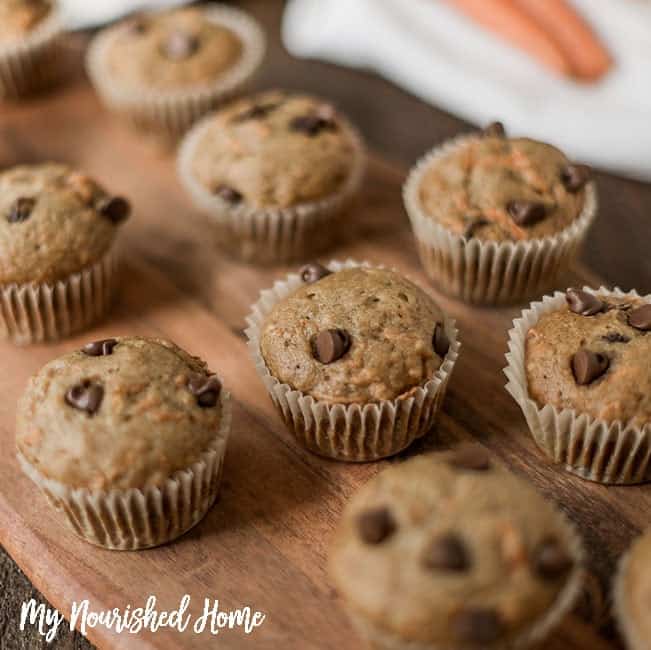 Our family loves these Healthy Carrot Cake Chocolate Chip Muffins. Perfect for breakfast or the lunchbox and sweet enough to taste like a treat. This is a carrot cake recipe you are going to use for years.
We like them with just a few dark chocolate chips but use what you like the best!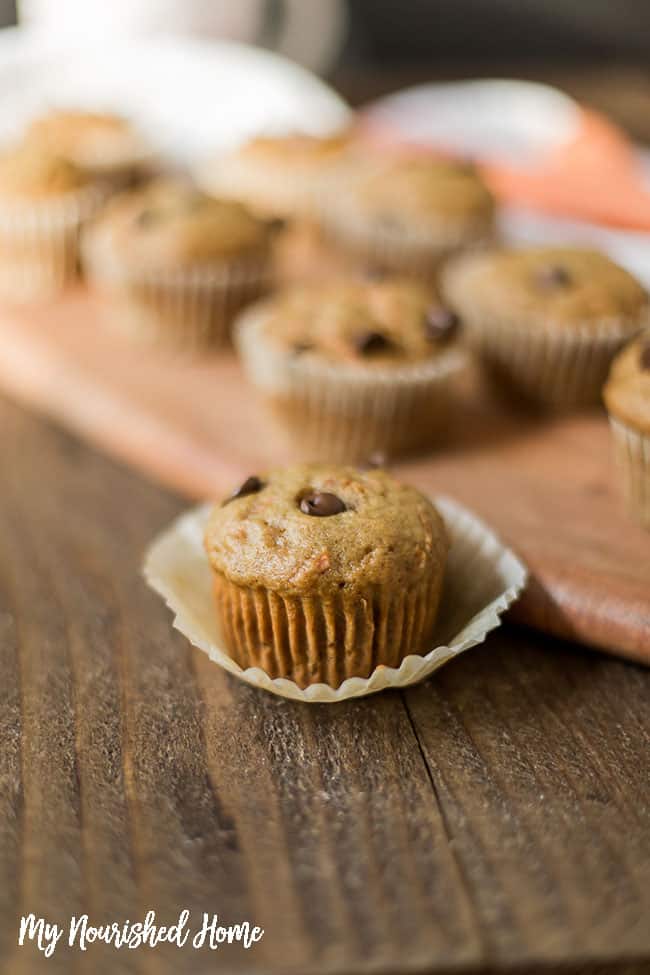 Carrot Cake Recipe
Every year for Thanksgiving and Christmas my dad turns into a baking machine. He always calls me and my family to ask if there is anything special we want him to bake for the holiday. The answer is always Carrot Cake… Like, always. Every year. Every holiday.
I used to have mixed feelings about carrot cake it can be soooooooooo good. Or super dry and kind of gross. Then my dad mastered the perfection that is the carrot cake. Fresh grated carrots, hand chopped nuts, thick and sweet cream cheese frosting. You have a piece, relishing in each bite… then pass out into a blissful sugar coma.
Every time we ask my dad to make Carrot Cake, he groans. It takes forever to make… he swears it is an all day affair. Every year for my birthday, I ask if he will make Carrot Cake for my birthday and he says "no way!" Haha!
So to survive the time between the decadent luxurious joy that is my dad's perfect carrot cake… We had to come up with a Healthy Carrot Cake that did not take hours to make!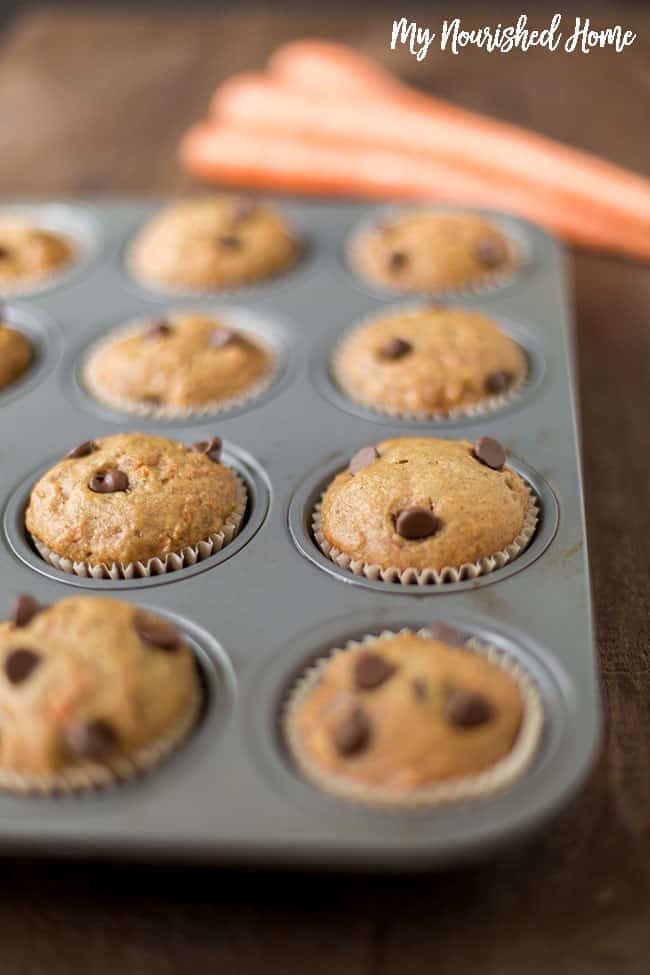 Healthy Carrot Cake Muffins
It is no secret that we bake a lot of muffins around here. They are a go-to healthy snack as long as they are in the house. This carrot cake recipe for muffins is our current favorite.
My husband actually bakes muffins more than I do these days. He let it slip to his staff at work that we do food. And he is now responsible for feeding the masses at staff meetings. We love sharing meals… and muffins… with people we like so it works out pretty well for us.
He did make the mistake of making only enough for a staff meeting once. Our children threatened a coup if that nonsense ever happened again. He now doubles the recipes to make enough for work and for home. Such a smart guy. 🙂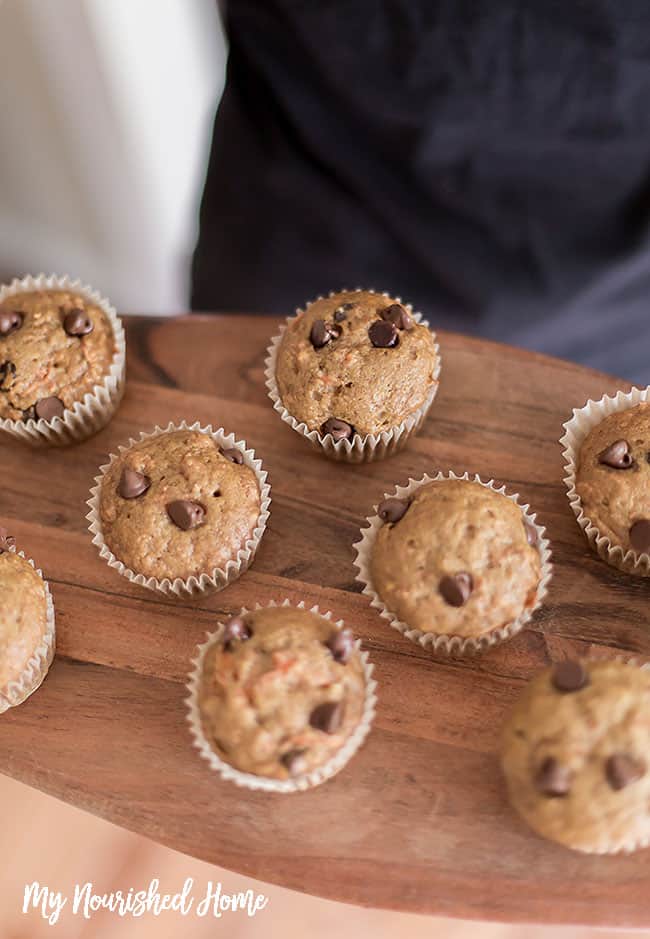 Looking for more Healthy Muffin Recipes?
There are so many recipes we love… The number one muffin recipe on this site is this Healthy Blueberry Lemon Muffins. But these Healthy Chocolate Muffins are not far behind!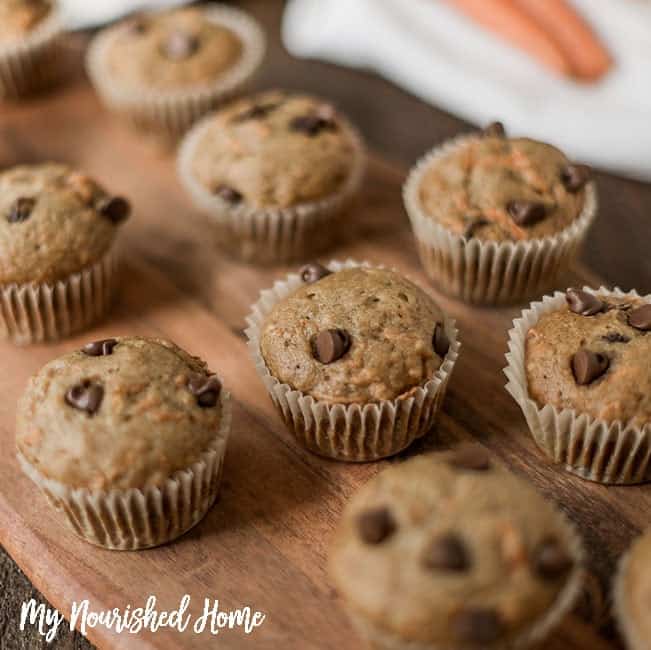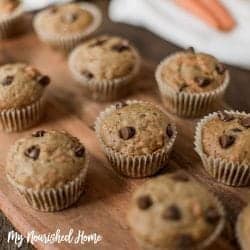 Healthy Carrot Cake Chocolate Chip Muffins
Ingredients
1 1/2

cups

oat flour

1

Tbsp

flaxseed meal

1

tsp

baking soda

1

Tbsp

Pumpkin Pie Spice

yes!!

dash of salt

1

egg

1 1/2

tsp

vanilla extract

2

Tbsp

coconut oil

melted

1/2

cup

maple syrup

1

cup

applesauce

use sweetened to give it more flavor

1/2

cup

grated carrots

1/2

cup

chocolate chips (we like dark chocolate!)

reserve some for the top
Instructions
Preheat oven to 350 and line a muffin tin with paper liners. I like the parchment style of paper liners, as they never ever stick!

Mix dry ingredients together, in a bowl. And mix the wet ingredients in a separate bowl.

Pour the wet ingredients into the dry ingredient bowl and mix until combined. Don't over mix. Fold in the grated carrots and that handful of chocolate chips, just until they are combined.

Using an ice cream scoop, fill the muffin liners evenly. Top each muffin with a few chocolate chips and bake for 20 minutes, or until the toothpick test comes out clean.

You can drizzle the muffins with melted chocolate for extra sweetness and cuteness, if desired.