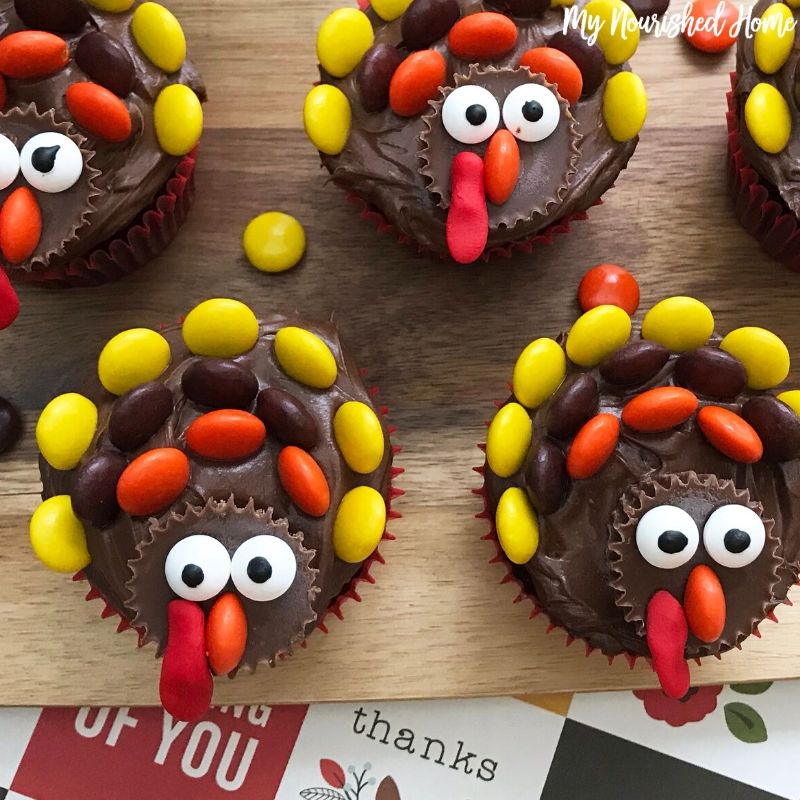 Thanksgiving Turkey Cupcakes are a tradition every year. No matter how crafty you are, these little guys will be a joy to have at your holiday table.
I would like to say they are most beloved by the kids but honestly, the adults love them too. Make this dessert a tradition with your kids each year.
Turkey Cupcakes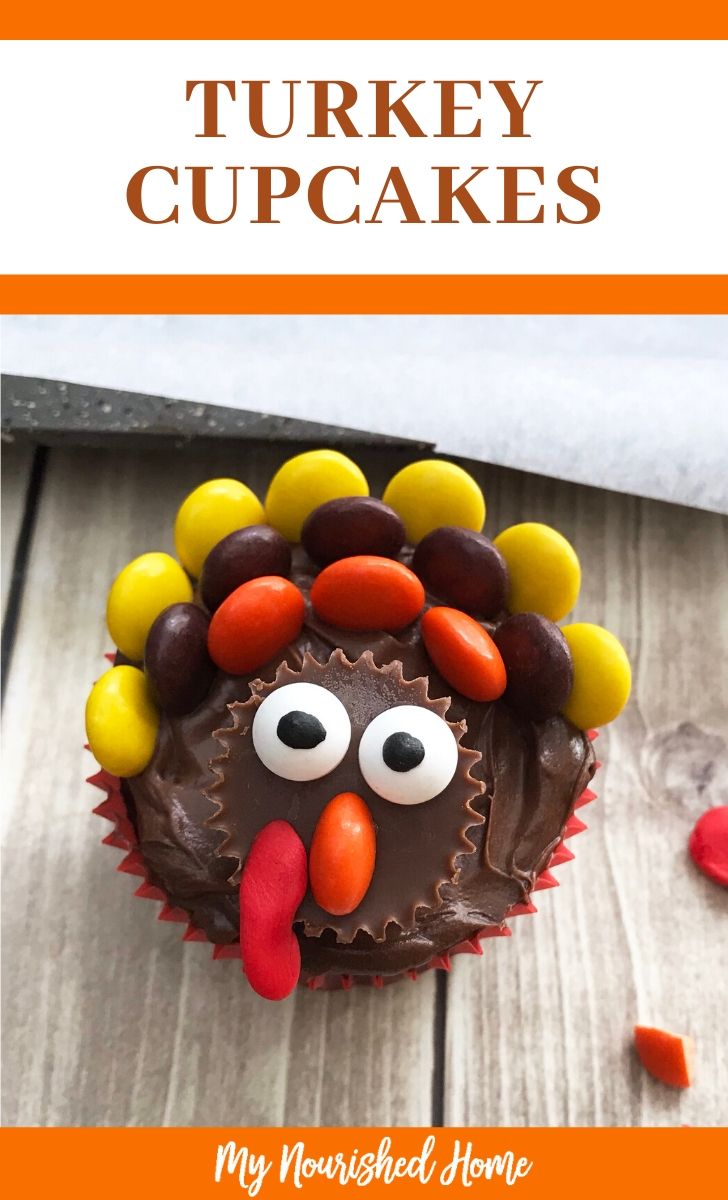 These turkey cupcakes are more food craft than an actual recipe. They are made with your favorite boxed cake mix and chocolate frosting. So pick up your preferred brand and grab some colorful cupcake liners and get crafting together.
I do recommend cupcake liners – even if you usually skip them because you will be handling these cupcakes a bit as you turn them into turkeys.
Most of the supplies you need are just candy you can pick up at the grocery store where you buy your cake mix. Depending on how big your local store's baking aisle is, you may need to find your candy eyes and the red fondant at your closest hobby store. Or you can just order them on Amazon as I do. Here are my affiliate links you want to order them online. (Thank you 2-day shipping!)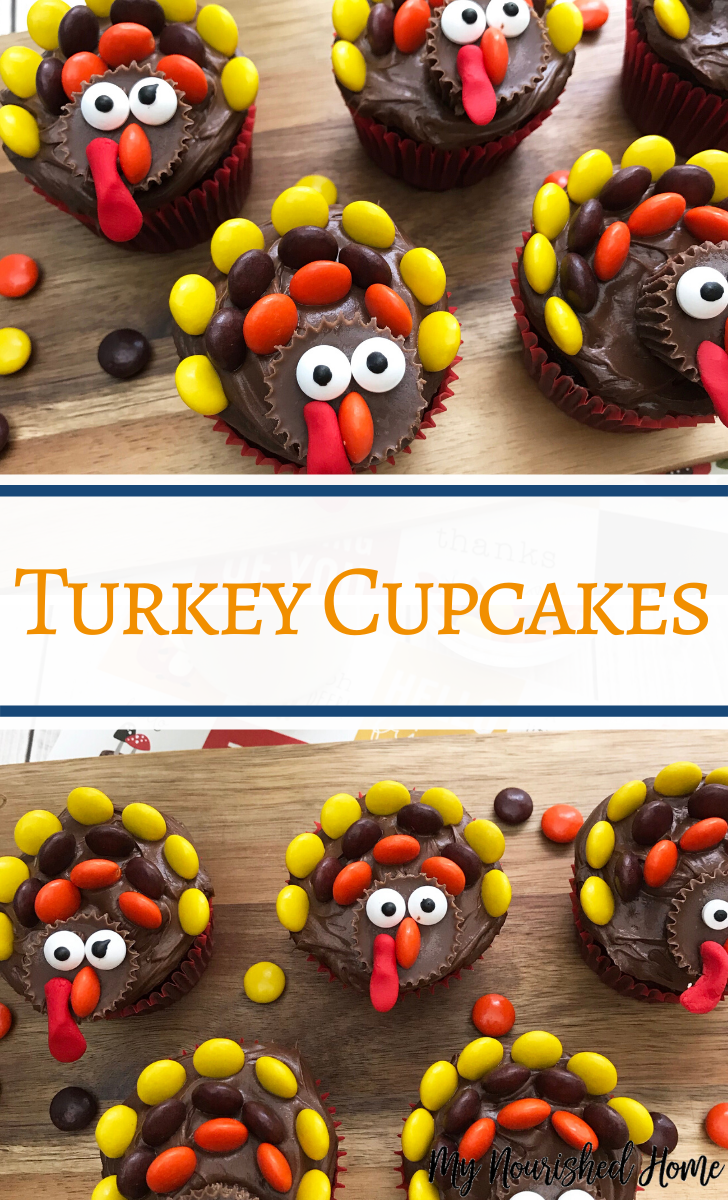 How to Decorate Turkey Cupcakes
Lots of people use candy corn to make turkey cupcakes and Thanksgiving food crafts. But we love using Reeces Pieces, which are conveniently Fall colors. 🙂
Separate out your Reeces Pieces colors to make rows for your turkey feathers. This is a very fun activity for the OCD person in my family. (Talking to you honey. :))
Frost your cupcakes when they are completely cool so that the frosting isn't melty or soft. I actually find it is a little bit tidier if I pop them in my fridge for just a few minutes.
Your back row of feathers will be 7 candies, the second row will be 4 candies, and the inside row is 3 candies.
Tuck your mini Reece's cup inside the feathers. Use a little frosting on the back of the candy eyes, halved Reece's pieces for the beak, and the red fondant to make them stick!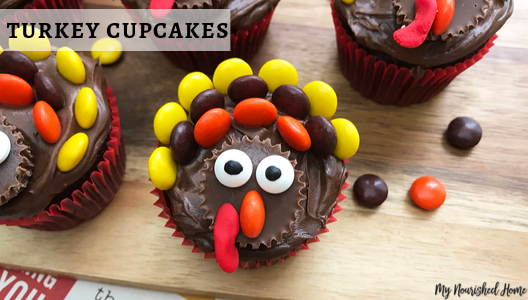 Tips for Decorating these Cupcakes for Thanksgiving
I actually find it is a little bit tidier if I pop the cupcakes in my fridge for just a few minutes. I don't need them to be cold, just the frosting to set a little.
Use a really sharp paring knife to cut the Reeces Pieces in half… Adults only!
I cut the Fondant into the appropriate amount of equal pieces before I pass them to my kids to roll into a waddle. It helps keep them a similar size… but also make sure there is enough waddle to go around to all the cupcakes. (That is such a weird sentence to write. LOL!)
Also, I really like to print out these steps so my young kids can see the steps rather than read them! (Perfect for little kids!)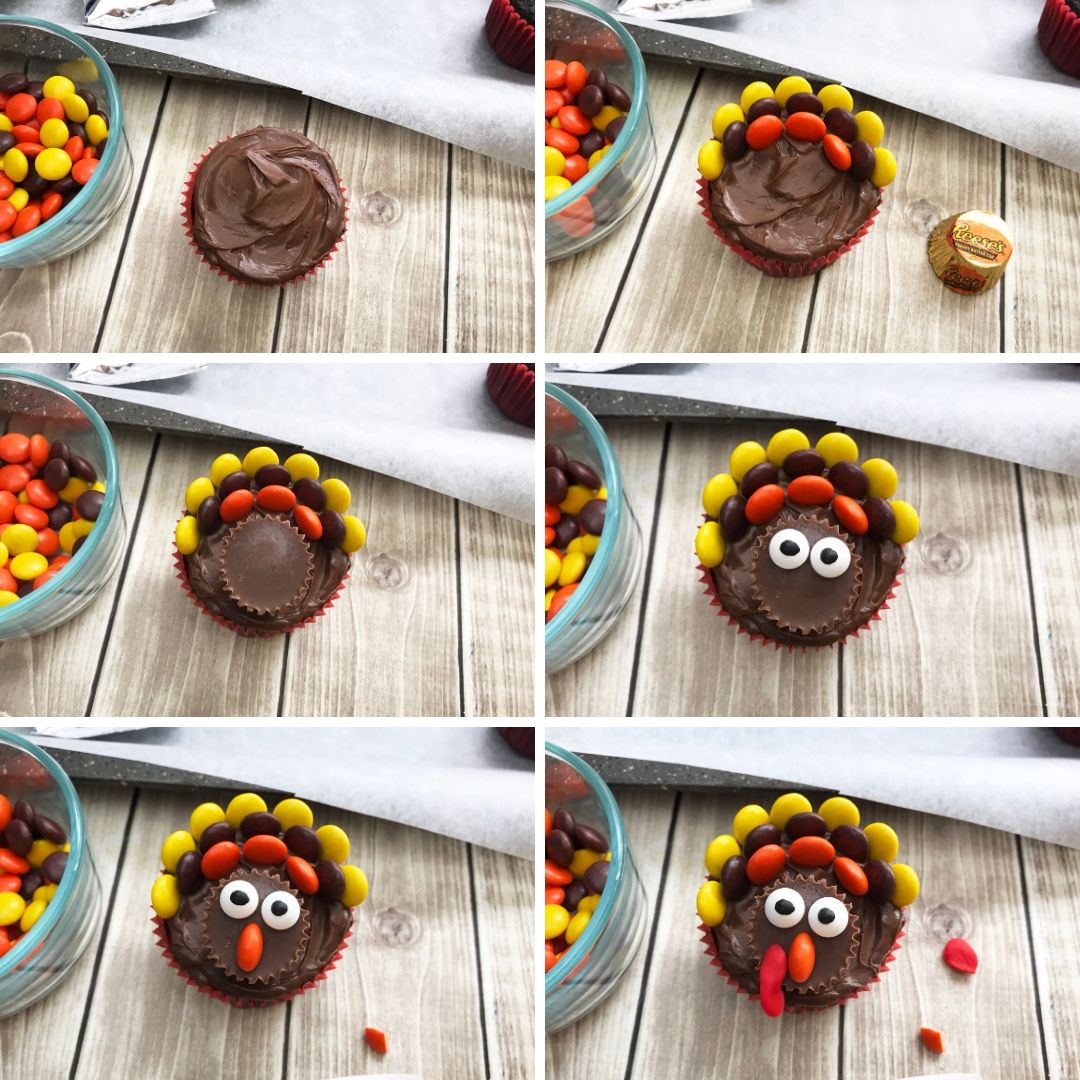 Grab these Thanksgiving Projects too!
How to Make these Turkey Hairbows!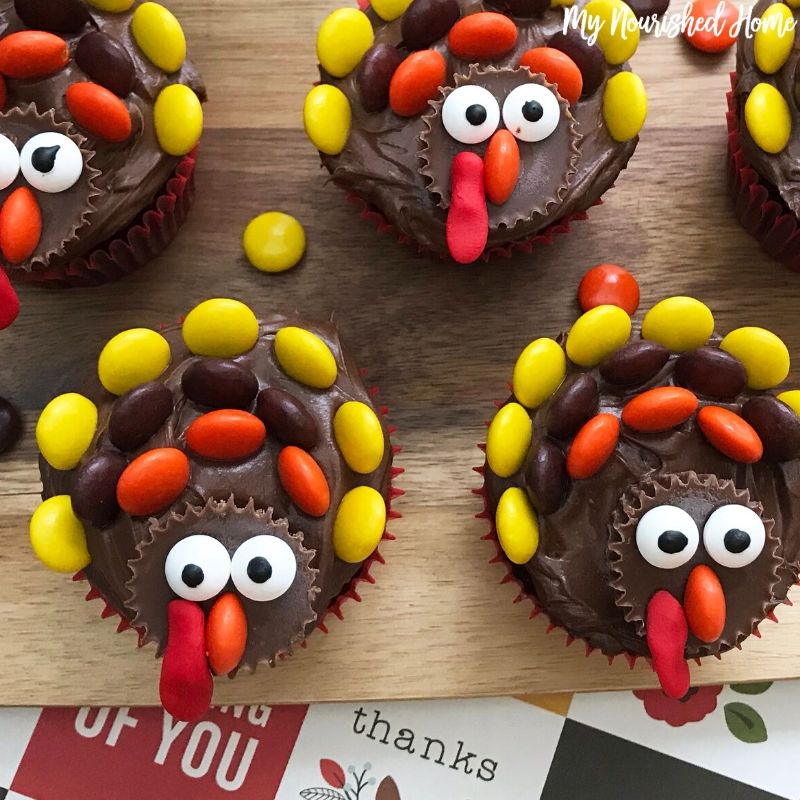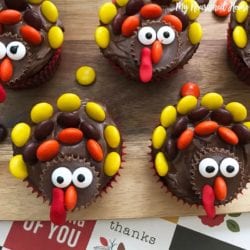 Thanksgiving Turkey Cupcakes
Make these adorable turkey cupcakes for your Thanksgiving table!
Keyword:
cupcake, Thanksgiving, turkey
Ingredients
1

box of chocolate cake mix

any brand + boxed cake mix ingredients

1

tub of chocolate frosting

large package of Reese's Pieces candies

24

mini Reese's Pieces peanut butter cups

48

small candy eyes

Red fondant

Small paring knife

24

cupcake liners

toothpicks
Instructions
Preheat the oven according to the cake mix directions.

Combine cake mix ingredients.

Line (2) 12 count muffin tins with cupcake liners.

Fill each muffin well 1/2 way with cupcake batter.

Bake according to package directions.

Remove from the oven and let the cupcakes cool completely prior to decorating.

Once the cupcakes have cooled, generously frost each one with chocolate frosting.

After frosting the cupcakes stand 7 yellow Reese's Pieces on the back edge of the cupcake, then 4 brown Reese's Pieces and finally 3 orange Reese's Pieces. Gently press them into the frosting so they stand up looking like the turkey's feathers.

Next, unwrap a mini Reese's Peanut Butter Cup and place it on the cupcake for the turkey's head.

Give the turkey 2 small candy eyes, using a bit chocolate frosting on the end of a toothpick.

Use the small paring knife to carefully cute 12 orange Reese's Pieces in 1/2.

Use a small bit of chocolate frosting on the flat side to adhere the turkey's beak.

Lastly, roll a small amount of red fondant between your fingers and adhere with chocolate frosting next to the turkey's beak.

Repeat with all cupcakes.