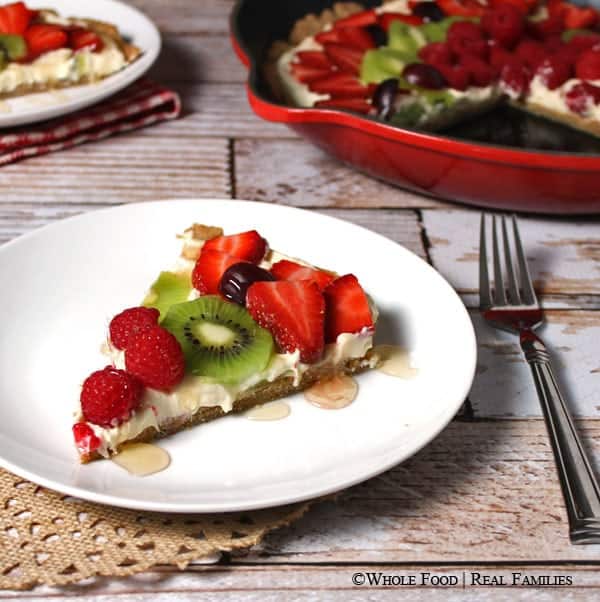 Fresh Fruit Pizza with Whole Wheat Crust is no ordinary pizza! This is a pizza with magical April Fool's powers! The big trick isn't really that it is made of Fresh Fruit and creamy frosting instead of tomatoes and cheese. The big trick is that though it tastes amazing, it is made completely without refined sugar or flour!
Today's April Fool's recipe is brought to you by my kids who complain they don't get enough dessert. By the way, they totally do – probably more than they should – but we are in this healthy eating thing for the long game and try not to nitpick. Around the 357th time my kids mention dessert, I figure that is my signal to do something about it. You have seen some of these recipes before: Mostly Healthy Chocolate Muffins , Roasted Peaches with Sweetened Mascarpone, and Chocolate Cake with Maple Butter Sauce. The one thing all of these recipes have in common is that they minimize refined ingredients.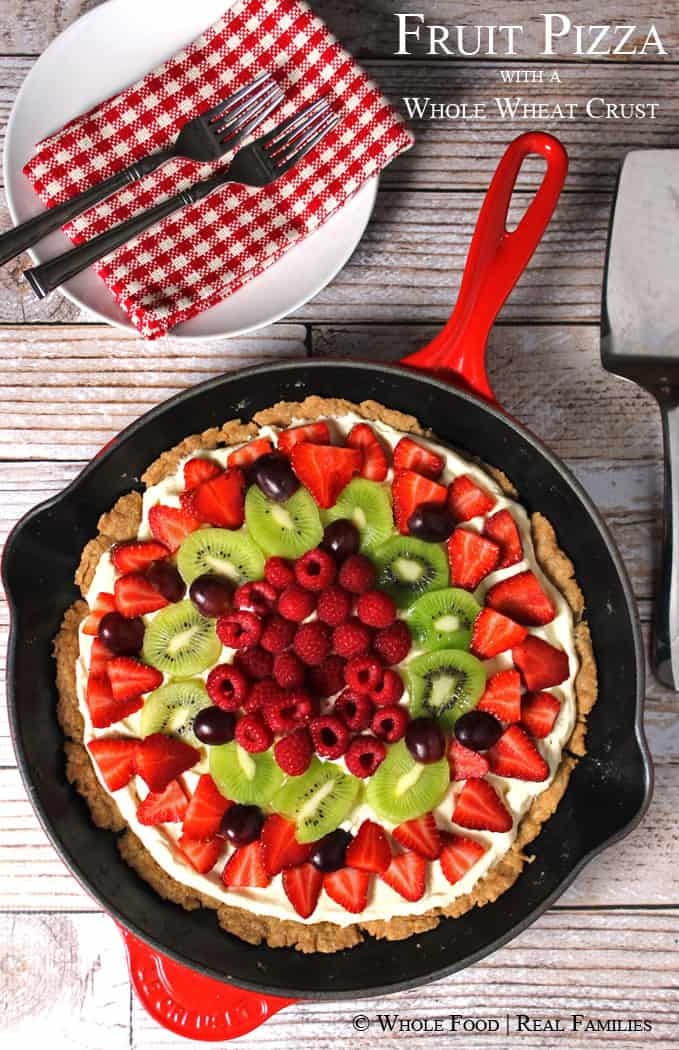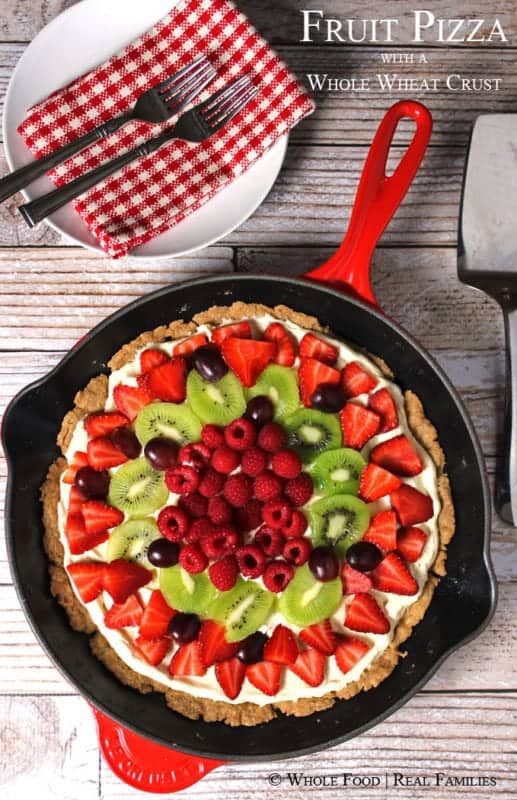 Chocolate is tough because it pretty much always has sugar in it. It is an exception we make on occasion because – you know, chocolate. However, we do choose unsweetened, organic cocoa or organic chocolate chips at home to minimize the chemicals that generally are used while growing, harvesting and processing cocoa beans.
But for the occasion of Fresh Fruit Pizza, it is actually quite simple to avoid refined ingredients. What I love the most about this recipe is that the sweetest part of this dish is the ripe, fresh fruit. The whole wheat crust is buttery and flaky. And the layer of Buttercream Frosting is richly flavored with butter and maple. Both of these layers accent the sweet, fresh fruit – which is the very hallmark of the warm weather making its appearance around April Fool's Day.
By the way, have a close look at the picture of the pie crust in the pictures. You will notice it is imperfect. I love that. It is super easy to have a beautiful crust. But it is particularly wonderful, when my 4 year old wants to help me cook for the website. That crust was all her and I am so proud. If this web endeavor has done one thing for my family, it has made my children comfortable in the kitchen. It is just part of what we do. And because we don't open a lot of bags and boxes in our kitchen, my kids are growing up thinking that cooking from scratch is normal. I hope that is an indicator of the healthy habits they might have as they get older. A mom can dream…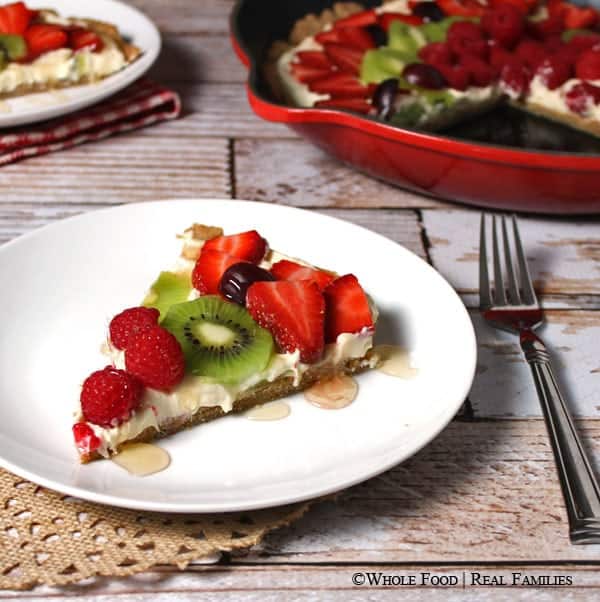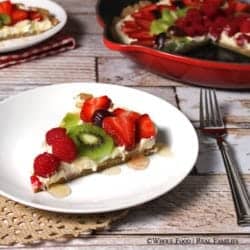 Fresh Fruit Pizza with a Whole Wheat Crust
Course:
Dessert, Snacks & Treats
Ingredients
1

whole wheat pie crust

8

oz

cream cheese, softened

4

tbsp

butter, softened

1/3

cup

maple syrup

up to 1/2 cup based on your desired sweetness

1

tsp

vanilla extract

pinch of salt

1

cup

fresh strawberries

washed and halved

2-3

fresh kiwi

peeled and sliced

1

cup

Fresh Raspberries

1

handful

sliced grapes or fresh blueberries

or any other fruit you love!

mild honey for serving
Instructions
Preheat oven to 375 and bake the whole wheat pie crust on a pizza pan or in a large cast iron skillet until completely done. About 20 minutes. Remove from oven and let it cool completely.

In a stand mixer, whisk cream cheese and butter until combined completely. Add maple syrup, vanilla extract and a pinch of salt and whisk again until fluffy.

Once pizza crust is completely cooled, scoop buttercream onto the crust and smooth out just as you would a typical pizza, leaving the edges exposed.

Top buttercream with strawberries, kiwi, raspberries and grapes or blueberries.

Slice into pizza sliced and serve. If desired, drizzle a mild honey across the pizza for a little extra treat!! Refrigerate leftovers.