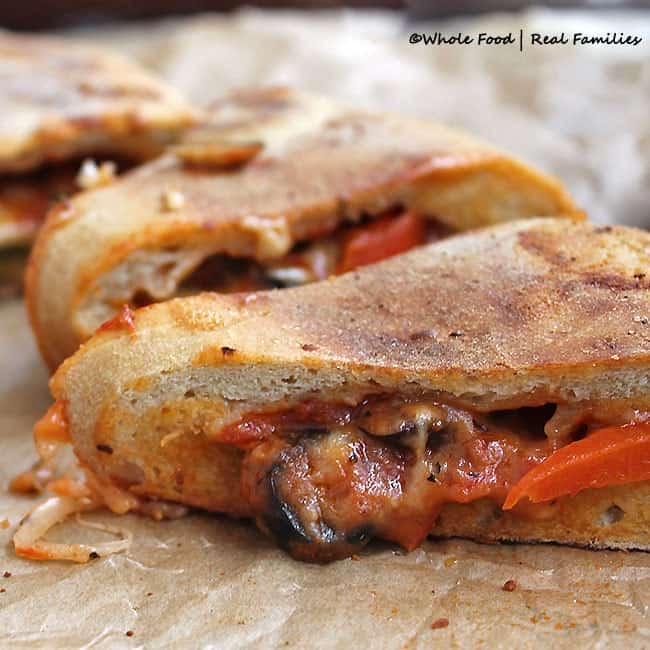 Grilled Vegetable Calzones get everyone excited for dinnertime. Pizza shop deliciousness with the option to make them much healthier. This recipe will work with anything you would normally add to a pizza but we use it to help our kids eat more veggies!
Grilled Vegetable Calzones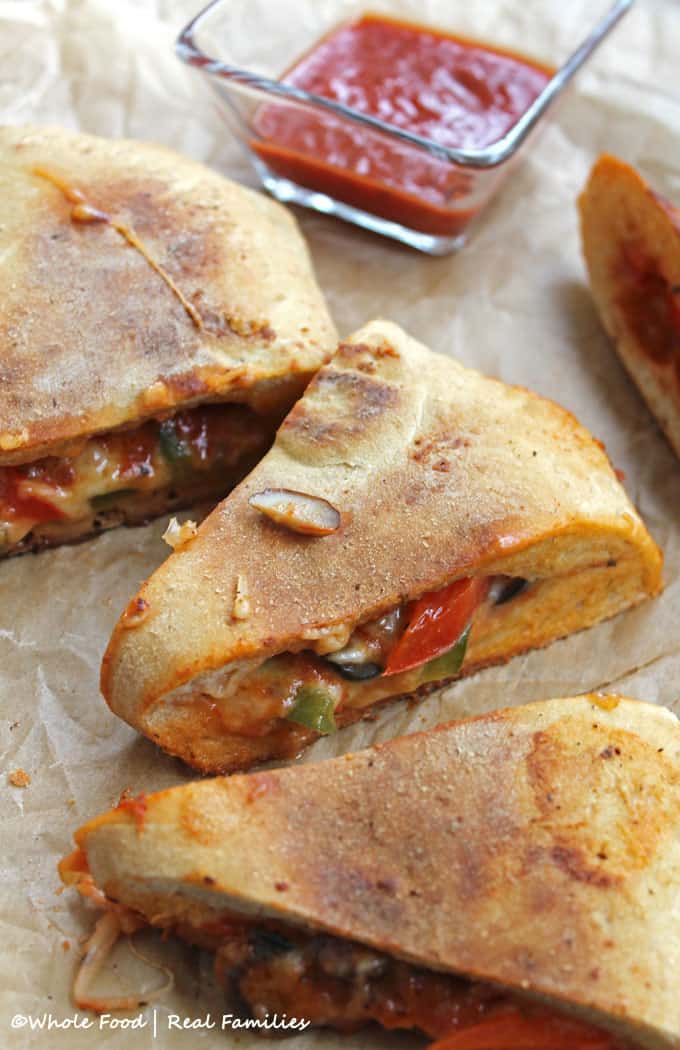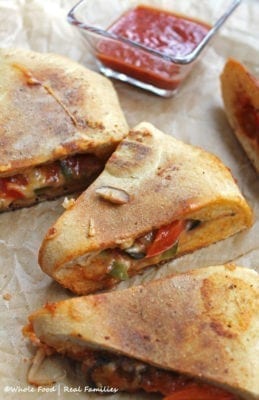 Despite our commitment to eating well, we can't seem to remove the craving for things like pizza and calzones – and the occasional ice cream. Our solution for this conundrum is to keep as much packaged, refined food as possible out of the house and we go OUT for those treats. It helps regulate how often we all eat them. But we also remake those treats into healthier versions. These Grilled Vegetable Calzones are a perfect example.
We have a pizza stone that we often use with our grill. I love the brick oven texture of the crust that it creates. So we tend to grill most of our pizzas and calzones (and everything else!) But this recipe will work just as well baked in the oven. The key is to roll the pizza dough nice and flat before folding it over so the bread is not too thick when folded over itself.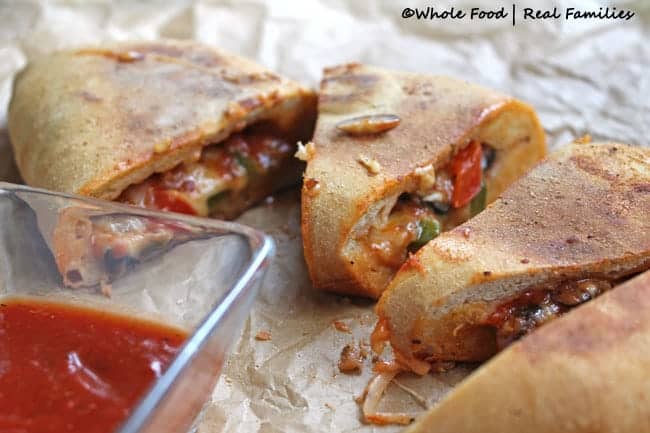 How to Make Calzones on the Grill
You can stuff calzones with anything you would put on a pizza. But we use the opportunity to make our kids eat a few more vegetables than they might otherwise. Precook the vegetables so they will have the texture that you would normally find on a pizza and so that they don't release a lot of water into the dough when cooking. First, if my kids crunch on a vegetable in their calzone, the gig is up. Second, because the dough is folded over and sealed, there is nowhere for all that water to go. Depending on which vegetables you include, there is the potential for a mushy calzone and nobody wants that.
If you are looking to make your own pizza dough, this Whole Wheat Pizza Crust recipe is our favorite. It can be made ahead and stored in the fridge or frozen for later. And I make HUGE batches of Pizza Sauce from Fresh Tomatoes in the summer when I can buy cases of ripe tomatoes for relatively cheap.
Looking for other pizza options? This Grilled Vegetable Pizza is amazing. And my girls love this Three Cheese Pizza.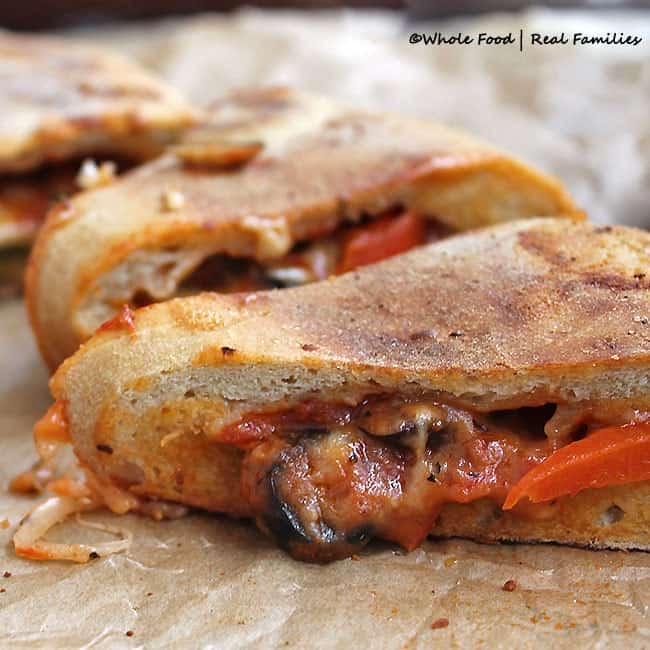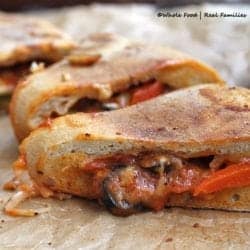 Grilled Vegetable Calzones
Ingredients
1

portion Whole Wheat Pizza Crustor your favorite pizza dough

1 1/2

cups

of Homemade Pizza Sauce or your favorite sauce

1 3/4

cups

of mozzarella cheese

1

sweet variety onion

sliced into ribbons

1

red bell pepper

seeded and sliced into thin strips

1

package mushrooms

sliced

1/2

cup

black olives

pitted and sliced

2

tbsp

olive oil
Instructions
Preheat grill and pizza stone to medium heat.

In a large skillet, heat olive oil until hot but not smoking. Add onions and allow them to cook until soft. (I like onions to be caramelized so we often cook them over medium heat while the grill is preheating but it is not necessary.)

When onions are soft, add mushrooms and cook for 6-8 minutes until all of the water releases and cooks off. Add peppers and cook just until soft, 3-4 minutes. Remove the veggies from heat and set aside.

Divide pizza dough into two halves (we like big calzones, if you like smaller ones, divide into four).

Roll each half into thin, flat circles on a lightly floured surface. Spoon half of the pizza sauce each half and spread evenly. Be careful to leave an outer ring of dough uncovered so that you can seal the calzone.

Add veggies on half of the calzone and sprinkle olives on top.

Evenly sprinkle half the cheese on one side of the calzone.

Then fold the calzone in half. Using a fork to press the edges together to seal.

Carry calzones to the grill - we do this on a sheet pan lined with wax paper. Place them on the hot pizza stone and close the grill.

Cook for 10 minutes then check to see if the bottoms are nice and golden. Flip the calzones and close the grill to cook for an additional 8-10 minutes. When both sides are nicely golden, remove from grill and let rest for 5 minutes before serving.

We like to slice the calzones into pieces and serve with extra pizza sauce on the side for dipping.

For a more grown up calzone: Combine 3/4 cup mozzarella, 1/2 cup ricotta and 1/4 parmesan cheese as an alternative to the all mozzarella version!