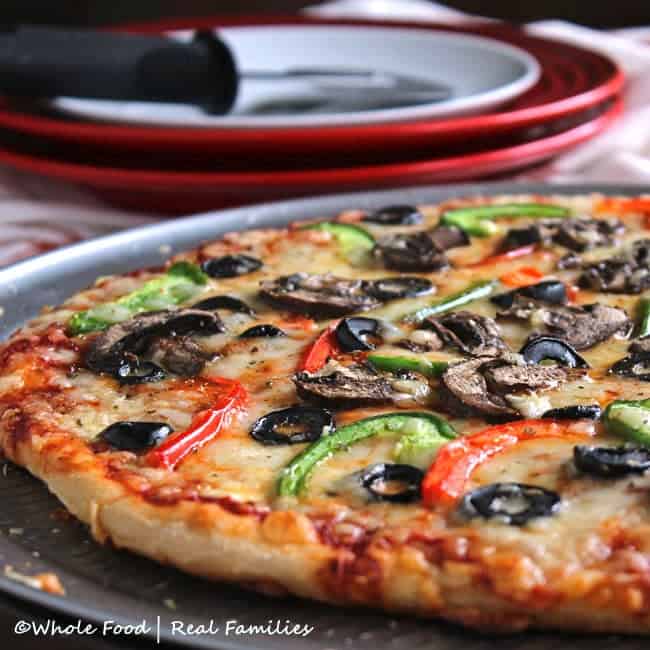 Grilled Vegetable Pizzas are delicious, family-friendly and fuss-free. With this method, you never have to clean pizza dough out of your grill grates!
Nothing makes my family happier than pizza night. I am not sure what is so magical about pizza but it seems to bring out the joy in all of us. A few years ago, we discovered the extra special joy of grilled pizzas. These Grilled Vegetable Pizzas are one of our favorites but it works for most toppings.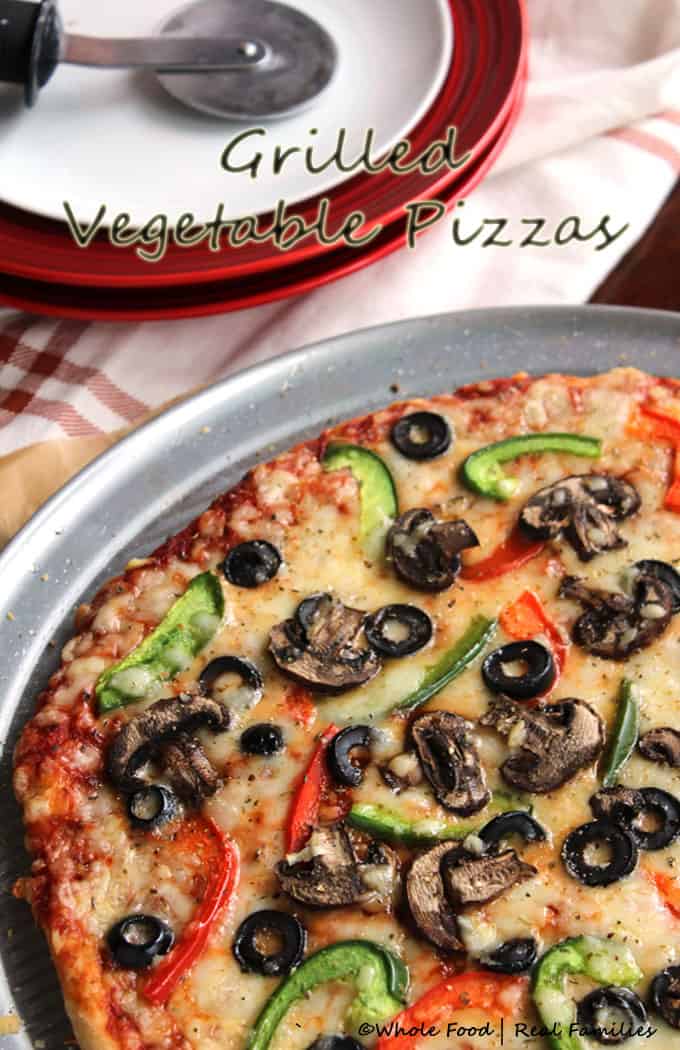 Just the word "outside" is enough to make our little kids squeal and run to the door. But pizza outside by the grill makes us real heros! If there is any doubt how much our kids love pizza, I thought you might enjoy seeing what it is like for little kids to grow up with a food blogger. This is my youngest daughter sneaking up on the pizza while I was in the other room getting ready to photograph the pizza for this post. A minute longer, and we would have been heading outside to grill another veggie pizza.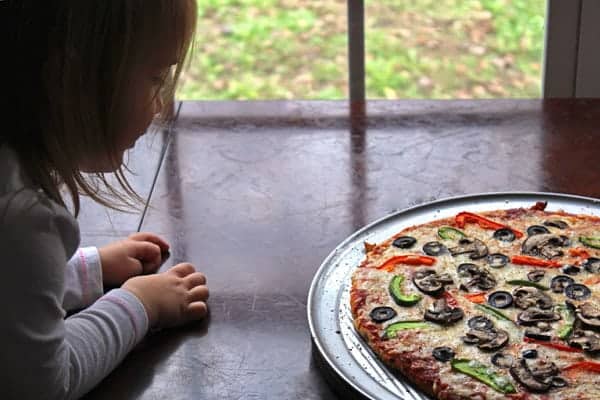 Grilled Vegetable Pizzas are an excuse for playing soccer in the front yard, sitting outside in the fall and watching our kids in the bouncy castle (yes, we own a bouncy castle.) And eating messy dinners that don't matter because the dog is happy to clean up any leftovers. It is also nice that after dinner, nobody seems to be in a rush to go back inside. It is nice when family time sneaks up on you.
We grill a lot of pizzas and generally they turned out just fine. But after an occasion where pizza dough fell through the grates, we started using a pizza stone. (What a mess!) We really prefer it now. With all the little hands we have running around and all the opportunities to get distracted or needed, the pizza stone is much more forgiving than having the dough directly on the grill grate. It also makes it hard to mess up the crust. No burns, nice and crisp. Perfect!
The key is to let the pizza stone heat up with the grill and use a flat pizza pan like the one in the picture above. We just set the metal pan on the stone for a minute or two to let the crust start to set, then slip it off the pan onto the stone to finish cooking. It is VERY easy to slide the finished pizza back on the pan when it is finished cooking and you don't have to worry about moving the hot pizza stone. It is also handy when you are cooking more than one pizza. You can slip one off and drop the next pan on the stone without any time in between.
If you are more interested in cooking your pizza in the oven rather than the grill, Three Cheese Pizza with a Whole Wheat Crust is fabulous. It includes links to a recipe for Whole Wheat Pizza Crust and Simple Pizza sauce from Fresh Tomatoes.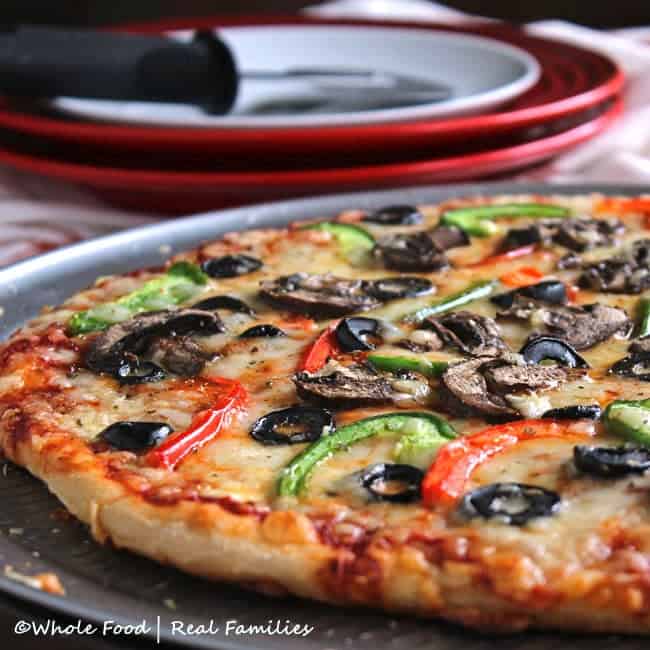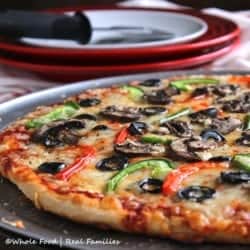 Grilled Vegetable Pizzas
Grilled Vegetable Pizzas are delicious, family-friendly and fuss-free. With this method, you never have to clean pizza dough out of your grill grates!
Ingredients
1

Whole Wheat Pizza Crust or your favorite crust

1

Pizza Sauce from Whole Tomatoes or your favorite sauce

1

cup

Mozzarella Cheese

grated

2/3

cup

Parmesan Cheese

grated

1

tsp

dried Italian Seasoning or 2fresh basil

chopped

1

bell pepper

sliced into strips

1

cup

mushrooms

sliced

1/3

cup

black olives

sliced
Instructions
Place baking stone in the center of the grill on the grates and close the grill. Preheat grill to 450 degrees.

Roll out pizza crust on a well floured surface and place on your pizza pan.

Top crust with Pizza Sauce, grated cheeses, pepper strips, olives. mushrooms and spices.

Open the grill and sit your pizza pan directly on the baking stone and close the grill. This will allow the crust to set before sliding it to the stone. In 8-10 minutes, open the grill and the pizza will easily slide to the baking stone. Allow the pizza to cook for an additional 16-20 minutes, or until the crust is golden, the bottom is crisp and the cheese is hot and bubbly. (Grills temperatures vary so watch the first one to see how long it takes on your grill.)

Using a large spatula lift the edge of the pizza and slide your pizza pan back under the pizza to remove. If you are cooking more than one pizza, you can place your next uncooked pizza and pan immediately on the stone in the grill.

Allow pizza to stand for 5 minutes before cutting.

Enjoy!!