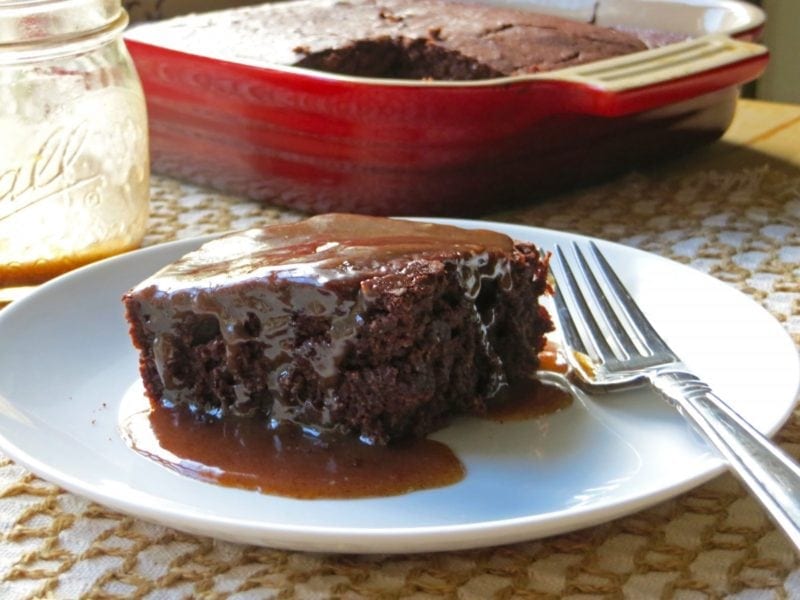 I'm about to change your life. Chocolate Cake with Maple Butter Sauce.
Rich, deep chocolaty flavor. No processed ingredients. Yep, no white flour, no processed sugar. Seriously. This cake is so delicious all by itself but by all means feel free to drown it in Maple Butter Sauce for an extra special treat.
I used to make this simple sauce on the stove. No more – I was in a hurry last week and stuck the whole thing in the microwave thinking I just needed to get done and would settle for just getting it warm. It worked great! I took it out as soon as the sauce started to bubble up and it settled into a thick rich maple glaze. YUM!!! If you make the decision to make a quadruple servings of the Maple Butter Sauce, I won't judge you, it is excellent over ice cream, yogurt, waffles, a spoon…
Go make this right now. And eat it all yourself. Then wash the pan and make another one before anyone gets home. Nobody will ever know!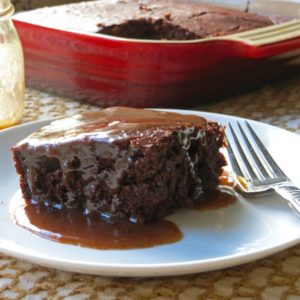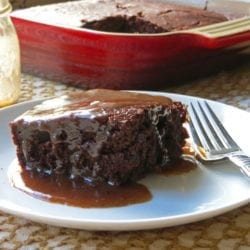 Chocolate Cake with Cinnamon Sauce
Ingredients
Chocolate Cake
1 1/2

cups

white whole wheat flour

1 1/2

tsp

baking powder

1

tsp

salt

1/2

cup

unsweetened cocoa powder

1/2

cup

maple syrup

1/3

cup

coconut oil

warmed to liquid

1/3

cup

Greek Yogurt, Plain

1

tbsp

vanilla extract

1

eggs

1/2

cup

milk

1/4

cup

strongly brewed coffee
Maple Butter Sauce (optional but so YUMMY)
3/4

cup

100% pure maple syrup

1/2

cup

butter

2

tsp

cinnamon
Instructions
Preheat oven to 350 degrees.

Whisk dry ingredients, white whole wheat flour, baking powder, salt, and cocoa in a large bowl until uniform. Whisk wet ingredients, maple syrup, warmed coconut oil, greek yogurt, vanilla, egg, milk and coffee in a second bowl until uniform and emulsified. Add wet ingredients to dry and stir to combine.

Pour batter into a prepared 8x8 pan and bake for 30 minutes or until a toothpick inserted into the middle comes out clean.

A few minutes before removing the cake from the oven, combine ingredients for Maple Butter Sauce in a glass jar or other microwave safe bowl. (The jar is just handy because you can put the lid back on and stick any leftovers in the fridge!) Heat in the microwave for 30 seconds, stir. Heat for another 30 seconds, stir. Continue just until the sauce begins bubbling up. As soon as it does, stir well and you are done. Be careful the jar will be hot!!

Top the whole cake, or individual slices with sauce and serve warm. Leftovers are also moist and chocolaty and delicious... not that you will have much in the way of leftovers. Enjoy!