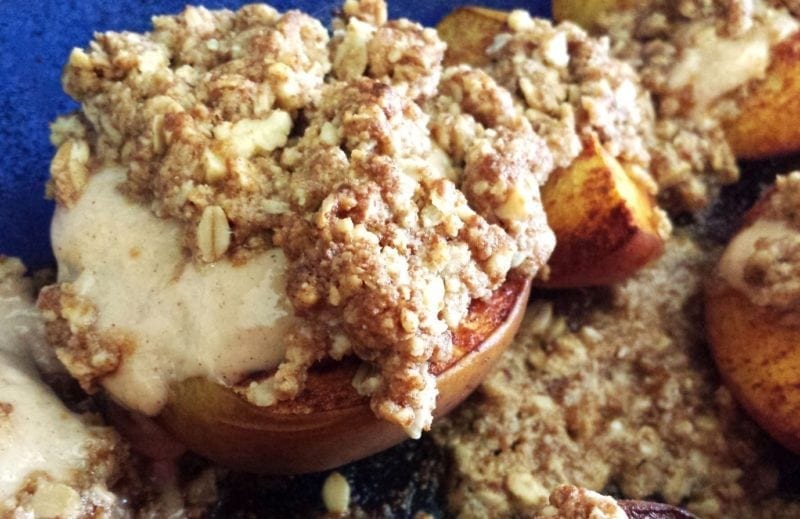 Here, have a little love with Roasted Peaches and Sweetened Mascarpone. I live in Georgia, otherwise known as the peach state, which is somewhat ironic since Georgia produces far more blueberries than peaches. However, we still love us some peaches (even if they come from our friends in South Carolina) – especially when combined with just the right amount of Mascarpone and an Oatmeal Crumble Topping.
I often find that after I have cooked a big dinner, I feel a little exhausted when I head back into the kitchen with a full belly to put the final touches on a hot dessert. And since processed food is no longer an option, dessert options have narrowed quite a bit. These roasted peaches are perfect. Easy to put together and a sweet end to any meal. This dessert is elegant enough for a posh dinner and simple enough to surprise the kids on a weeknight.
Note: I was recently asked about nutritional information for this recipe. See below: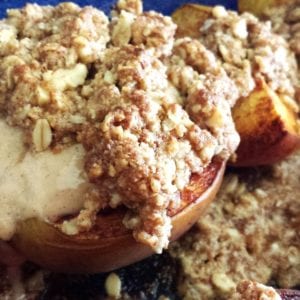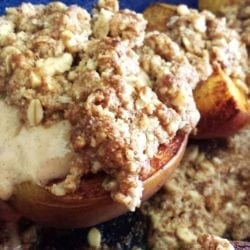 Roasted Peaches with Sweetened Mascarpone
Ingredients
For the Roasted Peaches
3

peaches, halved with pit removed

peaches should be firm but ripe

1 1/2

tsp

coconut oil, warmed to liquid

1/2

tsp

cinnamon
For the Sweetened Mascarpone
1/4

cup

Mascarpone cheese

2

tbsp

honey

sweeten to taste

1/2

tsp

cinnamon

pinch

nutmeg
For the Oatmeal Crumble Topping
1/4

cup

old-fashioned rolled oats

1/4

cup

walnuts

2

tbsp

cold butter

2

tbsp

white whole wheat flour

2

tbsp

coconut sugar

1/4

tsp

salt
Instructions
Preheat oven to 400 degrees. Wash and divide peaches and remove the pit. Place peaches cut side facing up in an oven safe dish. Brush each peach with a little coconut oil. Sprinkle with cinnamon. Roast in the oven for 20-25 minutes until peaches fork tender. (Roasting time will vary based on the ripeness of your peaches.)

While peaches are roasting, combine ingredients for the Sweetened Mascarpone: Mascarpone, honey, cinnamon and coconut sugar. I usually just combine ingredients with a spoon - there is no need to pull out the electric mixer. Prepare the mixture to pipe into the peaches. You can drop it in with a spoon but it is a little easier to create a makeshift piping bag by putting the mixture in a sandwich bag and cut off a small corner of the bag.

Also combine ingredients for the Crumble Topping: Add oats, walnuts, butter, white whole wheat flour, coconut sugar and salt to the food processor. Pulse until the mixtures is combines evenly. It will be crumbly.

Remove peaches from oven and pipe Mascarpone filling evenly into each peach. It will begin to melt over the peaches and run down the sides. This is totally okay! Top with the Oatmeal Crumble, pressing gently to help it adhere to the cream - and carefully because the peaches are hot!

Put the peaches back in the oven for approximately 10 minutes or until the Oatmeal Crumble is toasted. Enjoy!