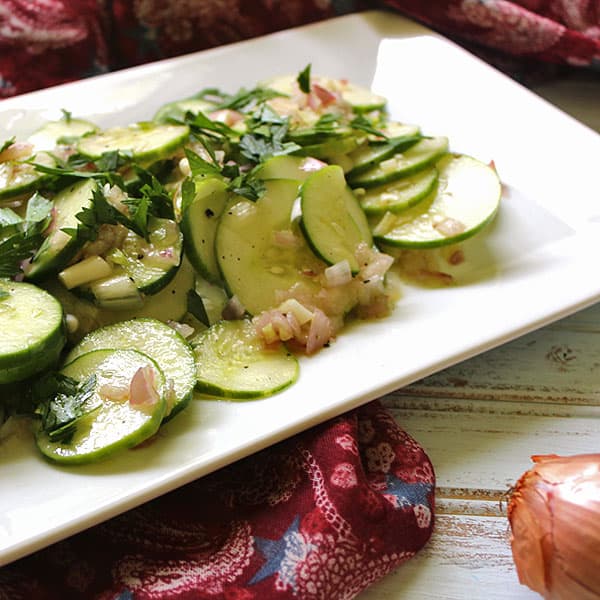 Cucumber Shallot Salad is the simplest preparation of summer's best. Delicious and addictive. You will want it all summer long!
In the summer, cooking becomes easier. My garden is producing tomatoes, cucumbers, peppers. All the herbs I could ever desire are growing like crazy in the huge, waist high garden box that my husband and kids built for me on Mother's Day the year I started Whole Food | Real Families. Our farmer's markets are full of everything we love to eat – from melons, to squash, to fresh shallots – which we put on or in everything.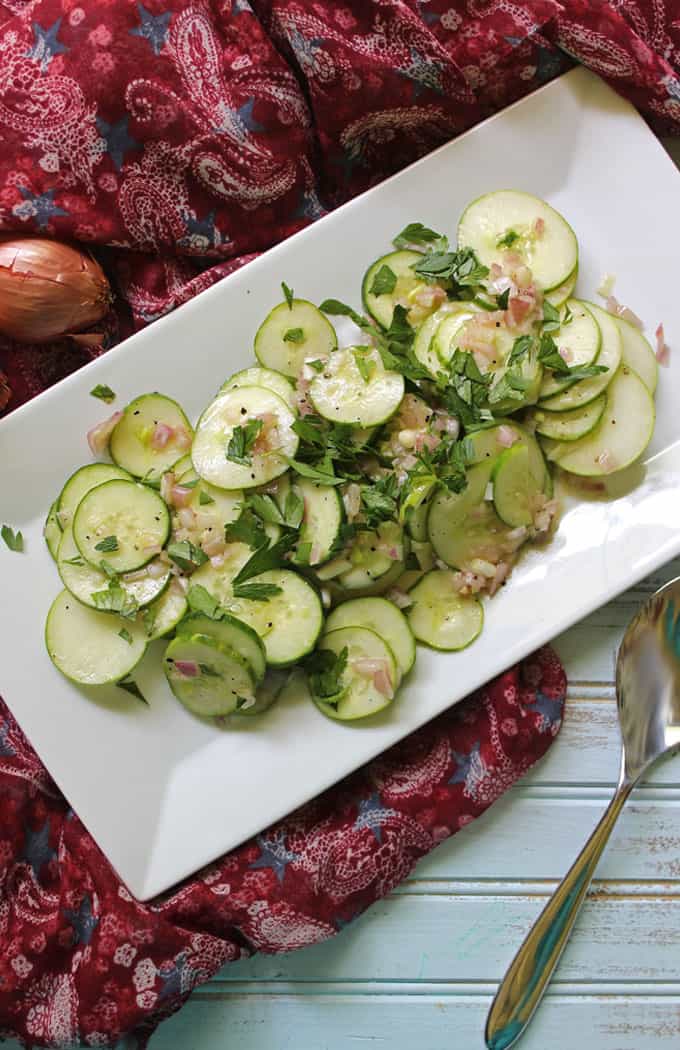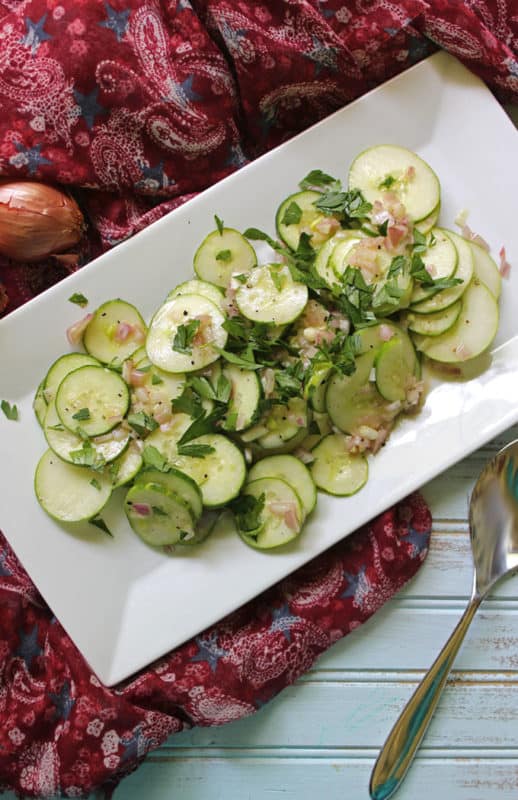 If you have never grown your own cucumbers, when they come in, they come in in piles! Stop by our house for dinner in the summer and you will likely see this Cucumber Shallot Salad on the table, even between meals as a snack. When the platter goes empty, my teenage daughter has been know to swipe bread through any leftover shallots so none get left behind.
Perhaps the best part of Cucumber Shallot Salad is there is no cooking involved, making things much simpler for the Chief Cook around here. It is a lifesaver on nights when I need some veggies on the table for dinner and I am short on time. But often in the summer, it is an addition to dinner no matter what is already planned because it takes just a few minutes to prepare.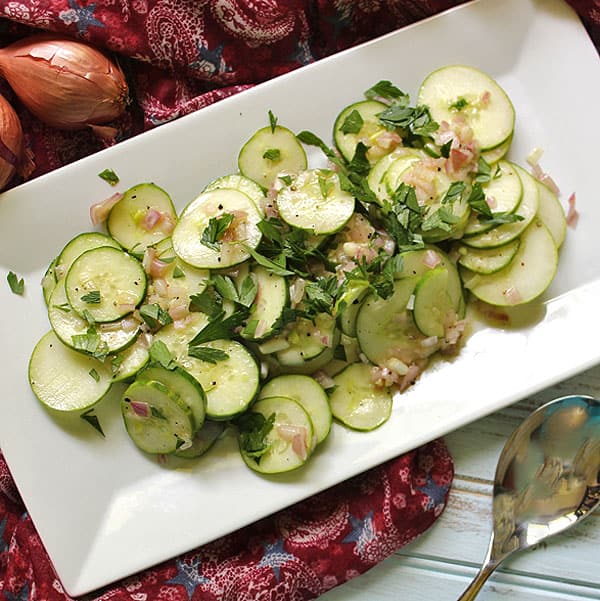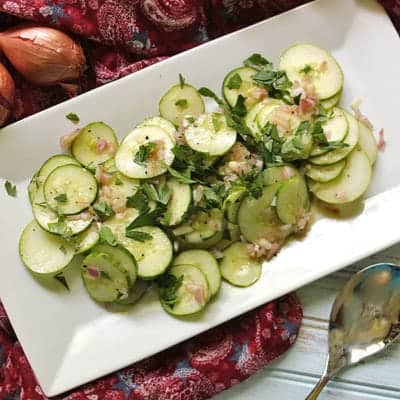 If you are looking for a way to incorporate more raw veggies into your dinner routine, this Simple Tomato Salad is a favorite – and also in regular rotation at our house. If you have a pile of cucumbers taking over your kitchen in the summer, Refrigerator Pickles are also very easy to make and enjoy! We love adding red pepper flakes so they are a little spicy!
But if you have a few minutes to cook, this Asparagus Mushroom Saute is out of this world. These Spiced Apples and Dates make my kids jump for joy. And this Awesome Sauteed Kale actually converted my family from kale haters to kale lovers!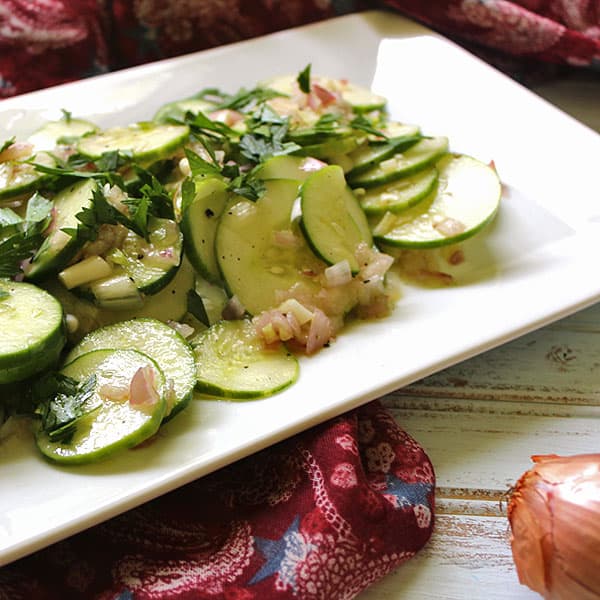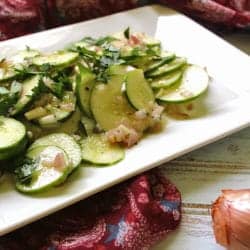 Cucumber Shallot Salad
Don't worry too much about measuring for this recipe. It is hard to mess up! Do everything to taste!!
Course:
Appetizers & Sides, Soup, Salad & Sandwich
Ingredients
3-4

cucumbers, cut 1/8 inch thick

1/2

cup

olive oil

1/4

cup

white wine vinegar

2

shallots, minced

kosher salt and black pepper to taste

1/4

cup

fresh parsley, chopped
Instructions
Slice washed cucumbers and pile them into a large bowl. Add olive oil, white wine vinegar, minced shallots and salt and pepper to taste. Toss with your hands to combine.

Cover the bowl and place it in the refrigerator for 20-30 minutes to let the flavors mingle. When ready to serve, top with a big pile of chopped parsley and enjoy!