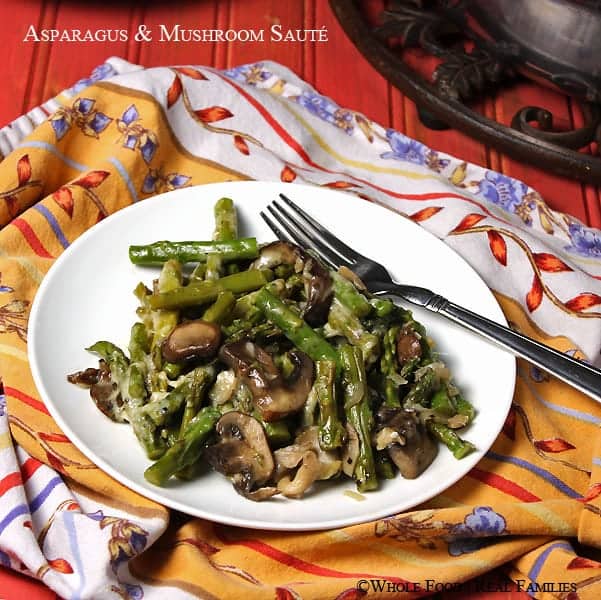 You have never eaten asparagus as richly flavored as this Asparagus and Mushroom Saute. So good you will want to eat this as a main dish instead of a side!
The minute spring comes, asparagus season is ON!!  Though you can generally buy asparagus year round in the grocery store, it is really only in season during the spring. Now is your opportunity to buy it fresh at your farmers' market and eat it non-stop for the next six weeks! Because we do most of our produce shopping from local sources, I desperately miss asparagus in the cooler months and always anticipate it's return when the warm weather comes.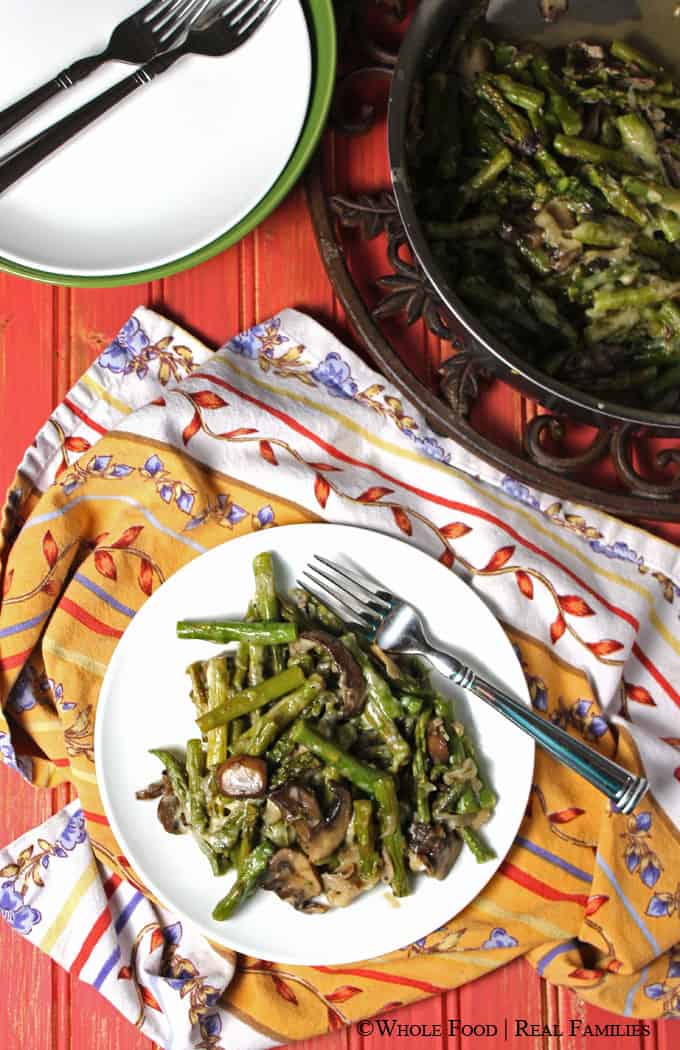 There really isn't a way I don't like asparagus cooked – as long as it is not stringy or mushy. But this Asparagus and Mushroom Saute is my favorite. The shallots and garlic permeate the already delicious asparagus and the mushrooms are just made to go in this dish. You have never eaten asparagus so richly flavored. Best part, it is fast and nutritious. And fast. So it is a perfect side for any meal – whether you are in a hurry on a weeknight and don't have time for fussy sides or are eating a main that takes a little extra effort and you just don't have enough attention span to keep up with a bunch of other dishes, this is one of those sides you will make over and over again.
Alternately, the asparagus and mushrooms are hearty and filling. It makes and excellent vegetarian meal over a bed of Quinoa with Onions and Pinenuts or Herbed Brown Rice. If you are of the vegan persuasion, just leave off the cheese and make sure your broth is vegetable based.
Need more easy sides? Try this Simple Tomato Salad, these Green Beans with Tomato Jam or my oldest daughter's favorite Pan Fried Okra.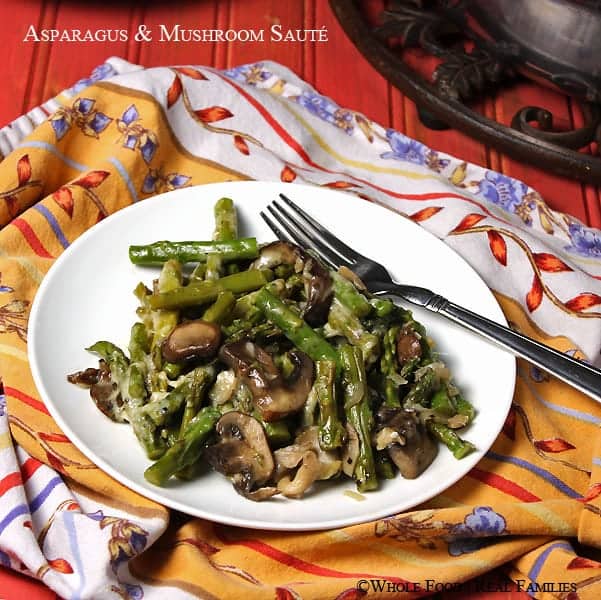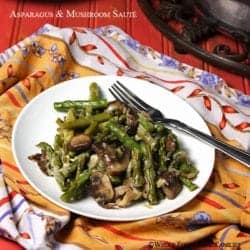 Asparagus & Mushroom Saute
This recipe is rich and delicious. My favorite side when asparagus is in season!
Course:
Appetizers & Sides, Main Dishes
Ingredients
1

pound

fresh asparagus, woody ends trimmed off

1

package

Mixed Variety Mushrooms (shitake, oyster, baby bella)

or just your favorite

3

shallots, peeled and sliced into rings

2-3

cloves

garlic, minced

2

tbsp

coconut or olive oil

1/4

cup

chicken or vegetable broth

1/2

tsp

red pepper flakes

or to taste

kosher salt and black pepper to taste

1/2

cup

Parmesan cheese, freshly grated

white cheddar also makes a good subsitute
Instructions
Heat oil over medium heat in a large saute pan, preferably one that can transfer to the oven. Wash and trim the asparagus and make sure mushrooms are clean. Peel and slice shallots and mince garlic.

When oil is shimmering but not smoking, add shallots and let them cook in the oil for 1-2 minutes. Add minced garlic and red pepper flakes and cook for an additional minute, stirring often to prevent sticking. Add broth, mushrooms, asparagus, salt and pepper and stir to combine. Cover the pan with a lid and let cook for 2-3 minutes to soften the asparagus.

Remove lid and stir well, cooking for an additional 2 minutes to allow the moisture in the pan to mostly cook off. Stir occasionally.

When there is little liquid left in the pan, top with grated cheese. The cheese will melt because the pan is still hot and this dish is ready to eat right now! However, if you like the cheese to get a little browned and are using an oven safe pan, transfer under the broiler for a minute or two. Serve hot and enjoy!!