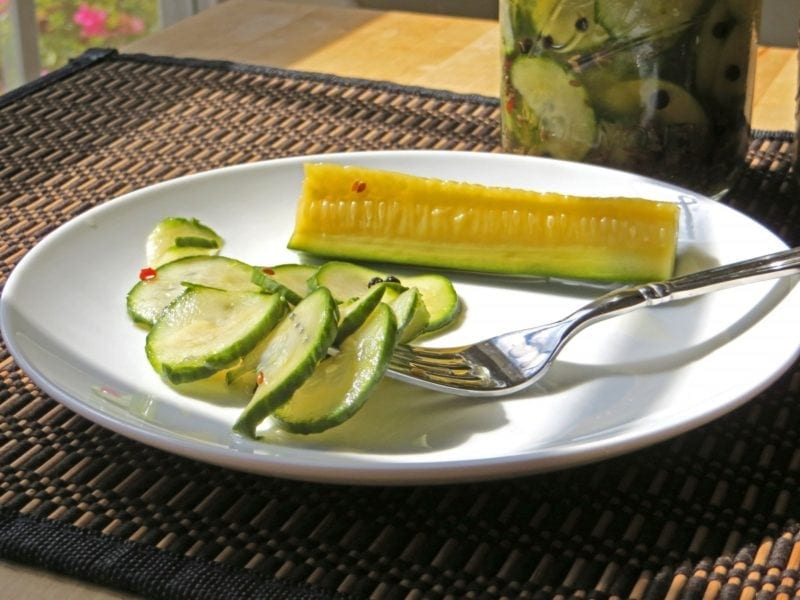 I will never buy pickles in a store again. Ever. Never ever. Refrigerator pickles are the easiest thing in the world to make and are so DELICIOUS! The best part of homemade refrigerator pickles is that you can make them the way you like them. I love garlicky dill pickles, so I add whole cloves of garlic. I also like spicy food so in a few of the jars, I add some hot peppers or pepper flakes. So experiment and decide what you like best. If you come up with something really tasty, send me a message because I want to try it!
These refrigerator pickles are a stellar solution for the snack attack.  If your house is anything like mine, processed food is gone from the pantry and I am already feeding everyone 3 meals a day from scratch. Occasionally someone wants a snack and I am left scratching my head. Hmmm… I haven't made any snacks this week. (Which is inevitably followed by… "But MOM!!!!") Today, I can happily say – "there are pickles in the fridge!" (There are other days that I have said –  "get a piece of fruit" or "you will live until dinner" – especially on the days that I ate all the pickles before they got home.)
Keep in mind these pickles are not traditionally processed, so they need to be kept in the fridge (hence the name, refrigerator pickles). You will also need to eat them within about 3 weeks. That has never been a problem for us. We fight over them. This is a terrific recipe to throw together for a picnic or a party because the cucumbers start to taste like pickles within a couple of hours, though they are best if you let them sit in the fridge overnight.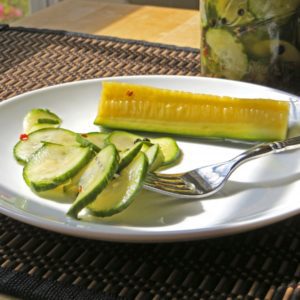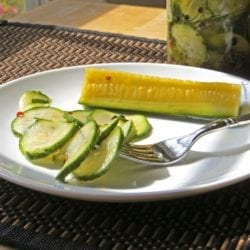 Refrigerator Pickles
Course:
Appetizers & Sides, Snacks & Treats
Ingredients
Pickle Brine
1/2

cup

distilled white vinegar

1/4

cup

filtered water

1

tbsp

kosher or pickling salt
Per 1 liter jar of pickles
8-10

Pickling (Kirby) cucumbers, ends cut off and discarded

whole, sliced into spears, or cut thin into coins

2

tbsp

dill seeds

1

tbsp

whole black peppercorns

3

cloves

garlic (peeled but still whole)

whole peppers, red pepper flakes, coriander seeds, the possibilities are endless
Instructions
Add cucumbers, dill, peppercorns and garlic (plus any additional favors) to a 1 liter jar. Combine pickling brine in a second jar and shake until salt is dissolved. Pour brine over pickles. Close jar and turn gently up and down to distribute spices into the brine. Put it in the refrigerator. Every time you go to the fridge over the next few hours. Gently turn jar up and down to redistribute spices. Cucumbers will taste like pickles in a few hours but taste best after spending the night in the fridge. Eat cold and Enjoy!!!