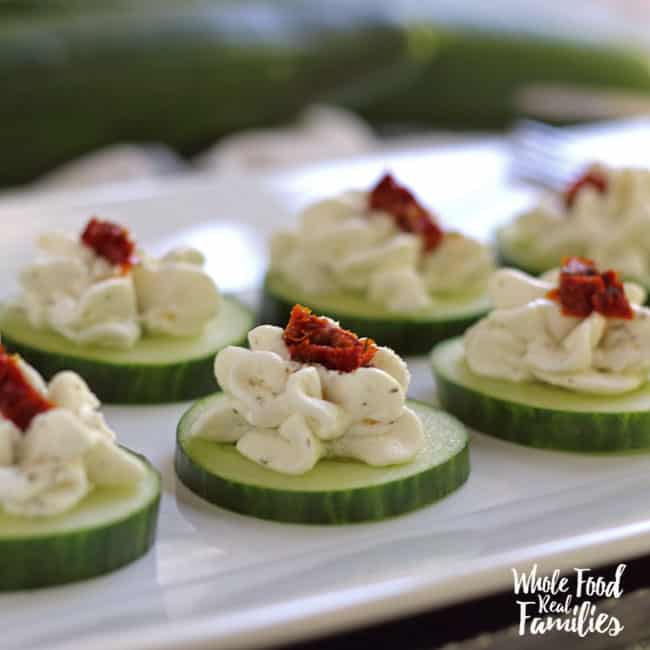 Cucumber Bites with Sundried Tomato Ribbons are perfect for next time you don't want to show up empty handed for dinner. Or need a simple appetizer to nosh on when guests pop by.
There are times when you just don't feel good about showing up empty handed. For example, when my neighbors invite us over to a barbeque. Or we're invited for dinner with work friends for the first time. Maybe it is my southern upbringing, but when you know someone is going out of their way to be kind to you and your family, showing up with something in your hands to contribute to the table just feels right.

It doesn't have to be complicated. In fact, it can be quite simple like these Cucumber Bites with Sundried Tomato Ribbons. But showing that you have considered the work that goes  into having you over just feels right. And what says gratitude better than a bottle of your favorite wine and an appetizer to nosh on while dinner is cooking.
These are really so easy to prepare! The hardest part is piping on the goat cheese and herb mixture. But even that is made easy if you have a piping bag or sandwich bag. If you want to make the cute little flowers, the piping bag is the way to go. You can chose the tip based on what you want them to look like. I assure you, I have made these by nipping the edge of a plastic sandwich bag to pip in the goat cheese and nobody has ever complained.
On a side note: I had a hard time photographing these because my kids kept walking off with them. I have tried again and again to get my small kids to eat cucumbers. Apparently I had not piped in little flowers yet. That was the missing link. Apparently goat cheese flowers were a deal maker. Since then my 3 year old has been snagging the cucumbers off the counter and eating them as a snack. Not sliced – she eats it whole. A little weird, yes. But I can live with it. I now keep cucumbers beside the bananas on the counter for her to eat whenever she wants to. No goat cheese flowers necessary.
By the way, if you are looking for a way to use up any leftover cucumbers, this Cucumber Shallot Salad is one of my very favorite things to eat in the summer. Easy-peasy. But so delicious!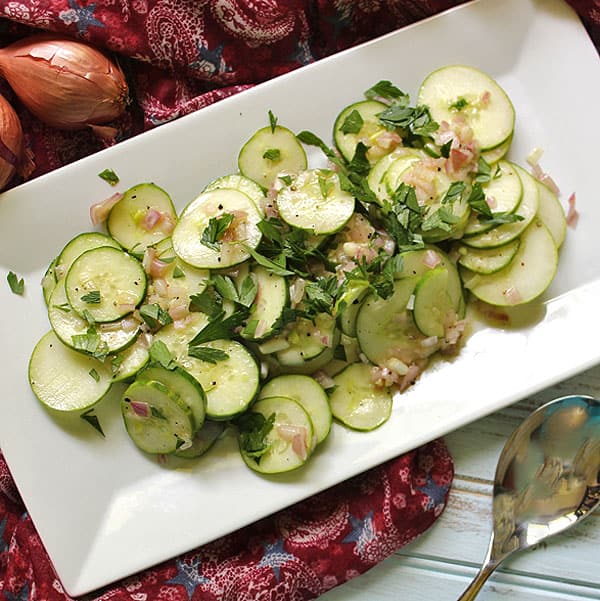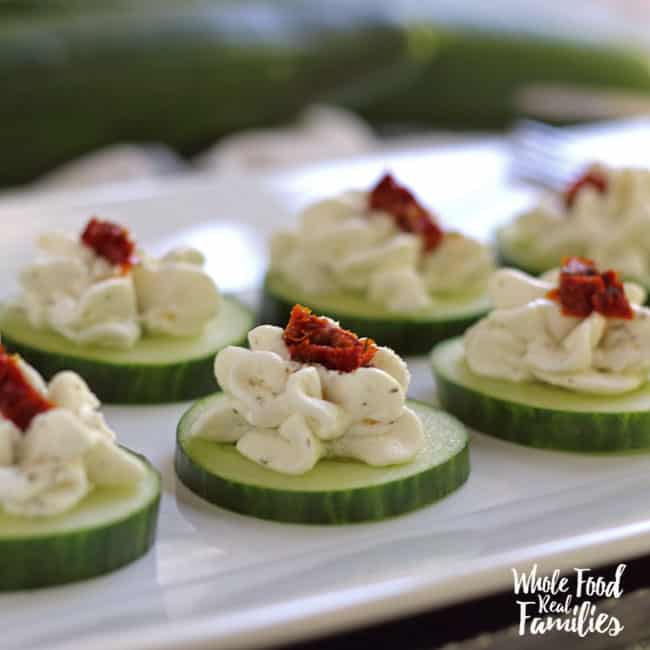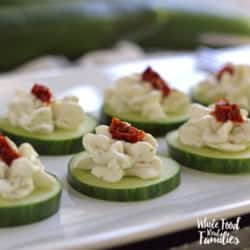 Cucumber Bites with Sundried Tomato Ribbons
Ingredients
8

oz

pkg of goat cheese

room temperature

1

tbsp

dried dill

3

garlic cloves

minced finely

1/2

tsp

Kosher salt

2

English cucumbers

sliced into coins (If you use slicing cucumbers, you will need 3-4 of them.)

1

jar or package of marinated Sundried Tomatoes
Instructions
In a bowl, whisk goat cheese, dill, garlic and salt with a hand mixer until smooth and well combined.

Slice cucumbers into coins.

Pipe goat cheese mixture onto cucumber coins. (It is helpful to use a frosting bag and tip but you can also scoop the mixture into a plastic sandwich bag, nip the edge with a pair of scissors and pipe goat cheese onto the coins by squeezing the bag gently.)

Thinly slice, marinated sundried tomatoes into ribbons.

Top the goat cheese with the sundried tomato ribbons and serve immediately!