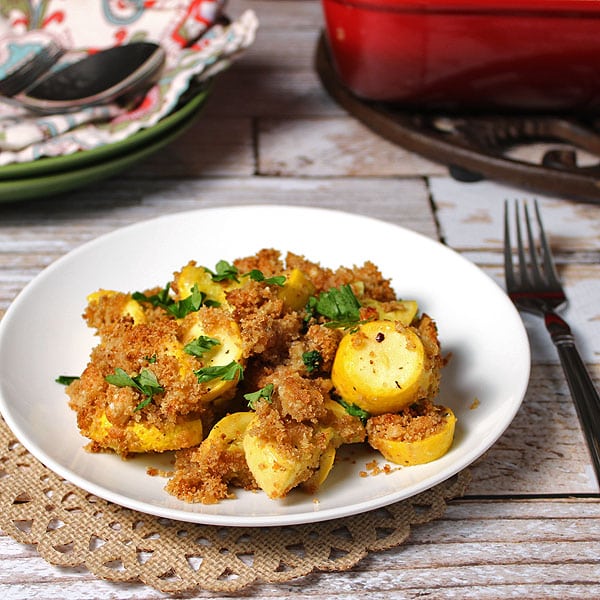 Summer Squash Gratin is the first dish you are going to make every time the weather turns warm. As soon as the squash come into season, buy a big bag of them and RUN to your kitchen!
Nothing is more exciting at the beginning of spring than seeing the first baskets of warm weather vegetables at the farmers' market. I love turnips, beets and cabbage but I am so ready for squash, fresh cucumbers and all manner of fruit. I'm lucky because I live on the Georgia coast, our warm weather comes sooner and generally lasts longer than most everywhere else – giving us an amazingly long growing season. Last weekend, I stumbled on the first squash of the season while other parts of the country are still shoveling snow off their driveways.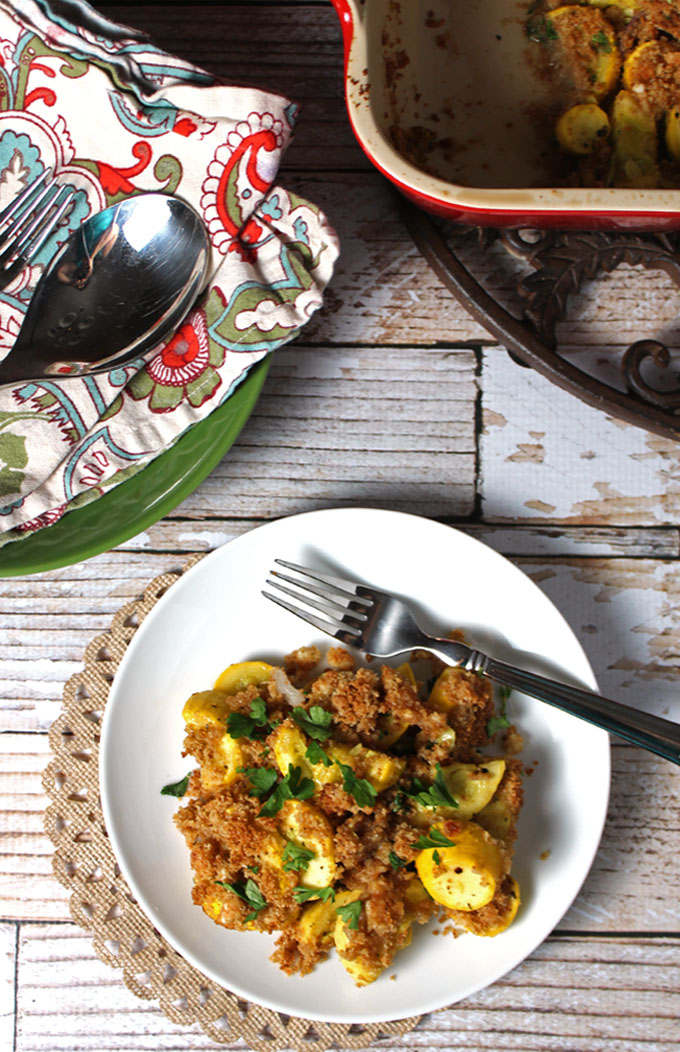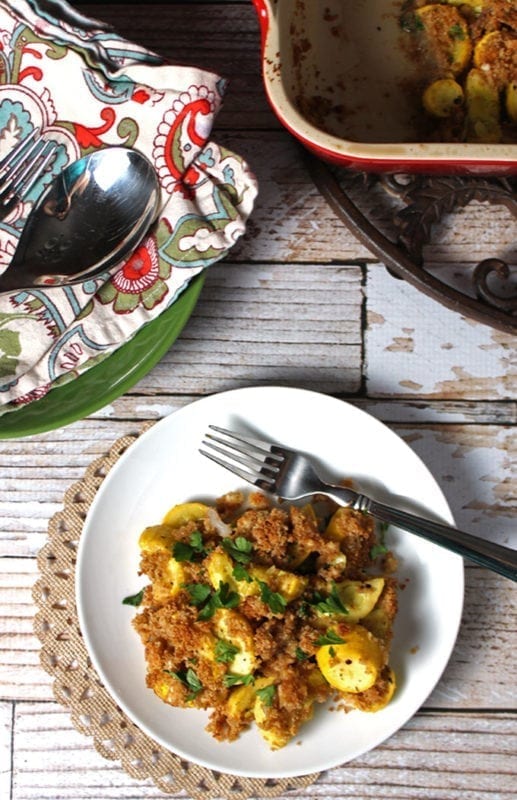 I usually use a variety of summer squash in this Summer Squash Gratin for a beautiful presentation. But my zucchini was otherwise occupied in a different recipe that you will see on a different day. So feel free to mix it up or just use your favorites because you know you can get your kids to eat them! This is a flexible recipe that I encourage you to make your own. I promise it is delicious!
I use whole wheat bread crumbs that I make myself rather than the store bought variety. I keep a bag in my freezer to catch odds and ends of bread that doesn't get eaten. Then stick it in the food processor and pulse to make bread crumbs. It works really well with this recipe because you will already be pulling out your food processor so you can do it all at once. Freeze any leftover breadcrumbs for another day.
I tried this recipe a couple of different ways before stumbling on this version. As much as I love squash, it releases a lot of water while cooking, making the breadcrumb topping mushy if you are not careful. This recipe roasts the squash in the oven before adding the topping, allowing much of the water to cook off but still leaving the squash firm and moist. Adding the gratin topping after the squash is partially cooked allows the squash to finish cooking while the topping turns a beautiful golden color. Keep in mind the whole wheat bread crumbs will make the gratin a little darker color than traditional gratin but it will taste fantastic!
If you plan to have leftovers, it works best to leave it in the original dish. If you mix the squash and gratin topping together and refrigerate it, the moisture from the squash will turn the crunchy topping soft. It will still taste good but won't be like the original dish. If you don't stir them all together, just slip the original dish back into the oven until warmed through. But don't plan to have leftovers, this will turn even a squash skeptic into a squash lover!
Looking for more summer vegetable recipes?! This Asparagus Mushroom Saute is the best you have ever tasted. And you are going to want this Cucumber Shallot Salad every day for every single meal.
Pin it for Later!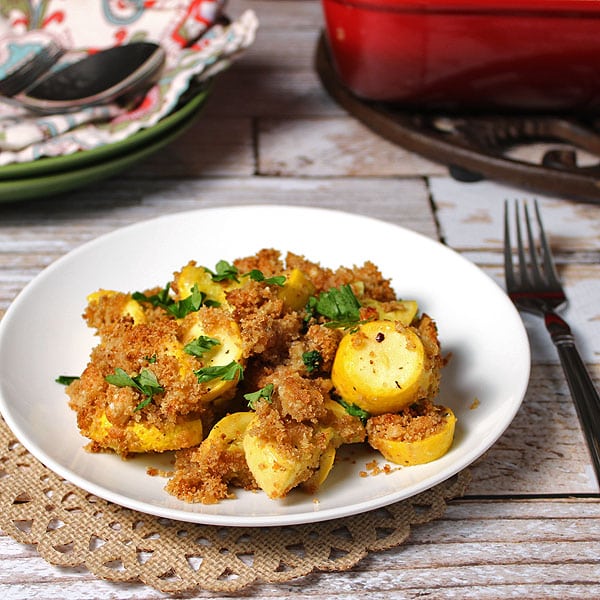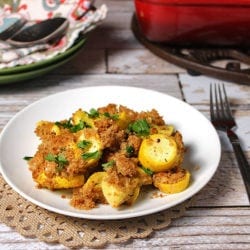 Summer Squash Gratin
Course:
Appetizers & Sides
Ingredients
For the Summer Squash
8-12

medium

summer squash

I usually use yellow crooked neck squash and zucchini

1

tsp

kosher salt

1/2

tsp

pepper

1/2

tsp

dried Italian Seasoning

1/4

cup

olive oil

enough to evenly coat all squash

1/2

cup

onion, diced
For the Gratin Topping
1

cup

whole wheat breadcrumbs

1/2

cup

Parmesan cheese, roughly chopped

6

tbsp

butter, cold

1/2

tsp

dried Italian Seasoning
Instructions
Preheat oven to 425 degrees. Wash and remove the ends of all squash. Slice into 1/4 inch coins.

Toss squash with olive oil, salt and pepper, 1/2 tsp of Italian Seasoning, and diced onion. Arrange in an 11x13 baking dish and bake for approximately 20 minutes, stirring the squash about halfway through cooking. (Adjust time for the amount of squash you are cooking.) When squash is firm but fork tender, remove from oven. Much of the liquid released during cooking should have cooked off.

While squash is in the oven, combine whole wheat bread crumbs (or give leftover bread a whirl in the food processor to make bread crumbs), Parmesan Cheese, cold butter, and Italian Seasoning in the food processor until the mixture is well combined.

When you remove the precooked squash from the oven, sprinkle the breadcrumb mixture evenly over the top and put the squash back in the oven for 15 minutes or until the gratin topping is golden brown on top. Enjoy!