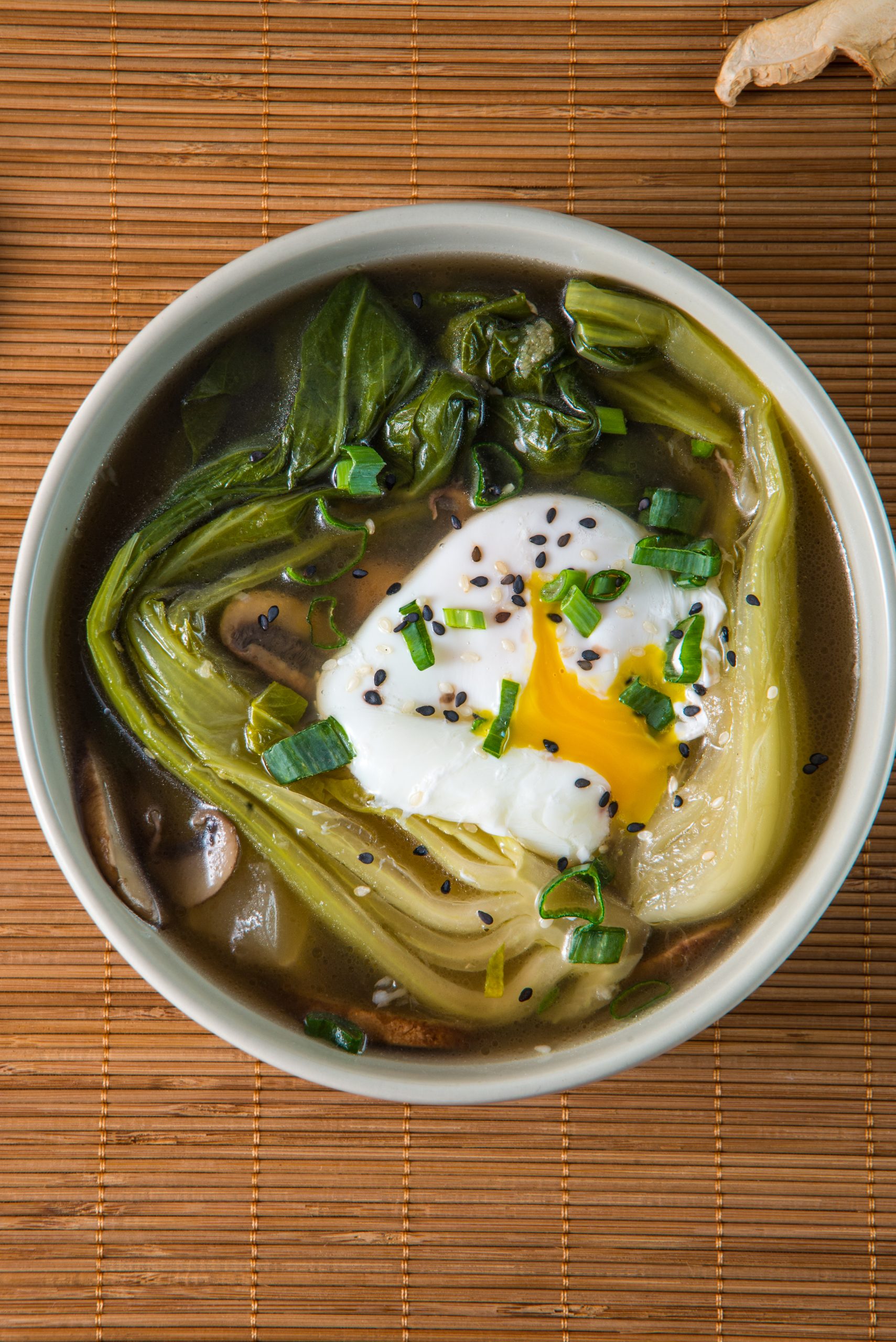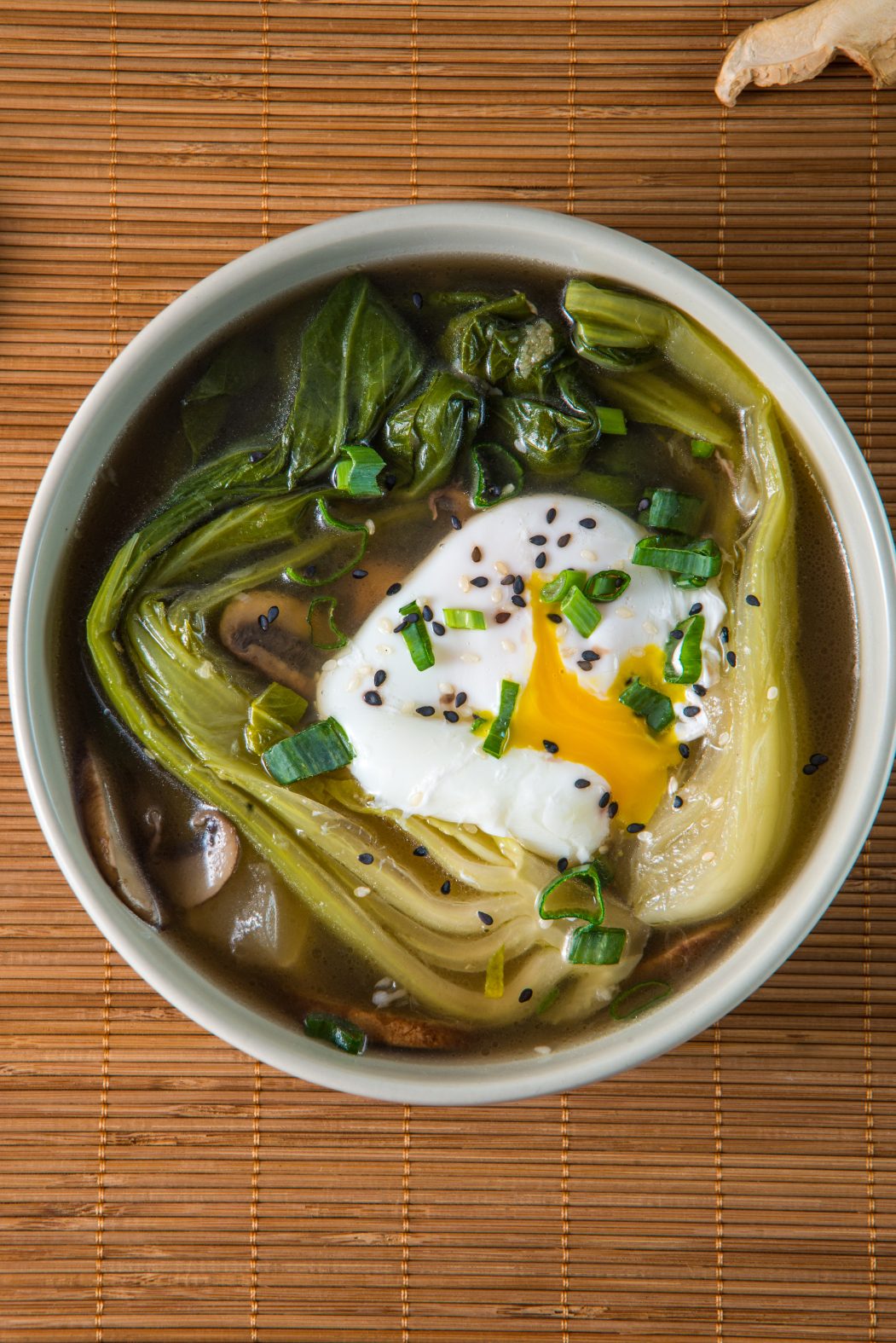 Bok choy soup is the ultimate comfort food, full of flavorful ginger, onions, and garlic! While taking only 25 minutes to make, this soup is a flavorful but light weeknight meal.
Bok Choy Soup
Bok choy soup is a healthy, yet delicious asian dish full of vegetables like mushrooms, onions, and of course, bok choy. This soup gives you your daily serving of veggies and has healthy anti-inflammatory properties plus vitamins and antioxidants to help your immune system.
This recipe is versatile. You can add proteins like poached eggs, chicken, and shrimp or leave them out altogether for a Vegan variation. Bok Choy soup also stores and reheats easily for next-day lunches or dinner.
Looking for other asian-inspired recipes? Try these recipes for pork katsu, beef chow mein, szechuan chicken, or cauliflower fried rice!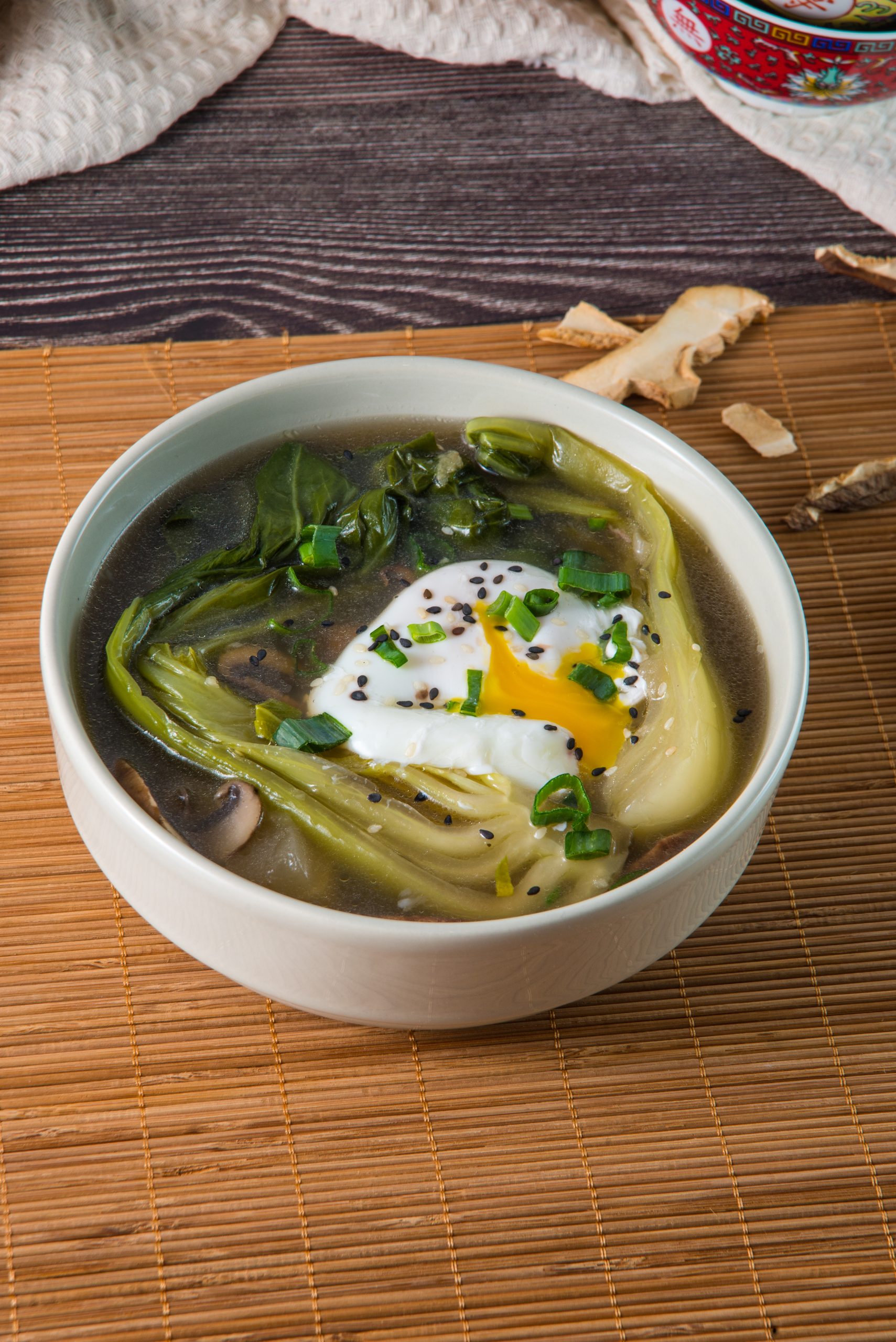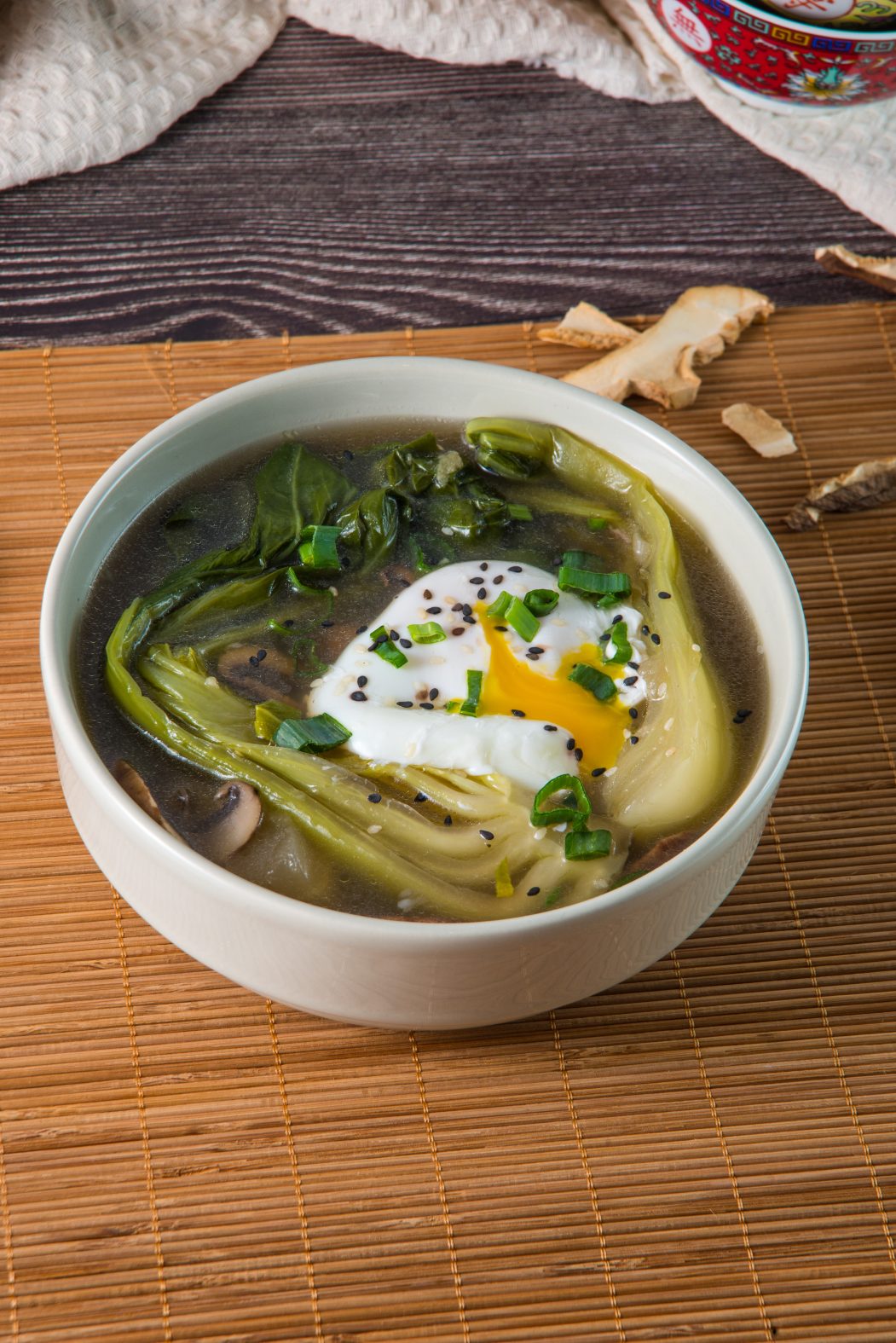 Why You will Love this Recipe
Can be made vegetarian or vegan– switch out the chicken broth for vegetable broth!
Quick recipe– This dish only takes 25 minutes to prepare.
This soup is full of vitamins, like potassium and calcium!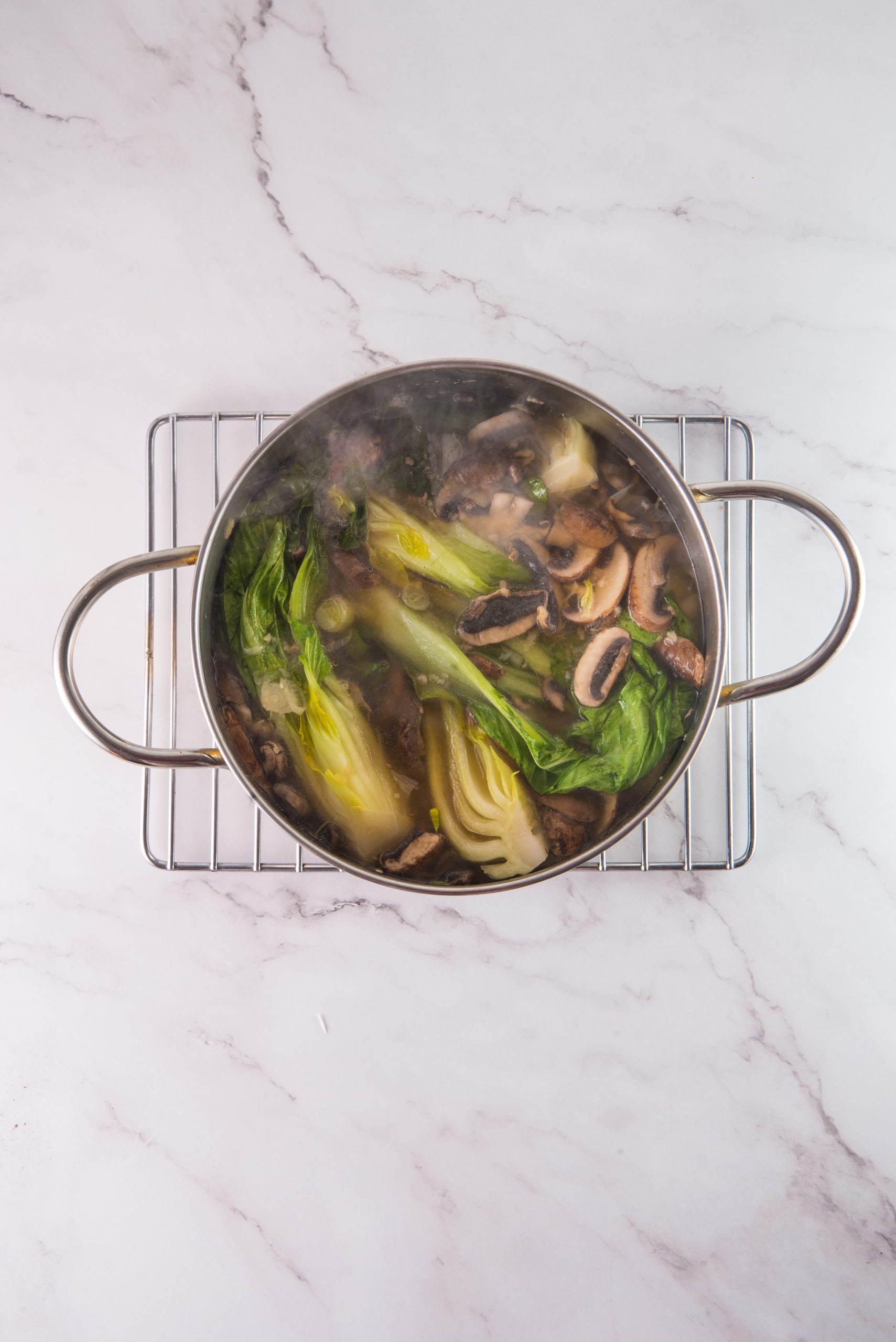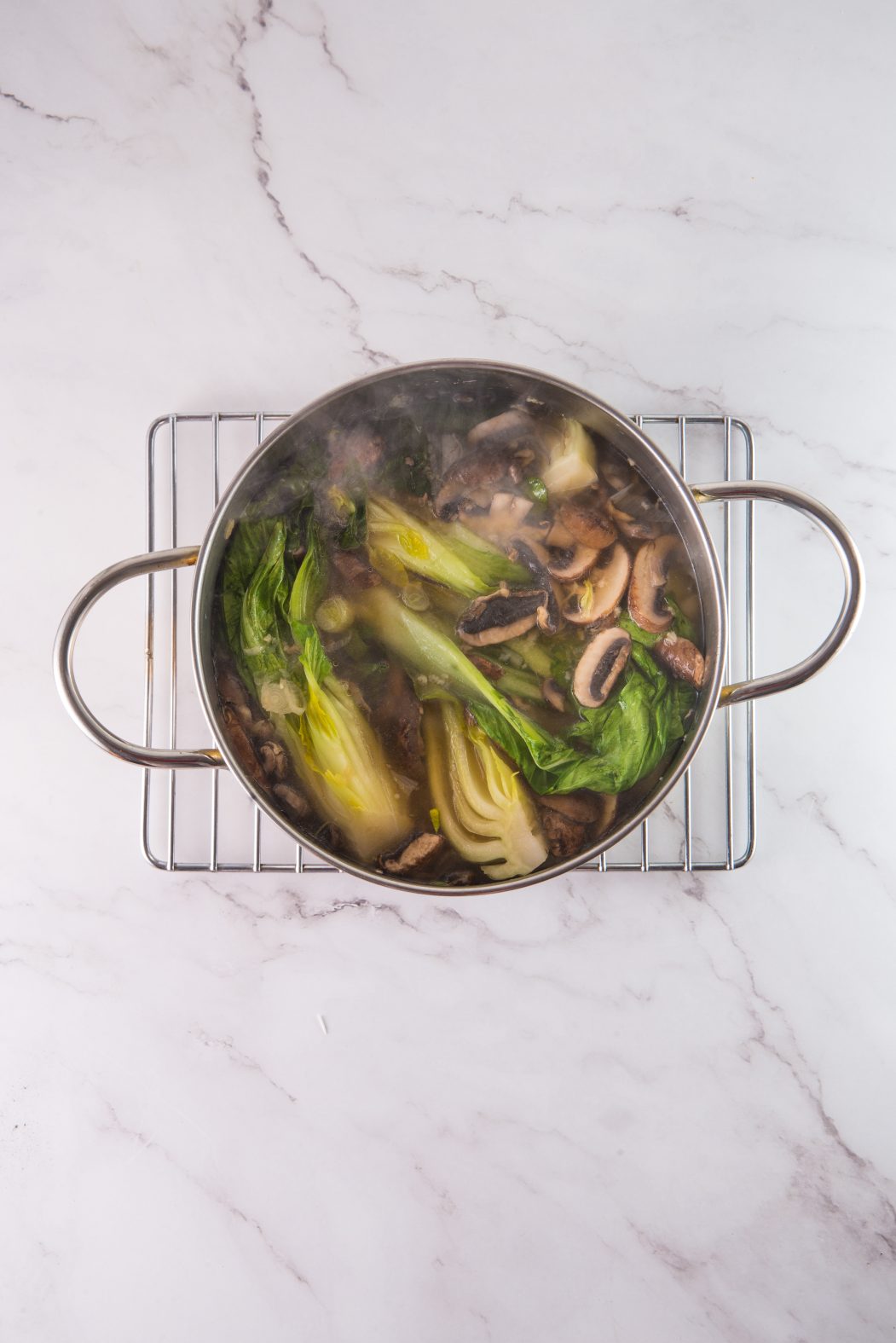 How to Make the Perfect Bok Choy Soup
Prepare your veggies. Chop mushrooms, green onions, garlic cloves, ginger, and bok choy. I recommend crushing your garlic— this allows the flavor to really soak in! For the mushrooms, they can be thinly sliced as wholes, or cubed, depending on your preference. The entire stalk of bok choy can be used in this soup, but you'll want it small enough where it will fit into your intended bowls. First cook the ginger, garlic, and onions until fragrant in a pan with sesame oil– the other veggies will be added later.
Add your broth. Pour in your chicken broth and soy sauce to the same pan as your ginger, garlic, and onions, and bring it to a boil. Store bought broth will work just fine, but homemade will taste even better! Be careful not to over boil your soup– this can lead to the broth separating. Then, add the rest of your veggies.
Simmer. Simmer your soup for 5-6 minutes, or until the bok choy is tender. You will know the bok choy is ready when you can poke a fork through the stalk without too much resistance. Be careful not to overcook, or the leaves of the bok choy will become soggy!
Serve. Pour into four bowls. Optionally, garnish with a poached egg for extra protein, green onion, and sesame seeds!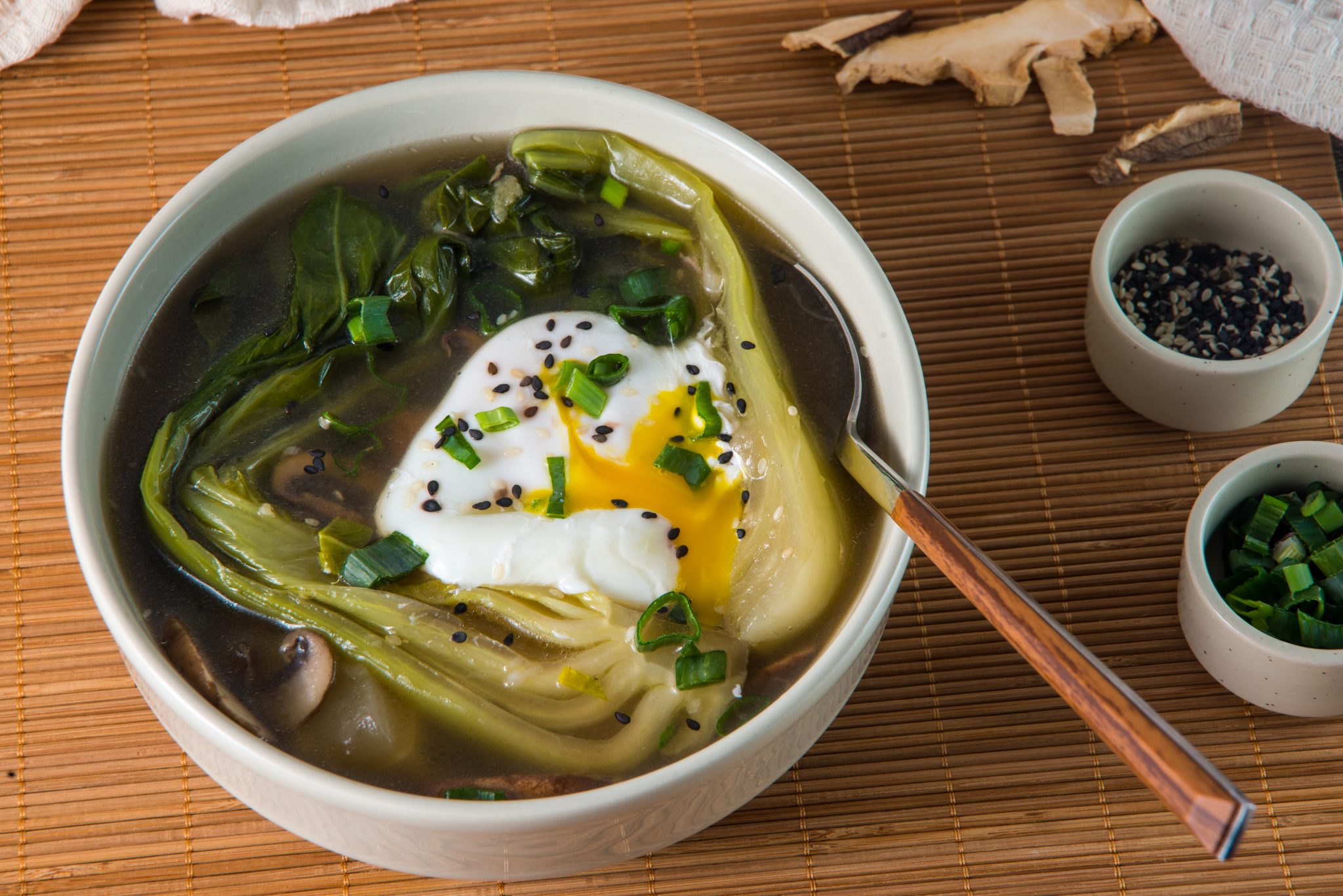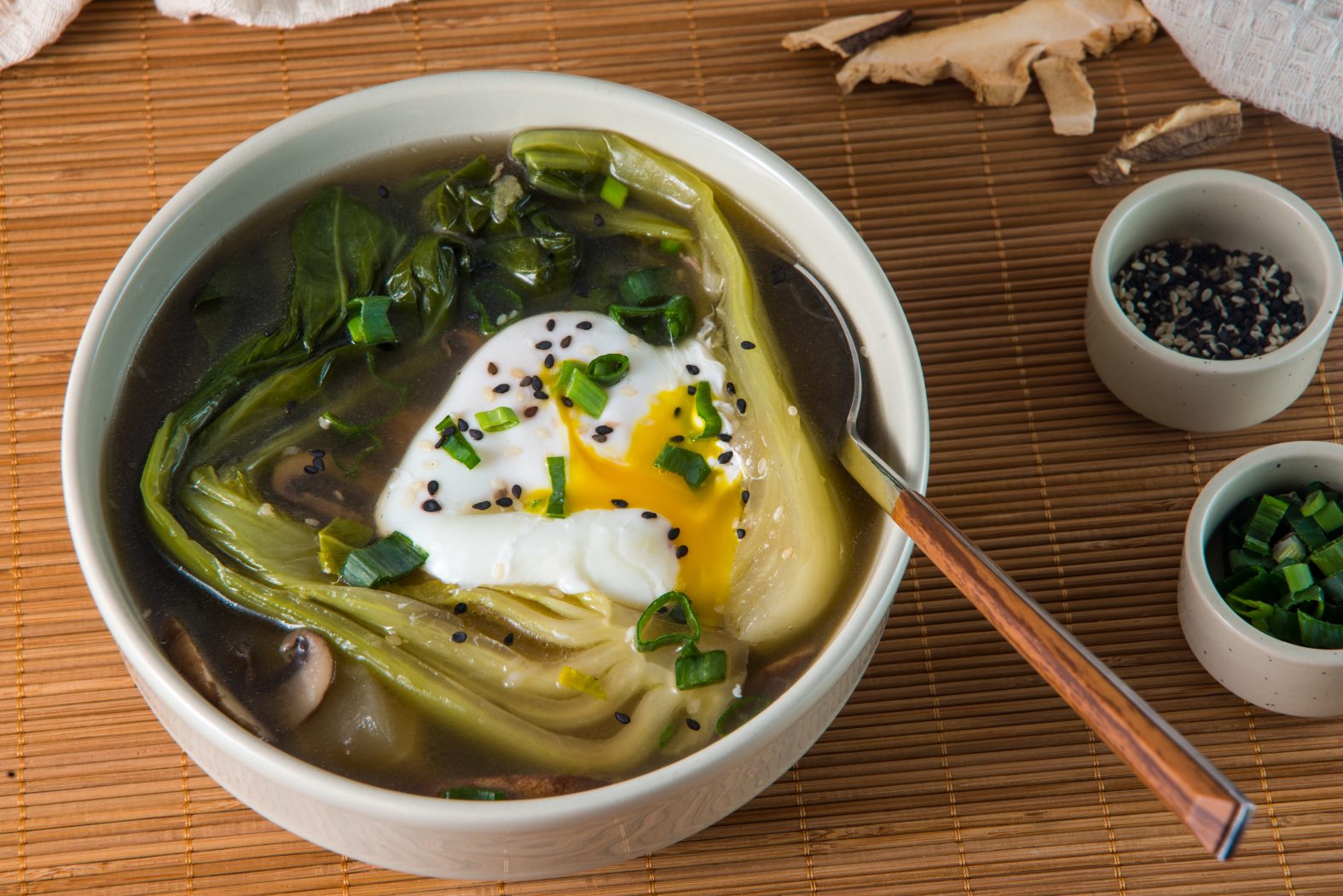 Pro Tips for making Bok Choy Soup
Don't overcook your veggies.
Bok choy can easily become soggy if cooked for too long, so keep an eye on that pot! In order to avoid soggy bok choy, stand the vegetable upright in the pot, cooking the stems slightly longer than the leaves!
Adjust for saltiness.
You can control how salty your soup is by adjusting the amount of soy sauce to taste. Additionally, you can opt for sodium-free broths if you aren't a fan of salty soups!
Keeps for up to 7 days.
Stored in the refrigerator in an air-tight container, this soup can keep for up to 7 days, perfect for heating up for lunch!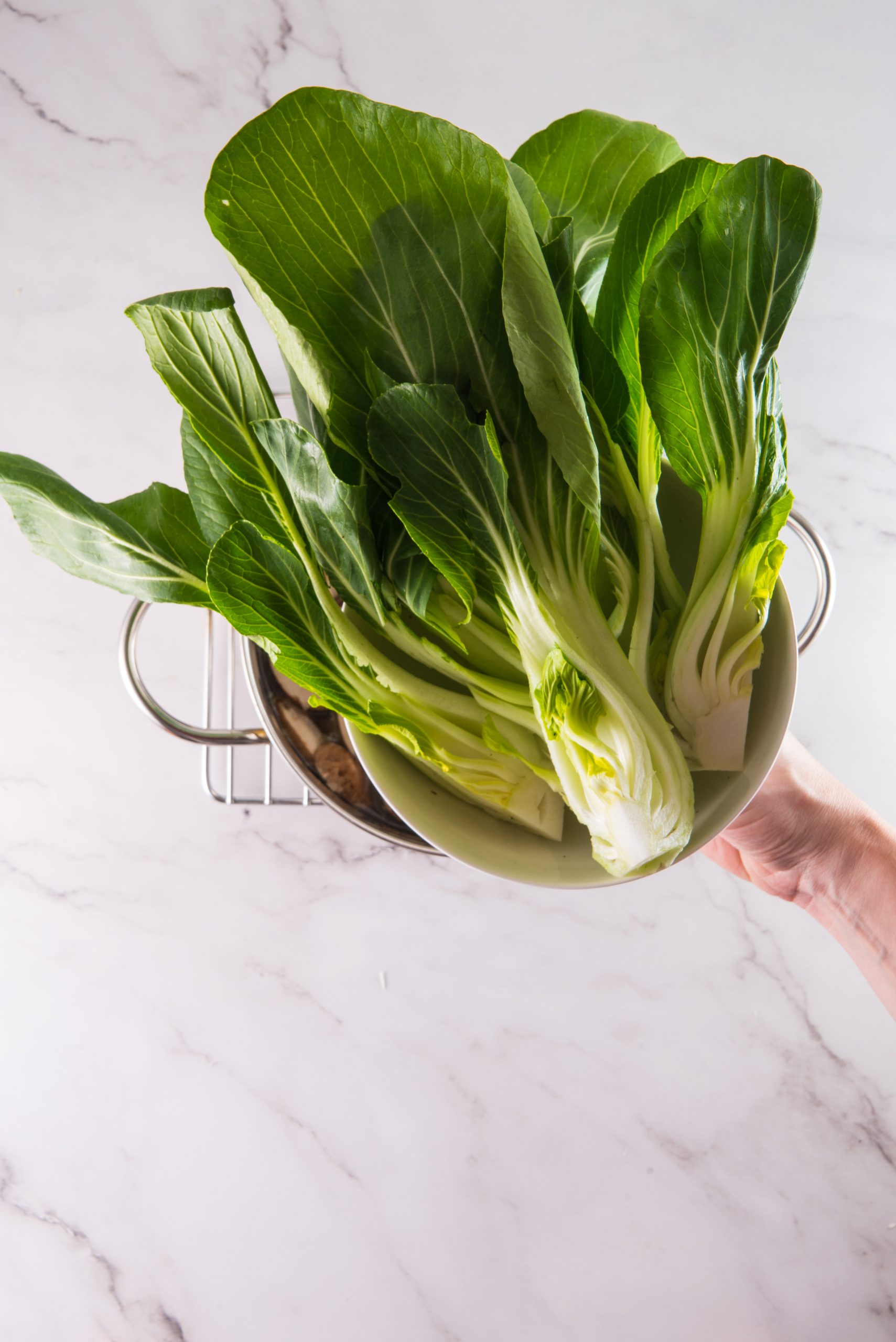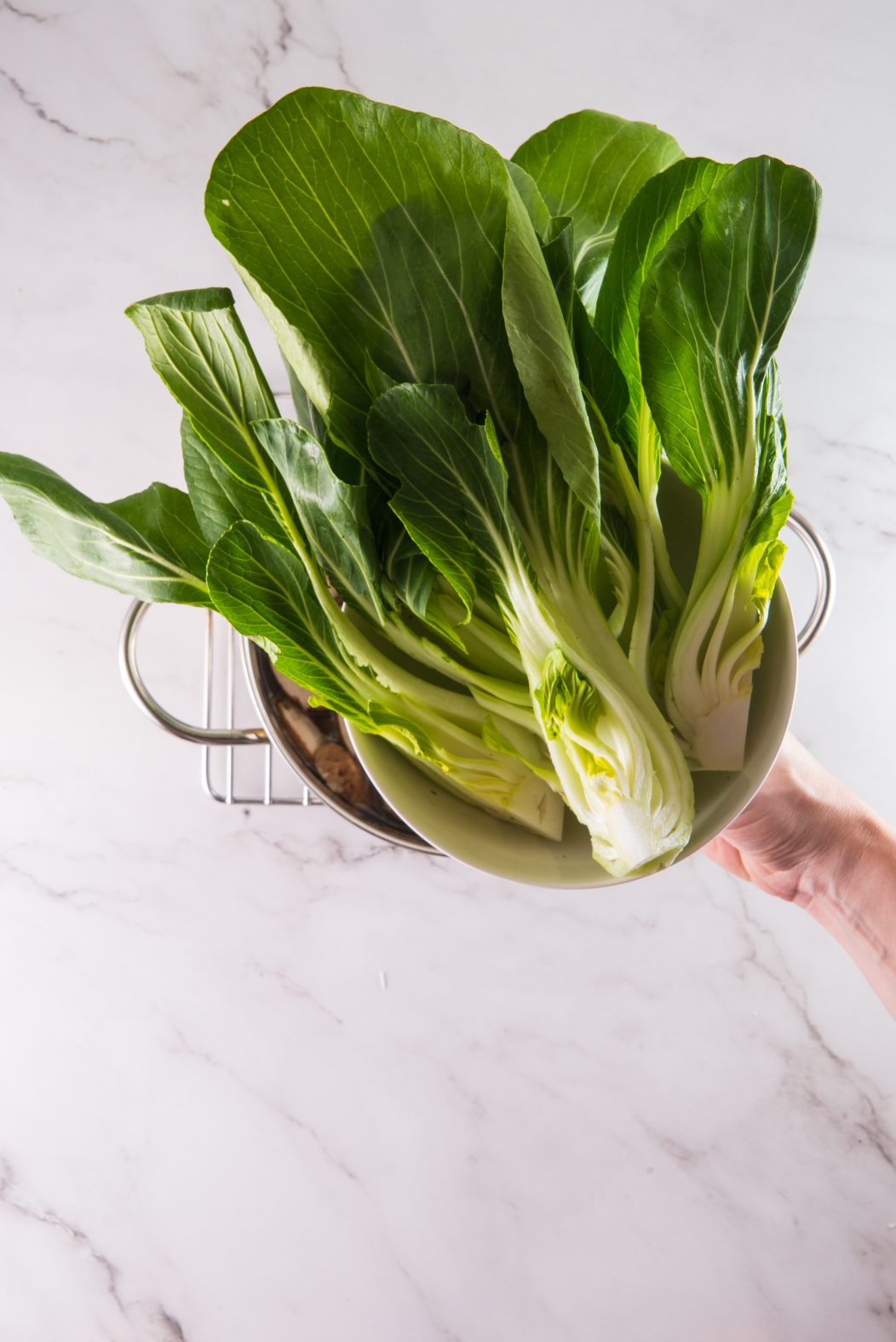 Key Ingredients and Substitutions for Bok Choy Soup
Bok choy: Similar to cabbage, this asian veggie is the core element of this soup! Be sure to thoroughly rinse and chop your stalks, getting rid of any yellowing leaves. If you don't feel like using bok choy or can't find it at your grocer, you can use yu choy or Chinese cabbage. You may need to go to your city's Asian market for this veggie.
Chicken broth: For a vegetarian or vegan twist, this ingredient can easily be swapped for vegetable broth! If you are going vegan, the egg garnish in the soup can be swapped for a vegan egg substitute, which can be cooked according to the directions on the box before being added to the top of your soup.
Green onions: This onion adds a brighter, more peppery flavor to your soup! They also create a more fragrant soup and colorful one. Green onions can be swapped for shallots or yellow onions– however, yellow onions will be less peppery.
Frequently asked Questions about Bok Choy Soup
Is the entire bok choy stalk edible?
Yes! Everything from the bulb to the stalk is edible, and can be used in your soup. The stem will have a more bitter taste, similar to that of celery, while the leaves will taste more similar to cabbage. You can leave out the stalks of the bok choy if you do not enjoy the taste, but many people find it adds to the flavor palette of the soup!
What can I add to bok choy soup?
Anything you want! Many people enjoy eggs, sesame seeds, extra garlic, or even tofu to add some extra protein and vitamins to the meal. However, if you are adding tofu to the soup, I recommend searing it first in a pan with oil in order to ensure that it is fully cooked. Additionally, make sure your tofu is silken, rather than extra firm, as this texture will blend better with the soup. You can also try red pepper flakes for some extra kick.
How long does bok choy keep?
This soup keeps for about a week, and should be stored in an airtight container in the refrigerator. In order to reheat, use a microwave or simmer over the stove. Once the bok choy in the soup begins to look yellow or brown, the soup has gone bad.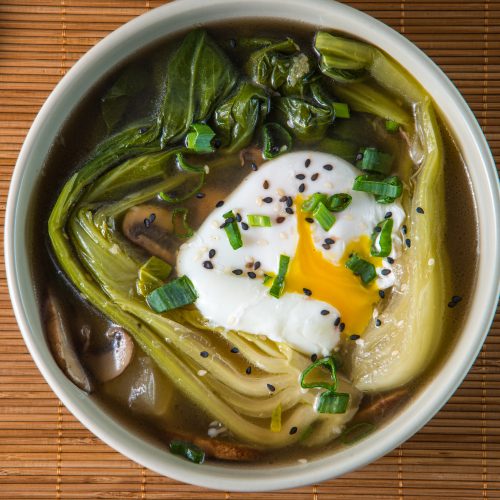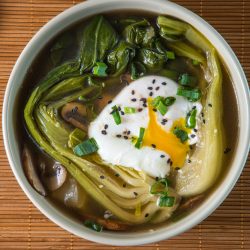 Bok Choy Soup
Bok choy soup is the ultimate comfort food, full of flavorful ginger, onions, and garlic! While taking only 25 minutes to make, this soup is a flavorful but light weeknight meal.
Course:
Main Course, Main Dishes, Soup
Cuisine:
asian, Mediterranean
Keyword:
Bok Choy, Bok Choy Soup, soup
Ingredients
14

oz

cremini mushrooms

sliced

2

medium

green onions

sliced

2

clove

garlic cloves

minced

24

oz

bok choy

 (depending on size, you'll need to chop them in halves or quarters)

6

cup

chicken broth

2

tbsp

soy sauce

1

medium

ginger piece

about 2 inches long, shredded

1

tbsp

sesame oil

white sesame seeds to serve

one poached egg per bowl
Instructions
Add sesame oil, sliced green onion (white part only), minced garlic, and shredded ginger. Stir for one to two minutes until fragrant.

Carefully add chicken broth and soy sauce. Bring it to a boil.

Add sliced mushrooms and chopped bok choy. In my case, each bok choy weighed 7 ounces, so they're big ones, and I chopped them in quarters.

Simmer for 5-6 minutes or until bok choy is tender. Taste saltiness and adjust to taste by adding more soy sauce or sea salt.

To serve: divide your soup into four individual bowls and garnish with sliced green onions and sesame seeds on top.
Recipe Notes
Tips
Prep and clean the bok choy: Rinse the bok choy thoroughly under cold water to remove any dirt or debris. Trim off the tough ends of the stalks and separate any yellow leaves.

Choose a flavorful broth: Use a high-quality vegetable or chicken broth as the base for your soup. If using store-bought broth, opt for low-sodium versions to have better control over the overall saltiness of your soup.
Recipe Notes
Bok choy soup is a comforting meal where the bok choy leaves provide a refreshing crunch while the stalks offer a delicate texture. The broth, infused with garlic, ginger, and onion, creates a light and fragrant base. Sliced mushrooms add a velvety richness to the soup, complementing the bok choy's subtle sweetness. Add a poached egg before serving for an ultimate nourishing soup.
Nutrition Facts
Bok Choy Soup
Amount Per Serving
Calories 107
Calories from Fat 45
% Daily Value*
Fat 5g8%
Cholesterol 7mg2%
Sodium 1929mg80%
Potassium 990mg28%
Carbohydrates 11g4%
Protein 8g16%
Vitamin A 7682IU154%
Vitamin C 79mg96%
Calcium 221mg22%
Iron 2mg11%
* Percent Daily Values are based on a 2000 calorie diet.