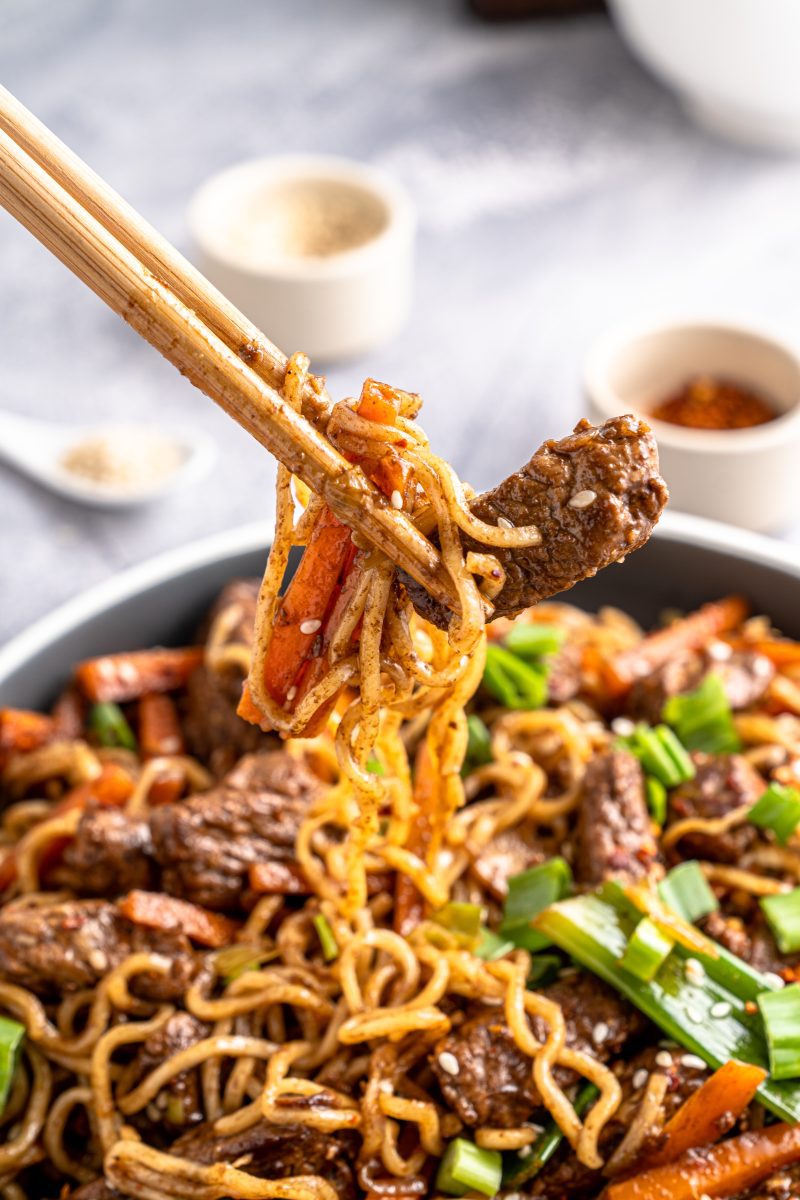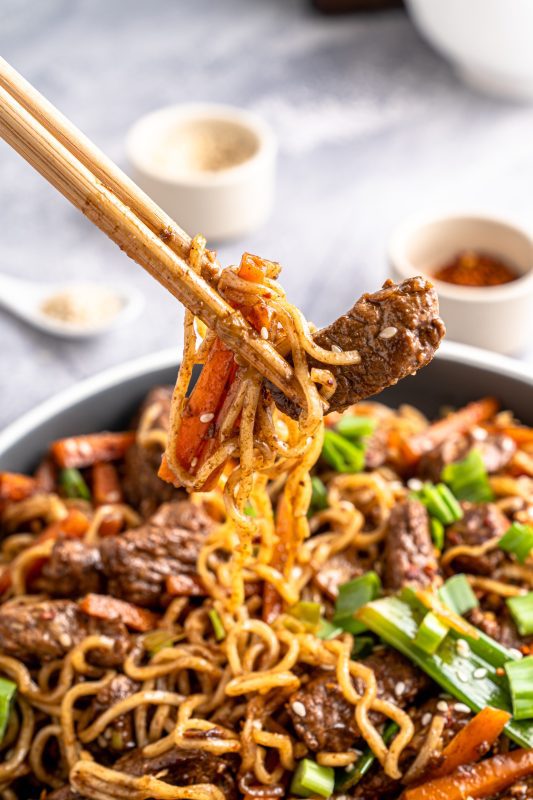 Saucy Beef Chow Mein is incredibly easy to prepare and takes only 35 minutes! It's sweet, spicy, and savory – slathered and simmered in a thick sauce for maximum flavor.
Beef Chow Mein
Chinese food is a guilty pleasure in our household. However, it tends to be pretty expensive, and we're always drowning in leftovers! So, we prefer to make our favorites from scratch, especially saucy, spicy chow mein.
We also love that this recipe takes just over 30 minutes. It's great for busy weeknights — just like our healthy vegetable fried rice! Don't even have 35 minutes? Spend 15 making our homemade beef and broccoli recipe!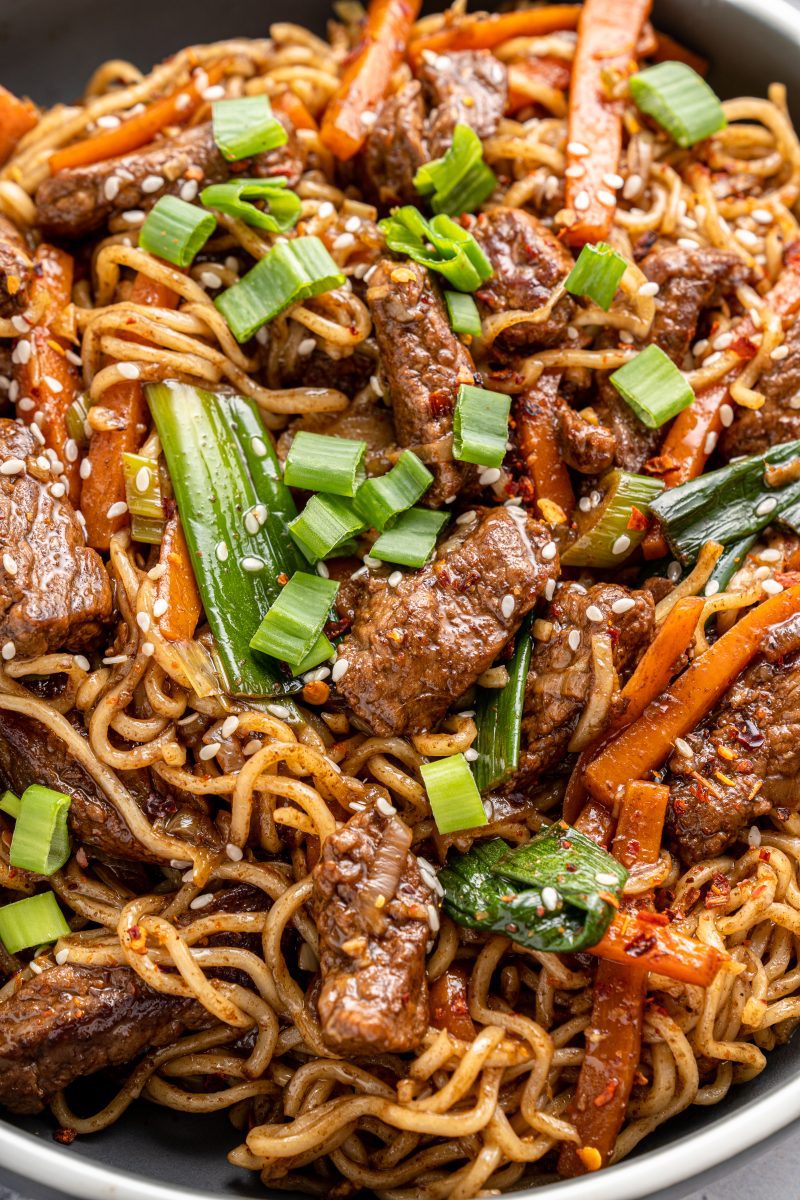 Why you will love this recipe
It takes just over 30 minutes – and if you prep ahead of time, the cooking time is even faster!
You can customize with any protein and vegetables for a perfect pantry- and fridge-cleaning meal.
It tastes just like what you'd get in the restaurant!
It's filling, satisfying, and easy to make on a budget. You can even use ramen noodles!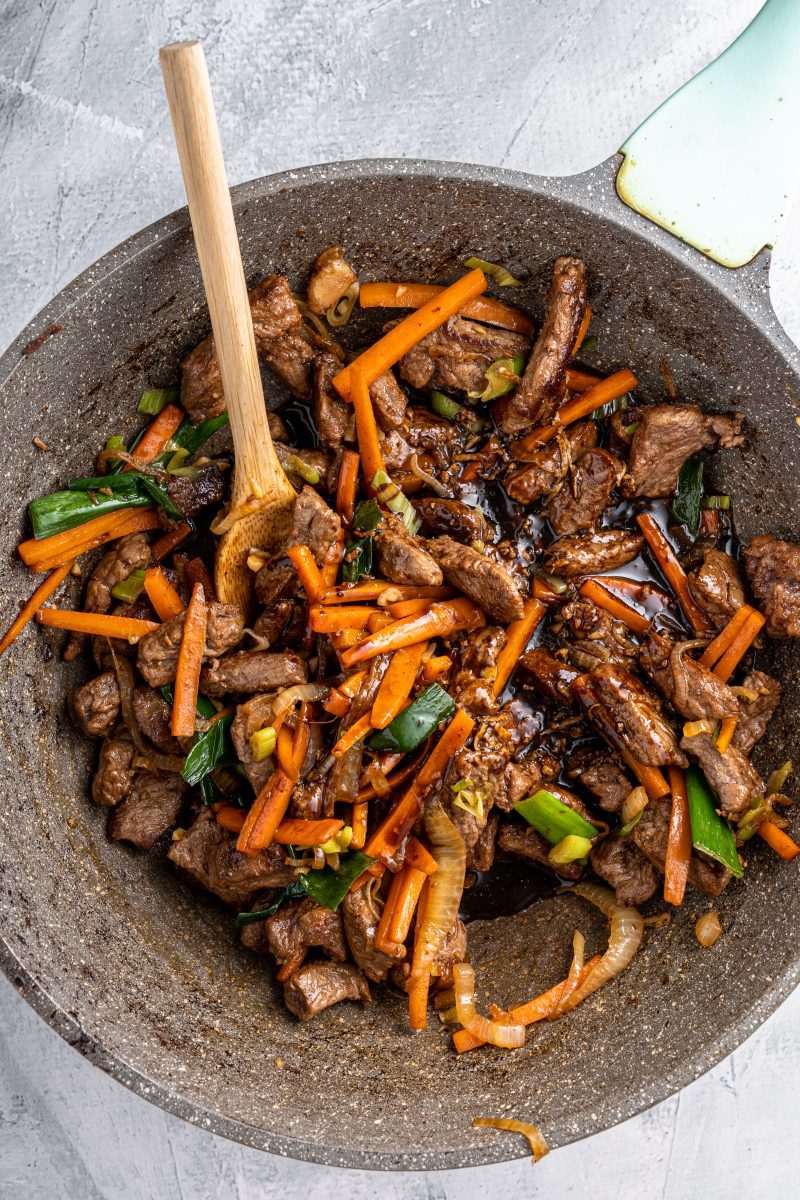 How to make the perfect Chow Mein
Cook the beef: Add the oil to a large wok over medium heat. Once warmed, add the sliced meat and stir fry for about 8 minutes until golden brown. Remove the meat from the heat once cooked.
Mix the sauce: As the meat cools off, prepare the sauce. Mix the soy, oyster, and hoisin sauce in a small bowl with the sesame oil, ginger, and cornstarch.
Stir fry the vegetables: Add more oil to the wok and let it warm for 20 seconds. Throw in the carrots and onioins, stir frying for 5 – 7 minutes. Once softened, add the green onion and garlic and cook for another 2 minutes until fragrant.
Combine and season: Return the beef to the wok and pour the prepared sauce overtop. Mix everything together and continue stirring as the sauce thickens.
Add the noodles: Prepare your noodles per package instructions and add them to the thickened sauce, beef, and noodles.
Serve or store: Plate and garnish with sesame seeds and chopped green onion. Let cool completely before storing in an airtight container and store for up to 4 days in the fridge.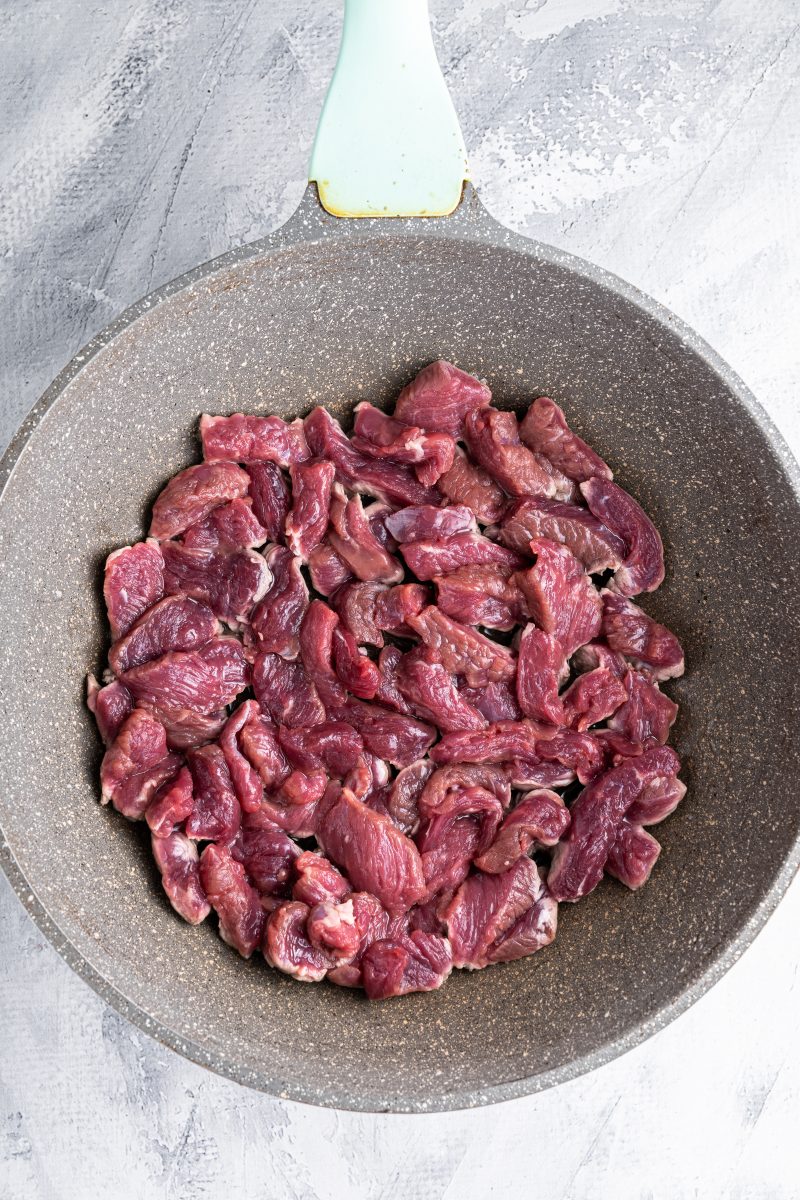 Pro Tips for Homemade Beef Chow Mein Recipe
Pick a good cut of meat. We prepare this beef chow mein recipe with sirloin steak – it's juicy and has plenty of flavor on its own. Flank steak works well, too, and skirt steak is another good option. As long as it's tender, it'll be great!
Variations to try. Most proteins are delicious in chow mein. And aside from your usual meats, shrimp and tofu taste excellent in these seasonings, too. You could even go with just vegetables and have a great meal!
Marinate if you have time. Sirloin soaks up marinades really well. Pre-mix the chow mein sauce and marinate the meat the morning before or overnight (up to 24 hours). However, if doing so, it is crucial that you do not reuse sauce used to marinate. Slather on just enough to flavor the meat and save the rest – or just mix a new batch.
Key Ingredients and Substitutions for Beef Chow Mein
Beef Sirloin: We recommend sparing an extra 30 minutes to put the meat in the freezer. This will help you slice it extra thin and neat. If beef is unavailable, chow mein is also commonly made with chicken and pork.
Sunflower Oil: We like the unassuming flavor of sunflower oil – it doesn't get in the way of our other seasonings. Other oil options to maintain a classic American-Chinese flavor include soybean and vegetable oil.
Carrots, Yellow Onion, and Green Onion: These are your basic chow mein vegetables, but you can add a variety of others including broccoli, bok choy, and white cabbage – an especially great choice to get a lot of bulk on a budget.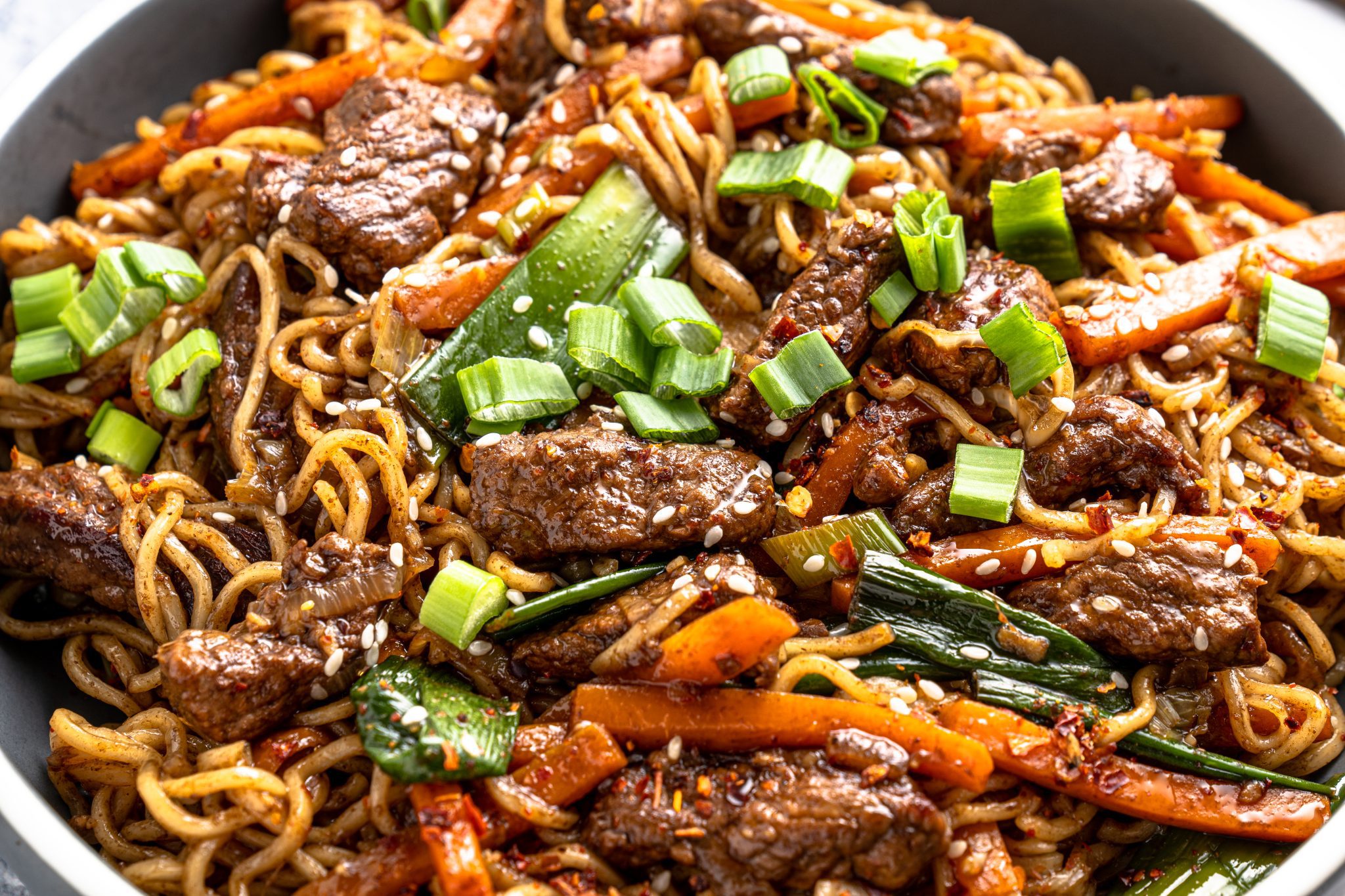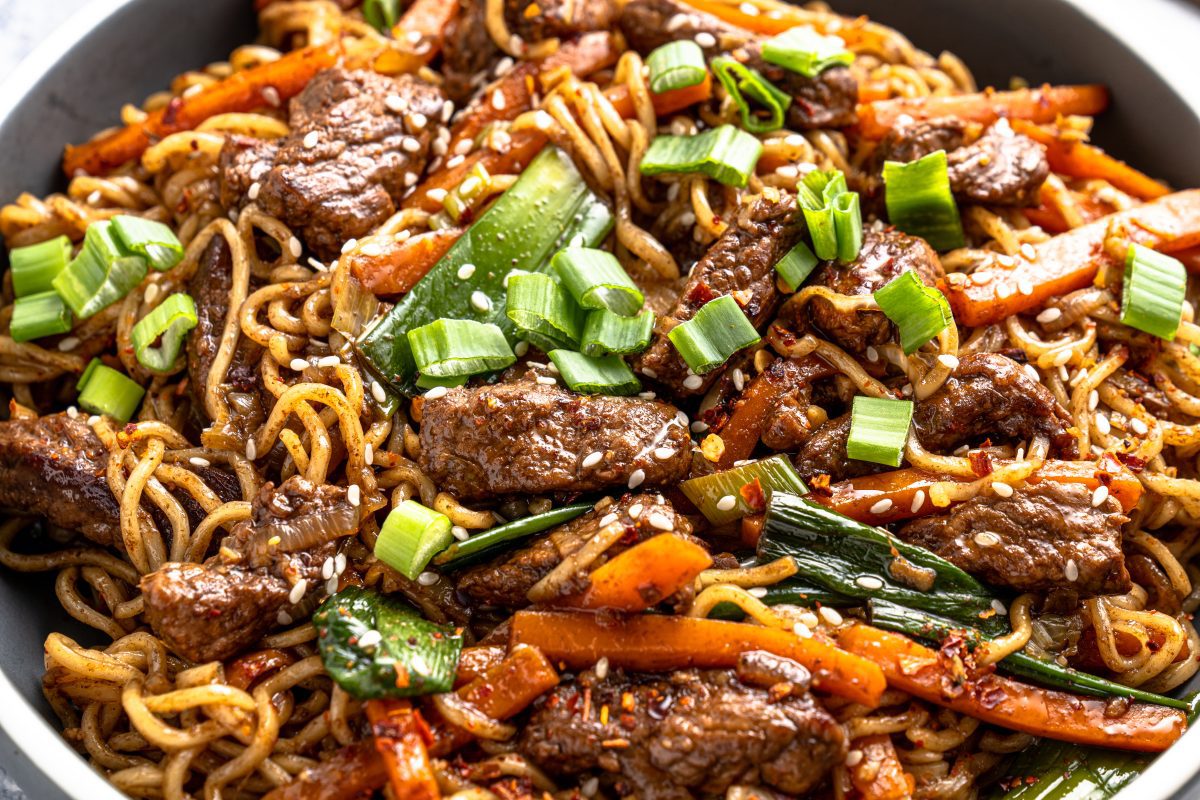 Frequently asked Questions about Our Beef Chow Mein Recipe
What is the difference between beef chow mein and lo mein?
It's a matter of texture and moisture. Chow mein is somewhat dry, with the seasonings stir fried onto the noodles.
Lo mein, on the other hand, uses thicker, chewier noodles that are doused in plenty of sauce.
What is typically in chow mein?
American-style chow mein contains noodles (usually egg noodles), meat, and some combination of vegetables (usually onions, cabbage, and carrots).
Common seasonings include soy sauce, oyster sauce, hoisin sauce, and ginger.
What are the best noodles for chow mein?
We use thin egg noodles, often packaged as "stir fry noodles," but you have tons of options: udon, rice noodles, and hokkien among them. It's traditionally made with fried noodles, but this is an easy homemade option.
But, honestly? You could even use ramen noodles for something quick, easy, and inexpensive. After all, the noodles are just the vehicle for all of that flavor!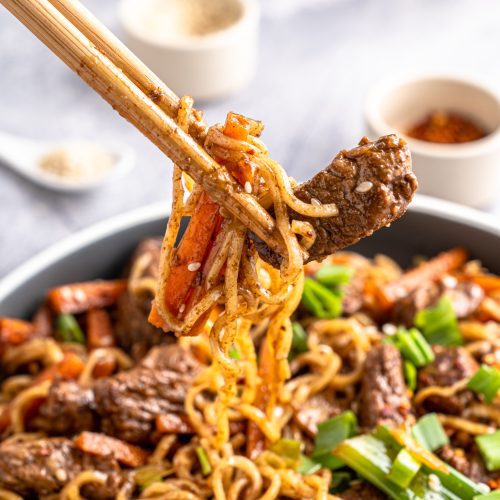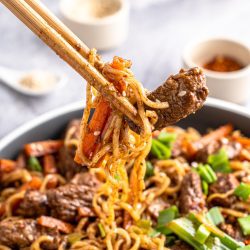 Beef Chow Mein
Saucy Beef Chow Mein is incredibly easy to prepare and takes only 35 minutes! It's sweet, spicy, and savory – slathered and simmered in a thick sauce for maximum flavor. 
Course:
Main Course, Main Dishes
Keyword:
beef, Beef Chow Mein, chow mein
Ingredients
1/3

cup

soy sauce

2

tbsp

oyster sauce

2

tbsp

hoisin sauce

1

tsp

sesame oil

2

tsp

fresh ginger

2

tsp

cornstarch

18

oz

beef sirloin

cut into thin strips

2

tbsp

sunflower oil

2

small

carrots

or one large one, chop into thin strips

1

medium

yellow onion

sliced

2

clove

garlic cloves

minced

2

medium

green onion

white part sliced, green part chopped into strips

10

oz

stir-fry noodles

garnish with sesame seeds, chili flakes, and green onion
Instructions
Heat a tbsp of sunflower oil in a large wok over medium heat. Add beef and cook until golden brown, about 8 minutes; flip it occasionally. Remove beef from the wok.

In the meantime, prepare the sauce. Mix soy sauce, oyster sauce, hoisin sauce, sesame oil, fresh ginger, and cornstarch. Set it aside.

Add one tbsp of sunflower oil to the wok, and heat it for 20 seconds. Then add chopped carrots and onion. Stir until soft, about 5-7 minutes. Add chopped green onion and minced garlic, and stir for two more minutes.

Incorporate cooked beef into the wok and pour the prepared Chow Mein sauce. Stir over heat until the sauce thickens.

Cook the noodles following the package directions, and finally, add them to the wok.

Serve warm with sesame seeds and green onion on top.
Recipe Notes
Traditional chow mein is made with fried noodles, but we've used thin egg noodles and added them to a stir fry of vegetables with beef and chow mein sauce as we find it easier to make. Also, based on our research is the most used and popular method among US bloggers. The result is a flavorful, meaty stir-fry with Asian flavor touches provided by the chow mein sauce.
Tips
Add different vegetables, such as broccoli, pak choy, or white cabbage.

You could also use ramen noodles to make this recipe.

Replace beef sirloin with any other tender beef meat.
Nutrition Facts
Beef Chow Mein
Amount Per Serving
Calories 600
Calories from Fat 216
% Daily Value*
Fat 24g37%
Cholesterol 70mg23%
Sodium 2992mg125%
Potassium 763mg22%
Carbohydrates 58g19%
Protein 38g76%
Vitamin A 4261IU85%
Vitamin C 6mg7%
Calcium 78mg8%
Iron 6mg33%
* Percent Daily Values are based on a 2000 calorie diet.