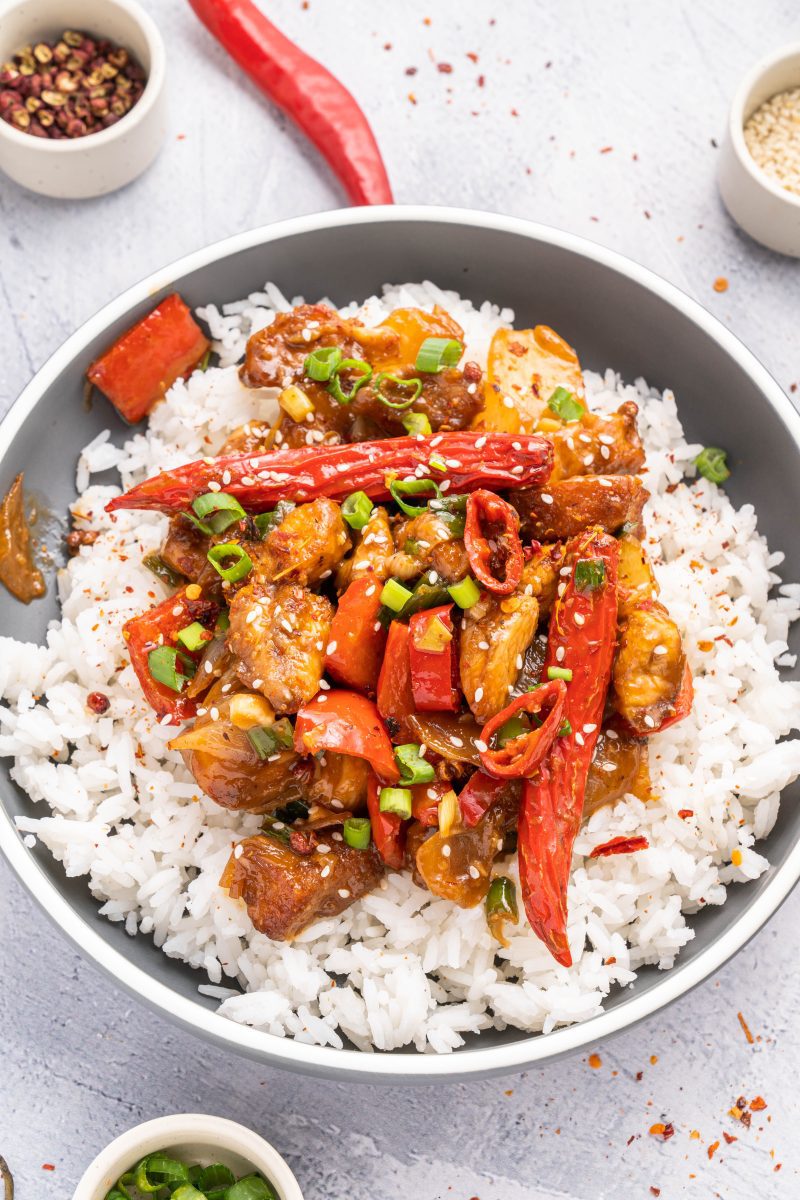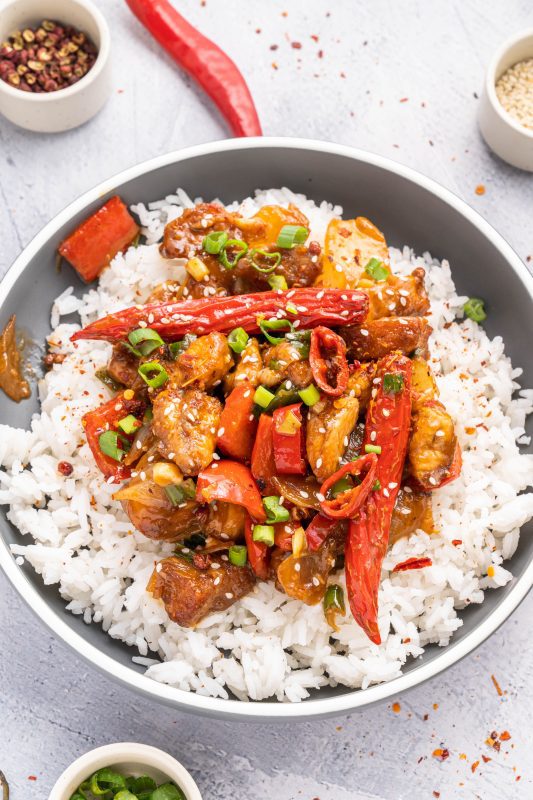 Sichuan Chicken is a stir-fried chicken dish from Southwest China with an array of savory Asian flavors, including chili peppers, hoisin sauce, soy sauce, sesame oil, and of course, the headliner- Szechuan peppers.
Schezwan Chicken: Spice Up Your Dinner Plans
Although people know this mouth-watering chicken recipe by different names, such as Szechuan chicken, chicken Szechuan style, Schezwan chicken, and Sichuan chicken, one thing stays consistent: its unforgettable flavor.
The true uniqueness of this dish comes from the Chinese cooking staple, the Sichuan pepper. Unlike the pungent spice of black peppers, Szechuan pepper has a citrus aroma with an overtone of pine; its distinguishable mouth-numbing property makes the spice kick in even more! The best part is that the level of spice in this recipe is fully customizable to your preferences. The fiery chili seeds are the true source of heat in the Sichuan pepper, so if you'd like to stay on the mild side, you can keep them whole!
I love the versatility of chicken recipes. Szechuan chicken is one of my favorites, along with Bacon Wrapped Chicken Tenders with Cheddar Cheese; it's a must-have for busy weekdays or a relaxing night in. The Perfect Air Fryer Carrots are my go-to for a delicious and healthy side dish. Not only is it a great combination with any entree, but it's quick and easy! A great addition to these satisfying dishes is a healthy Ranch Dressing, make sure to check out my Ranch Seasoning here!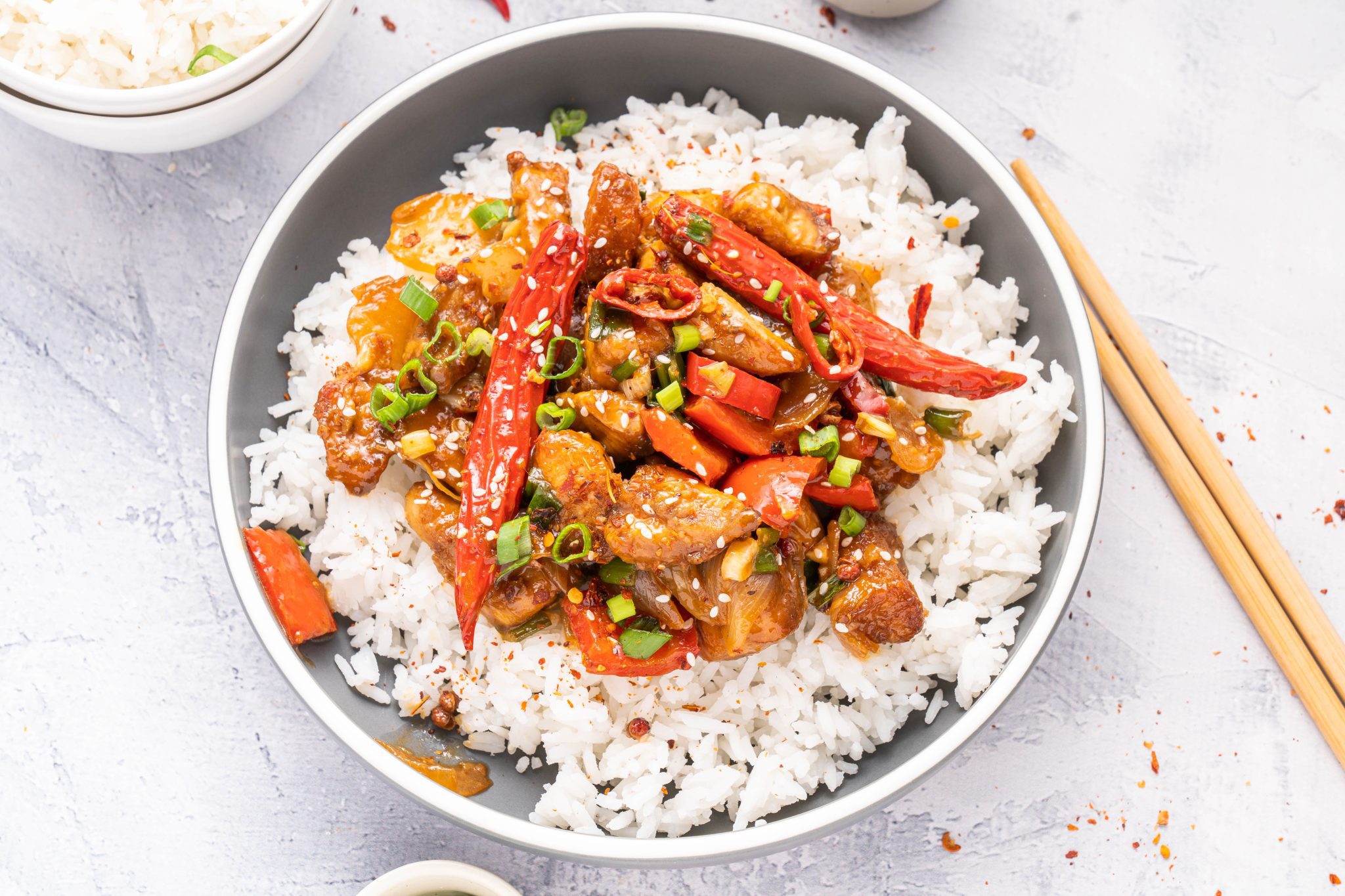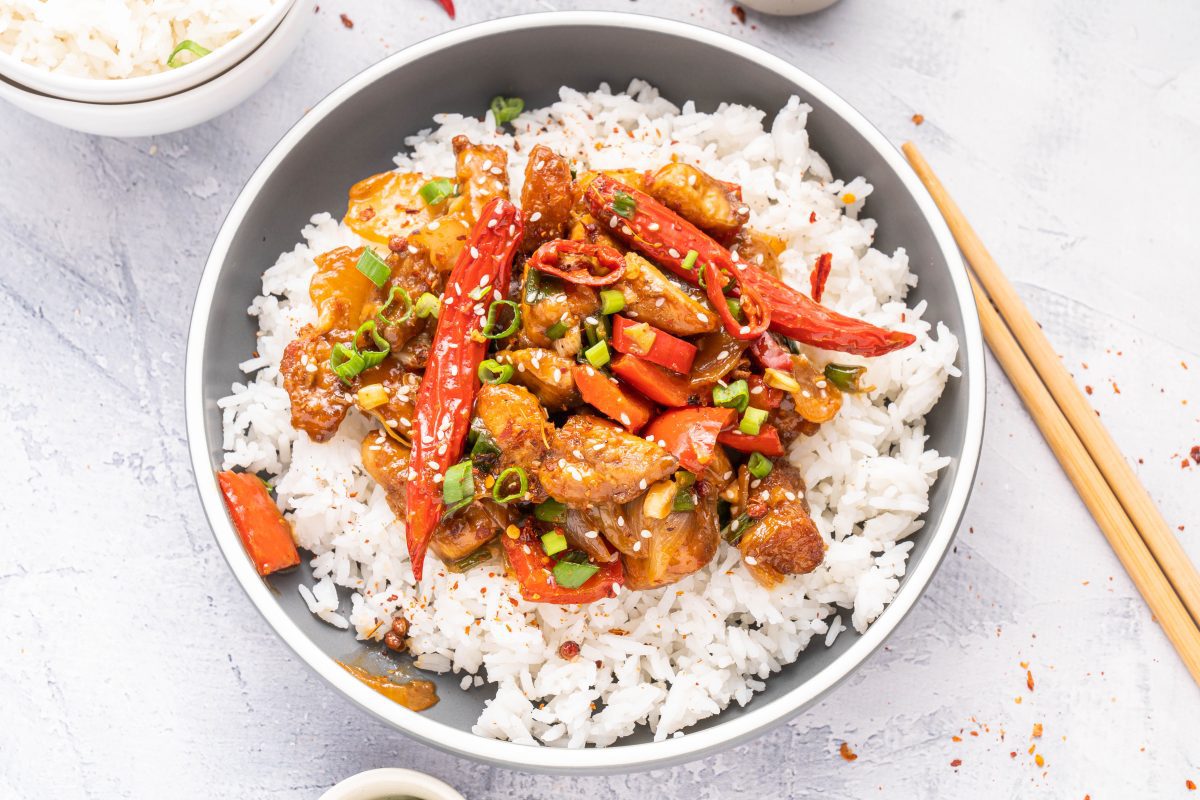 Why You Will Love Szechuan Chicken!
This flavorful recipe lets you stay home but eat like you didn't!
Chicken Szechuan style uses one of the most popular spices in the world with numerous health benefits.
Spice enthusiast or not, the level of heat is customizable to you!
Szechuan chicken is full of contrasting flavors, making it sweet AND spicy.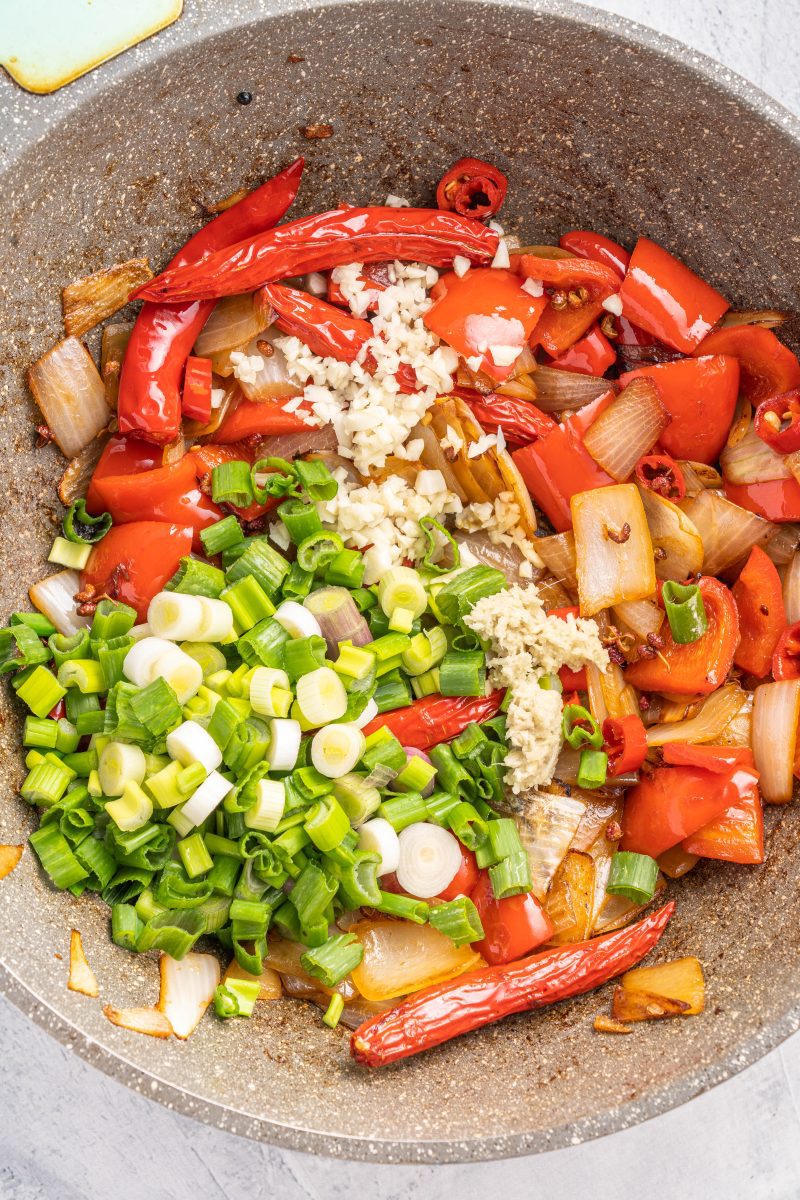 How To Make Perfect Szechuan Chicken
Marinate the chicken breasts: Let the chicken soak in the flavor! It only takes about thirty minutes, but you can marinate it longer if you'd like. All you need is sesame oil, soy sauce, cornstarch, rice wine vinegar, and powdered chili.
Fry the chicken breasts in a skillet with a half inch of heated sunflower oil for two minutes per side; this gives the chicken a beautiful (and delicious) golden coating. After draining the oil, set the chicken breasts aside!
Mixing the sauce: Grab a small bowl and thoroughly mix the hoisin sauce, water, cornstarch, and sugar.
Unleash the spice: First, add Szechuan peppercorns and red chilies into a wok with sesame oil. Make sure to stir until the Sichuan aroma fills the air; this means the heat is ready to kick in!
Add in more flavor! Sautee the chopped onion, red bell pepper, and sliced chili in a skillet until it has softened. After that, fold in green onion, grated ginger, and minced garlic- stir for a couple more minutes to release the full potential of these flavors.
Combine all the ingredients: Mix the fried chicken breasts and sauce to the heated wok with the sautéed ingredients, and stir one last time to finalize your masterpiece! Lay your Schezwan chicken on a bed of white rice and garnish it with sesame seeds and green onion. Enjoy!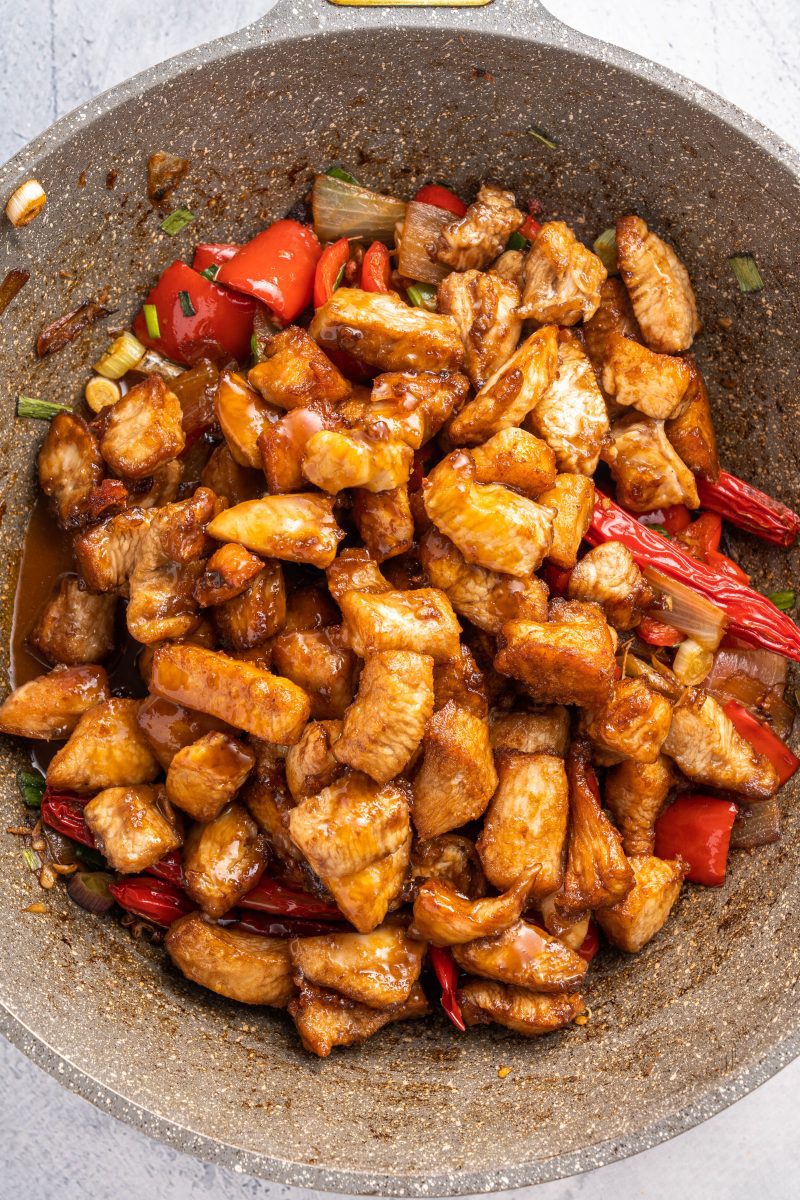 Pro Tips
Drain the excess oil from the skillet to allow for a crisp, restaurant-style chicken breast!
Don't over-fry the chicken breasts; this way, they won't get too dry, and all of the flavors can stay locked inside.
Mix, mix, mix! Many of the ingredients have wonderful flavors that bolden as they are combined with others, so make sure to mix thoroughly!
Customize the spice: The more you chop up the Sichuan pepper, the more spice is emitted from the chili seeds inside. If you'd like something more-lowkey, leave them whole!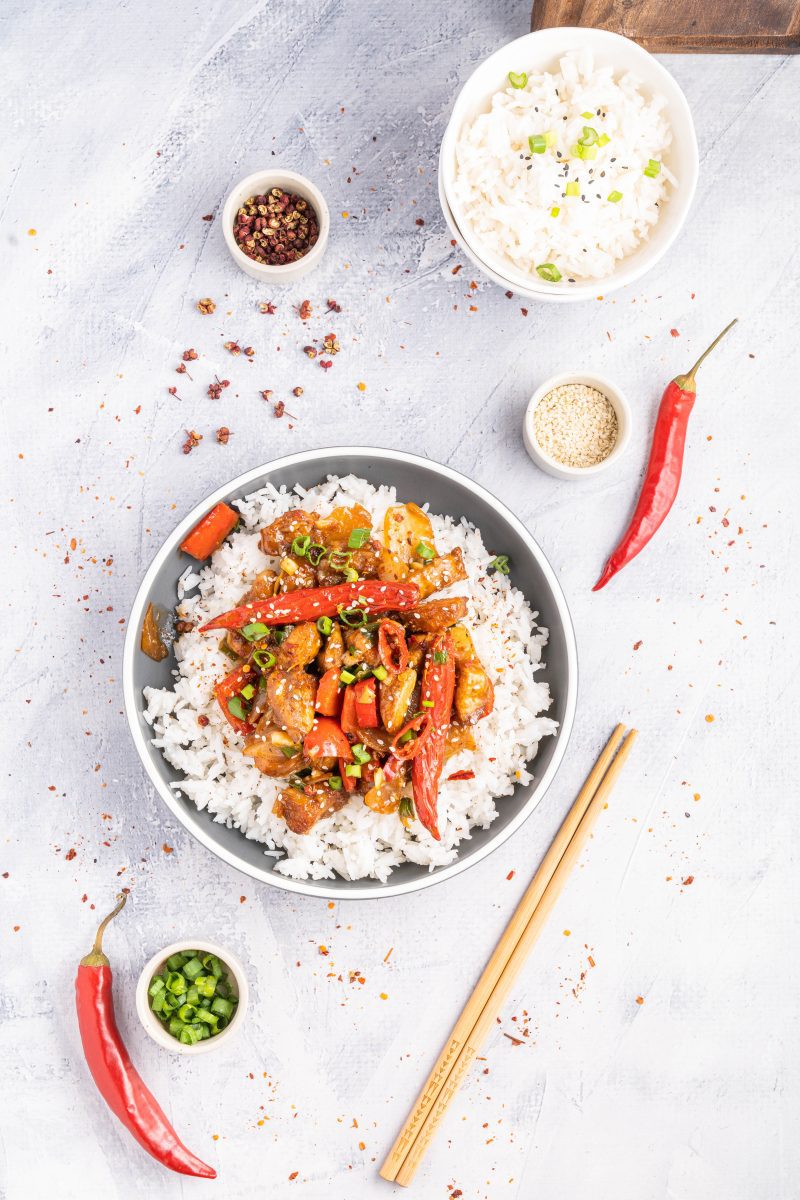 Frequently Asked Questions About Chicken Szechuan Style
What is the difference between Szechuan and Sichuan?
Why would there be two spellings to describe the same thing? Like many other words, these words have different spellings that are popular in specific locations. The spelling "Szechuan" is found mainly on the east coast, while "Sichuan" is used on the west coast. In other areas, this chicken also goes by the name chicken Szechuan style and Schezwan chicken. The name might change, but the incredible dish stays the same!
What are Schezwan peppers?
The name is quite deceiving because Szechuan peppers aren't peppers at all! Sichuan peppercorns are dried reddish-brown berries that come from a specific type of ash tree in China.
Why do Sichuan dishes make your mouth tingle?
Within these peppercorns, there is a unique compound called hydroxy-alpha-sanshool. This compound is similar to the heat-generator in other spices, capsaicin. The hydroxy-alpha-sanshool binds to receptors on your tongue, producing a phenomenon called paraesthesia, making your mouth tingle or feel numb. Now you know!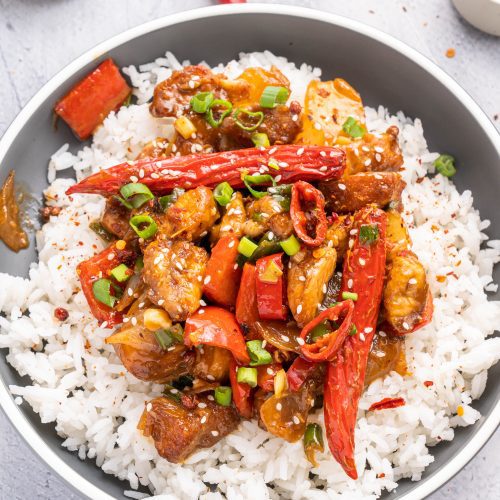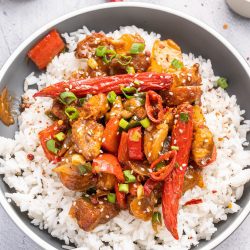 Szechuan Chicken
Sichuan Chicken is a stir-fried chicken dish from Southwest China with an array of savory Asian flavors, including chili peppers, hoisin sauce, soy sauce, sesame oil, and of course, the headliner- Szechuan peppers.
Course:
Appetizer, Appetizers & Sides, Main Course, Main Dishes
Keyword:
chicken, Rice, Szechuan Chicken
Ingredients
Szechuan Chicken
1.5

Pieces

Chicken Breast

Chopped into bite sized pieces

2

tbsp

sesame oil

3

tbsp

soy sauce

2

tbsp

cornstarch

1

tbsp

rice wine vinegar

1/2

tsp

powdered chili
Szechuan sauce
3

tbsp

Hoisin sauce

1/4

cup

water

1

tbsp

sugar

1/2

tbsp

cornstarch

1

tbsp

sesame oil

1

medium

red bell pepper

chopped

1

medium

onion

chopped

6

piece

red chilies

1

medium

red chili

sliced

2

tsp

Szechuan peppercorns

ground

2

tsp

grated ginger

5

clove

garlic cloves

minced

2

medium

spring onions

chopped
Others
sunflower oil

for frying

1

tbsp

white sesame seeds

garnish

2

cups

cooked rice
Instructions
Whisk the ingredients for the chicken marinade in a medium-sized bowl. Then add chicken pieces and marinate in the fridge for at least 30 minutes to overnight.

Heat ½ inch of sunflower oil in a skillet. Fry chicken pieces from each side, about 2 mins per side. Drain excess oil by placing the fried chicken on a cooling rack. Set chicken aside.

Mix Hoisin sauce, water, cornstarch, and sugar in a small bowl. Set it aside.

Add red chilies and ground Szechuan peppercorns in a wok containing sesame oil. Stir for a minute until fragrant. Then, add chopped onion, red bell pepper, and sliced chili and sauté until softened, about 7-8 minutes. Next, fold in green onion, grated ginger, and minced garlic, and stir for two more minutes to bold in flavors.

Add fried chicken and prepared sauce to the wok. Stir over heat for a minute and serve warm. Garnish with sesame seeds and green onion.
Recipe Notes
This Szechuan Chicken is better than a takeaway! It's flavorful, spicy, and saucy; you won't believe how easy it is! Its sauce contains all Asian flavors, including chili pepper, hoisin sauce, soy sauce, sesame oil, and Szechuan pepper. Szechuan peppercorns are fragrant, with citrus notes, mouth-numbing and tongue-tingling. If you don't like that effect, you can stir whole peppercorns until the oil is fragrant and remove them from the wok before cooking the rest of the meal.
Nutrition Facts
Szechuan Chicken
Amount Per Serving
Calories 339
Calories from Fat 117
% Daily Value*
Fat 13g20%
Cholesterol 1mg0%
Sodium 968mg40%
Potassium 508mg15%
Carbohydrates 51g17%
Protein 7g14%
Vitamin A 1844IU37%
Vitamin C 156mg189%
Calcium 77mg8%
Iron 2mg11%
* Percent Daily Values are based on a 2000 calorie diet.