The crunchy coating of panko and buttermilk gives bang bang shrimp a crisp texture that stands up to the full flavors of a sweet and spicy cream sauce!
Bang Bang Shrimp
Your favorite restaurant dishes can be the best inspiration to try something new at home. If you're lucky, you might find that you can improve upon what you thought was already perfect!
True story: this is exactly what happened to me when I came up with my bang bang shrimp recipe. Using the right breadcrumbs to create the lightest, flakiest, crunch and perfecting the levels of sweet and spicy in my creamy sauce became a labor of love, and I am thrilled with the result!
Turning bang bang shrimp into a meal is easy with a side of cauliflower rice or this tasty cucumber shallot salad.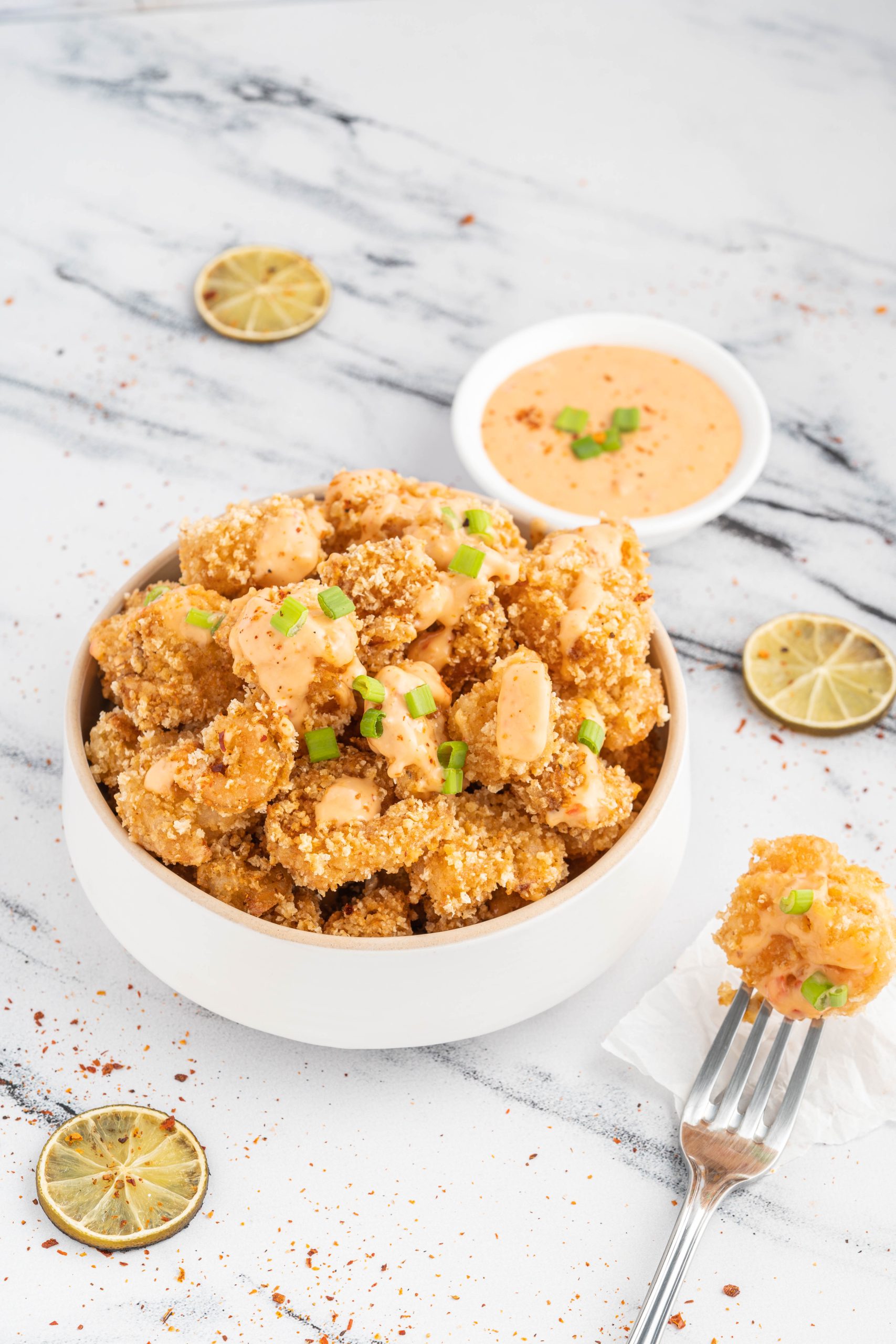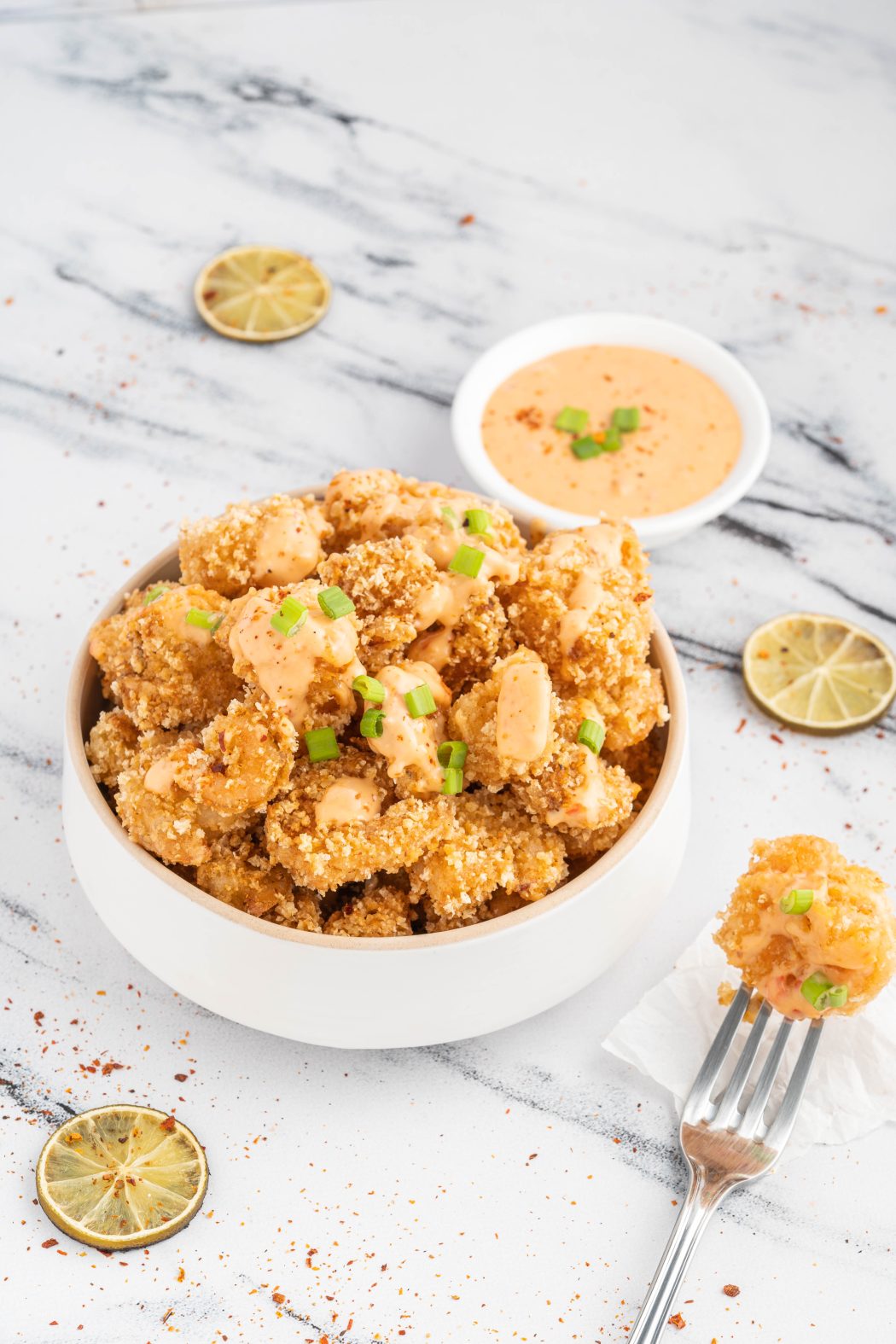 Why you will love this recipe
You control the heat. If you love spicy food, add more sriracha to your bang bang shrimp sauce.
Works as an appetizer or part of a meal. A small bowl will keep your guests happy while they wait for dinner. Or for a quiet night in, turn this 4 serving snack into a 2 serving meal for you and your sweetie.
The sauce is delicious on more than just shrimp! Try it with potatoes, chicken wings, as a sandwich spread, or even as a chip dip.
Deep fry or air fry. Fry your shrimp on the stovetop with sunflower oil or in an air fryer.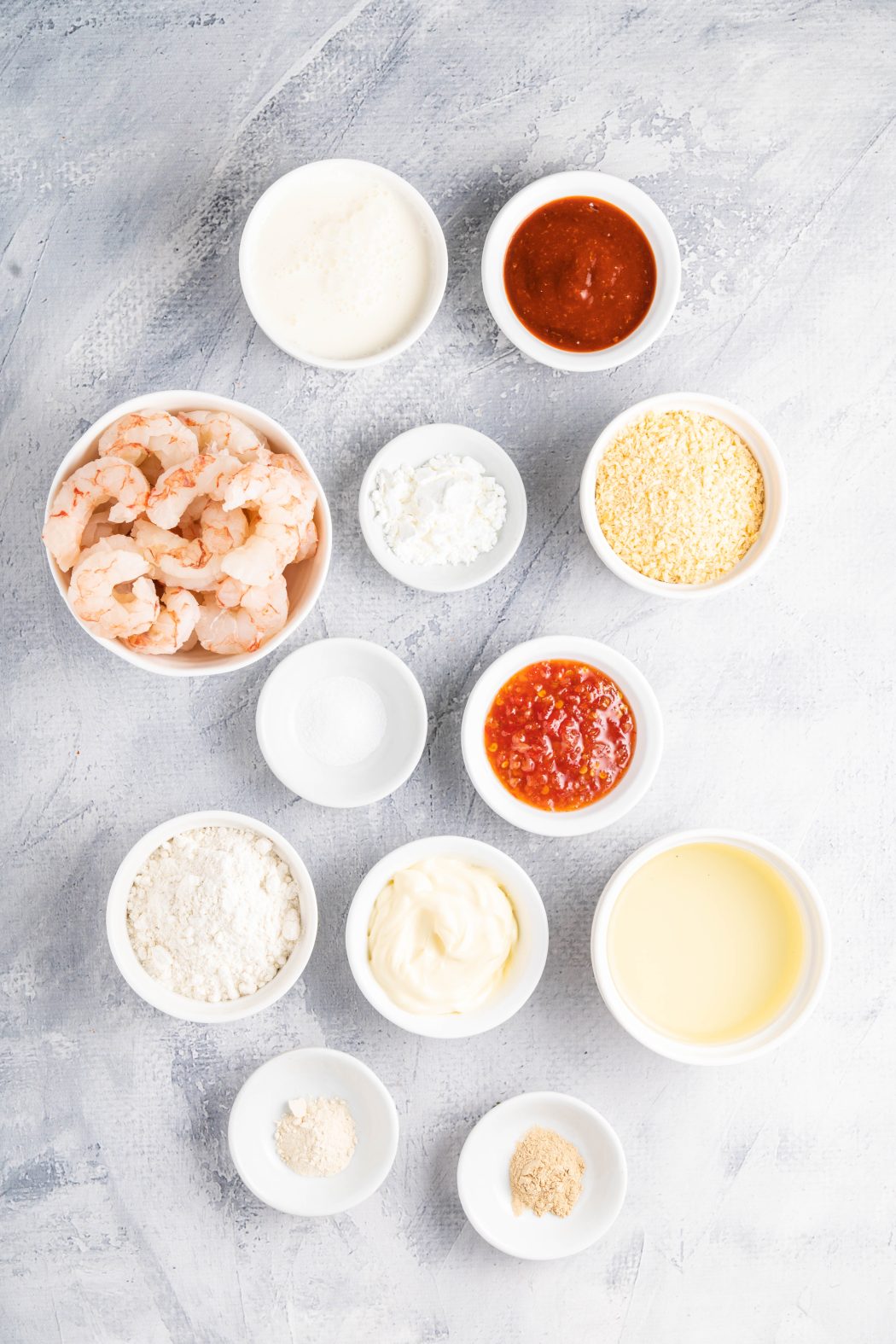 How to make perfect bang bang shrimp
Prepare and coat. Raw shrimp should be thawed, peeled, and deveined. Mix flour, cornstarch, panko, garlic powder, onion powder, and salt in a small bowl. Pat shrimp dry and coat with buttermilk, then toss in dry mixture.
Heat oil and fry. Add oil to skillet and heat to 350-375F. If you don't have a thermometer, use a wooden spoon to test the heat: dipping the wooden spoon into the oil should produce bubbles if the oil is hot enough. Fry shrimp for 4 minutes, flipping halfway through. Remove from the oil and place on a paper towel to absorb excess oil.
Whisk, garnish, and serve. Add the sauce ingredients to a bowl and whisk to combine. Drizzle some sauce over the shrimp and keep the rest in a small serving bowl for dipping. Garnish with green onions and serve immediately.
Pro Tip: You can mix up your sauce ahead of time and refrigerate before you prepare your shrimp. The sauce will last in the fridge for up to 7 days.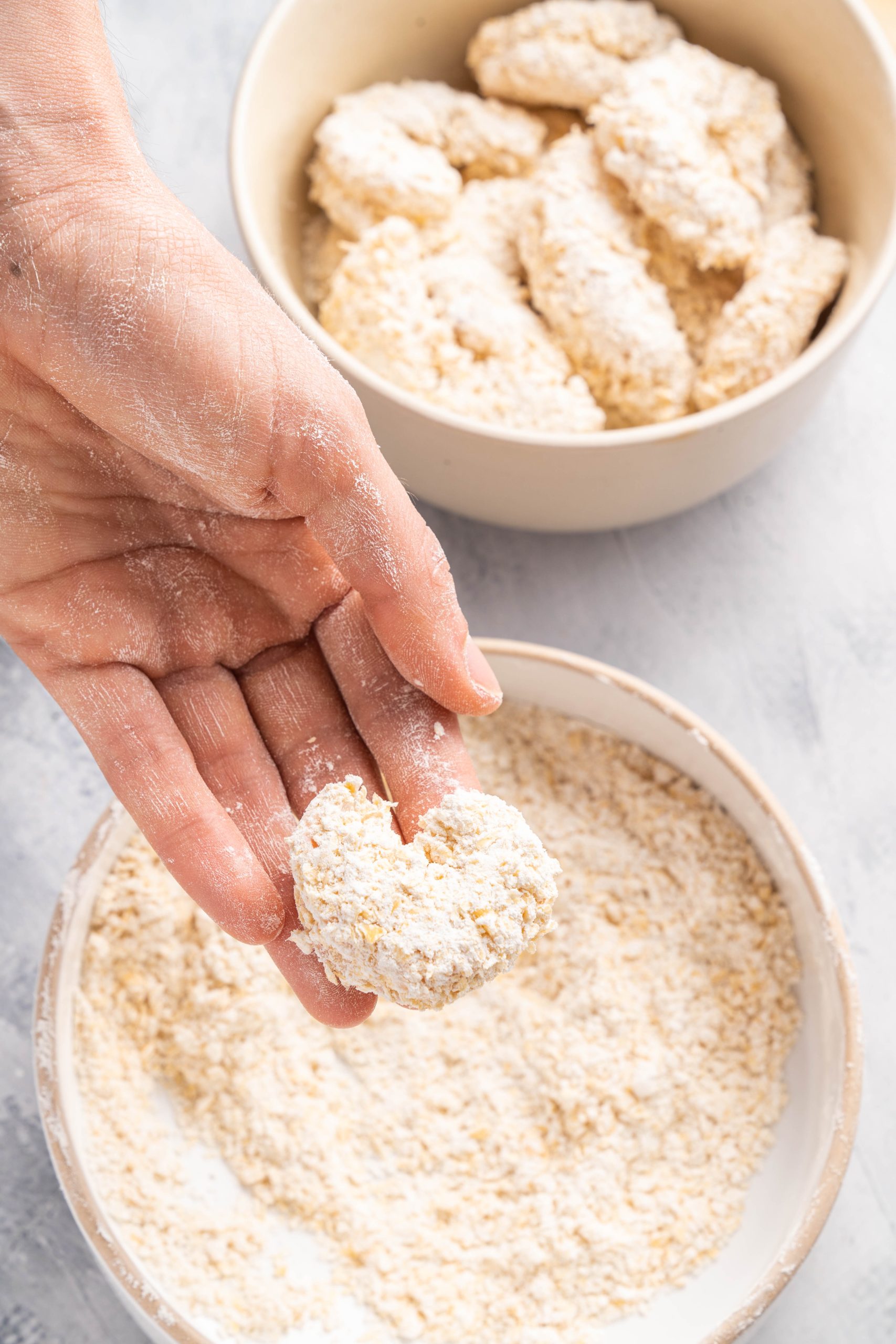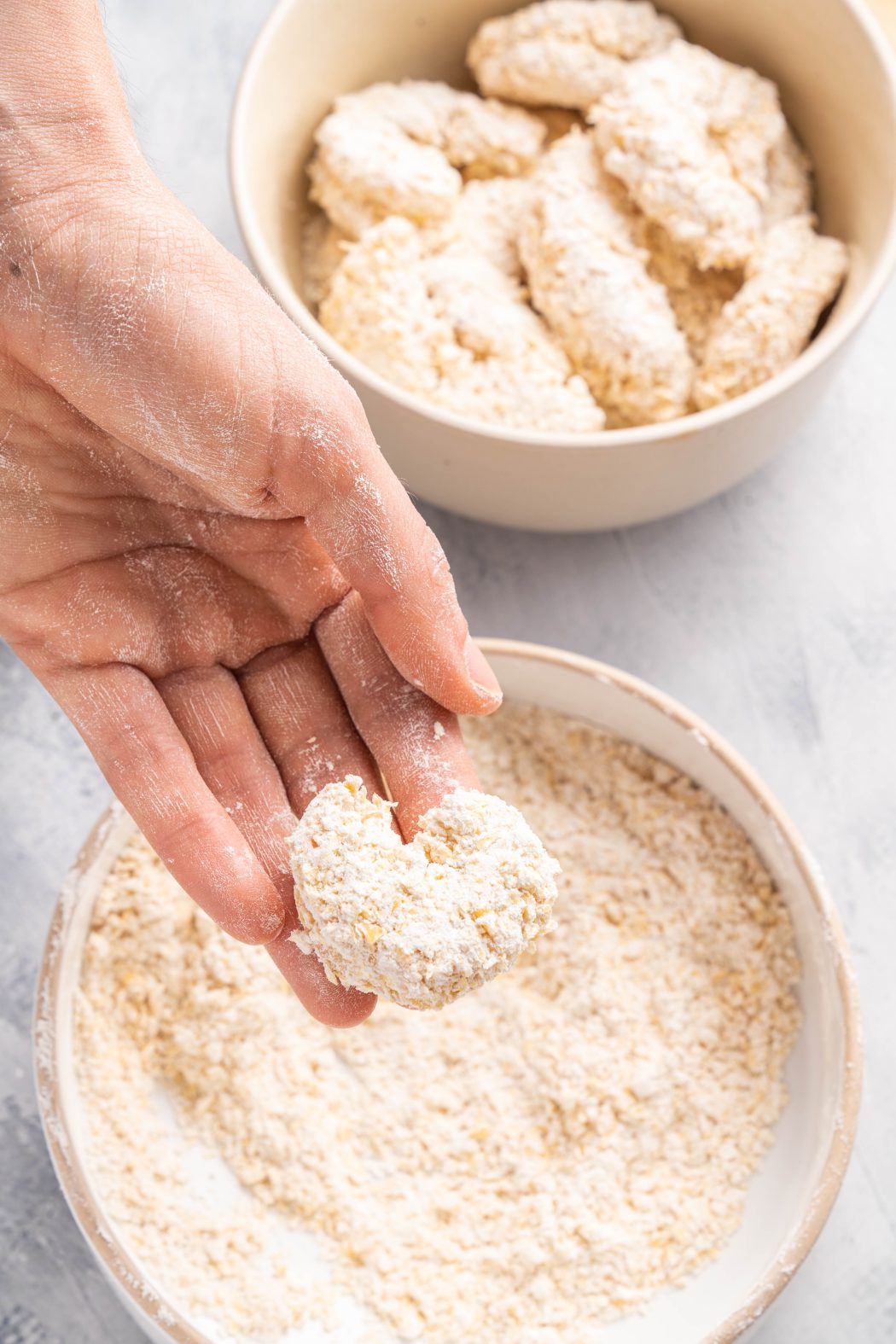 Key Ingredients and Substitutions for bang bang shrimp
Buttermilk: You can make a buttermilk substitute at home with vinegar and milk. Add 1 ½ teaspoons of white vinegar to a measuring cup, then add milk to the ½ cup mark. Let it sit for a few minutes until thickened.
Panko Breadcrumbs: Regular breadcrumbs are not the same as panko and will result in a different consistency. Panko breadcrumbs absorb less oil and produce a dryer, flakier consistency, which holds up very well with the bang bang shrimp sauce.
Sunflower Oil: This neutral oil is great for high-heat frying, but other oils can be used as well. Vegetable oil, canola oil, and avocado oil are all good substitutes for sunflower oil.
Mayonnaise: For a lighter version of the sauce in this recipe, use full fat, plain Greek yogurt instead of mayonnaise.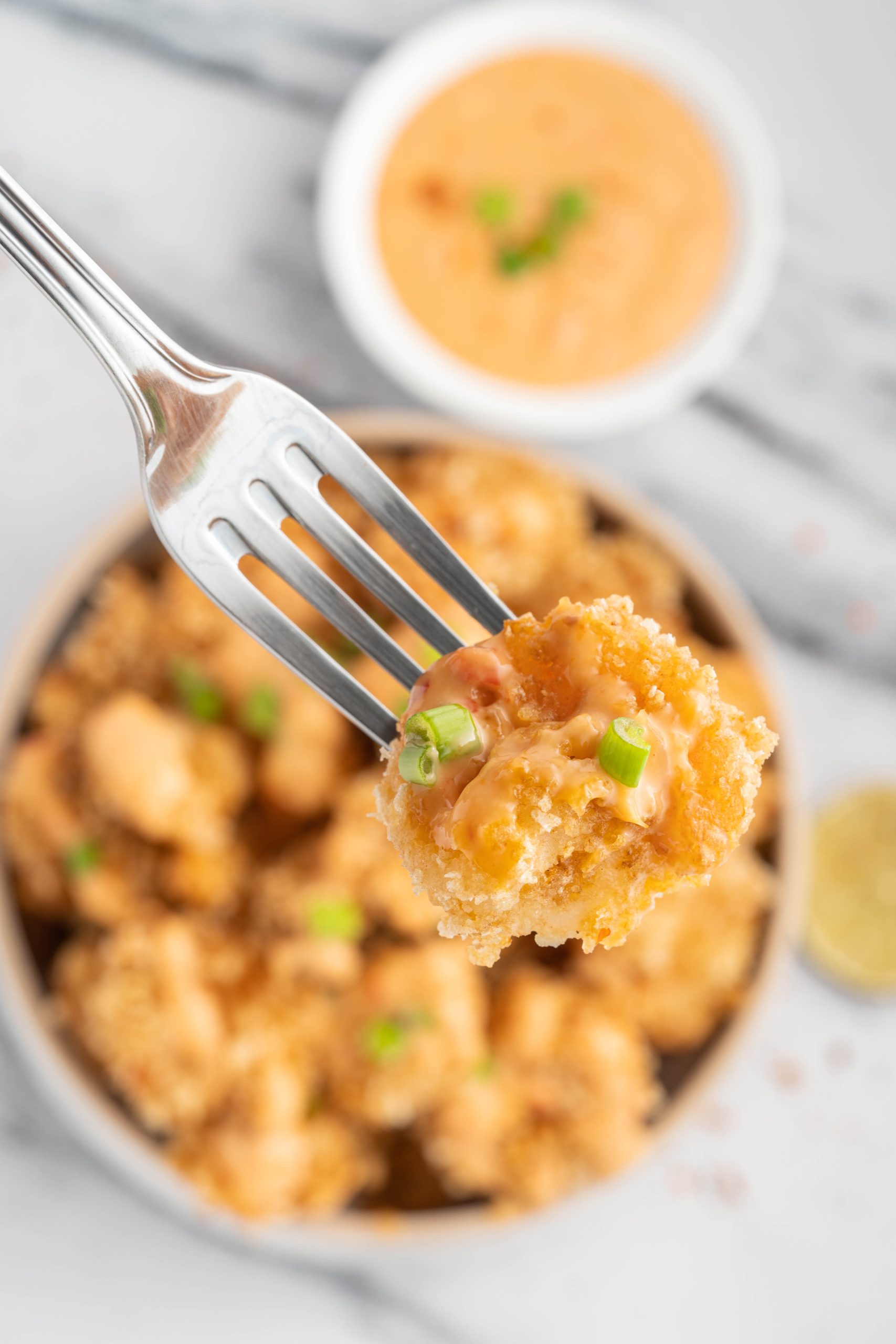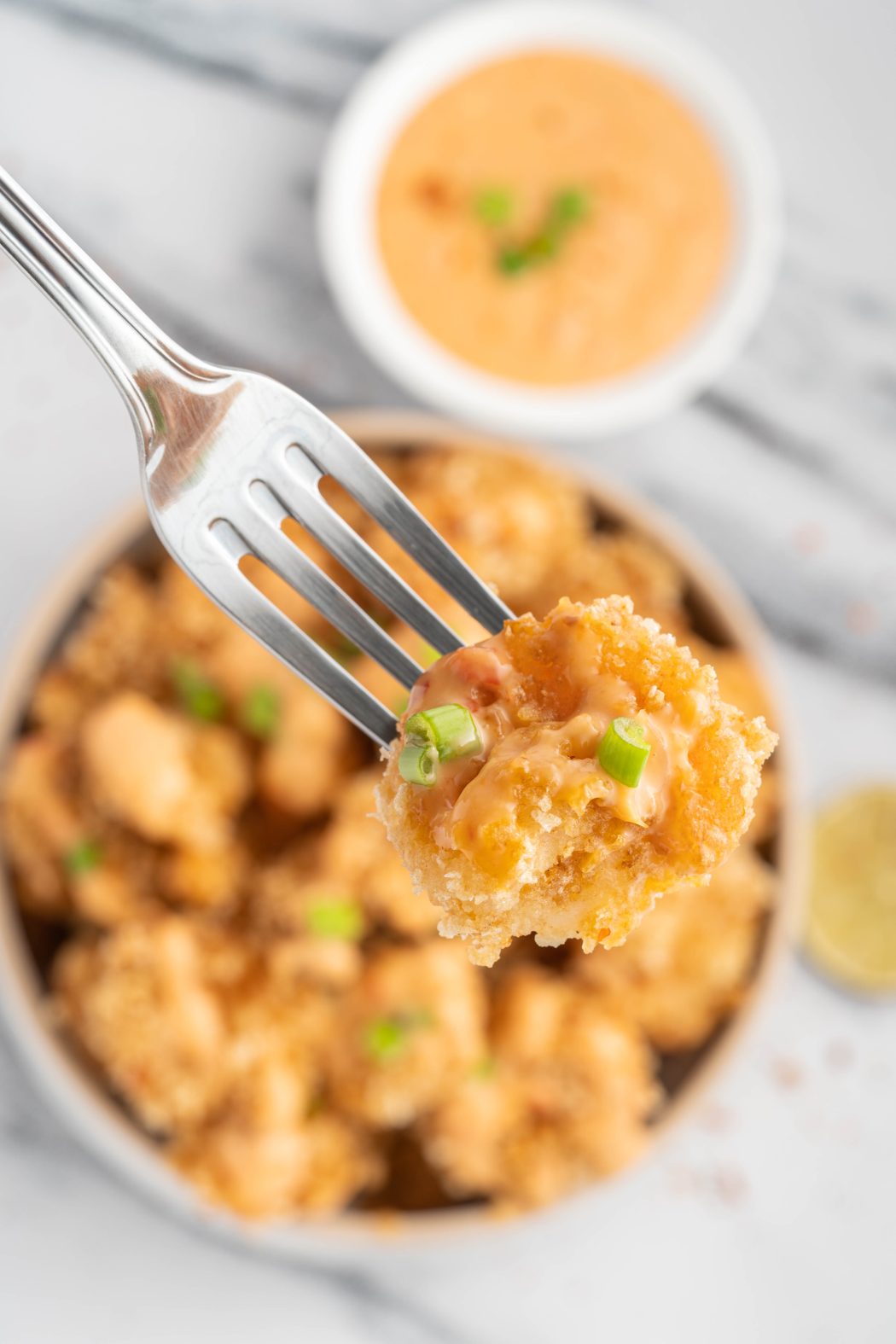 Frequently asked Questions about bang bang shrimp
Can You Fry Shrimp In An Air Fryer?
Air frying your bang bang shrimp is a good alternative to deep frying. Preheat your air fryer to 380F and lightly spray your shrimp with cooking spray before adding them in a single layer to your air fryer basket. Allow your shrimp to cook for 10-12 minutes, or until golden brown, flipping halfway through your cooking time.
How Long To Reheat Bang Bang Shrimp?
While this dish is best when eaten as soon as its made, you can easily reheat this dish and enjoy it up to 4 days later. Be sure not to add the bang bang sauce until you're ready to eat. Simply arrange your shrimp on a baking sheet in a single layer and bake for 10 minutes in a 350°F oven, or reheat similarly in the air fryer. Know that your panko breadcrumbs will begin to lose their crunch over time.
Is All Chili Sauce The Same?
There is a big difference between chili sauce and sweet chili sauce. Its true that both contain heat, but chili sauce is tomato-based while sweet chili sauce contains chili peppers and sugar. Some brands even contain fruit like mango and pineapple. The sweetness of sweet chili sauce is key to this bang bang shrimp sauce!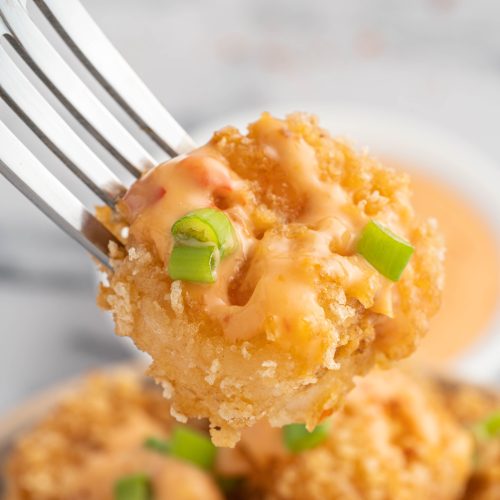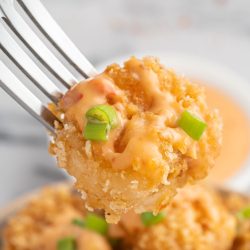 Bang Bang Shrimp
Crispy, flavorful, and perfectly fried, Bang Bang Shrimp is a must-try. Dripping in a zesty sauce makes for the ideal spicy appetizer.
Course:
Appetizer, Appetizers & Sides, Side Dish, Snack
Keyword:
bang bang shrimp, shrimp
Ingredients
1

lb

shrimp

1/2

cup

buttermilk

3

tbsp

cornstarch

1/4

cup

all-purpose flour

1/2

cup

panko

1/2

tsp

garlic powder

1/2

tsp

onion powder

1/2

tsp

salt

sunflower oil

for frying
Sauce
1/2

cup

mayonnaise

1/4

cup

sweet chili sauce

1

tsp

sriracha
Instructions
First, coat shrimp with buttermilk. Then, mix cornstarch, all-purpose flour, panko, garlic powder, onion powder, and salt in a small bowl and toss each shrimp. Press the mixture down for an evenly breading.

Heat sunflower or any neutral flavor oil in a skillet, about ½ inch deep. An iron cast is an excellent choice as it keeps its temperature.

Fry shrimp on both sides until crispy, about 2 minutes per side. Drain on paper towels.

To make the Bang Bang sauce, simply whisk mayonnaise, sweet chili sauce, and sriracha.

Serve warm with the sauce on top. Garnish with fresh green onion.
Recipe Notes
Crispy and delicious Bang Bang Shrimp. Its homemade Bang Bang sauce is smooth, sweet, and slightly spicy. Once you have you, you'll eat them all!
Tips
Add the sauce before serving so it doesn't moisten the shrimp. Otherwise, they won't be crispy.

Store shrimp leftovers in the fridge for up to four days.

The Bang Bang sauce lasts longer. Keep it in an airtight container for up to seven days.
Nutrition Facts
Bang Bang Shrimp
Amount Per Serving
Calories 421
Calories from Fat 207
% Daily Value*
Fat 23g35%
Cholesterol 198mg66%
Sodium 877mg37%
Potassium 377mg11%
Carbohydrates 27g9%
Protein 26g52%
Vitamin A 69IU1%
Vitamin C 1mg1%
Calcium 126mg13%
Iron 1mg6%
* Percent Daily Values are based on a 2000 calorie diet.