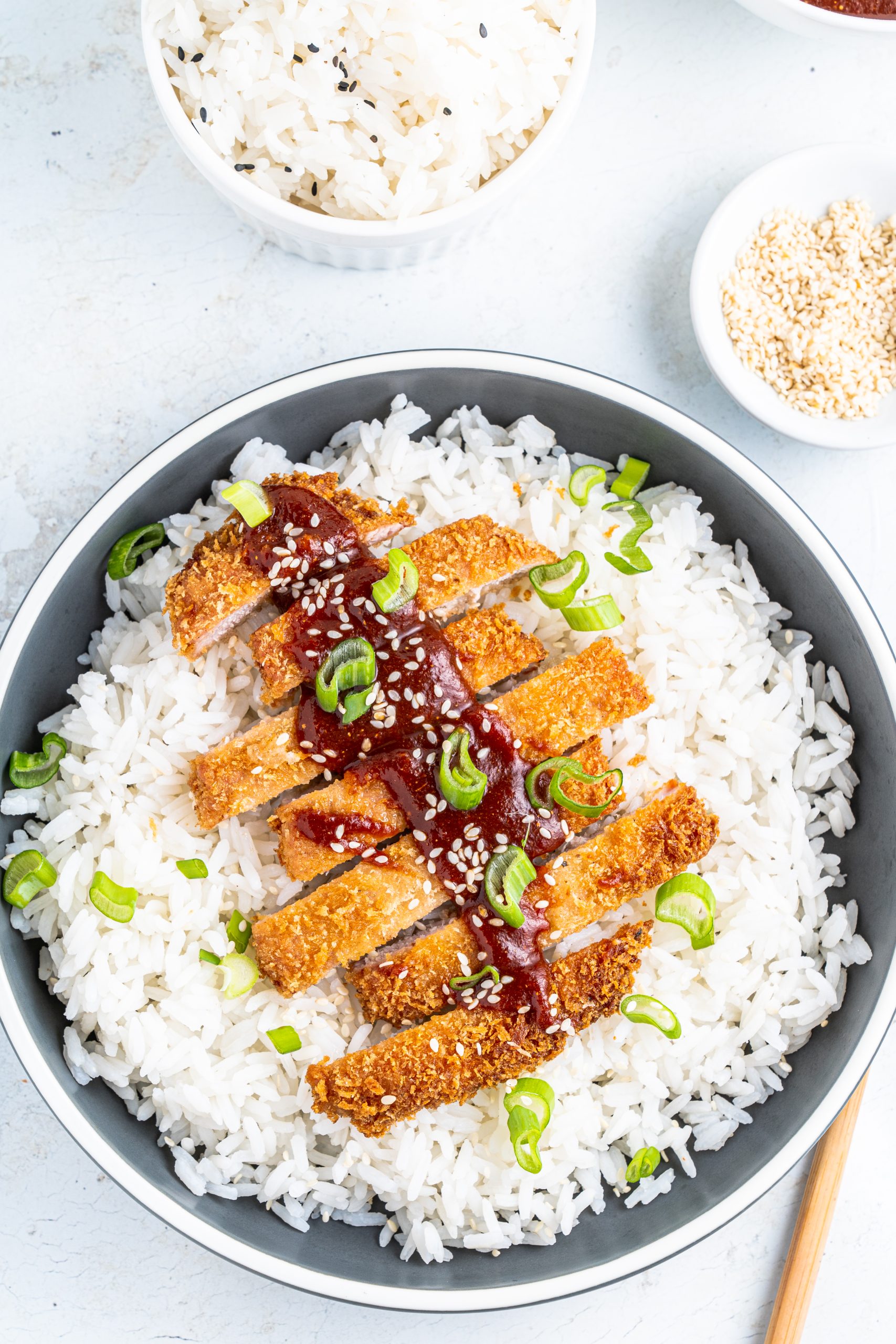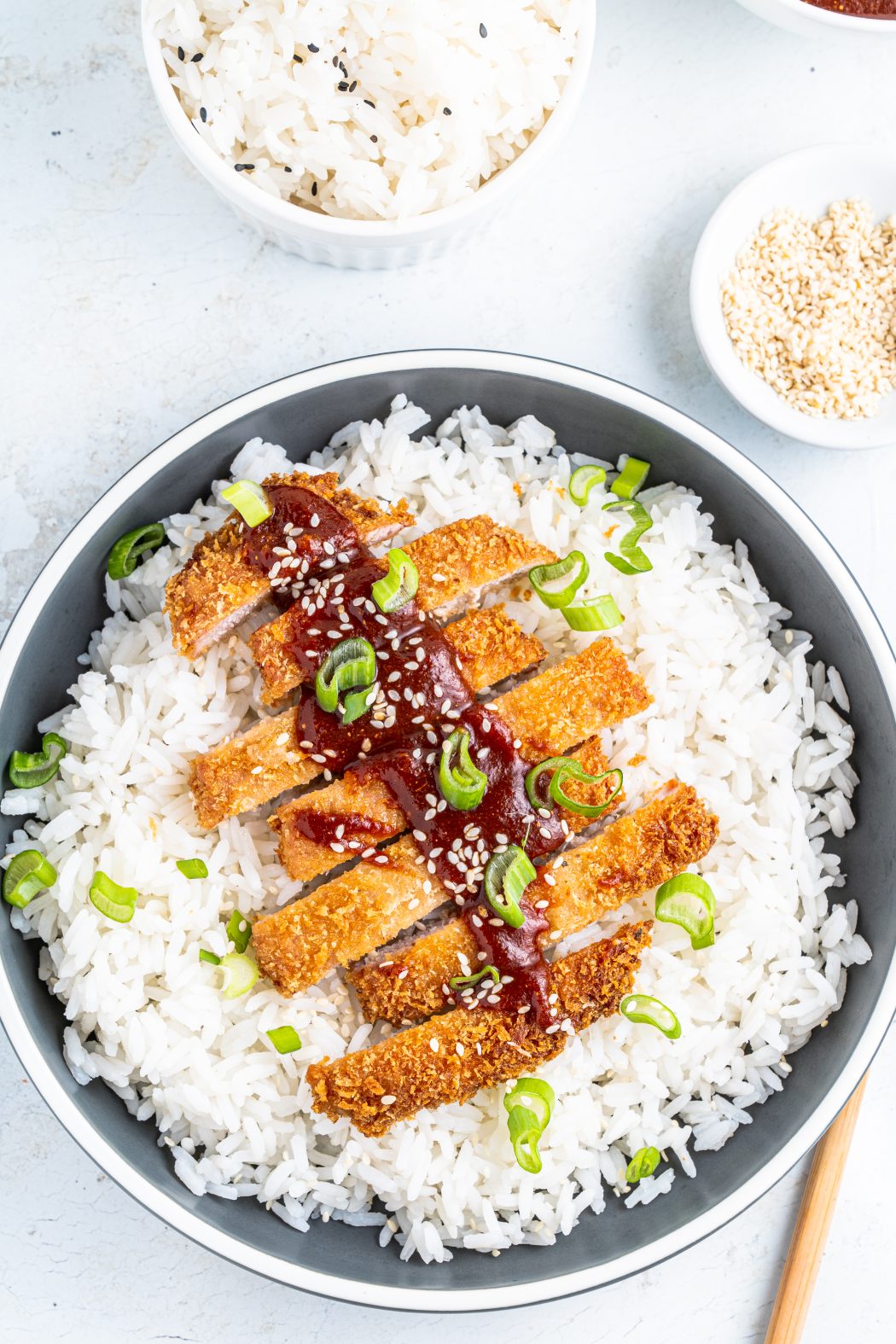 Pork Katsu is an easy, yummy recipe featuring tender, juicy pork cutlets that are panko crusted for a delightfully crunchy exterior and drizzled in savory sweet katsu sauce.
Pork Katsu
This recipe for pork katsu is your ticket to phenomenally delicious pork cutlets with a Japanese twist. They are melt-in-your-mouth tender on the inside with an airy yet powerful panko crunch on the outside.
These succulent pork cutlets are served with rice and drizzled (or drenched) with a divinely delectable katsu sauce. This savory, sweet, and salty sauce is incredibly easy to make and versatile. It adds a powerful dose of irresistible flavor and can be used in any of the other katsu dishes.
For more Asian inspired dinner ideas from My Nourished Home, check out these posts for Asian Marinated Mahi Mahi with Beet Red Kraut, 15 Minute Beef and Broccoli, and these Chicken Spring Rolls with Dipping Sauce.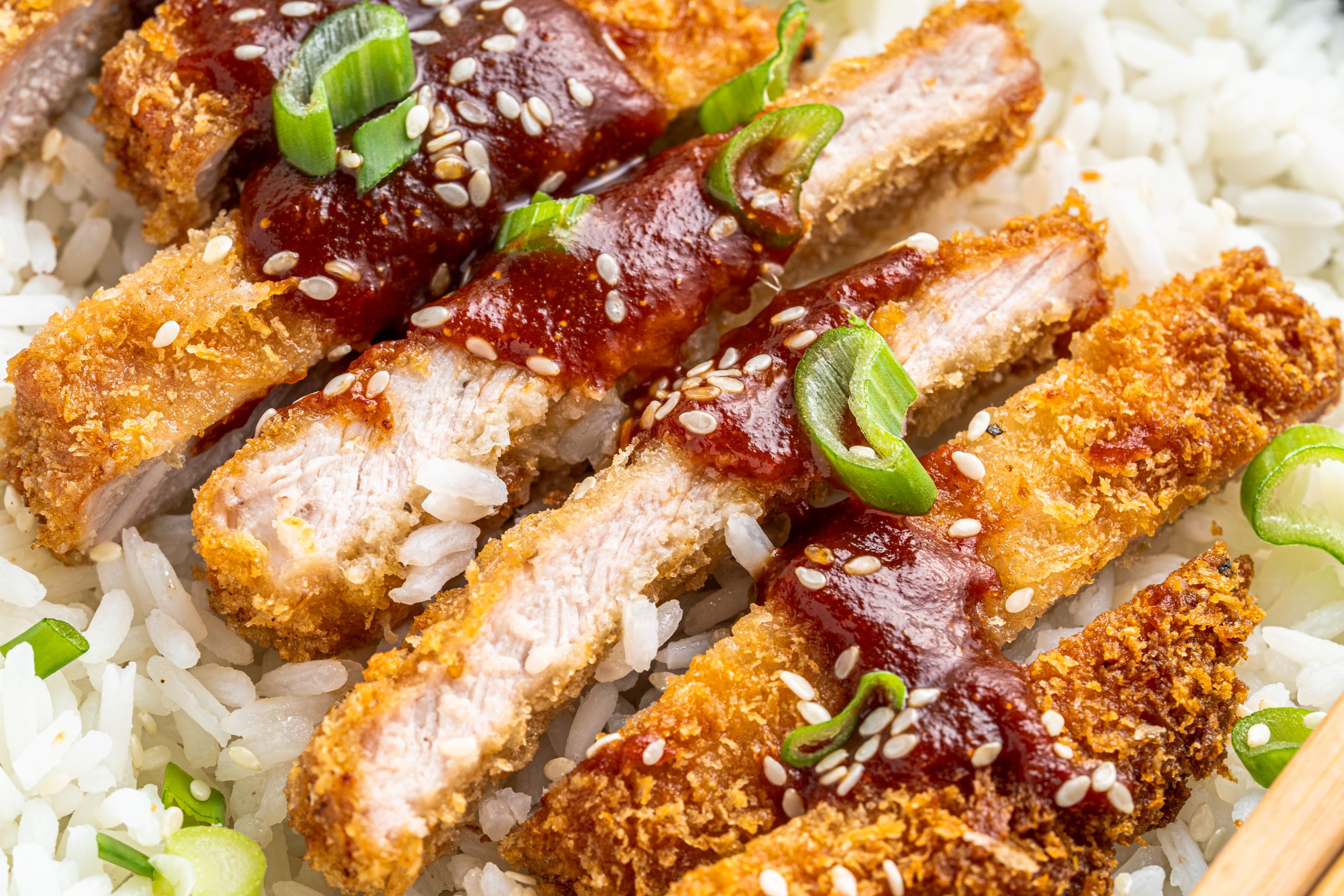 Why you will love this recipe
Pork Katsu makes a quick and easy weeknight dinner.
The ingredient list is simple and straightforward.
You can easily tweak this recipe to suit a gluten free diet.
This pork tonkatsu sauce recipe works for pork katsu, chicken katsu, and more.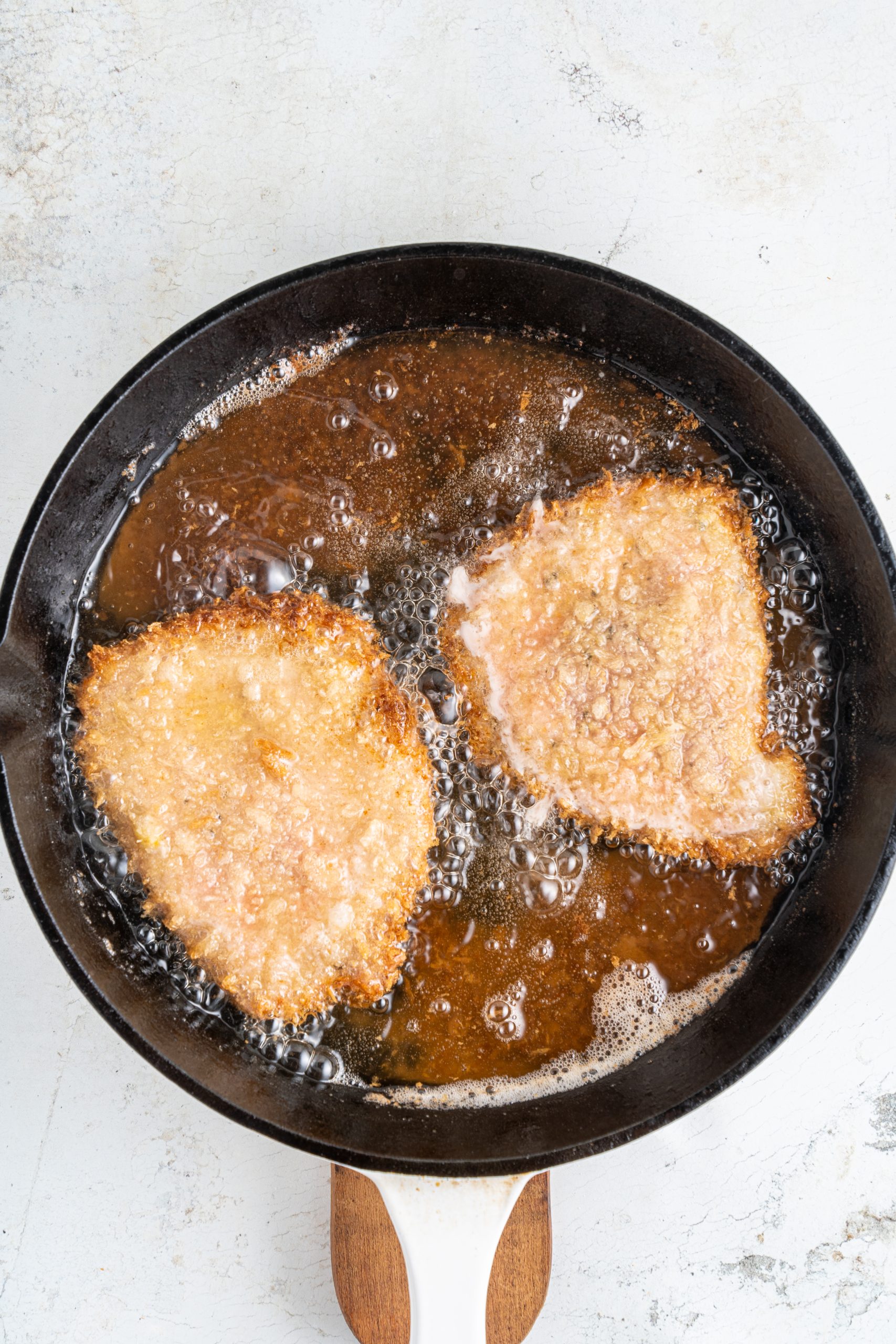 How to make perfect Pork Katsu
Prepare the katsu sauce: Combine the garlic, ginger, Worcestershire, ketchup and soy sauce in a small bowl. Whisk together and set aside.
Set up your breading station: Use one bowl to mix the panko breadcrumbs and flour together and another bowl to beat the egg, salt, and pepper together.
Coat and bread the cutlets: Dip each cutlet into the egg mixture first before moving it over to the panko bowl. Toss to evenly coat, then gently press with your hands to help the crumbs stick.
Ready the skillet: Place an empty cast iron skillet over medium heat for two minutes. Add enough sunflower oil for frying, about an inch deep. Heat the oil up for at least an additional 2 minutes, or until ready to start frying the breaded pork.
Pan-fry the cutlets: Carefully transfer the breaded cutlets to the frying pan and fry on both sides until well done with a nice golden brown color.
Plate, garnish, and serve: Serve the pork with steamed rice and a healthy drizzling of katsu sauce. Sprinkle the whole dish with green onions and sesame seeds. Enjoy!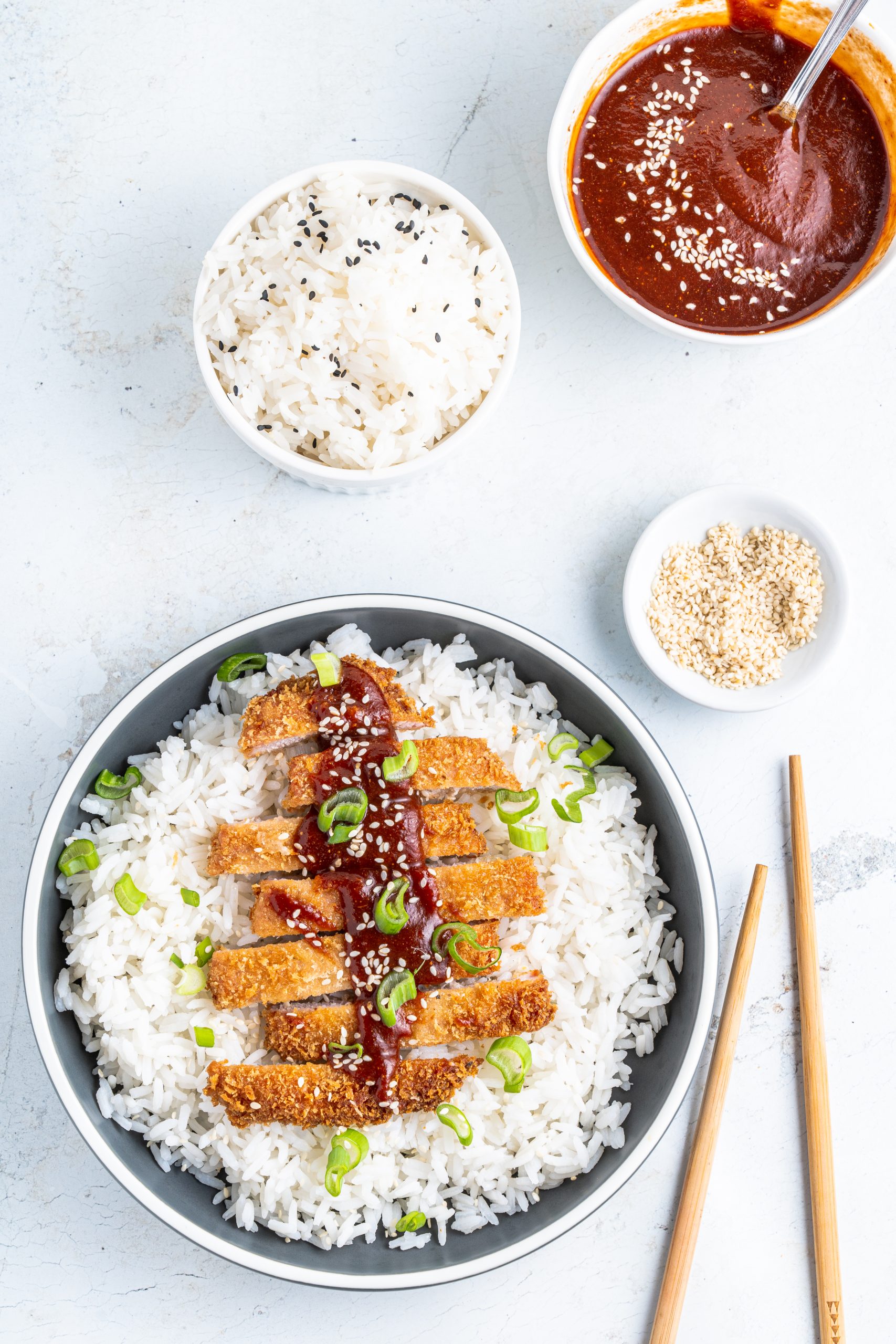 Pro Tips for Pork Katsu
Make it gluten free: In place of the flour, use cornstarch or a gluten free mix. For the panko, opt for brands like Ian's and Kikkoman that offer gluten free options. By default, panko is not gluten-free so always be sure to check your labels. Ensure the soy sauce and Worcestershire sauce are gluten free as well.
Dredge in flour: For the best breading results, make an extra bowl with just flour (or cornstarch). Dredge your cutlets in the flour first, then in egg wash, and finally coat with the panko breadcrumbs.
Make it with chicken: To make chicken katsu, you can follow this same exact recipe using chicken cutlets rather than pork.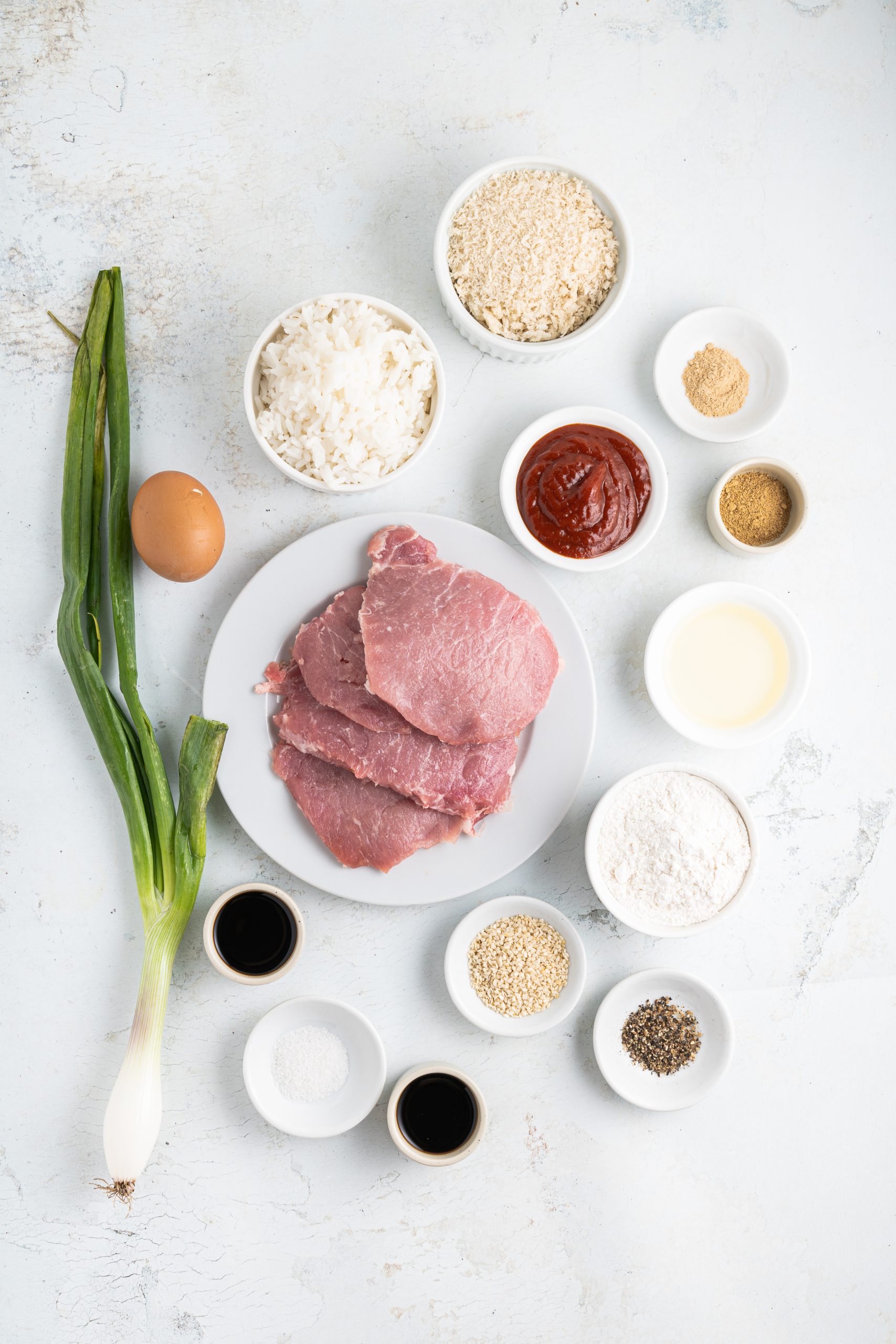 Key Ingredients and Substitutions for Pork Katsu
Panko breadcrumbs: These coarse, dry Japanese-style breadcrumbs are responsible for the supremely crispy exterior of pork tonkatsu. They are light, airy, and deliver a serious crunch with none of the greasiness regular breadcrumbs sometimes hold.
Rice: The standard serving size for rice is ½ cup per person. I recommend increasing that to about ¾ to 1 cup per person for this dish.
Pork: For the most succulent pork katsu, you have 2 options. You can choose the richer, fattier rosu-katsu (pork roast) or the trimmer, leaner hire-katsu (pork filet). Whichever you choose, trim the meat to ½ to ¾ inch cutlets before breading and frying.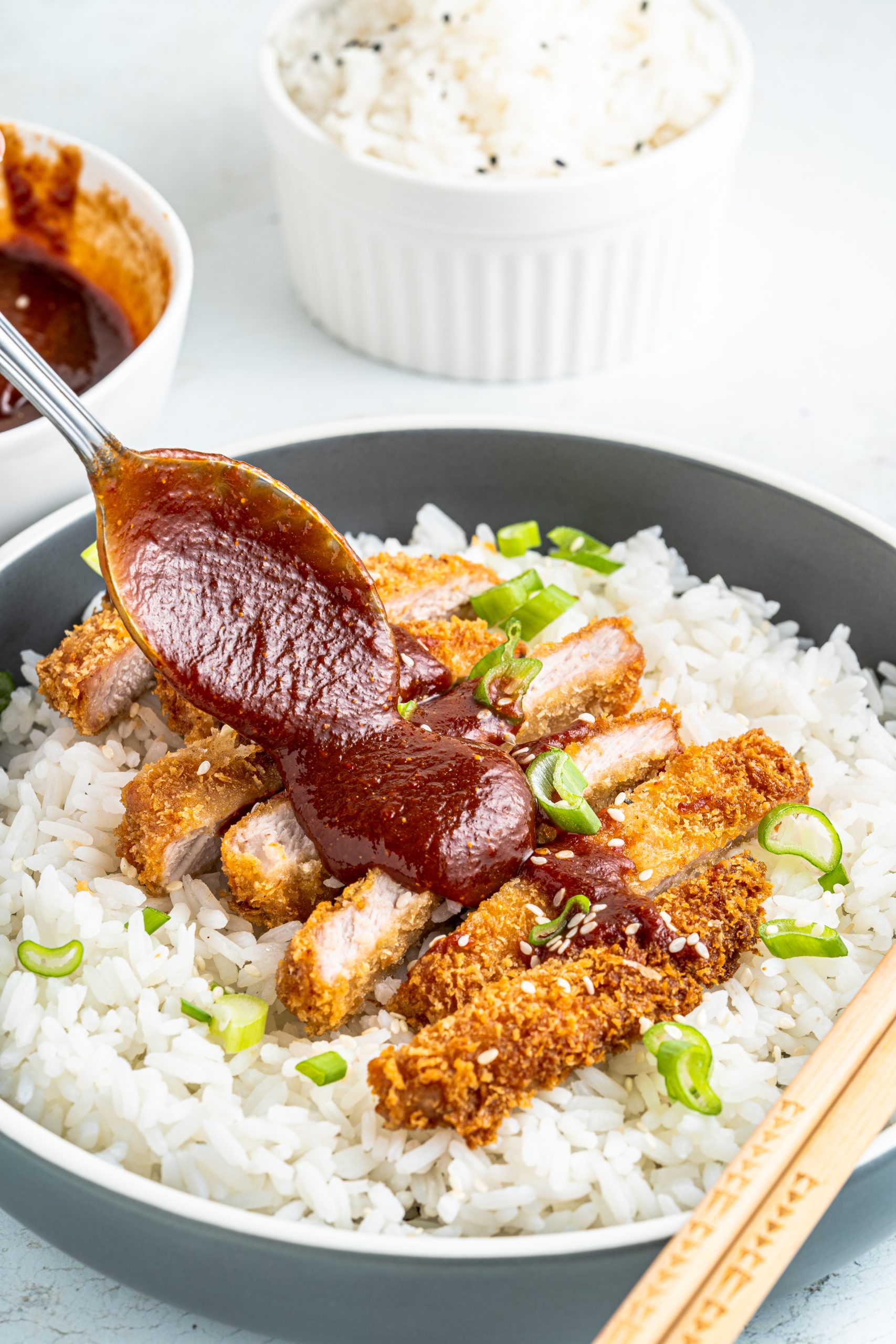 Frequently asked Questions about Pork Katsu
What Does Katsu Mean in Japanese?
The word Katsu is a shortened form of the Japanese word "Katsureta." This Japanese term was derived from the English word "cutlet" which is exactly what it means.
Is Pork Tonkatsu and Katsu the Same?
Not exactly. Knowing that the Japanese word "katsu" means cutlet is a great place to start.
Put that together with the fact that "ton" translates into pork and you have your answer. "Ton katsu" literally translates to "pork katsu" which then translates to "pork cutlet."
Since it was a pork tonkatsu recipe that originally featured the now famous katsu sauce, it is often still called tonkatsu sauce even when used on other dishes such as chicken katsu.
So, while tonkatsu sauce and katsu sauce are the same, there are many different katsu dishes. The choice of meat cutlets will differ, but it is the superior method of breading and frying that defines them. You can find gyukatsu (steak katsu), menchikatsu (minced meat katsu), and even salmon katsu.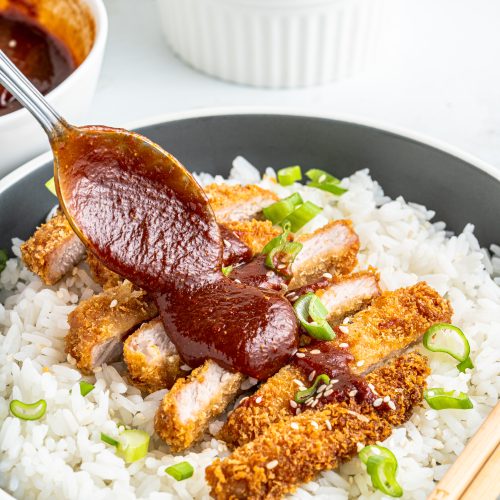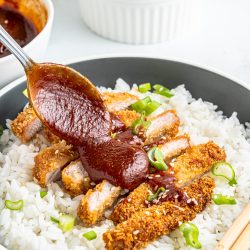 Pork Katsu
Pork Katsu is an easy, yummy recipe featuring tender, juicy pork cutlets that are panko crusted for a delightfully crunchy exterior and drizzled in savory sweet katsu sauce.
Course:
Main Course, Main Dishes
Keyword:
Katsu, pork, Pork Katsu
Ingredients
4

chop

boneless pork loin chops

about a 1/2-3/4 inch thick

1/3

cup

all purpose flour

1

medium

egg

1/2

tsp

salt

1/4

tsp

ground pepper

1

cup

panko

2

cup

cooked rice

sunflower oil

for frying
Katsu Sauce
1

tbsp

soy sauce

1/2

cup

ketchup

1/2

tbsp

Worcestershire sauce

1/2

tsp

garlic powder

1/2

tsp

ginger powder

Garnish with sesame seeds and sliced green onion
Instructions
Prepare the Katsu Sauce by mixing all its ingredients in a small bowl. Set it aside.

Make the breaded pork: Beat the egg, salt, and pepper in a small bowl, then mix panko and all-purpose flour in another bowl.

Next, coat each piece of pork with the egg mixture and place it over the panko. Coat to toss, pressing breading onto the pork meat.

Heat an iron-cast skillet for two minutes over medium heat. Then, add sunflower oil, about a finger deep, and heat it for two minutes or until ready for frying breaded pork. Fry each piece of pork on both sides until nicely golden and well-done.

Serve pork katsu over cooked rice, drizzle with Katsu sauce and garnish with sesame seeds and green onion.
Recipe Notes
This Pork Katsu was yummy, crispy, and satisfying. The pork meat ends up tender and combines amazingly with the sweet and garlicky Katsu Sauce.
Tips
The standard serving size for cooked rice is ½ cup, but for this dish, I'd recommend counting ¾-1 cup per person for this dish.

Store any leftovers in the fridge, covered, for up to seven days. 

The sauce can be refrigerated for up to two weeks.
Nutrition Facts
Pork Katsu
Amount Per Serving
Calories 539
Calories from Fat 135
% Daily Value*
Fat 15g23%
Cholesterol 165mg55%
Sodium 1057mg44%
Potassium 894mg26%
Carbohydrates 50g17%
Protein 47g94%
Vitamin A 223IU4%
Vitamin C 2mg2%
Calcium 65mg7%
Iron 3mg17%
* Percent Daily Values are based on a 2000 calorie diet.